STORY HIGHLIGHTS
Homs truce, and the evacuation of rebels, is significant
Homs was, for a long time, the epicenter of the revolution
This deal seems to have Russian and Iranian input
It also shows negotiations can be fruitful
Editor's note: CNN International Correspondent Fred Pleitgen has reported from inside Syria numerous times during the conflict, last visiting Homs itself in June 2013. In this analysis, he explains what the truce means.
(CNN) -- A truce between Syrian government and rebel forces in the strategic and symbolic city of Homs has gone into effect, allowing the evacuation of opposition fighters and their families from the Old City. The ancient city of Homs became known as the capital of the uprising against the regime of Syrian President Bashar al-Assad.
It has experienced some of the worst of the violence in a bloody civil war that has left more than 100,000 people dead and driven millions of people from their homes across the country.
How significant is the truce?
This is certainly a very significant development on several levels. First, the regime has been pushing to expel rebels from the central part of the country and the area close to the Lebanese border. The battles for al-Qusair, the Qalamoun Mountains with Yabroud and Maloula, and now Homs itself showed how important the government feels this area is.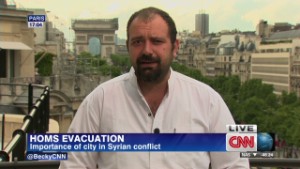 Return to Homs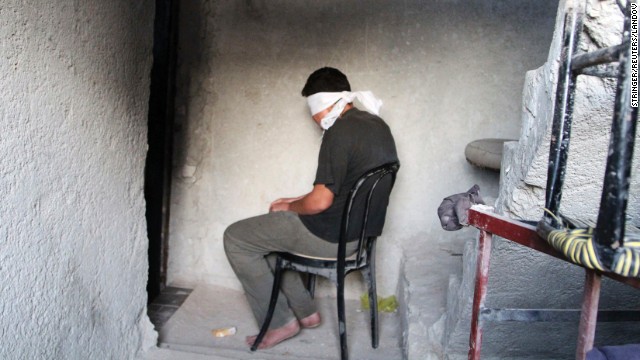 A blindfolded man suspected of passing military information to the Syrian government waits to be interrogated by Free Syrian Army fighters Monday, October 6, in Aleppo, Syria. The United Nations estimates more than 190,000 people have been killed in Syria since an uprising in March 2011 spiraled into civil war.
Medics at a field hospital in Douma, Syria, attend to a man who was injured in what activists said were two airstrikes carried out by forces loyal to Syrian President Bashar al-Assad on Saturday, September 20.
Free Syrian Army fighters rest inside a damaged room in Aleppo on Tuesday, September 16, during what activists said were clashes with forces loyal to al-Assad.
Syrian government forces walk down a street in Halfaya, Syria, after taking the city from rebel forces on Friday, September 12.
Al-Qaeda-linked rebels from Syria gather around vehicles carrying U.N. peacekeepers from Fiji before releasing them Thursday, September 11, in the Golan Heights. The 45 peacekeepers were captured in the Golan Heights after rebels seized control of a border crossing between Syria and the Israeli-occupied territory.
Syrian opposition fighters take position behind sandbags in Aleppo on Thursday, September 11.
Syrians fleeing the violence stand next to their belongings as they attempt to cross into Turkey on Sunday, September 7.
A boy looks at bodies lying outside a hospital after a barrel-bomb attack in Aleppo on Friday, September 5.
A U.N. convoy moves in the buffer zone near the Golan Heights as they are escorted by Syrian rebel fighters near the Syrian village of Jubata Al Khashab on Tuesday, September 2.
Residents of Aleppo remove a body from debris on Friday, August 29, after what activists claim was shelling by forces loyal to al-Assad.
Druze men watch from the Golan Heights side of the Quneitra border with Syria as smoke rises during fighting between rebels and forces loyal to al-Assad on Wednesday, August 27.
This image was taken during a government guided tour in Mleiha, Syria, one day after Syrian government forces retook the town after a months-long battle with rebels, according to a military source and state television on Friday, August 15.
Residents inspect the rubble of destroyed buildings in Aleppo after Syrian regime helicopters allegedly dropped barrel bombs there on Wednesday, August 13.
Smoke trails over Aleppo following barrel bombs that were allegedly dropped by the Syrian regime on an opposition-controlled area on Monday, August 11.
Photographs of victims of the Bashar al-Assad regime are displayed as a Syrian Army defector known as "Caesar," center, appears in disguise to speak before the House Foreign Affairs Committee in Washington. The briefing on Thursday, July 31, was called "Assad's Killing Machine Exposed: Implications for U.S. Policy." Caesar was apparently a witness to al-Assad's brutality and has smuggled more than 50,000 photographs depicting the torture and execution of more than 10,000 dissidents.
Syrian rebel fighters take up positions behind sandbags in Aleppo on Wednesday, July 30.
People carry an injured man away from the site of an airstrike, reportedly carried out by Syrian government forces, in Aleppo on Sunday, July 27.
Rebel fighters execute two men Friday, July 25, in Binnish, Syria. The men reportedly were charged by an Islamic religious court with detonating several car bombs.
A rebel fighter stands on a dust-covered street in Aleppo on Monday, July 21.
A man clears debris at the site of an alleged barrel-bomb attack in Aleppo on Tuesday, July 15.
A woman walks amid debris after an airstrike by government forces July 15 in Aleppo.
People walk on a dust-filled street after a reported barrel-bomb attack in Aleppo on Monday, July 7.
Apartments and other buildings lie in ruins on Tuesday, June 3, in Aleppo, a city that "has had the life bombed out of it," according to CNN's Nick Paton Walsh.
A man carries a girl injured in a reported barrel-bomb attack by government forces June 3 in Aleppo.
A rebel fighter loads an anti-tank cannon outside Latakia, Syria, on Sunday, June 1.
A rescue worker pulls a girl from rubble in Aleppo on June 1 after reported bombing by government forces.
A giant poster of Syrian President Bashar al-Assad is seen in Damascus, Syria, on Saturday, May 31, as the capital prepares for presidential elections.
Portraits of al-Assad dominate the cityscape in central Damascus on Tuesday, May 27. Al-Assad is firmly in power three years into the civil war, while the opposition remains weak and fragmented and extremists grow in numbers and influence.
The father of a 3-month-old girl weeps Monday, May 26, after she was pulled from rubble following a barrel-bomb strike in Aleppo.
A woman stands in a heavily damaged building in Aleppo on May 26.
An injured man lies in a hospital bed after alleged airstrikes by government forces in Aleppo on Sunday, May 18.
Buildings in Homs, Syria, lie in ruins Saturday, May 10, days after an evacuation truce went into effect. Thousands of displaced residents returned to the city.
Rescuers carry a man wounded by a mine in the Bustan al-Diwan neighborhood of Homs on May 10.
A Syrian woman carries a suitcase along a street in the Juret al-Shayah district of Homs on May 10.
Residents carry their belongings in the al-Hamidieh neighborhood of Homs on May 10.
A woman injured when a mine went off is carried in Homs on May 10.
Residents return to damaged dwellings in Homs on May 10.
Debris lies on a deserted street in Homs on Thursday, May 8.
A mosque is seen through shattered glass in Homs, where an evacuation truce went into effect on Wednesday, May 7.
A wounded man is treated at a makeshift hospital in Aleppo on Sunday, May 4.
Debris rises in what Free Syrian Army fighters said was an operation to strike a checkpoint and remove government forces in Maarat al-Numan, Syria, on Monday, May 5.
A man helps a woman through debris after reported airstrikes by government forces on Thursday, May 1, in the Halak neighborhood of Aleppo.
Syrians gather at the site of reported airstrikes in Aleppo on May 1. According to the Syrian Observatory for Human Rights, at least 33 civilians were killed in the attack.
A woman runs after two barrel bombs were thrown, reportedly by forces loyal to Syrian President Bashar al-Assad in Aleppo on May 1.
A boy runs in Aleppo on Sunday, April 27, after what activists said were explosive barrels thrown by forces loyal to al-Assad.
Security and emergency medical personnel work at the site of a car bomb explosion Monday, April 14, in the Ekremah neighborhood of Homs.
In this photo released by the state-run SANA news agency, Syrian forces take positions during clashes with rebels near the town of Rankous, Syria, on Sunday, April 13.
Flames engulf a vehicle following a car bomb Wednesday, April 9, in the Karm al-Loz neighborhood of Homs.
A man carries a child who was found in the rubble of an Aleppo building after it was reportedly bombed by government forces on Monday, March 18.
An elderly man and a child walk among debris in a residential block of Aleppo on March 18.
A woman with blood on her face carries a child following a reported airstrike by government forces Saturday, March 15, in Aleppo.
People attempt to comfort a man in Aleppo after a reported airstrike by government forces on Sunday, March 9.
Buildings in Homs lay in ruins on March 9.
Syrian forces fire a cannon and a heavy machine gun loaded on a truck as they fight rebels in the Syrian town of Zara on Saturday, March 8.
A handout photo released by SANA shows Syrian President Bashar al-Assad speaking March 8 during a meeting in Damascus to mark the 51st anniversary of the 1963 revolution, when Baath Party supporters in the Syrian army seized power. Al-Assad said the country will go on with reconciliation efforts along with its fight against terrorism.
Syrians inspect the rubble of destroyed buildings in Aleppo following a reported airstrike by Syrian government forces on Friday, March 7.
People dig through the rubble of a building in Damascus that was allegedly hit by government airstrikes on Thursday, February 27.
A boy walks ahead of men carrying the body of his mother in Aleppo on Saturday, February 22. According to activists, the woman was killed when explosive barrels were thrown by forces loyal to al-Assad.
A man holds a baby who survived what activists say was an airstrike by al-Assad loyalists Friday, February 14, in Aleppo.
In this photo provided by the anti-government activist group Aleppo Media Center, Syrian men help survivors out of a building in Aleppo after it was bombed, allegedly by a Syrian regime warplane on Saturday, February 8.
Syrians gather at a site hit by barrel bombs, allegedly dropped by a regime helicopter on the opposition-controlled Mesekin Hananu district of Aleppo on February 8.
In this handout photo released by the state-run SANA news agency on February 8, civilians wave national flags in Damascus as they take part in a rally in support of President al-Assad.
A man stands next to debris in the road following a reported airstrike by Syrian government forces in Aleppo on February 8.
Medical personnel look for survivors after a reported airstrike in Aleppo on Saturday, February 1.
Syrians carry a dead body following an airstrike on February 1.
A man walks amid debris and dust on January 31.
An injured man is covered in dust after an airstrike on January 29.
A man tries to fix electrical wires in Aleppo on January 27.
Rebels and civilians check out a crater that activists say resulted from a Syrian government airstrike on an Aleppo bus station on Tuesday, January 21.
Men rush to a site that Syrian government forces reportedly hit in Aleppo on January 21.
Buildings lie in ruins in Aleppo on Sunday, January 19, after reported air raids by Syrian government planes.
A child collects items from a garbage pile in Douma, northeast of the capital, on Saturday, January 18.
A piece of exploded mortar lies in a street in Daraya, a Syrian city southwest of Damascus, on Friday, January 17.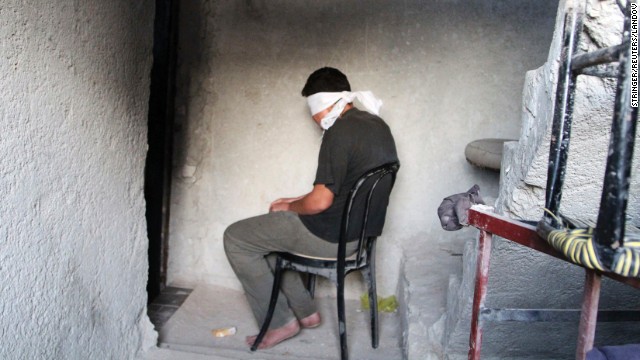 Photos: Syrian civil war in 2014
On the one hand it gives the regime de facto control over a large and coherent chunk of the country that stretches from Damascus up the highway to Homs and then all the way to the Syrian coast with towns like Latakia and Tartous. With that the regime has secured its route for logistics and also a possible retreat should it become under pressure in Damascus.
For the rebels the truce is significant for other reasons. Homs was one of the first places where they were able to hold larger swaths of territory. The uprising in the city began with grassroots demonstrations for democracy and only defectors from the Syrian army took up arms there.
There were far fewer Islamists in Homs than in many other places affected by the uprising against al-Assad. So in many ways Homs was, for a long time, the epicenter of the revolution and also the cradle of the Free Syrian Army.
In the end, however, the rebels were encircled there and confined to the Old Town, the al-Waer area, Talbiseh in the north of the city and a few other pockets. They were besieged and could barely get supplies at all. The truce, if they make it out safely, is probably the best outcome for them.
On a diplomatic front it is also very important because it is a large scale truce that actually seems to be working and both Russia and Iran appear to have been involved in the process.
Furthermore, it is a very complex deal that involves rebel fighters getting free passage in return for the release of pro-regime prisoners in a totally different part of the country (the Aleppo area), as well as aid being allowed into besieged pro-Assad areas also in Syria's north, the Syrian Observatory for Human Rights says.
It shows that larger-scale negotiations can be fruitful if all sides want solutions, even in light of the diplomatic failures in the past and the fractured state of the opposition.
Is this the first time that a truce has ever been brokered in the Syria conflict?
It is certainly the largest regional truce that has ever been brokered and gone into effect, but it is not the first. As early as 2013 pro-government politicians and rebel commanders were brokering local cease-fires in Homs province. We visited the town of Tal Kalakh on the border with Lebanon in March 2013, which at the time was held by the opposition, but encircled by al-Assad's forces.
Regional leaders had brokered a truce between the two sides though that allowed at least some semblance of public life to return to the area.
On the whole, I believe these cease-fires show that in many places, the Syrian population is far ahead of the politicians, rebels and the military that claim to represent them. Many want the fighting to stop and they certainly do not want Syrians to continue killing other Syrians. But that does not mean that an end to the conflict is in any way near.
What does this mean for the broader Syrian conflict?
The conflict is nowhere near a solution. The fighting is worse than ever in Aleppo, where the Syrian army continues to use weapons like barrel bombs and other heavy ordinance and the rebels are also pushing to win ground, also using artillery and the like. No side is willing to back down at this point. Bashar al-Assad seems to feel that the momentum is on his side and said exactly that in a recent interview. The regime feels it is a fairly comfortable position and is also pounding the rebels in the outskirts of Damascus.
Meanwhile the rebels are still divided, but also making gains in certain areas. A much overlooked place is the south of the country around Deraa, where the opposition has been making inroads near the important highway to Damascus. The anti-Assad groups in the south of the country appear to be the most disciplined and politically and religiously moderate of all.
They are also getting regular supplies of weapons via the border with Jordan. In the north of the country, the picture is patchier. The advent of the Islamic Front as a new fighting force has certainly done much to consolidate the opposition there.
Right now the main players are Islamic Front, the al Qaeda-linked Nusra Front and the most radical group, the al Qaeda-affiliated Islamic State of Iraq and Greater Syria (ISIS), which is at war with most of the other rebel groups.
There still is a lot of rebel infighting, but the Islamic Front and Nusra have recently made gains in the Aleppo area and also in Latakia province, the ancestral homeland of Bashar al-Assad.
Does this show that Bashar al-Assad is winning?
Bashar al-Assad is winning in certain places but losing ground in others. He is making gains around Damascus and in Homs and its outlying areas. There is a bloody stalemate in the Aleppo area. The rebels are making gains in the northwest in Latakia province and also in the south.
What appears to be going on is that al-Assad is carving out a heartland that stretches from the capital Damascus via Homs to the Mediterranean Sea, encompassing Latakia and Tartous to give him access to ports. The main focus of the Syrian military in the past year has been the battle for Damascus, for the Damascus to Homs highway and Homs itself.
But al-Assad is not even close to winning the civil war. No one is. If anything, the current situation seems to show that there cannot be a military solution to this conflict.
We have heard so much about the destruction in Homs, what is it really like there?
Homs is a tragedy. The first traces of civilization there go back to around 2000 BC and now much of it is being destroyed. We were able to visit the Baba Amr district which was one of the places that the opposition held, but which the government won back in 2012.
The scene there is tragic. We were not able to find a single building that was not totally destroyed. People were slowly starting to come back, but it does not seem like life is possible there at the moment. The same was also true, until now, of the old town. The closer you got to the front line, the more destruction you would see.
The fighting that was going on there in the end was typical urban warfare with government soldiers and rebels fighting for every house, punching holes through walls for safe access and command centers set up in destroyed apartments. Until recently you could hear gunfire in Homs almost around the clock.
The bizarre thing about that situation was that just a block or two further down the road you would never have known that there had been fighting. All the building were intact, there were people on the streets in cafes and kebab shops and the shops were well stocked.
In many cases it seems that people were making an extra effort to give their lives some normalcy, but of course all of them have been touched by the conflict in some way.