Malala to CNN: Kidnapped Nigerian girls are 'my sisters'
updated 9:11 AM EDT, Sun May 11, 2014
STORY HIGHLIGHTS
Malala Yousafzai spoke with CNN's Christiane Amanpour
She sees the kidnapped Nigerian girls as her sisters
Terrorists attack girls because they fear them, she says
Boko Haram are extremists who don't understand Islam, Malala says
(CNN) -- Terrorist groups such as Boko Haram prey on girls because they fear them, Malala Yousafzai told CNN's Christiane Amanpour on Wednesday, adding her voice to the outcry over the mass kidnappings of Nigerian girls.
Malala, the Pakistani girl who made a miraculous recovery after being shot in the head by the Taliban, said women are targeted by those who fear a society in which women are empowered.
Boko Haram has kidnapped hundreds of Nigerian schoolgirls, an act that has become the focal point of a worldwide social media campaign demanding their return.
The Malala Fund is launching a Nigerian girls education campaign around the issue. The 16-year-old human rights advocate first spoke up about the kidnappings last week.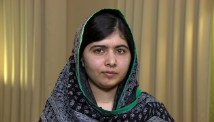 Malala speaks out on kidnapped girls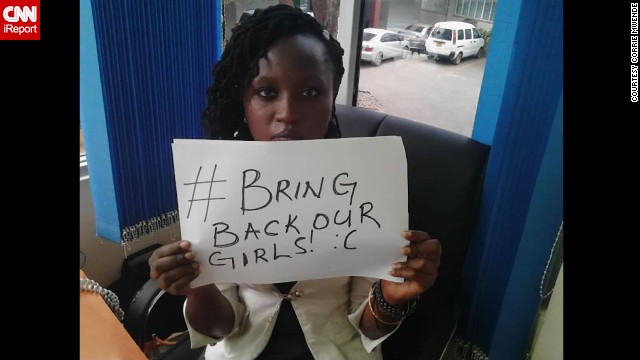 Weeks after the April 14 kidnapping of more than 200 Nigerian girls, worried families and supporters blamed the government for not doing enough to find them. Their cries spread worldwide on social media under the hashtag #BringBackOurGirls. From regular people to celebrities, here are some of the people participating in the movement.
First Lady Michelle Obama tweeted this picture of herself holding a #BringBackOurGirls sign in support of the schoolgirls abducted by Boko Haram in Nigeria.
"We hear it like it's not happening in our region so it doesn't concern us but that's not right," says Milliscent Maduagwu from Port Harcourt, Nigeria. "This fight on terrorism is not just the Commander in Chief's and the army, but ours as well!"
"These girls could have been my sisters or worst still my daughter," says Emmanuel Oleabhiele from Doha, Qatar. "My daughter is 6 months old and I fear for her future as a Nigerian."
Malala Yousafzai, the world's most famous advocate for girls' right to education, says that "girls in Nigeria are my sisters." This photo was posted to the @MalalaFund Twitter account on May 6.
Ify Elueze of Bonn, Germany, asks, "How can the world sit and watch?! It is no longer just the responsibility of the Nigerian government, now it is your responsibility and mine!"
British supermodel Cara Delevingne posted this photo on her Instagram account saying, "Everyone help and raise awareness #regram #repost or make your own!"
"Government should stop playing politics with our sister[s]," says Nigerian Dauda Kaks.
American singer-songwriter Alicia Keys posted this photo on her Instagram account with this message: "I'm so saddened and enraged that these girls are not back where they belong! Safe at home and at school! Safe with their families! Safe to become the incredible leaders and powerful voices they are yet to be."
"You are most likely thinking to yourself, 'What's the point in posting another picture or status to speak about this issue?,"' says Uchenna Mildred Udeh from St. John, New Brunswick. "I can tell you this: it will. Do not underestimate the power of your voice. We have to make this personal."
British singer-songwriter Leona Lewis took a stand to #BringBackOurGirls on her Twitter account on May 7.
"I think it's high time we all start praying for Nigeria and stop complaining," says Lotanna Ugwu from Abuja, Nigeria. "It's only God that can touch the hearts of those who kidnapped the young girls."
Singer Steven Tyler posted this image on both his Twitter and Instagram accounts alonth with the hashtag #RealMenDontBuyGirls.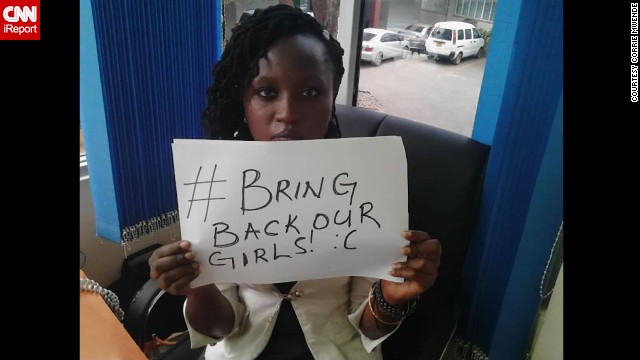 Bring Back Our Girls
"When I heard about girls in Nigeria being abducted, I felt very sad, and I thought, 'my sisters are imprisoned now,'" Malala said. "The girls in Nigeria are my sisters and its my responsibility that I speak up for my sisters."
Boko Haram are extremists who don't understand Islam, she said.
The religion, she says, calls for empowerment through education, not a snuffing of it.
"They should go and they should learn Islam, and I think that they should think of these girls as their own sisters. How can one imprison their own sisters and treat them in such a bad way?" she said.
Everyone should speak up for the kidnapped girls, she said.
In a photo released on social media, Malala holds a sign reading #BringBackOurGirls, joining the chorus of social media activity repeating the same demand.
Nigerian President Goodluck Jonathan has been under fire over accusations the government initially ignored and then later downplayed the abduction of the girls.
Jonathan has also accepted an offer of U.S. military support in the search for the girls.
Why hasn't the rescue effort produced results?