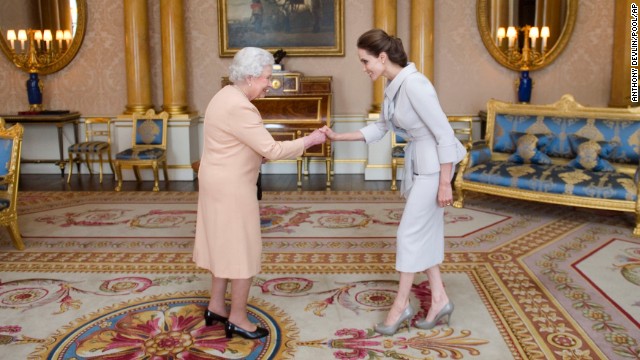 On Friday, October 10, Britain's Queen Elizabeth II made Angelina Jolie an honorary dame for her work to root out sexual violence in war zones. While Jolie is now known for her humanitarian works and action movies, she has been in the spotlight since she was a child. Here's a look at her life.
Jolie hugs her father, actor Jon Voight, in Los Angeles in 1980. Her brother, James, is at left.
Jolie, then 15, poses for a photo in January 1991.
Jolie and Voight are seen in an undated photo.
Jolie attends an event in New York City, circa 1998.
Jolie appears at the Golden Globe Awards in January 2000. She won best supporting actress for her role in the film "Girl, Interrupted."
Jolie and her husband at the time, Billy Bob Thornton, appear at the premiere of her film "Gone in 60 Seconds" in June 2000. They divorced in 2003.
Jolie and her mother, actress Marcheline Bertrand, are photographed at the premiere of Jolie's film "Original Sin" in July 2001. Bertrand died of ovarian cancer in January 2007.
Jolie distributes balls to children at the Tham Hin refugee camp, on the Thailand-Myanmar border, in May 2002. She was a goodwill ambassador for the United Nations High Commissioner for Refugees before she became a special envoy for the agency in 2012.
Jolie carries her son Maddox at the world premiere of "Shark Tale" in September 2004.
Jolie appears on "The Tonight Show with Jay Leno" in March 2004.
Jolie attends the German premiere of "Alexander" in December 2004.
As part of her role as goodwill ambassador, Jolie speaks with Pakistani Prime Minister Shaukat Aziz in Islamabad, Pakistan, in May 2005.
Producer Arnon Milchan centers Jolie and Pitt at the premiere of "Mr. & Mrs. Smith" in June 2005.
Jolie and Pitt appear at the Cannes Film Festival in May 2008.
Jolie greets fans at the Russian premiere of her film "Salt" in July 2010.
Jolie walks with four of her children -- from left, Maddox, Zahara, Pax and Shiloh -- at Japan's Narita International Airport in July 2010.
Jolie appears at the Golden Globe Awards in January 2011.
Jolie and Pitt appear at the Screen Actors Guild Awards in January 2012.
Jolie meets Syrian refugees in Lebanon's Bekaa Valley in September 2012.
Jolie appears at an April 2013 news conference in London about sexual violence against women in conflict.
a New York Times op-ed
that she underwent a preventive double mastectomy after learning that she carries a mutation of the BRCA1 gene, which sharply increases her risk of developing breast and ovarian cancer. Here, in June 2013, she makes her first red carpet appearance since the surgery, attending the London premiere of Pitt's movie "World War Z."
In May 2013, Jolie announced in
Jolie accepts the Jean Hersholt Humanitarian Award in November, during the Academy of Motion Picture Arts and Sciences' Governors Awards ceremony.
In the 2014 film "Maleficent," Jolie plays an evil sorceress who tells her side of the story. The movie opened at No. 1 and earned $69.4 million in its first weekend in U.S. theaters.
Life of Angelina Jolie
Life of Angelina Jolie
Life of Angelina Jolie
Life of Angelina Jolie
Life of Angelina Jolie
Life of Angelina Jolie
Life of Angelina Jolie
Life of Angelina Jolie
Life of Angelina Jolie
Life of Angelina Jolie
Life of Angelina Jolie
Life of Angelina Jolie
Life of Angelina Jolie
Life of Angelina Jolie
Life of Angelina Jolie
Life of Angelina Jolie
Life of Angelina Jolie
Life of Angelina Jolie
Life of Angelina Jolie
Life of Angelina Jolie
Life of Angelina Jolie
Life of Angelina Jolie
Life of Angelina Jolie
Life of Angelina Jolie