STORY HIGHLIGHTS
Monica Lewinsky speaks out on affair that led to Clinton impeachment
She says in Vanity Fair article that she "deeply" regrets what happened
Lewinsky says her "boss took advantage of me," but the relationship was consensual
She responds to reports of how Hillary Clinton responded to the scandal
(CNN) -- Saying that "it's time to burn the beret and bury the blue dress," Monica Lewinsky is writing for the first time about her affair with Bill Clinton.
"I, myself, deeply regret what happened between me and President Clinton. Let me say it again: I. Myself. Deeply. Regret. What. Happened," says the now 40-year-old Lewinsky in the upcoming issue of Vanity Fair.
Lewinsky maintains the relationship in the 1990s was one between two consenting adults.
"Sure, my boss took advantage of me, but I will always remain firm on this point: it was a consensual relationship. Any 'abuse' came in the aftermath, when I was made a scapegoat in order to protect his powerful position," Lewinsky writes.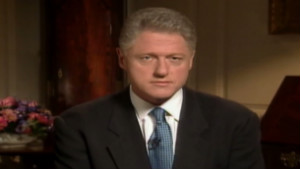 1998: Clinton admits to Lewinsky scandal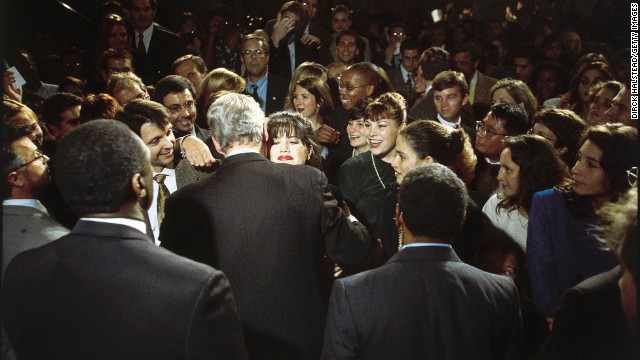 Monica Lewinsky embraces U.S. President Bill Clinton at a Democratic fundraiser in Washington in October 1996. Lewinsky, the White House intern who had a sexual relationship with Clinton during his time in office, has finally broken her silence on the affair in a Vanity Fair article.
Lewinsky sits in a car after meeting with her lawyers in 1998.
Lewinsky is escorted by police officers, federal investigators and attorney William Ginsburg, second right, as she leaves the Federal Building in Westwood, California, in 1998. She was there submitting evidence on her relationship with Clinton, who was impeached by the House of Representatives on charges of perjury and obstruction of justice. He was later acquitted.
Lewinsky's father, Bernard, hugs her in front of his home in Brentwood, California, in 1998.
In 1998, Lewinsky arrives at her attorney's office in Washington, where her immunity agreement with independent counsel Kenneth Starr was announced.
Lewinsky poses for a photo with President Clinton in this image submitted as evidence by Starr's investigation and released by the House Judiciary Committee in September 1998.
Another image submitted as evidence in September 1998 shows Lewinsky meeting President Clinton at a White House function.
Another photograph submitted as evidence shows Lewinsky working in the White House office as President Clinton looks on.
Lewinsky, far left, is seen with President Clinton at the White House.
Lewinsky is pushed in a crowd of reporters after meetings with her attorneys in Washington in 1999.
Lewinsky speaks with young fans as she signs copies of her autobiography, "Monica's Story," in 1999.
Lewinsky gestures during her deposition in a video shown during Clinton's impeachment trial in 1999.
Lewinsky appears in a "Ladies Man" skit with Tim Meadows on "Saturday Night Live" in 1999.
Lewinsky laughs with actor Ian McKellen at the 2002 GQ Men of the Year Awards in New York City.
Lewinsky watches a collection presentation during the 2002 Mercedes-Benz Fashion Week in New York City.
Lewinsky poses for a photo with rapper Cam'ron, left, and businessman Damon Dash in 2002.
Lewinsky and literary agent Luke Janklow attend a benefit for the American Cancer Society in 2011.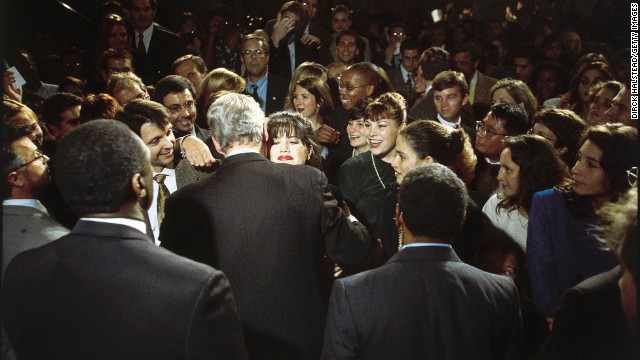 Monica Lewinsky: Life in the spotlight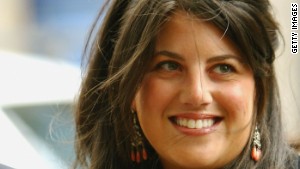 Lewinsky: Time to bury the blue dress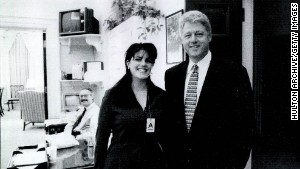 Maher: People loved Hillary after Monica
While a White House intern in 1995, Lewinsky began a sexual relationship with Clinton. The ensuing political scandal and investigation resulted in the Democratic President's impeachment by the Republican-led House. The Senate acquitted him of the charges.
Lewinsky has stayed virtually silent about the affair the past decade. She writes in Vanity Fair that "the buzz in some circles has been that the Clintons must have paid me off; why else would I have refrained from speaking out? I can assure you that nothing could be further from the truth."
But she adds that it's time to stop "tiptoeing around my past -- and other people's futures. I am determined to have a different ending to my story. I've decided, finally, to stick my head above the parapet so that I can take back my narrative and give a purpose to my past. (What this will cost me, I will soon find out.)"
Lewinsky was constantly in the media during and shortly after the controversy.
She sold a line of handbags in 1999 and the next year she appeared in commercials for diet company Jenny Craig. In 2002, she appeared in an HBO special on the affair, and the next year she hosted a reality dating program.
Lewinsky changed course in 2005, moving to Britain to obtain a masters degree in social psychology at the London School of Economics. She's stayed out of the spotlight since.
In the Vanity Fair article, Lewinsky responds to reports made public in February that Hillary Clinton, in correspondence with close friend Diane Blair during the 1990s, had characterized Lewinsky as a "narcissistic loony toon."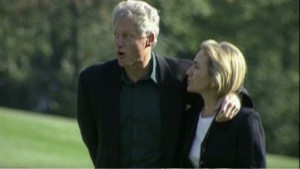 Inside the Lewinsky scandal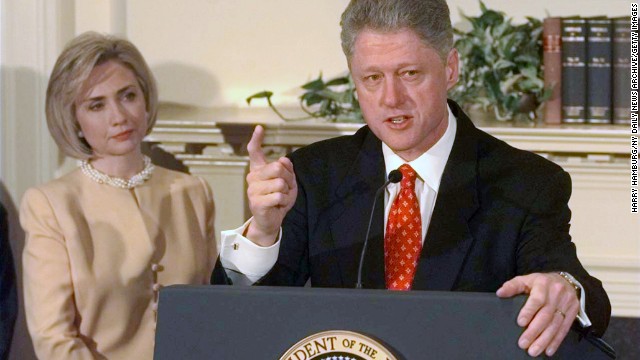 President Bill Clinton speaks about the Monica Lewinsky scandal at the White House on January 26, 1998, as First Lady Hillary Clinton looks on. Fifteen years ago, on January 7, 1999, the U.S. Senate began its trial of Clinton, who was accused of lying under oath, obstructing justice and abusing his presidential power in an effort to conceal a sexual relationship with Lewinsky. He was acquitted a month later. The following images are from around that time period 15 years ago.
Lewinsky, a White House intern, embraces President Clinton at a Democratic fundraiser in Washington on October 23, 1996.
In this image taken from a video, Lewinsky watches Clinton as he greets staff at the White House during a re-election celebration in November 1996.
This photograph of Lewinsky meeting Clinton at a White House function was released by the House Judiciary Committee and submitted as evidence against Clinton by Special Prosecutor Kenneth Starr.
Lewinsky and Clinton pose for a photo at the White House. This photo was also used as evidence.
On January 22, 1998, Starr stands before the media outside the Justice Department, answering questions about his investigation into Clinton and Lewinsky.
Robert Bennett, Clinton's personal attorney, makes his way through a crowd of photographers as he arrives at federal court in Washington on March 5, 1998. Starr's grand jury was questioning witnesses in the Clinton/Lewinsky scandal.
Lewinsky and her attorney, William Ginsburg, head to their car in Philadelphia on April 6, 1998.
Linda Tripp, the Pentagon employee whose secret tape recordings of Lewinsky triggered the criminal investigation, speaks to reporters in Washington following her grand jury appearance on July 29, 1998.
Clinton sits in the White House Map Room before delivering his speech to the nation about the Lewinsky controversy.
Clinton responds to a question during his grand jury deposition on August 17, 1998. The video was shown during a presentation by House members to the Senate on February 6, 1999, during the trial phase of impeachment proceedings.
On August 18, 1998, Chelsea Clinton walks with her parents on the White House grounds. The President is walking the family dog, Buddy.
House Judiciary Committee Chairman Henry Hyde presides over the panel's Clinton impeachment hearing November 19, 1998. Starr was the opening witness.
Starr testifies during Clinton's House impeachment hearings.
Clinton delivers a statement on the impeachment inquiry in the White House Rose Garden on December 11, 1998. Clinton apologized for his conduct and said he would accept a congressional censure or rebuke.
Democrats take a symbolic stand by walking off the House floor December 19, 1998, during the vote to impeach Clinton over the Lewinsky scandal. They later returned.
In this television image December 19, 1998, Speaker Pro Tempore Ray LaHood, R-Illinois, prepares to announce the House vote of 228-206 to approve the first article of impeachment.
On December 19, 1998, President Clinton makes a statement at the White House as the first lady looks on. Clinton thanked Democratic members of the House who voted against impeachment, and he vowed to complete his term.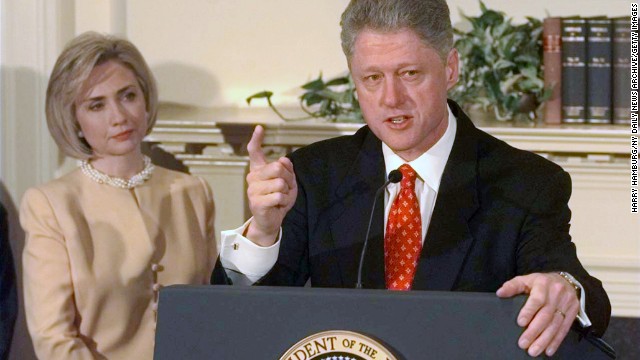 The impeachment of Bill Clinton
Lewinsky writes that her first thought was: "If that's the worst thing she said, I should be so lucky."
She continued, "Mrs. Clinton, I read, had supposedly confided to Blair that, in part, she blamed herself for her husband's affair (by being emotionally neglectful) and seemed to forgive him. Although she regarded Bill as having engaged in 'gross inappropriate behavior,' the affair was, nonetheless, 'consensual (was not a power relationship).'"
Blair's personal writings gave insight into the former first lady's views on the Lewinsky scandal, as well as a host of other issues. The papers were donated by Blair's family to the University of Arkansas.
Asked about those conversations between Hillary Clinton and Blair, Lewinsky writes: "Yes, I get it. Hillary Clinton wanted it on record that she was lashing out at her husband's mistress. She may have faulted her husband for being inappropriate, but I find her impulse to blame the Woman-not only me, but herself-troubling."
And she rejects the "narcissistic loony toon" label, saying that she refused to cooperate with interrogators offering the then-24 year old immunity from the threat of jail time in return for wearing a wire to monitor staged conversations with two of Clinton's confidantes."
"Courageous or foolish, maybe," Lewinsky writes, "but narcissistic and loony?"
The full article will appear in the June issue of Vanity Fair, which will be available in New York and Los Angeles and on the iPhone, iPad, Nook, and Kindle - on May 8. The magazine will hit national newsstands on May 13.
Clintons' relationship with media still testy after all these years
In political extramarital affairs, the mistress rarely emerges unscathed
CNN Political Editor Paul Steinhauser contributed to this report.