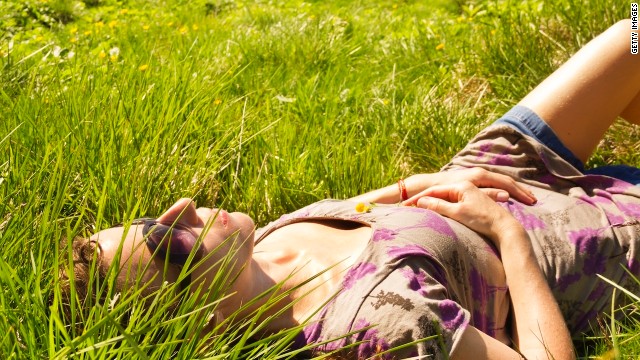 Now that hay fever season has hit, your first instinct might be to pop an antihistamine. It's not a bad one: "If you have allergies, one of the best things you can do is start medications early, even before your symptoms kick in," says Dr. Neeta Ogden, an allergist in New York. But, she adds, it's also crucial to make tweaks to your daily routine to avoid whatever sparks your symptoms. Read on for easy, effective ways to keep sniffles at bay 24/7.
Tree and grass pollen -- the main causes of spring allergies -- can blow into your house if you open your windows even a crack, "especially during the early morning hours, when tree pollen counts are typically the highest," says Dr. Vincent Tubiolo, an allergy, asthma and immunology specialist in Santa Barbara, California. Stuffy inside? Run the air conditioning, but change your filters before each season to remove pollen, dust and mold. If you're really suffering, invest in an air purifier with a HEPA filter to help suck up lingering allergens.
Pollen.com
app for your phone. If the count is high, try to stay indoors as much as possible, Ogden advises.
Health.com: Are you making these allergy mistakes?
Visit weather sites, watch your local morning news or download the
People who consumed a yogurt drink containing the probiotic Lactobacillus casei once a day for five months had lower levels of an antibody that produces allergy symptoms, according to a study from the Institute of Food Research in the United Kingdom. Researchers are now looking into whether that might actually lessen the severity of those symptoms. In the meantime, it couldn't hurt to take probiotic supplements or eat yogurt regularly. Check the label to see if a product contains L. casei.
Research shows that stress can aggravate allergic reactions, even a full day after an anxiety-producing event. That might be because as stress hormones in your body rise, so do levels of cytokines -- proteins we produce as part of the allergic response, according to research from Ohio State University. To keep an even keel during allergy season, soothe yourself by breathing deeply, listening to tunes you love or working out.
This will prevent you from tracking pollen all over the house. Better yet, strip off your clothes and hop in the shower so pollen doesn't linger on your hair and body. Run the bathroom fan to keep humidity levels down and prevent mold spores -- another allergy trigger -- from taking hold.
Participants in a German study who consumed the highest amount of a type of omega-3 fatty acid called EPA (found in fatty fish, like salmon) had a lower risk of developing hay fever. This substance might quash allergy symptoms by reducing inflammation in the body, Ogden says. Don't eat fish regularly? Taking an omega-3 supplement with EPA can also help, she says.
Allergy-proof your day
Keep your windows shut
Check the pollen count
Sport shades
Snack on yogurt
Take a breather
LImit outdoor runs to the afternoon
Kick off your shoes at home
Eat salmon
Keep Fido and Kitty off your bed
Pop a 24-hour allergy pill before bed
STORY HIGHLIGHTS
About 8% of Americans suffer from seasonal allergies
There's no reason why allergies should limit your activity, experts say
Make a switch to allergy-friendly exercise such as swimming
Editor's note: upwave is Turner Broadcasting's new lifestyle brand designed to entertain the health into you! Visit upwave.com for more information and follow upwave on Twitter, Facebook, YouTube, Pinterest and Instagram @upwave.
(upwave.com) -- It can feel impossible to do much of anything when you're sneezing and blowing your nose constantly.
And if you're one of the roughly 8% of Americans who suffer from seasonal allergies, you might find yourself struggling with those symptoms when attempting outdoor exercise in the spring (when the air begins to fill with pollen) and fall (when the ragweed comes out).
"Luckily, with the proper treatment and precautions, there's no reason why allergies should have to limit someone's activities," says Dr. Jay M. Portnoy, division director of allergy, asthma and immunology at Children's Mercy Hospitals in Kansas City.
upwave: 4 natural fixes for annoying spring allergies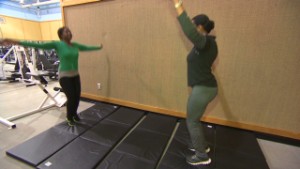 Breaking up with love handles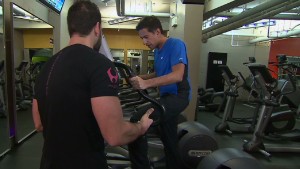 5 exercises to avoid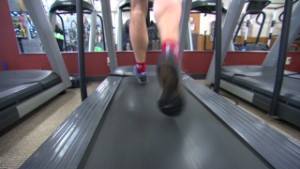 Exercising when you're sick
Here's how to make sure allergies won't hold you back this season:
Good: Avoid your allergens
Different plants produce different allergens, but which ones are causing your symptoms? "A board-certified allergist can perform a series of tests to find out what triggers your allergies," says Dr. Michael Foggs, president of the American College of Allergy, Asthma and Immunology.
"For example, if you know that you're allergic to ragweed or tree pollen, it's important to know how prevalent those allergens are in the area where you're trying to exercise."
Because pollen counts vary by geographic location, visit a resource such as the American Academy of Allergy Asthma and Immunology to track the locations of the plants you're allergic to -- and avoid workouts on high-count days (or exercise indoors).
upwave: Work out smarter, not harder
Better: Check the forecast
If you want to exercise outside, it's best to do so when the pollen count is likely to be lowest.
"Many people are allergic to ragweed, which has a pollen count that rises in the morning and peaks at noon," Portnoy says. "You would time your activity during ragweed season so that it's in the very early morning before the pollen count shoots up, or in the late evening after it's gone down."
As a general rule, pollen counts are highest on windier, warmer days and lowest on days that are cool and damp.
"Pollen can travel up to 400 miles by wind, but if there's dew or fog, the pollen won't be able to travel far at all," Foggs says. "The best time to exercise outdoors is right after a rainfall, because the pollen has mostly been washed away."
To remove any pollen that might have attached to you, be sure to shower and wash your clothes (including gloves, jacket and any other gear) after your workout.
upwave: Is it better to run outside?
Best: Switch to allergy-friendly exercise
Up to 40% of seasonal-allergy sufferers have asthma as well.
"Allergies trigger asthma, making it much more difficult to exercise," Portnoy says. "It's recommended that people with asthma take up swimming as an aerobic activity. The reason that exercise makes asthma worse is because the airways dry out and get cold when you're breathing really fast. If you're swimming instead of running outdoors, then there's more moisture and warmth so you're less likely to have trouble breathing."
Another option is to choose a less intense workout such as walking, yoga or weight training. Those activities are less likely to trigger heavy breathing -- and heavy inhaling of allergens.
This article was originally published on upwave.com.
© 2013 upwave, All Rights Reserved.