STORY HIGHLIGHTS
NEW: Nigerian finance minister: Government did not communicate "properly"
NEW: "Help us to get these girls back," she says to other nations, international groups
"Allah says I should sell. He commands me to sell," Boko Haram leader says
"No group can affect our resolve," a Nigerian government spokesman tells CNN
CNN anchor Isha Sesay will be live from Abuja on CNN International, Monday to Thursday at 5pm, 7pm, 8.30pm and 9pm CET.
(CNN) -- Fears for the fate of more than 200 Nigerian girls turned even more nightmarish Monday when the leader of the Islamist militant group that kidnapped them announced plans to sell them.
"I abducted your girls. I will sell them in the market, by Allah," a man claiming to be Boko Haram leader Abubakar Shekau said in a video first obtained by Agence France-Presse.
"There is a market for selling humans. Allah says I should sell. He commands me to sell. I will sell women. I sell women," he continued, according to a CNN translation from the local Hausa language.
Boko Haram is a terrorist group receiving training from al Qaeda affiliates, according to U.S. officials. Its name means "Western education is sin." In his nearly hourlong, rambling video, Shekau repeatedly called for Western education to end.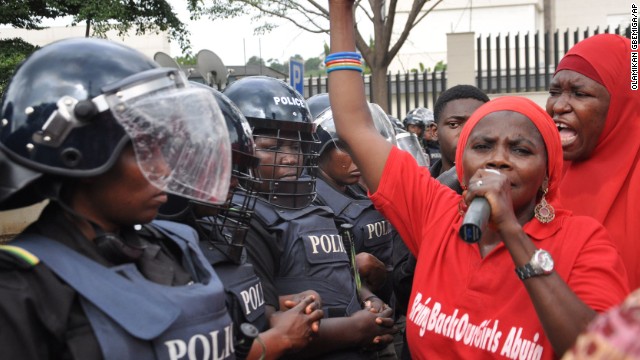 Police in riot gear block a route in Abuja, Nigeria, on Tuesday, October 14, during a demonstration calling on the Nigerian government to rescue schoolgirls kidnapped by the Islamist militant group Boko Haram. In April, more than 200 girls were abducted from their boarding school in northeastern Nigeria, officials and witnesses said.
Women in Abuja hold a candlelight vigil on Wednesday, May 14, one month after the schoolgirls were kidnapped.
People march in Lagos, Nigeria, on Monday, May 12, to demand the release of the kidnapped schoolgirls.
Catholic faithful in Abuja take Holy Communion and pray for the safety of the kidnapped schoolgirls on Sunday, May 11.
Catholic faithful attend a morning Mass in honor of the kidnapped schoolgirls in Abuja on May 11.
Catholics nuns pray in Abuja on May 11.
A woman attends a demonstration Tuesday, May 6, that called for the Nigerian government to rescue the girls.
Community leader Hosea Sambido speaks during a May 6 rally in Abuja.
Brig. Gen. Chris Olukolade, Nigeria's top military spokesman, speaks to people at a demonstration May 6 in Abuja.
Women march Monday, May 5, in Chibok, Nigeria.
People rally in Lagos on Thursday, May 1.
Police stand guard during a demonstration in Lagos on May 1.
Protesters take part in a "million-woman march" Wednesday, April 30, in Abuja.
Obiageli Ezekwesili, former Nigerian education minister and vice president of the World Bank's Africa division, leads a march of women in Abuja on April 30.
A woman cries out during a demonstration in Abuja on Tuesday, April 29, along with other mothers whose daughters have been kidnapped.
A man weeps as he joins parents of the kidnapped girls during a meeting with the Borno state governor in Chibok on Tuesday, April 22.
Mothers weep April 22 during a meeting with the Borno state governor in Chibok.
Four female students who were abducted by gunmen and reunited with their families walk in Chibok on Monday, April 21.
Borno state Gov. Kashim Shettima, center, visits the girls' school in Chibok on April 21.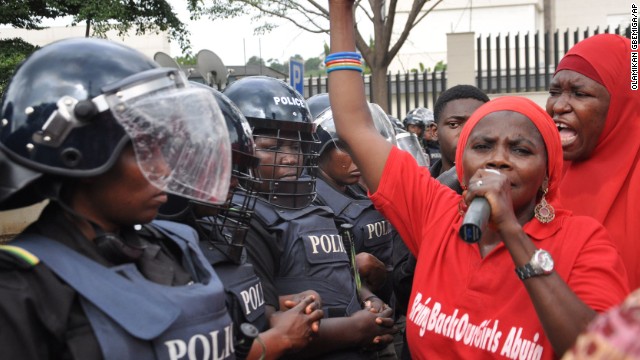 Photos: Nigerians protest over kidnapped girls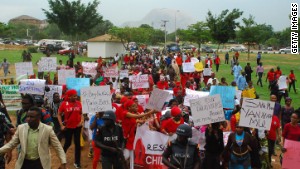 Call to #bringbackourgirls in Nigeria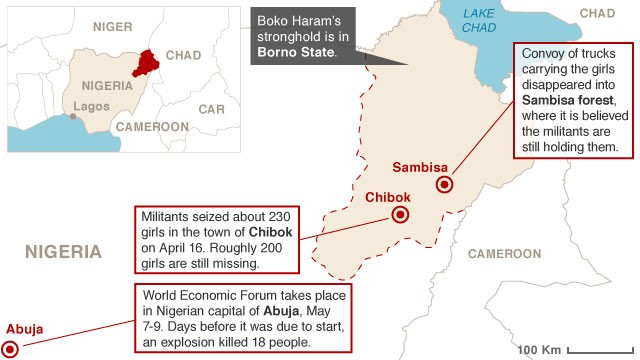 Map: Where the girls were kidnapped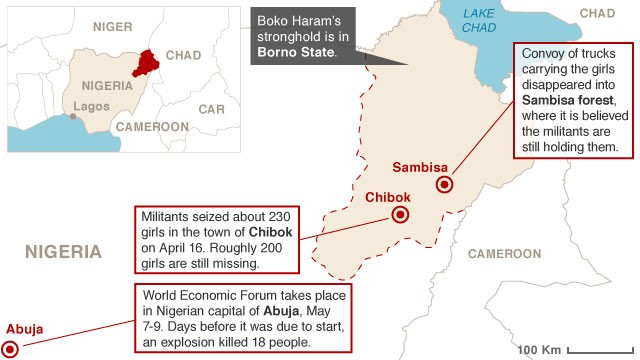 Map: Where the girls were kidnapped
"Girls, you should go and get married," he said.
The outrageous threat means the girls' parents' worst fears could be realized. Parents have avoided speaking to the media for fear their daughters may be singled out for reprisals.
U.S. State Department spokeswoman Marie Harf said the video "does appear legitimate."
The tape won't intimidate or deter Nigeria from efforts to save the kidnapped girls, the Nigerian government said.
"It is disheartening that someone would make such a terrible boast," Doyin Okupe, spokesman for President Goodluck Jonathan, said in an interview with CNN.
"It is to be expected of terrorists," he added. "No group can affect our resolve. We will see this through to the end. We have the commitment and capacity to get this done. No matter what this takes, we will get these girls."
On Sunday, Jonathan vowed, "Wherever these girls are, we'll get them out."
But he also criticized the girls' parents, saying they weren't cooperating fully with police.
"What we request is maximum cooperation from the guardians and the parents of these girls. Because up to this time, they have not been able to come clearly, to give the police clear identity of the girls that have yet to return," he said.
Nigeria's finance minister responds to criticism
Weeks after the girls' April 14 kidnapping, Africa's most populous country seems to be no closer to finding them, triggering complaints of ineptitude -- some of which are expressed on Twitter with the globally trending hashtag #BringBackOurGirls.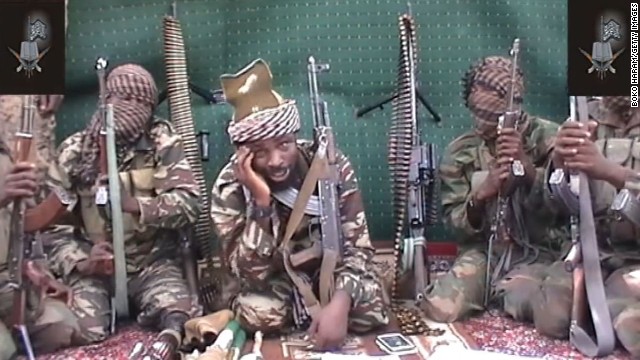 A video of Abubakar Shekau, who claims to be the leader of the Nigerian Islamist extremist group Boko Haram, is shown in September 2013. Boko Haram is an Islamist militant group waging a campaign of violence in northern Nigeria. The group's ambitions range from the stricter enforcement of Sharia law to the total destruction of the Nigerian state and its government. Click through to see recent bloody incidents in this strife-torn West African nation:
Bodies lie in the streets in Maiduguri, Nigeria, after religious clashes on July 31, 2009. Boko Haram exploded onto the national scene in 2009 when 700 people were killed in widespread clashes across the north between the group and the Nigerian military.
An official displays burned equipment inside a prison in Bauchi, Nigeria, on September 9, 2010, after the prison was attacked by suspected members of Boko Haram two days earlier. About 720 inmates escaped during the prison break, and police suspect the prison was attacked because it was holding 80 members of the sect.
Nigerian President Goodluck Jonathan, second from left, stands on the back of a vehicle after being sworn-in as President during a ceremony in the capital of Abuja on May 29, 2011. In December 2011, Jonathan declared a state of emergency in parts of the country afflicted by violence from Boko Haram.
Rescue workers help a wounded person from a U.N. building in Abuja, Nigeria, on August 26, 2011. The building was rocked by a bomb that killed at least 23 people, leaving others trapped and causing heavy damage. Boko Haram had claimed responsibility for the attack in which a Honda packed with explosives rammed into the U.N. building, shattering windows and setting the place afire.
A photo taken on November 6, 2011, shows state police headquarters burned by a series of attacks that targeted police stations, mosques and churches in Damaturu, Nigeria, on November 4, 2011. Attackers left scores injured -- probably more than 100 -- in a three-hour rampage, and 63 people died.
Men look at the wreckage of a car after a bomb blast at St. Theresa Catholic Church outside Abuja on December 25, 2011. A string of bombs struck churches in five Nigerian cities, leaving dozens dead and wounded on the Christmas holiday, authorities and witnesses said. Boko Haram's targets included police outposts and churches as well as places associated with "Western influence."
A paramedic helps a young man as he leaves a hospital in the northern Nigerian city of Kano on January 21, 2012. A spate of bombings and shootings left more than 200 people dead in Nigeria's second-largest city. Three days later, a joint military task force in Nigeria arrested 158 suspected members of Boko Haram.
A photo taken on June 18, 2012, shows a car vandalized after three church bombings and retaliatory attacks in northern Nigeria killed at least 50 people and injured more than 130 others, the Nigerian Red Cross Society said.
A French family kidnapped February 19, 2013, in northern Cameroon is released after two months in captivity in Nigeria. The family of four children, their parents and an uncle were kidnapped in Waza National Park in northern Cameroon, situated near the border with Nigeria. One of the captive men read a statement demanding that Nigeria and Cameroon free jailed members of Boko Haram.
A soldier stands in front of a damaged wall and the body of a prison officer killed during an attack on a prison in the northeastern Nigerian town of Bama on May 7, 2013. Two soldiers were killed during coordinated attacks on multiple targets. Nigeria's military said more than 100 Boko Haram militants carried out the attack.
A deserted student hostel is shown on August 6, 2013, after gunmen stormed a school in Yobe state, killing 20 students and a teacher, state media reported.
A photograph made available by the Nigerian army on August 13, 2013, shows improvised explosive devices, bomb-making materials and detonators seized from a Boko Haram hideout. Gunmen attacked a mosque in Nigeria with automatic weapons on August 11, 2013, killing at least 44 people.
Nigerian students from Jos Polytechnic walk on campus in Jos, Nigeria, on September 30, 2013. Under the cover of darkness, gunmen approached a college dormitory in a rural Nigerian town and opened fire on students who were sleeping. At least 40 students died, according to the News Agency of Nigeria.
Soldiers stand outside the 79 Composite Group Air Force base that was attacked earlier in Maiduguri on December 2. Hundreds of Boko Haram militants attacked an Air Force base and a military checkpoint, according to government officials.
Catholic priest Georges Vandenbeusch speaks to reporters outside Paris after his release on January 1. Vandenbeusch was snatched from his parish church in Cameroon on November 13. Boko Haram claimed responsibility for kidnapping the priest.
A man receives treatment at Konduga specialist hospital after a gruesome attack on January 26. It was suspected that Boko Haram militants opened fire on a village market and torched homes in the village of Kawuri, killing at least 45 people.
Police officers stand guard in front of the burned remains of homes and businesses in the village of Konduga on February 12. Suspected Boko Haram militants torched houses in the village, killing at least 23 people, according to the governor of Borno state on February 11.
Yobe state Gov. Ibrahim Gaidam, left, looks at the bodies of students inside an ambulance outside a mosque in Damaturu. At least 29 students died in an attack on a federal college in Buni Yadi, near the capital of Yobe state, Nigeria's military said on February 26. Authorities suspect Boko Haram carried out the assault in which several buildings were also torched.
Rescue workers try to put out a fire after a bomb exploded at the busiest roundabout near the crowded Monday Market in Maiduguri on July 1.
Police in riot gear block a route in Abuja on October 14, during a demonstration calling on the Nigerian government to rescue schoolgirls kidnapped by Boko Haram. In April, more than 200 girls were abducted from their boarding school in northeastern Nigeria, officials and witnesses said.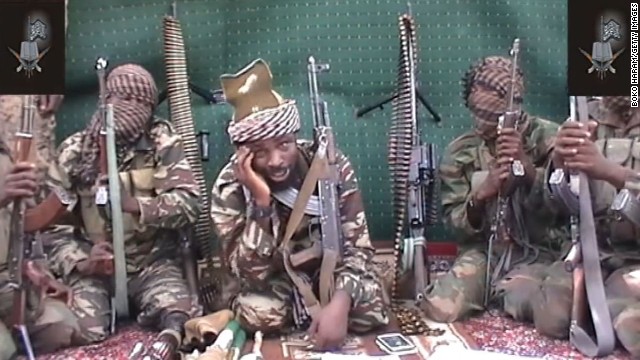 Boko Haram: Nigeria's crisis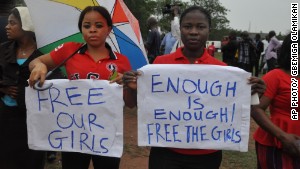 Police: 223 abducted girls still missing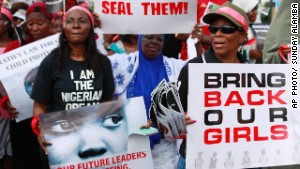 Jones outraged 200 girls kidnapped
Nigeria's finance minister said Monday that her country's government remains committed to finding the girls, but should have done a better job explaining the situation to the public.
"Have we communicated what is being done properly? The answer is no, that people did not have enough information," Ngozi Okonjo-Iweala told CNN's Richard Quest.
Revealing details about the investigation is tricky, she said, "because you are dealing with people that you don't know, and you don't know...what they might do to these girls."
On Sunday, about 100 demonstrators gathered outside the Nigerian High Commission in London, chanting, "Bring them back!" and "Not for sale!"
Crowds from Los Angeles to London rallied Saturday as well.
"We need to take ownership as if this happened in Chicago or this happened in Washington, D.C. We need to be talking about this," Nicole Lee, outgoing president of the TransAfrica Forum, told CNN's "The Lead with Jake Tapper."
"I think people are doing that. It's catching fire."
Former U.S. Secretary of State Hillary Clinton weighed in on Twitter over the weekend.
"Access to education is a basic right & an unconscionable reason to target innocent girls," she wrote Sunday. "We must stand up to terrorism. #BringBackOurGirls."
Militants attacked school last month
According to accounts, armed members of Boko Haram overwhelmed security guards at a school last month, pulled the girls out of bed and forced them into trucks. The convoy of trucks then disappeared into the dense forest bordering Cameroon.
On Friday, Nigerian authorities updated the number of girls kidnapped to 276. At least 53 of the girls escaped, leaving 223 in the hands of their captors, police said.
Authorities said the number of missing girls could grow as police fill in spotty school enrollment records.
Families had sent their girls to the rural school in Chibok for a desperately needed education. The northeastern town is part of Borno state, where 72% of primary-age children never attended school, according to the U.S. Embassy in Nigeria.
It's even worse for girls than boys. "In the North particularly, the gender gap remains particularly wide and the proportion of girls to boys in school ranges from 1 girl to 2 boys to 1 to 3 in some states," UNICEF says.
Twelve northern states follow Sharia law.
In recent years, Boko Haram has carried out dozens of attacks, killing thousands of people at schools, churches, police stations, government buildings and elsewhere. Targets include Christians, senior Islamic figures critical of Boko Haram and people the group believes are engaged in "un-Islamic" behavior, the U.S. Commission on International Religious Freedom says.
Boko Haram has gained training in weapons and communications from al Qaeda in the Islamic Maghreb and al Qaeda in the Arabian Peninsula in recent years. This helped it move from little-noticed attacks to more spectacular ones, including against Western targets and the Nigerian government, which it seeks to overthrow, U.S. authorities say. In 2011, it carried out an attack with IEDs on the United Nations headquarters in Abuja.
It's unclear just how big the group is. The U.S. State Department says Boko Haram's membership estimates "range from the hundreds to a few thousand." A U.S. government report in December 2011 found that a "consistent lack of reliable reporting on Boko Haram has contributed to the difficulty in assessing its size, makeup, and goals."
Crisis unfolds as Nigeria hosts World Economic Forum
Though Nigeria has Africa's largest economy, driven largely by oil, poverty remains widespread: Nearly 62% of the country's nearly 170 million people live in extreme poverty, according to the CIA World Factbook.
That dichotomy takes center stage this week as a World Economic Forum meeting convenes Wednesday in Nigeria's capital of Abuja. The country "already plays a crucial role in advancing the continent's growth; yet it is also emblematic of the challenges of converting natural wealth into solutions that address persistent social challenges," the World Economic Forum on Africa says on its website.
Okonjo-Iweala, the finance minister, told CNN that Nigeria's intense efforts to find the girls have nothing to do with the high-profile event.
"We are doing things because we are Nigerians, and we have to solve our own problems. These are our daughters. It's like it's my daughter missing. Every single one of those girls is my daughter," Okonjo-Iweala said. "I wake up in the morning depressed when I know that they have not been brought back home. The President wakes up depressed, because he came from a poor family, and without education he would never been where he is today."
Nigerian authorities, she said, are doing everything possible to find the girls -- and they're asking for help.
"Any international organization, any country that has different technology, ways of detecting, please let them help us to get these girls back," she said.
The United States is sharing intelligence with Nigeria to help in the search, according to a U.S. official with direct knowledge of the situation.
"We are sharing intelligence that may be relevant to this situation. You are going to see a focus on this in all three channels of government: diplomatic, intelligence and military," the official said, speaking on the condition of anonymity because of the sensitive nature of the information.
Police vs. protesters?
Police in Abuja denied having arrested a leader of a protest over the weekend that was critical of the Nigerian government's efforts. In a statement, police said they "invited" Nyadar Naomi Mutah, a native of Chibok, for a "fact-finding interview." She cooperated and "was immediately allowed to return home to her loved ones," police said.
But Aminu Mahmoud, a lawyer representing Mutah, said her client was arrested Sunday without charge.
Fellow protest organizer Hadiza Usman said that during a session called by first lady Patience Jonathan to meet with protesters, the first lady recognized Mutah and said "let's keep you aside for now."
It was not clear whether that had anything to do with Mutah's later going to the police station.
In its statement on the matter, Abuja police also said security agencies "are leaving no stone unturned" in an attempt to ensure that the children are rescued.
READ: Nigeria abductions: 6 reasons why the world should demand action
READ: What's at stake in war against girls' kidnappers?
READ: Boko Haram: A bloody insurgency, a growing challenge
CNN's Evan Perez and Catherine E. Shoichet contributed to this report.