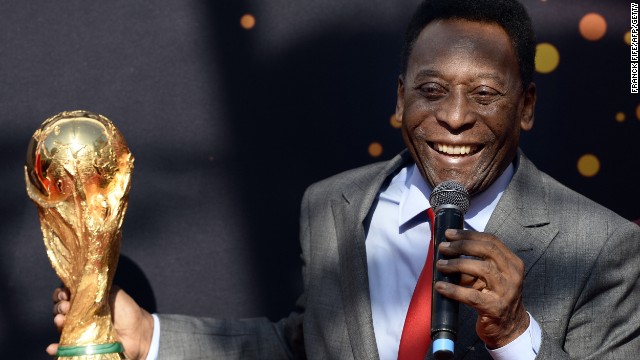 Ask many Brazilians who is the greatest footballer of all time and their answer will be simple: "Pele." The striker, pictured here in 2014, won three World Cups with Brazil between 1958 and 1970.
Pele is his country's leading goalscorer with 77 goals from 92 caps.
The Brazil team of 1970, which beat Italy 4-1 in the World Cup final in Mexico, is widely regarded as the greatest of all time. Pele is seen here leaping on his teammates.
Pele told CNN that his most memorable moment as a player was winning the 1958 World Cup when he was just 17.
Brazil also won the title in 1962 in Chile, but Pele did not play in the final after being injured in Brazil's second game.
Ahead of the World Cup earlier this year, Pele told CNN that his ideal final for 2014 would feature Brazil and Uruguay -- so his country can win revenge for 1950's heartbreaking Maracana defeat in the deciding match between the two South American teams. But Brazil crashed out after being beaten by eventual winners Germany 7-1 in the semifinal.
Aerial view of the Christ the Redeemer statue atop Corcovado Hill, overlooking the Maracana stadium in Rio de Janeiro, Brazil. The famous arena hosted the 2014 World Cup final in July.
Pele: The greatest
Record-breaker
Classic game
Teen dream
Injury blow
Revenge mission?
Rio ready
STORY HIGHLIGHTS
Pele confident Brazil will host a successful World Cup later this year
Mass protests and worries over infrastructure have blighted preparations
Football legend says players are blameless for these problems and should be supported
Believes Neymar will be better for having played with Barcelona
Follow us at @WorldSportCNN and like us on Facebook
(CNN) -- Brazilian legend Pele believes his country will rise above the problems which are blighting its preparations for football's global showpiece and put on a "fantastic" World Cup.
Demonstrations -- some violent -- have been taking place all over Brazil since last summer's Confederations Cup, raising concerns about security at the upcoming tournament.
They were originally organized to protest against increases in travel fares, but have since gone on to include demonstrations against staging the World Cup, corruption in government and a lack of social spending.
But Pele, who played in three winning Brazilian World Cup sides, is confident that once the competition -- which starts on June 12 -- begins these issues will become of secondary importance.
"We have had political problems," he told CNN. "But the World Cup is a big party and it will be fantastic."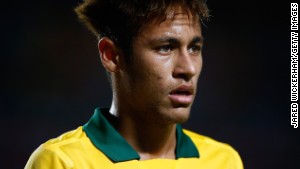 Neymar frustrated with Santos transfer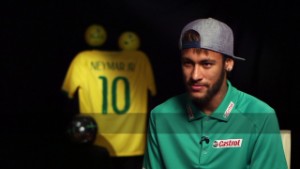 Neymar: Protests must be peaceful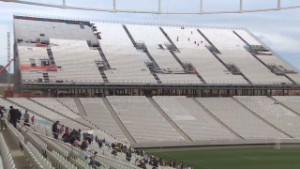 Test match held at Sao Paulo stadium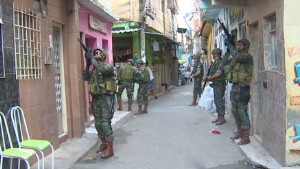 Brazilian army patrolling Rio de Janeiro
Despite his status as a national hero, the 73-year-old Pele came under fire for his reported criticism of protests which flared up at last year's Confederations Cup and have continued on a sporadic basis ever since.
It also apparently put him at odds with the current idol of the Brazilian fans, Barcelona's Neymar, who said he was "inspired" by the mass mobilization, which has focused on poor quality public services while billions of dollars are being spent on the World Cup and the 2016 Olympic Games in Rio.
Pele was at pains to clarify his position.
"I agree with him (Neymar) -- we accept of course we want the best for our country in terms of schools and hospitals -- but the players have nothing to do with this or political corruption," he said.
"So it's wrong to boo the players like happened in the Confederations Cup, I repeat again they have nothing to do with corruption and the other problems.
"We need to separate these things because the players always show off the best side of Brazil, let's support them -- because this is a good moment for us."
Politics aside, Pele is hoping Neymar, who starred for his old club Santos before his big money move to Barcelona last summer, will benefit from playing in European club football to help Brazil a record sixth World Cup triumph.
" A lot of Brazilians were annoyed when Santos sold him to Barcelona," he said. "But for Neymar it was fantastic as he gets more experience at the highest level and this will help the national team."
Pele played a starring role in Brazil's triumphs in the finals of the 1958 and 1970 World Cups and is hoping the current team can take their own place in footballing history.
But he is wary about tipping them as winners - "football is a box of surprises," he said-- pointing to Argentina, Italy, Spain and Germany as their most dangerous challengers.
"But Brazilian football is still the best and most beautiful in the world," he added.
Read: Army occupies Rio shantytown