Ellen Page talks coming out: 'Most nervous I've ever been'
updated 5:56 AM EDT, Fri May 2, 2014
Coming out in Hollywood
Coming out in Hollywood
Coming out in Hollywood
Coming out in Hollywood
Coming out in Hollywood
Coming out in Hollywood
Coming out in Hollywood
Coming out in Hollywood
Coming out in Hollywood
Coming out in Hollywood
Coming out in Hollywood
Coming out in Hollywood
Coming out in Hollywood
Coming out in Hollywood
Coming out in Hollywood
Coming out in Hollywood
Coming out in Hollywood
Coming out in Hollywood
Coming out in Hollywood
Coming out in Hollywood
Coming out in Hollywood
Coming out in Hollywood
Coming out in Hollywood
Coming out in Hollywood
Coming out in Hollywood
Coming out in Hollywood
Coming out in Hollywood
Coming out in Hollywood
Coming out in Hollywood
Coming out in Hollywood
Coming out in Hollywood
Coming out in Hollywood
Coming out in Hollywood
STORY HIGHLIGHTS
Ellen Page admits to being nervous about her coming out speech in February
But Page tells a Canadian magazine she now feels happier and more confident
The actress also thanks Ellen DeGeneres for helping pave the way for her and others
(CNN) -- The world has changed for actress Ellen Page.
After the 27-year-old came out in a speech during a February Human Rights Campaign event, she can finally be herself. Gone are the days when she had to think carefully about how to refer to an ex in the press, and the pressure to present herself in a certain way publicly is in the past.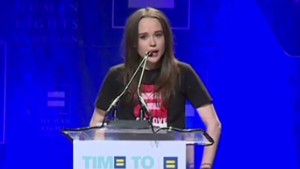 Ellen Page explains why she's coming out
Attending a Vanity Fair Oscars party a few weeks following her declaration that she's a lesbian, Page felt "happy and confident," she tells Canadian fashion magazine Flare in its June issue. "The difference was huge."
But preparing to give her eight-minute speech, which was delivered on Valentine's Day, was a lengthy process that left Page feeling conflicted, she tells the magazine.
The star of the upcoming "X-Men: Days of Future Past" wanted to make her announcement in support of a cause, and worked with the HRC to coordinate it. When she took the stage at the HRC's Time to Thrive conference, held to promote issues in the gay community, she said, "I'm here today because I am gay. And because ... maybe I can make a difference."
Getting those words out was a nerve-wracking experience, Page tells Flare.
"I was very nervous," admits Page, who says she came out to her parents at 19. "You think you're in a place where you're all, 'I'm thrilled to be gay, I have no issues about being gay anymore, I don't feel shame about being gay,' but you actually do. You're just not fully aware of it. I think I still felt scared about people knowing. I felt awkward around gay people; I felt guilty for not being myself."
Yet those nerves gave way to a tidal wave of support, one that's been "remarkably positive," the actress says. "Which is beautiful, because it's indicative of the change that's happening."
The change Page is witnessing was once spearheaded by another Ellen: comedian and daytime TV personality Ellen DeGeneres.
In an upcoming episode of the talk show host's program, Page thanks DeGeneres for paving the way with her own coming out announcement in 1997.
"Your speech was incredible," DeGeneres tells Page in the episode, which is scheduled to air May 27. "I know how scary that is. ... It's a scary thing to verbalize, to say it out loud."
Page admits that she was "the most nervous I've ever been in my life," but "I was just so ready to do it, and, quite frankly, so excited to do it. ... (I'm) grateful to have that moment, and grateful to you because you did it in time when it was much harder and much scarier."