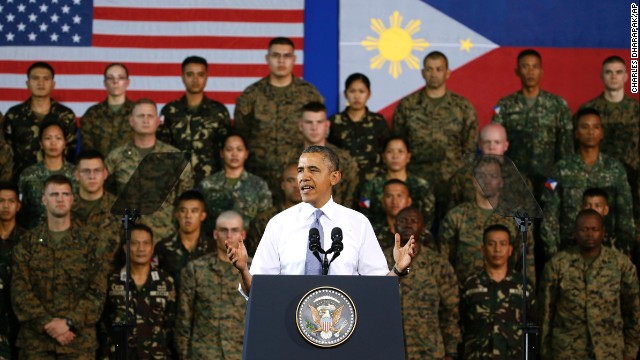 U.S. President Barack Obama addresses U.S. and Philippine troops in Manila, Philippines, on Tuesday, April 29. The Philippines was the last stop on Obama's four-country tour of Asia.
Filipinos protesting Obama's visit are dispersed by water cannon near the U.S. embassy in Manila on April 29.
Obama holds his hand over his heart as he participates in a wreath-laying ceremony with Larry Adkison, the superintendent of the Manila American Cemetery and Memorial, at Fort Bonifacio on April 29.
Obama walks with Philippine President Benigno Aquino III as they review an honor guard during a welcoming ceremony at the Malacanang Palace grounds in Manila on Monday, April 28.
In this handout provided by Malacanang Palace, Obama signs a guest book at the presidential palace in Manila on April 28.
Protesters burn an effigy of Obama during an anti-U.S. protest near Malacanang Palace on April 28.
Protesters carry a mock U.S. flag and shout anti-U.S. slogans during a protest of President Obama's visit to the Philippines on April 28.
Obama stands to speak as he attends a state dinner at the Malacanang Palace on April 28.
Obama shakes hands with Malaysian Prime Minister Najib Razak as he arrives at Najib's residence in Kuala Lumpur, Malaysia, on Sunday, April 27.
Obama is greeted by Malaysian officials as he deplanes from Air Force One at the Royal Malaysian Air Force Airbase outside of Kuala Lumpur on Saturday, April 26.
Obama waves to the crowd as he arrives to speak in the Collier Field House at U.S. Army Garrison Yongsan in Seoul, South Korea, on April 26.
Obama and South Korean President Park Geun-Hye attend a welcoming ceremony at the presidential Blue House on Friday, April 25, in Seoul.
Obama stands with tour guide Sangmee Park at Gyeongbok Palace in Seoul on April 25.
South Korean police stand guard in Seoul before Obama's visit to the War Memorial of Korea on April 25.
Obama arrives to lay a wreath at the National War Memorial in Seoul on April 25.
Obama and Honda Motor's humanoid robot ASIMO, an acronym for Advanced Step in Innovative Mobility, bow to each other during a youth science event at the National Museum of Emerging Science and Innovation in Tokyo on Thursday, April 24.
Obama receives a blessing at Meiji Shrine in Tokyo on April 24.
Obama was accompanied to the shrine by U.S. Ambassador to Japan Caroline Kennedy, in blue, and her husband, Edwin Schlossberg, second from right.
Obama places a prayer tablet on the Votive Tree at the Meiji Shrine.
Obama reviews an honor guard during a welcoming ceremony at the Imperial Palace in Tokyo on April 24.
Obama meets with Japanese Emperor Akihito and Empress Michiko at the Imperial Palace.
Obama toasts Emperor Akihito and Empress Michiko at the Imperial Palace.
Office workers try to catch a glimpse of Obama as he and Japanese Prime Minister Shinzo Abe have dinner in Tokyo's Ginza District on Wednesday, April 23.
Obama and Abe dine at the Sukiyabashi Jiro sushi restaurant.
Abe greets Obama before dinner.
Kennedy greets Obama upon his arrival in Tokyo on April 23.
Obama steps from Air Force One after landing in Tokyo on April 23.
Obama visits Asia
Obama visits Asia
Obama visits Asia
Obama visits Asia
Obama visits Asia
Obama visits Asia
Obama visits Asia
Obama visits Asia
Obama visits Asia
Obama visits Asia
Obama visits Asia
Obama visits Asia
Obama visits Asia
Obama visits Asia
Obama visits Asia
Obama visits Asia
Obama visits Asia
Obama visits Asia
Obama visits Asia
Obama visits Asia
Obama visits Asia
Obama visits Asia
Obama visits Asia
Obama visits Asia
Obama visits Asia
Obama visits Asia
Obama visits Asia
STORY HIGHLIGHTS
David Gergen: Obama is experiencing another low point in his presidency
He says there's a risk Obama could be seen as a lame duck for next 33 months
Gergen: A second-term president still can be a strong leader, particularly overseas
He says Obama shouldn't diminish the potential impact of his decisions
Editor's note: David Gergen is a senior political analyst for CNN and has been an adviser to four presidents. A graduate of Harvard Law School, he is a professor of public service and director of the Center for Public Leadership at Harvard University's Kennedy School of Government. Follow him on Twitter at @david_gergen. The opinions expressed in this commentary are solely those of the author.
(CNN) -- Coming home from Asia, Barack Obama is obviously going through another rough patch in his presidency. But this time, it could be more dangerous: He is perilously close to becoming a lame duck 33 months before he leaves office. That is bad for him, bad for the country and bad for the world.
The second term of a presidency often follows an arc. As Lyndon Johnson told his aides after his landslide victory in 1964, you've got about a year to get things done at home. And second-term presidents have often seized on those early months for domestic accomplishments. After that, Washington becomes mired in midterm politicking, and in your third year, people start looking over your shoulder at who is coming next.
With power seeping away at home, second-termers increasingly turn their attention overseas, where they can still get big things done as commander in chief of the most powerful nation in history. That's why presidents spend so much time on the road in their final years.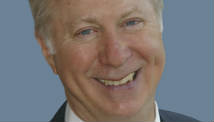 David Gergen
Obama's second term is a total aberration. Resisted by obstructionists among Republicans and plagued by his own mistakes, the first 12 months after re-election were a bust. Why he and his team didn't take more care in the rollout of the Affordable Care Act website will remain one of the great mysteries for historians.
But it has now become equally puzzling why he has not become more sure-footed in foreign affairs. He is one of the brightest men ever to occupy the office, and yet his learning curve has been among the flattest. Talking to players on the world stage -- most of whom still want him to succeed -- one finds them genuinely rattled, worried about a lack of national will and operational competence.
On the tail end of his Asia trip, Obama told the press that in foreign policy, he thinks a president hits mostly singles and doubles and an occasional home run. It was odd enough that given his huge power and influence, he thinks small ball. But he also raised the question: Why so long between home runs? When was the last one? Three years ago with Osama bin Laden?
Not to overdo his analogy, but the years since have brought a notable string of strikeouts. The administration would vigorously disagree, but just how much success can it genuinely claim in Syria, Egypt, Libya or even Iraq? Or the Russian reset? Or Ukraine?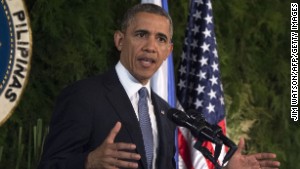 New poll shows wrong track blues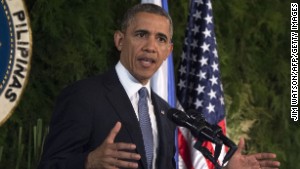 New poll shows wrong track blues
The administration's increasing focus on Asia is a welcome move, but it too has gone less well than expected. Experts have long said that much of the success of the famous "pivot" will depend upon completion of the Trans-Pacific Partnership, the most important trade agreement in decades. To its credit, the administration has aggressively pursued the deal but to little avail. The President's trip to Tokyo revealed that the partnership is in serious trouble, mired down by domestic politics in both the U.S. and Japan.
Obama did provide much-needed assurances to Japan about American credibility as a military ally. Still, the facts remain that even as the U.S. cuts defense spending, China is boosting its defense budget by 12% and flexing its muscles off its shores. With nationalism on the rise across Asia and sparks starting to fly, who can be certain that America will be there to put out a fire?
The net result is of a president who sadly seems diminished both at home and abroad. He appears to have only minimal objectives with the current Congress -- passage of a higher minimum wage and pieces of an immigration bill -- and may not get either.
Most Americans still want him to succeed, but when television executives put him on the air, audiences often melt away. Even before the midterms, voters are looking over his shoulder at who comes next. "Waiting for Hillary" is a bigger story than "What Happened to Obama?" And there are few prospects for home runs overseas.
This is bad news and not just for the President's personal fortunes. America needs a strong, effective president year in, year out, to help propel us forward. Our success as a people has depended on our capacity to solve the problems of today so we can move on to tomorrow. The endless evasions and diversions are tying us in knots and draining our spirits.
The world needs strong, effective American leadership as well; for all our mistakes like Iraq, the U.S. is the one nation that still has the power to keep world order. But in the twinkle of an eye, we have gone from being indispensable to indisposed.
There is no obvious game plan for Obama to bounce back. It would help if he and his team promised less and delivered more. It would help if more Republicans put the country first. The White House must also avoid the clear danger of so eagerly wanting a big breakthrough -- say, in negotiations with Iran -- that it weakens our security. No deal is always better than a bad deal.
But mostly, the Obama team probably has to be patient. Fresh opportunities for leadership will come; they always do at the White House. And for all his troubles, the President retains enormous powers and public good will. It is in not in our national interest to have a lame duck for 33 months.
Follow us on Twitter @CNNOpinion.
Join us on Facebook/CNNOpinion.