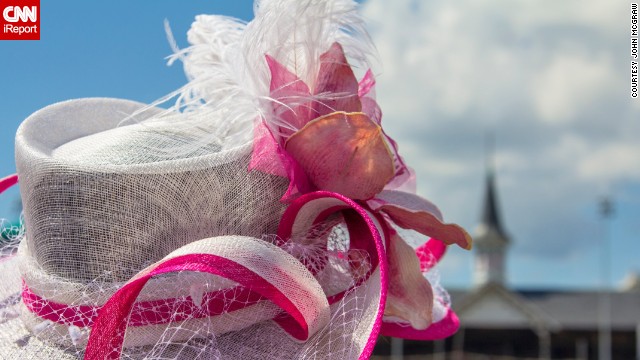 "Out of all the hat photos I have taken, this is my favorite," photographer
John McGraw
said. The 2014 Kentucky Derby will mark his 20th year in attendance. You can bet McGraw will be hat-tipping the boldest hat aficionados by taking their photos.
"Sometimes, bigger is better. Her smile is what caught me right away," McGraw said of this 2011 look. Wearing a hat to the Kentucky Derby is believed to be good luck, and your hat is meant to be a reflection of your personality.
"This is a classic photo of the time and money that goes into picking a hat," McGraw says. "Many people don't even see the horses race. They are there to be seen or people-watch."
garland of 554 red roses
draped over the winner.
Big glasses, big hats and big smiles. The derby is also referred to as "The Run for the Roses" for the
It's not all traditional hats at the Derby; fascinators like this one have been deemed fashionable headpieces.
"This reminded me of a hat you might see at a royal wedding or a polo match or, of course, at the Kentucky Derby."
McGraw's favorite event is the Kentucky Oaks, a race for 3-year-old Thoroughbred fillies. It's held at Churchill Downs the day before the Derby, and there's a smaller crowd.
Pink is the preferred color at the Oaks in support of breast cancer awareness.
"Every time I look at this photo, for some reason, I think of the early 1900s and think this is what a lot of women would wear," McGraw said of this tiny hat from 2011.
Although wearing a hat to the races has been a longstanding tradition for women, more men have been sporting them in recent years.
"I imagine this guy preparing for the day's event, getting the hat ready and shopping for the shirt to match."
"He was one happy guy. A smile from ear to ear. Either happy to be at the track or that someone was taking his photo," mused McGraw.
"When I saw this lady walking toward me, I noticed her smile," McGraw remembers. "Like this was the happiest day she has ever had, or that she had been looking forward to dressing up and showing off her hat for a long time, and the day finally had arrived, and she pulled it off."
Feathers are a staple material worn on Derby hats, though usually not quite this many.
Churchill Downs' twin spires figure in many hat designs, "but I love that this guy did it on a sombrero," McGraw said. Derby weekend is usually around Cinco de Mayo, which leads to lots of Mexican-themed headpieces. McGraw says most hat-wearers are happy to pose for him. But maybe not this guy.
It's all about the hats
It's all about the hats
It's all about the hats
It's all about the hats
It's all about the hats
It's all about the hats
It's all about the hats
It's all about the hats
It's all about the hats
It's all about the hats
It's all about the hats
It's all about the hats
It's all about the hats
It's all about the hats
It's all about the hats