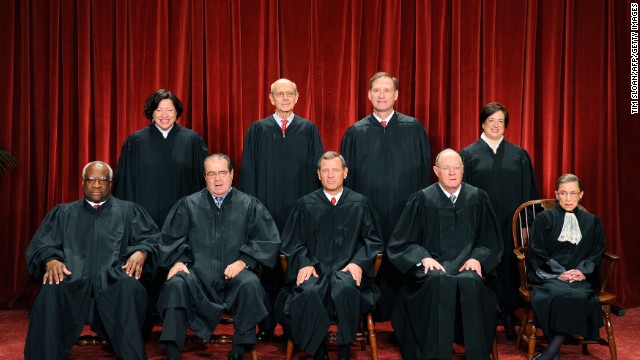 The justices of the U.S. Supreme Court sit for their official photograph on October 8, 2010, at the Supreme Court. Front row, from left: Clarence Thomas, Antonin Scalia, Chief Justice John G. Roberts, Anthony M. Kennedy and Ruth Bader Ginsburg. Back row, from left: Sonia Sotomayor, Stephen Breyer, Samuel Alito Jr. and Elena Kagan.
In 2005, Chief Justice John G. Roberts was nominated by President George W. Bush to succeed Justice Sandra Day O'Connor as an associate justice. After Chief Justice William Rehnquist died, however, Bush named Roberts to the chief justice post. The court has moved to the right during his tenure, although Roberts supplied the key vote to uphold President Barack Obama's Affordable Care Act.
Justice Antonin Scalia was appointed by President Ronald Reagan in 1986 to fill the seat vacated by Justice William Rehnquist when he was elevated to chief justice. A constitutional originalist -- and a colorful orator -- Scalia is a member of the court's conservative wing. He is currently the court's longest-serving justice.
Justice Anthony M. Kennedy was appointed to the court by President Ronald Reagan in 1988. He is a conservative justice but has provided crucial swing votes in many cases, writing the majority opinion, for example, in Lawrence v. Texas, which struck down that state's sodomy law.
Justice Clarence Thomas is the second African-American to serve on the court, succeeding Justice Thurgood Marshall when he was appointed by President George H. W. Bush in 1991. He is a conservative, a strict constructionist who supports states' rights.
Justice Ruth Bader Ginsburg is the second woman to serve on the Supreme Court. Appointed by President Bill Clinton in 1993, she is a strong voice in the court's liberal minority.
Justice Stephen G. Breyer was appointed to the court in 1994 by President Bill Clinton. He is considered a member of the court's liberal minority.
Justice Samuel A. Alito Jr. was appointed by President George W. Bush in 2006 and is known as one of the most conservative justices to serve on the court in modern times.
Justice Sonia Sotomayor is the court's first Hispanic and third female justice. She was appointed by President Barack Obama in 2009 and is regarded as a resolutely liberal member of the court.
Justice Elena Kagan is the fourth female justice and a member of the court's liberal wing. She was appointed in 2010, at the age of 50, by President Barack Obama and is the court's youngest member.
Today's Supreme Court
John G. Roberts
Antonin Scalia
Anthony M. Kennedy
Clarence Thomas
Ruth Bader Ginsburg
Stephen G. Breyer
Samuel A. Alito Jr.
Sonia Sotomayor
Elena Kagan
STORY HIGHLIGHTS
Justices examine issue with potentially far-reaching impact
Court again examines legal rights in an evolving area of criminal investigation
The question is whether police need a warrant to search data on cell phones during an arrest
(CNN) -- The Supreme Court was at odds Tuesday in trying to balance the level of privacy cell phone owners deserve with legitimate concerns of law enforcement.
In oral arguments, the justices tackled the collision of a fundamental constitutional right with omnipresent technology reshaping personal communications, and in many cases, society.
The issue: when and whether police must obtain a warrant to search data on the cell phone of a person under arrest.
What was clear after two hours was that strict constitutional rules favoring one side or the other were not likely to emerge from a seemingly divided and cautious court again examining Fourth Amendment protections in an evolving area of criminal investigation.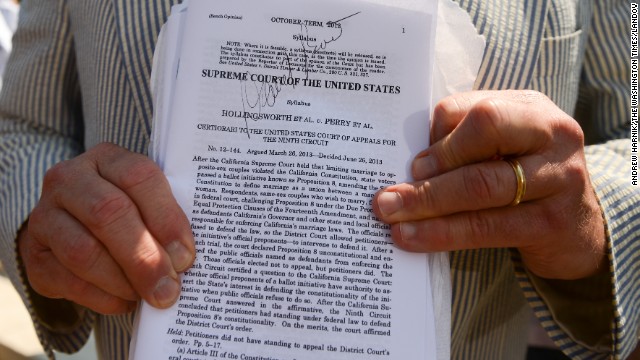 Hollingsworth v. Perry (2013): The Supreme Court dismissed an appeal over California's Proposition 8 on jurisdictional grounds. The voter-approved ballot measure barring same-sex marriage was not defended by state officials, but rather a private party. This ruling cleared the way for same-sex marriage in California to resume, but left open-ended the legal language of 35 other states barring same-sex marriage. Take a look at other important cases decided by the high court.
United States v. Windsor (2013): When her wife died in 2009, Edith Windsor, 84, was forced to pay hundreds of thousands of dollars in estate taxes because her marriage was not recognized by the federal government's Defense of Marriage Act of 1996. The Supreme Court struck down the part of the law which denied legally marriage same-sex couples the same federal benefits provided to heterosexual spouses.
National Federation of Independent Business v. Sebelius (2012): The Supreme Court upheld most of the Affordable Care Act, the Obama administration's health care reform law, on June 28, 2012. The decision determined how hundreds of millions of Americans will receive health care.
Citizens United v. Federal Election Commission (2010): Activists rally in February 2012 to urge the Supreme Court to overturn its decision that fundamentally changed campaign finance law by allowing corporations and unions to contribute unlimited funds to political action committees not affiliated with a candidate.
Texas v. Johnson (1989): The Supreme Court overturned the decision that convicted Gregory Lee Johnson of desecrating a venerated object after he set an American flag on fire during a protest. The court ruled that Johnson (at right with his lawyer, William Kunstler) was protected under the First Amendment right to freedom of speech.
United States v. Nixon (1974): When President Richard Nixon claimed executive privilege over taped conversations regarding the Watergate scandal, the Supreme Court ruled that he had to turn over the tapes and other documents. The ruling set a precedent limiting the power of the president of the United States.
Roe v. Wade (1973): Norma McCorvey, identified as "Jane Roe," sued Dallas County District Attorney Henry Wade over a law that made it a felony to have an abortion unless the life of the mother was in danger. The court agreed with Roe and overruled any laws that made abortion illegal in the first trimester. Here, McCorvey, left, stands with her attorney Gloria Allred in 1989.
Miranda v. Arizona (1966): Ernesto Miranda confessed to a crime without the police informing him of his right to an attorney or right against self-incrimination. His attorney argued in court that the confession should have been inadmissible, and in 1966, the Supreme Court agreed. The term "Miranda rights" has been used since.
Gideon v. Wainwright (1963): The Supreme Court overturned the burglary conviction of Clarence Earl Gideon after he wrote to the court from his prison cell, explaining he was denied the right to an attorney at his 1961 trial.
Mapp v. Ohio (1961): The Supreme Court overturned the conviction of Dollree Mapp because the evidence collected against her was obtained during an illegal search. The ruling re-evaluated the Fourth Amendment, which protects citizens against unreasonable searches and seizures.
Brown v. Board of Education (1954): Nathaniel Steward recites his lesson surrounded by white classmates at the Saint-Dominique School in Washington. In Brown v. Board of Education, the Supreme Court ruled that it was unconstitutional to separate students based on race.
Korematsu v. United States (1944): Fred Korematsu, a Japanese-American man, was arrested after authorities found out that he claimed to be a Mexican-American to avoid an internment camp during World War II. The court ruled that the rights of an individual were not as important as the need to protect the country during wartime. In 1998, President Bill Clinton awarded Korematsu the Presidential Medal of Freedom.
Plessy v. Ferguson (1896): Homer Plessy was arrested when he refused to leave a whites-only segregated train car, claiming he was 7/8 white and only 1/8 black. The Supreme Court ruled that "separate but equal" facilities for blacks were constitutional, which remained the rule until Brown v. Board of Education in 1954.
Dred Scott v. Sandford (1857): When Dred Scott asked a circuit court to reward him his freedom after moving to a free state, the Supreme Court ruled that Congress didn't have the right to prohibit slavery and, further, that those of African-American descent were not protected by the Constitution.
Gibbons v. Ogden (1824): This was the first case to establish Congress' power to regulate interstate commerce. The ruling signaled a shift in power from the states to the federal government. Aaron Ogden, seen here, was given exclusive permission from the state of New York to navigate the waters between New York and certain New Jersey ports. When Ogden brought a lawsuit against Thomas Gibbons for operating steamships in his waters, the Supreme Court sided with Gibbons.
McCulloch v. Maryland (1819): In response to the federal government's controversial decision to institute a national bank in the state, Maryland tried to tax the bank out of business. When a federal bank cashier, James W. McCulloch, refused to pay the taxes, the state of Maryland filed charges against him. In McCulloch v. Maryland, the Supreme Court ruled that chartering a bank was an implied power of the Constitution. The first national bank, pictured, was created by Congress in 1791 in Philadelphia.
Marbury v. Madison (1803): When Secretary of State James Madison, seen here, tried to stop Federal loyalists from being appointed to judicial positions, he was sued by William Marbury. Marbury was one of former President John Adams' appointees, and the court decided that although he had a right to the position, the court couldn't enforce his appointment. The case defined the boundaries of the executive and judicial branches of government.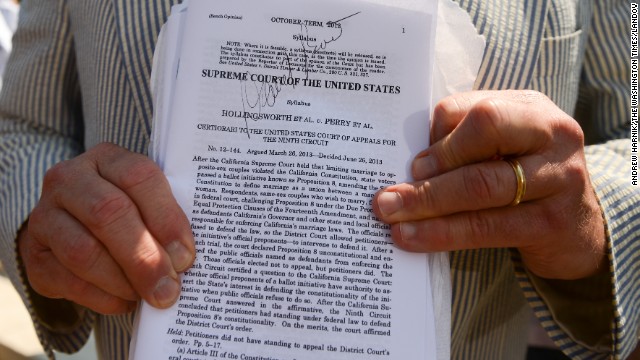 Photos: Supreme Court cases that changed America
Still, potentially far-reaching rulings are expected in June.
The justices offered tough questions to lawyers involved in appeals involving suspects in Massachusetts and California convicted, in part, after phone numbers, text messages, photos and addresses obtained from personal electronic devices linked them to criminal drug and gang activity.
The search cases give the justices a timely opportunity to reenter the public debate over the limits of Americans' privacy rights, with a focus on the ubiquitous cell phone and its vast storage of information and video.
A January Pew Research Center survey found more than 90-percent of Americans now own or regularly use a cellphone, and 58-percent have a more sophisticated smartphone.
They have become the most quickly adopted technology in history. An estimated 6 of the world's 7 billion people have access to the mobile devices, according to the United Nations.
The two criminal cases before the high court present a complex mix of issues to be explored, in the larger context of the popular cell phone and other digital devices. Among the questions:
-- Should law enforcement have near unfettered, warrantless access to possibly incriminating, even embarrassing, digital evidence-- or should exceptions be created?
-- How are searches of cellphones "incident to arrest" different from wallets, purses, briefcases, dairies, compact discs, even vehicle glove compartments?
-- Should other current and future digital devices receive similar legal protections, such as tablets, laptops, separate global positioning systems (GPS) devices, and wearable cameras?
-- What kinds of information are subject to an initial electronic search-- caller ID, call records, contacts list, photos, video -- and how far can police go to thwart encryption devices that are a feature of many newer models?
Lower court judges nationwide have been left divided over how to apply a 40-year-old high court precedent, which allows searches of items a suspect possesses after arrest.
Searches of homes generally require warrants and are given greater constitutional protection than searches of a vehicle or a person out in the public.
Of the two cases addressed by the high court, David Riley's attracted the most scrutiny. He was detained in 2009 for having an expired vehicle registration and driving with a suspended license. When authorities impounded the Lexus, loaded weapons were found hidden under the hood.
After the college student's subsequent arrest, San Diego police looked at his smartphone. Text messages, contacts and video in the touch-screen device led officers to believe Riley had organized crime connections, and a photograph of another vehicle owned by the suspect was linked to an earlier drive-by shooting.
He was convicted in state court and received a 15-year jail sentence.
Separately, Brima Wurie was arrested in 2007 for selling two packets of crack cocaine. He had an old-style flip phone in his pocket, and police in Boston used call logs on the device to trace his real home address, after the suspect gave a bogus one.
There, officers with a search warrant found more drugs, a weapon and ammunition. Wurie was later convicted in federal court and is serving 22 years behind bars.
In neither case did police seek a warrant before the phones were searched. One appeals court upheld Riley's conviction, and another tossed out Wurie's.
During arguments Riley's lawyer Jeffrey Fisher told the justices that giving police too much discretion here "will fundamentally have changed the nature of privacy that Americans fought for at the founding of the Republic and that we've enjoyed ever since."
"Well, including the criminals who are more dangerous, more sophisticated, more elusive with cell phones," replied Justice Anthony Kennedy. "That's the other side of this."
A key divide among the bench was whether cellphones really were different.
"Practically speaking, a person can only carry so much on their person. That is different because carrying a billfold of photographs is a billfold of photograph," said Justice Sonia Sotomayor. "But now we're talking about potentially thousands, because with digital cameras people take endless photos and it spans their entire life. You don't see a difference between the two things?"
Calling it a "nervous concern," Justice Ruth Bader Ginsburg worried police could potentially search anybody's electronic devices if they are stopped for any reason-- "that the "cell phone is fair game no matter what the crime, no matter how relatively unimportant the crime. Is it all misdemeanors that opens the world to the police," she asked.
"So I don't understand why we cut the warrant out of this picture," she added later.
Even Justice Antonin Scalia, traditionally supporting of police procedures, said the idea of searching a person's smartphone for a seat belt violation was "absurd."
The Constitution's Fourth Amendment protects against "unreasonable searches and seizures."
But the high court has repeatedly affirmed the government's discretion to conduct warrantless initial pat-downs and searches of people and vehicles -- to ensure officers' safety and prevent destruction of evidence.
That included a 1973 ruling upholding the police search of a suspect's crumpled cigarette box, where heroin capsules were discovered. The motorist had first been stopped on suspicion of driving on a suspended license in Washington, D.C.
Similar law enforcement searches can include other closed containers, such as wallets and address books, even if it is not initially apparent the items are contraband or dangerous.
But privacy advocates and defense attorneys argue that portable, easily storable technology makes these appeals different.
The high court has been the source of jokes over the years over the perception they are technological Luddites, shunning cameras in court-- and computers and email for typewriters and human messengers. But the justices as a whole are voracious digesters of information, and displayed varying amounts of aptitude at the emerging digital society. Yet even 75-year-old Justice Stephen Breyer could not help poking fun at his old-school ways.
"By the way, GPS information, I don't want to admit it, but my wife might put a little note in my pocket: Steven, remember, turn right at the third stoplight, proceed three blocks forward," he said at one point to courtroom laughter.
The cases are U.S. v. Wurie (13-212) and Riley v. California (13-132).
Opinion: What Scalia knows about illegal searches