STORY HIGHLIGHTS
All eyes on Michael Sam ahead of May's NFL draft
The former Missouri Tigers defensive end came out in February
San Francisco 49ers owner John York says Sam's sexuality is not an issue
If drafted, Sam will become first active NFL player to have declared his homosexuality
Follow us at @WorldSportCNN and like us on Facebook
(CNN) -- There will be no room for homophobia at the 2014 NFL Draft, according to San Francisco 49ers owner and co-chairman John York.
When the three-day event, taking place between May 8-10, rolls into town, much of the media's attention is likely to be focused on Michael Sam -- the former Missouri Tigers defensive end who came out as gay in February.
The college football star is expected to be drafted in the latter rounds, and if so, he will become the first active player in the NFL to have publicly declared his homosexuality.
A handful of teams are reportedly interested in recruiting the 24-year-old, and York insists that -- regardless of Sam's sexuality -- he would have him at the 49ers should he be deemed good enough.
"If he is the right person and we have a need at that position and he shows the capability on film, what his sexual orientation is would not matter in our locker room," York told CNN.
What his sexual orientation is would not matter in our locker room.
San Francisco 49ers owner and co-chairman John York
Sam's decision to come out earlier this year means he joins the growing list of sports stars who have opted to reveal their homosexuality.
Former German international footballer Thomas Hitzlsperger, Puerto Rican featherweight boxer Orlando Cruz and NBA player Jason Collins have all come out in recent years, however, they have decided to do so during the latter stages of their careers.
A small number of NFL players, too, have chosen to come out in the past, but only once their professional careers had come to an end -- starting with David Kopay in 1975.
The prospect of Sam becoming the first openly gay athlete in the league is simply a natural progression for the sport, according to York, given that Kopay's own admission occurred nearly 40 years ago.
"The truth of the matter is even though we haven't had players who are playing come out openly, we're further along in this curve than people want to make out," he said.
"I think it's just natural that there are players in any sport and in any other area of business that there are people of different orientations throughout the population."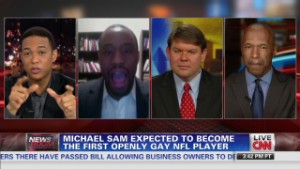 Michael Sam and "Locker Room Culture"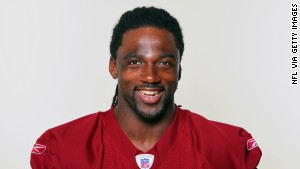 Stallworth: 'I saw how ignorant I was'
Should Sam move on to the 49ers next month, he could find himself lining up next to Jonathan Martin, who has also had his own personal problems to deal with.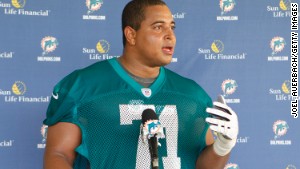 NFL names more bullies, victims in Miami
Martin, who arrived in San Francisco from the Miami Dolphins last month, was the target of harassment and bullying from three former teammates.
An independent report found the 24-year-old had been the victim of "sexually explicit remarks" and "racial insults" from Richie Incognito, John Jerry and Mike Pouncey, while it was revealed that Martin contemplated suicide as a result of their actions.
But while there has been much sympathy for the offensive tackle in the weeks since, some have suggested he broke the locker room's code of silence -- a claim that York is quick to refute.
"No I don't believe so," he said. "The locker room needs to be a professional atmosphere.
"Obviously there's an element of privacy that's in the locker room but there's also an element that needs to be professional and Jonathan will be a part of that professional locker room in the 49ers."
York added: "There is a code of conduct that needs to be modeled everywhere, no matter where it is. People have to be treated with respect, with dignity and given the opportunity to maintain their own lives."
York feels the signing of Martin, who has worked with 49ers head coach Jim Harbaugh in the past, is proof that his team is doing its best to further the NFL's boundaries.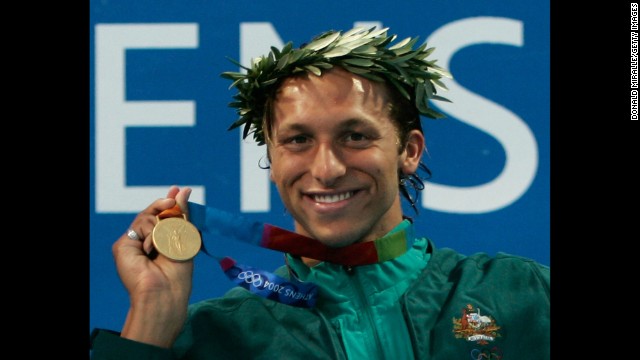 Swimmer Ian Thorpe, seen here in 2004 with one of his five Olympic gold medals, told an Australian news outlet that he is gay in an interview that aired on Sunday, July 13. Click through to see other openly gay athletes.
Former Missouri defensive end Michael Sam told ESPN and The New York Times that he is gay on February 9. Sam later became the first openly gay player to be drafted by a NFL team when he was taken by the St. Louis Rams in the seventh round.
Robbie Rogers became the first openly gay male athlete to play in a professional American sporting match when he took the field for Major League Soccer's Los Angeles Galaxy during a match against the Seattle Sounders on May 26.
"I didn't set out to be the first openly gay athlete playing in a major American team sport. But since I am, I'm happy to start the conversation," NBA player Jason Collins said in a Sports Illustrated article.
Sheryl Swoopes, a retired WNBA star and coach of the Loyola University Chicago's women's basketball team, came out in 2005.
Brittney Griner, selected No. 1 in the 2013 WNBA draft by the Phoenix Mercury, is openly gay.
In an exclusive interview with CNN, former San Francisco 49ers player Kwame Harris came out as gay after rumors circulated in the media.
Rugby player Gareth Thomas of Wales spoke about being gay to a British news channel in 2009.
Justin Fashanu became the first openly gay soccer player in Europe when he came out in 1990. Eight years later, he took his own life.
Tennis great Martina Navratilova came out in 1981.
After his retirement in 2007, basketball player John Amaechi announced he was gay.
After retiring from professional football in 1972, David Kopay acknowledged to the Washington Star that he was gay.
Villanova University's Will Sheridan came out to his teammates in 2003.
In 2012, U.S. women's soccer player Megan Rapinoe confirmed in Out magazine that she was a lesbian.
Champion figure skater Johnny Weir confirmed in his 2011 memoir, "Welcome to My World," that he was gay.
Australia's Matthew Mitcham came out in an interview with the Sydney Morning Herald in 2008.
In 2012, Orlando Cruz became the first active professional fighter to publicly announce that he was gay.
Openly gay British dressage rider Carl Hester helped his team win gold at the 2012 Olympics.
English cricketer Steven Davies announced he was gay in 2011.
Germany's Judith Arndt won the silver medal in cycling at the 2012 Olympics.
Billy Bean, a former Major League Baseball player, discussed being gay in a 1999 New York Times article.
Tennis legend Billie Jean King was outed by a former female partner in 1981.
In 2002, professional football player Esera Tuaolo came out on HBO's "Real Sports."
French tennis player Amelie Mauresmo came out in 1999.
Greg Louganis, who won four Olympic golds for the United States during his diving career, has been openly gay since 1995.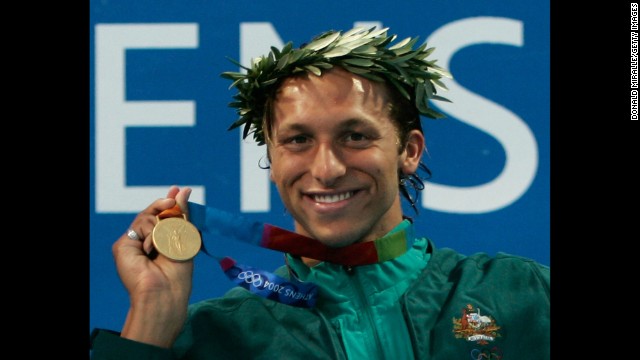 Photos: Openly gay athletes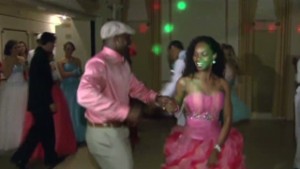 Seahawks Super Bowl champ goes to prom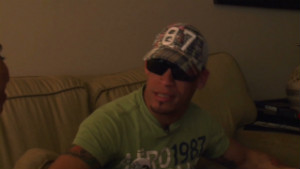 Boxer Orlando Cruz discusses coming out
"I think that we've played a role in that being the San Francisco bay area in trying to be a leader and recognizing that individual rights play a role within sports as they do in the rest of the world," he said.
Expanding NFL's reach
While York is keen to further the NFL's boundaries when it comes to giving players room to express themselves for who they are, he is also committed to helping the sport expand overseas.
The NFL's profile in England is continuing to grow, with London's Wembley Stadium having hosted the International Series since 2007, while there has even been talk of a franchise based in the nation's capital. The Jacksonville Jaguars -- whose owner Shahid Kahn also owns English Premier League side Fulham -- are reportedly the most likely to relocate to London.
York, a former chairman of the NFL's international committee, believes a franchise in London would be a great way to boost the sport's popularity outside of the U.S., although he does not necessarily feel a team would need to relocate across the Atlantic completely.
"I don't think it will ever come down to that choice [of moving] because I think it's a totally different market. I think it will be fantastic to have a franchise in both Los Angeles and London," he said. "[But] I think you're going to have to develop a new way to think about the way teams play."
York added: "There are times where you play three games away [in a row] or you play three games at home [each season]. We look at that right now as a potential flaw in the schedule.
"But when you take a team and put them at the distance that London is from the west coast of the U.S., all of a sudden maybe that's not a flaw, maybe that's a good point."
Read: NFL prospect Michael Sam reveals he is gay
Read: Dolphins suspend Incognito after teammate complaints