Beyonce, Jay Z announce joint summer tour
updated 5:54 PM EDT, Tue April 29, 2014
STORY HIGHLIGHTS
Jay Z and Beyonce have announced a joint summer tour
Anticipation for the tour was stirred earlier this month
"On the Run" will kick off in Miami in June
The couple will visit 16 cities before concluding the tour in August
(CNN) -- Cue the screams: One of the hardest-working couples in show business is headed on tour.
On Monday, Jay Z and Beyonce announced a joint summer trek that will take them to 16 cities throughout North America, starting in June.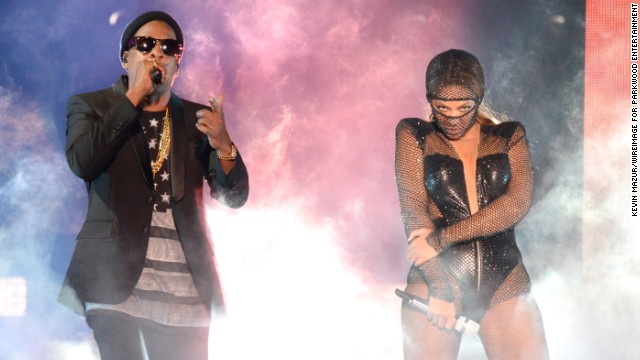 Rumors may dog Jay Z and Beyonce, but for now, they remain untouchable. Whether they're raking in cash as Hollywood's highest-paid couple or being cleared by the government for their 2013 trip to Cuba, Mr. and Mrs. Carter have some serious clout. Click through the gallery to see which other famous couples are running Hollywood:
Not even Vogue magazine could deny the influence of Kim Kardashian and Kanye West, putting the #WorldsMostTalkedAboutCouple on the cover of its April 2014 issue. Breaking the confines of Anna Wintour's sacred space? That's power.
Jennifer Aniston reportedly had earned an estimated $20 million as of June 2013, but her writer/director/actor fiancé Justin Theroux certainly carries his weight.
From Gisele Bundchen's modeling, endorsement deals and independent licensing ventures to Tom Brady's generous contract with the New England Patriots, this power couple isn't hurting for influence.
Miranda Lambert and Blake Shelton are country music's winning pair as they continue to dominate Billboard charts, rake up trophies at awards shows and reach a broader audience through Shelton's seat at NBC's "The Voice."
Together, Angelina Jolie and Brad Pitt have six children, two Academy Awards and roughly $50 million earned in 2013, according to Forbes.
With Calista Flockhart focusing on TV and Harrison Ford starring on the big screen, the couple, who wed in 2010, have been power players for years.
Between the two of them, Will Smith and Jada Pinkett Smith have had a major influence across entertainment, from TV to music to film. And they're even more of a power couple -- or family -- when you factor in their famous offspring, Jaden and Willow.
Speaking of powerful families, Judd Apatow and Leslie Mann also have had their children, Maude and Iris, appear in three comedies directed by Apatow and starring Mann. It seems the couple that works together on hilarious movies stays together.
Newly engaged couple Ashton Kutcher and Mila Kunis have a long history of working together, and in 2013 earned an estimated $35 million. The pair are now expecting their first child.
Together, soccer player David Beckham and his wife, Victoria (the fashion designer formerly known as Posh Spice), earn $54 million annually, according to Forbes.
Soccer star Gerard Pique brings his athleticism, while singer Shakira brings global pop stardom to this high-profile relationship.
As long as "American Idol" judge Mariah Carey continues making music and Nick Cannon keeps acting and writing/producing/directing TV programs, this power couple isn't going anywhere.
David Bowie and Iman married in 1992. His musical legacy coupled with her modeling career and cosmetics company makes this pair a force with which to be reckoned.
Ellen DeGeneres has gained even more regular fans for her show with "The Oprah Winfrey Show" no longer on the air. Alone, DeGeneres rakes in $53 million annually, according to Forbes. Add in what her wife, actress Portia de Rossi, earns, and you've got yourself a power couple.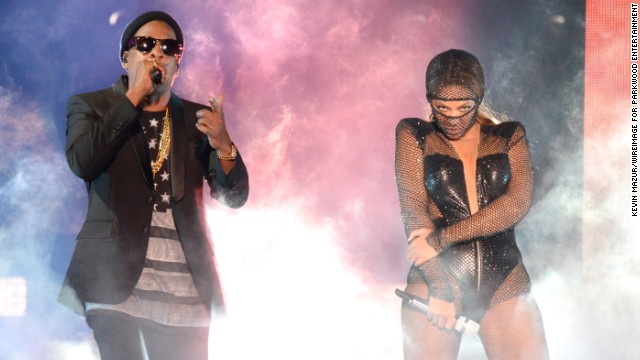 Photos: Celebrity power couples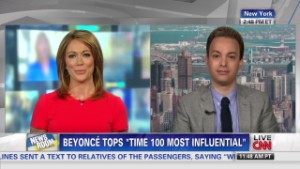 Beyonce tops 'Time 100 Most Influential'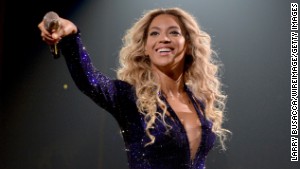 See Beyonce make a girl's wish come true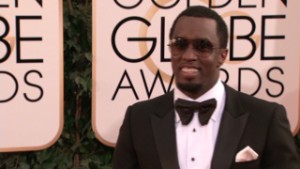 Diddy, Dre & Jay Z: Hip-Hop's Wealthiest
The married couple first stirred anticipation that they'd tour together in early April, but the buzz was initially dampened by Jay Z revealing that his 2014 "Made in America" music festival will play in both Los Angeles and Philadelphia.
It seems the pair just wanted an element of surprise. Their announcement of the "On the Run" tour arrived complete with an image of the two wearing ski masks.
Even before they quietly tied the knot in 2008, Mr. and Mrs. Carter have dominated the music industry both as solo artists and as a couple. One of their recent collaborations, "Drunk In Love," was controversial but nonetheless landed at No. 1.
And with their "On the Run" tour, the duo are hoping to use their combined star power for good.
A dollar from each "On the Run" ticket sold will go toward the Shawn Carter Foundation, an organization that helps underserved groups go to college. The tour is also being presented in partnership with Beyonce's #BeyGOOD campaign, which seeks to inspire charitable work, kindness and community involvement.
Tickets go on sale for the general public May 2, while anxious fans can visit Beyonce's or Jay Z's Facebook page for information on advance purchases. The tour will launch in Miami on June 25 and wind down in San Francisco on August 5.