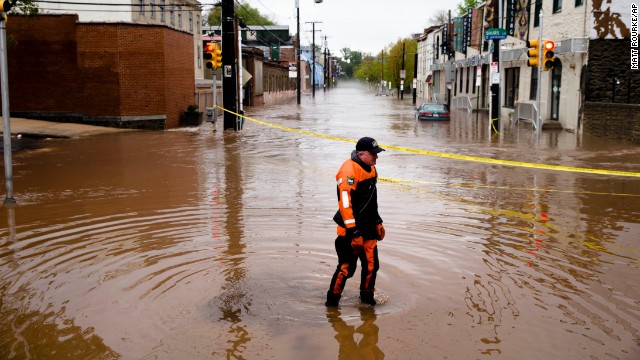 Police officer Robert Jonah walks through floodwaters in the Manayunk neighborhood of Philadelphia on Thursday, May 1. A powerful storm system, including a series of tornadoes, has claimed at least three dozen lives in several states this week.
People look for items to salvage from a relative's tornado-ravaged home in Louisville, Mississippi, on Wednesday, April 30.
On Florida's Gulf Coast, torrential rains reduced some streets to rubble, gouged huge gashes in others and left stretches of others submerged. Here, vehicles rest at the bottom of a ravine after part of the Scenic Highway collapsed near Pensacola, Florida, on April 30.
A truck is stuck in the middle of a flooded street after heavy rains in Pensacola on April 30.
Volunteers throw tornado debris on a burn pile in Vilonia, Arkansas, on April 30.
Jerry Estes salvages food items April 30 from the kitchen of his home that was damaged by a tornado in Louisville.
A large tree smashes a car in Tupelo, Mississippi, on April 30.
A tornado-damaged home near Fayetteville, Tennessee, is seen on April 30.
Faye Busby shows where a tornado ripped off part of her home's roof in Graysville, Alabama, on Tuesday, April 29.
A kitchen shelf stands in what remains of a home in Louisville on April 29.
People work to clear a tree off a shed after a storm in Smiths Station, Alabama, on April 29.
Bobbi Leggon and Sudie Carter work to salvage items from a friend's home in Tupelo on April 29.
Charles Milam takes a break while searching his destroyed home in Tupelo on April 29.
Carnesha Bennett, right, cries on a friend's shoulder after touring what remains of her mother's child care center in Louisville on April 29.
The remains of a large truck rest amid debris in Vilonia on April 29.
Kevin Barnes searches the remains of his home in Tupelo on April 29.
Constance Lambert embraces her dog after finding it when she returned to her destroyed home in Tupelo on Monday, April 28.
Residents walk along a Tupelo street on April 28.
Workers assist a resident in Louisville on April 28. A nursing home and the Winston Medical Center, Louisville's major hospital, were among the buildings hit.
Jimmy Sullinger watches lightning as a storm approaches the gas station where he works in Berry, Alabama, on April 28. Alabama Gov. Robert Bentley declared a state of emergency for all counties.
Justin Shaw, left, helps Nick Conway erect a flagpole April 28 at his destroyed home in Vilonia.
John Smith reacts after seeing what's left of his auto repair shop in Mayflower, Arkansas, on April 28.
Dust and debris fly as workers flip a fallen wall while searching destroyed homes in Vilonia on April 28. Arkansas Gov. Mike Beebe said the storm was one of the worst to hit the state in recent memory.
Residents of Baxter Springs, Kansas, view damage on April 28. A tornado estimated to be three blocks wide rumbled through Baxter Springs, said Cherokee County emergency manager Jason Allison.
People walk between destroyed houses on April 28 in Mayflower.
The remains of a home are seen in Baxter Springs on April 28. Sixty to 70 homes and at least 20 businesses there were reported destroyed, Allison said.
A tornado touches down in Baxter Springs on Sunday, April 27.
A funnel cloud is seen near Baxter Springs on April 27.
Storm system brings tornadoes, flooding
Storm system brings tornadoes, flooding
Storm system brings tornadoes, flooding
Storm system brings tornadoes, flooding
Storm system brings tornadoes, flooding
Storm system brings tornadoes, flooding
Storm system brings tornadoes, flooding
Storm system brings tornadoes, flooding
Storm system brings tornadoes, flooding
Storm system brings tornadoes, flooding
Storm system brings tornadoes, flooding
Storm system brings tornadoes, flooding
Storm system brings tornadoes, flooding
Storm system brings tornadoes, flooding
Storm system brings tornadoes, flooding
Storm system brings tornadoes, flooding
Storm system brings tornadoes, flooding
Storm system brings tornadoes, flooding
Storm system brings tornadoes, flooding
Storm system brings tornadoes, flooding
Storm system brings tornadoes, flooding
Storm system brings tornadoes, flooding
Storm system brings tornadoes, flooding
Storm system brings tornadoes, flooding
Storm system brings tornadoes, flooding
Storm system brings tornadoes, flooding
Storm system brings tornadoes, flooding
Storm system brings tornadoes, flooding