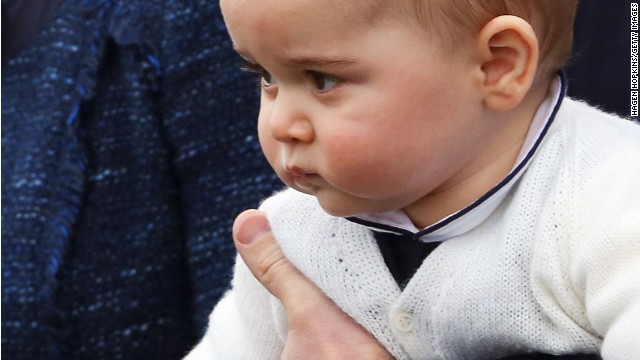 Those eyes, those chubby cheeks -- Prince George of Cambridge made quite an impression during his first official trip overseas, a three-week tour of Australia and New Zealand.
The prince reaches for a stuffed toy during a visit to Sydney's Taronga Zoo on April 20. The toy represents a bilby, an Australian marsupial on the verge of extinction. The zoo named its bilby exhibit after Prince George soon after his birth in July 2013.
Prince William, Duke of Cambridge, Catherine, Duchess of Cambridge, and Prince George attend Plunkett's Parents' Group at Government House on April 9 in Wellington, New Zealand.
Prince George arrives in Wellington on April 7.
Prince George is held by his father as the family is met at the Sydney airport on April 16.
Australian Prime Minister Tony Abbott may have to work harder to win over the little prince.
Prince George visits the bilby enclosure at Taronga Zoo on April 20.
The little prince meets an Australian marsupial.
Prince George has cheeky look during a play date in Wellington..
Prince George joins in the fun at Government House in Wellington on April 9.
Prince George doesn't look so pleased on the tarmac as the British royals leave the Wellington airport.
The 8-month-old prince heads back to the UK with his parents.
The many faces of Prince George
The many faces of Prince George
The many faces of Prince George
The many faces of Prince George
The many faces of Prince George
The many faces of Prince George
The many faces of Prince George
The many faces of Prince George
The many faces of Prince George
The many faces of Prince George
The many faces of Prince George
The many faces of Prince George