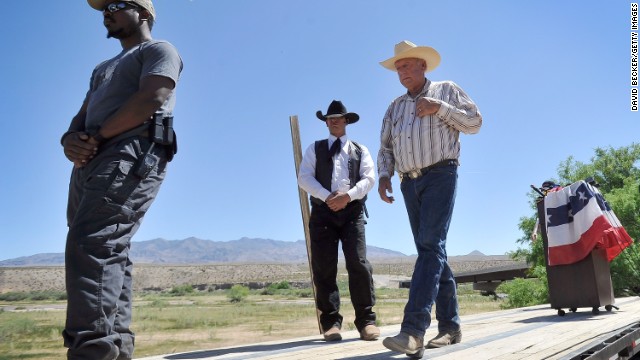 Rancher Cliven Bundy, right, leaves the podium with bodyguards after a news conference near his ranch in Bunkerville, Nevada, on Thursday, April 24. Bundy and the Bureau of Land Management have been locked in a dispute for a couple of decades over grazing rights on public lands.
Chris Shelton of Las Vegas interacts with his 1-week-old son as his mother Shelley Shelton holds his rifle during a Bundy family "Patriot Party" near Bunkerville, Nevada, on April 18.
Bundy family members and supporters of rancher Cliven Bundy set up for a "Patriot Party" on April 18. The family organized the party to thank people who supported Cliven Bundy in his dispute with the Bureau of Land Management.
Cattle rancher Cliven Bundy talks to his supporters Friday, April 11, in Bunkerville, Nevada. They had been protesting the federal government's roundup of Bundy's cattle, which led to an Old West-style showdown last week. The government says Bundy's livestock has been illegally grazing on U.S. lands for 20 years. Bundy says his family's cattle has grazed on the land since the 1800s.
Brand Thornton carries a rifle at a protest site in Bunkerville on April 11. The controversy drew armed militia groups from across the country to Bundy's side. The Bureau of Land Management stopped rounding up Bundy's cattle on Saturday, April 12, and it says it returned about 300 head of cattle to the open range to avoid the potential for violence.
People gather at a protest area along State Route 170, near the cattle roundup on April 11.
A sign announces the closure of public land during the cattle roundup.
Krissy Thornton, right, and Burgundy Hall protest the cattle roundup on Wednesday, April 9.
Thornton, right, looks at a wound on Bundy's son Ammon on April 9. Bundy family members and dozens of supporters angrily confronted a group of rangers holding Tasers and barking dogs on Wednesday. Bundy family members say they were thrown to the ground or jolted with a Taser. Federal officials say a police dog was kicked and officers were assaulted.
The U.S. government was rounding up cattle that it says have been grazing illegally on public lands for more than 20 years, according to the Bureau of Land Management and the National Park Service. The Bureau of Land Management said Cliven Bundy owed about $1 million in back fees.
Cliven Bundy, left, and his son Dave talk to a reporter in Las Vegas on Monday, April 7. Bundy's dispute with the government began two decades ago, when the Bureau of Land Management changed grazing rules for the 600,000-acre Gold Butte area to protect an endangered desert tortoise, KLAS reported. Bundy refused to abide by the changes and stopped paying his grazing fees to the federal bureau, which he contends is infringing on state rights.
People help erect a pole so that they could hang a banner April 7 in support of Bundy. One banner at the protest side stated: "Has the West been won? Or has the fight just begun!"
Rancher Derrel Spencer speaks during a rally in support of Bundy on April 7.
Chris Miller holds his hand over his heart during a rally in support of Bundy on April 7.
Bundy's son Arden works at his father's ranch on Saturday, April 5.
Cliven Bundy, right, and Clance Cox stand at the Bundy ranch on April 5.
Bundy walks by a free speech area set up by the Bureau of Land Management on Tuesday, April 1.
Federal rangers block a road near Bunkerville, about 80 miles northeast of Las Vegas, on April 1.
Photos: Showdown in Nevada
Photos: Showdown in Nevada
Photos: Showdown in Nevada
Showdown in Nevada
Showdown in Nevada
Showdown in Nevada
Showdown in Nevada
Showdown in Nevada
Showdown in Nevada
Showdown in Nevada
Showdown in Nevada
Showdown in Nevada
Showdown in Nevada
Showdown in Nevada
Showdown in Nevada
Showdown in Nevada
Showdown in Nevada
Showdown in Nevada
STORY HIGHLIGHTS
Donna Brazile looks at the furor around Bundy and wonders if Republicans are in denial
Bundy has been in a dispute over grazing fees he owes to the federal government
Bundy made comments recently saying that blacks were better off as slaves "picking cotton"
Editor's note: Donna Brazile, a CNN contributor and a Democratic strategist, is vice chairwoman for voter registration and participation at the Democratic National Committee. She is a nationally syndicated columnist, an adjunct professor at Georgetown University and author of "Cooking With Grease: Stirring the Pots in America." She was manager for the Gore-Lieberman presidential campaign in 2000. The opinions expressed in this commentary are solely those of the author.
(CNN) -- Ah, Cliven Bundy -- poster boy for the anti-government, rugged-individualist crowd. The Marlboro Man for the conservative fantasy world.
Or not.
Cliven Bundy is so bizarre he leaves late night comedians spluttering. (Just check out one of Jon Stewart's riffs.) His comments about race were so embarrassing that Sean Hannity, who had called Bundy "a friend and frequent guest of the show," had to do a "protest too much" denouncement. Yes, Hannity called Bundy's words "beyond repugnant" -- but only after first promoting him as a patriot par excellence.
Republican office-holders, such as Sen. Dean Heller, R-Nevada, and Sen. Rand Paul, R-Kentucky, who had been cheerleading Bundy and his rabble also had to distance themselves, many of them fumbling with their rhetorical pom-poms in the process.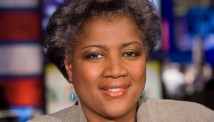 Donna Brazile
Here's the basic background: Bundy is a wealthy Nevada rancher who believes he has "beneficial use" claim to grazing lands owned by the federal government. Ownership of the land is not a matter of dispute. Bundy has been in and out of protracted court battles for decades, and he's lost every time.
In 1993, Bundy stopped paying the grazing fees for using federal Bureau of Land Management land. His fees accumulated to $1 million. Finally, after two courts ruled in the bureau's favor, it moved to seize Bundy's cattle, planning to sell them at auction to pay for the 20 years' worth of grazing fees.
On April 5, the bureau brought in armed federal agents and began removing Bundy's cattle. Bundy's son Dave was arrested for refusing to leave. That night, Bundy sent a message: "They have my cattle and now they have one of my boys. Range War begins tomorrow."
Visions of the Wild West, anyone? Frontier justice? Or not.
Bundy's supporters rallied around him, traveling from out of state. That's when the bizarre started. Richard Mack, a former Arizona sheriff, said, "We're actually strategizing to put all the women up at the front. If they are going to start shooting, it's going to be women that are going to be televised all across the world getting shot by these rogue federal officers."
How's that for a jaw-dropper?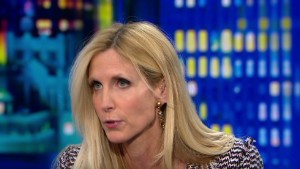 'Be careful before you choose a mascot'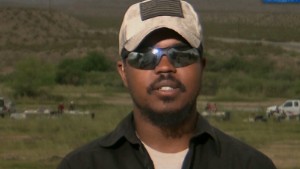 Bodyguard continues Clive Bundy defense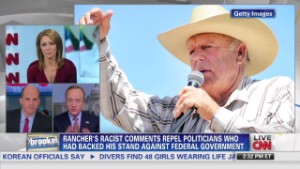 Will Bundy's race remarks hurt GOP?
The standoff lasted a week, until the bureau announced on April 12 that it would return the seized cattle because of its "grave concern about the safety of employees and members of the public."
Conservatives and Republicans cheered.
Well, not all of them.
You see, Bundy based his claim that he did not have to pay the grazing fees because -- well, here are his words: "I believe this is a sovereign state of Nevada. And I abide by all Nevada state laws. But I don't recognize the United States government as even existing."
Or not.
You see, Bundy is violating the Constitution of Nevada, and therefore the state's laws. Article 1, Section 2 of that state's constitution reads, in part: "...the Paramount Allegiance of every citizen is due to the Federal ...and no power exists in the people of this or any other State of the Federal Union to dissolve their connection therewith..."
Conservative columnist Charles Krauthammer told Fox News: "This is a man who said that he doesn't recognize the authority of the United States of America. That makes him a patriot? I love this country, I love the Constitution, and it is the Constitution that established a government that all of us have to recognize. And for him to reject it was the beginning of all of this. And now what he said today is just the end of this."
That's the point. We can disagree about policies and politics, and even whether baseball or football is "America's sport." Hopefully we'll again get to a place in our civic discourse where we can be civil and compromise for the common good, to move toward that "more perfect Union" the Constitution mentions.
But denying the very existence of the United States?
Still, that's not what had other Republicans and conservative pontificators going, "oops."
It was Bundy's obscene, racist remarks: "And because they [Blacks] were basically on government subsidy, so now what do they do? They abort their young children, they put their young men in jail, because they never learned how to pick cotton. And I've often wondered, are they better off as slaves, picking cotton and having a family life and doing things, or are they better off under government subsidy? They didn't get no more freedom. They got less freedom."
That's why Republicans are distancing themselves from Bundy.
Because Bundy's words destroy their argument that we shouldn't talk about race. Bundy's remarks, following so closely on the Supreme Court's Schuette decision, refute Chief Justice John Roberts' misguided insistence that "racism will end when we stop helping minorities" and prove Justice Sonia Sotomayor right when she says that the act of ignoring pervasive structural racism is an abdication of judicial responsibility.
Thanks to the federal government and men and women of valor who fought for those words written in our Constitution, we can have this debate.
And it is that same Constitution that gives even a racist idiot like Bundy freedom to spew his lunacy while riding his horse and waving his American flag, even if some Republicans now pretend they've never heard of the guy.
Or not.
Follow us on Twitter @CNNOpinion.
Join us on Facebook.com/CNNOpinion.