STORY HIGHLIGHTS
Clash between Hong Kongers and Chinese tourists after Chinese toddler filmed urinating on street
Angered Chinese netizens call for a boycott of Hong Kong on June 1
Other Chinese calling on parents to let their children relieve themselves in public en masse in response to the outcry
(CNN) -- Urine and feces have been a hot topic among Hong Kongers the past week, leading to Chinese netizens calling for a boycott of Hong Kong on June 1.
It all began with a dispute between locals and Chinese mainland tourists over a toddler who reportedly answered the call of nature on a Hong Kong street.
Videos of the clash went viral over the last week, stirring online uproar in both Hong Kong and the mainland, prompting Foreign Policy to brand the incident "bladdergate."
Several video clips capturing the alleged event have spread around the Internet.
In one, seen by CNN, A Hong Konger can be seen yelling "We have called the police," while the enraged father asks, "Do you have kids? Don't your kids need to pee?"
The mother claimed not to know where the toilets were.
MORE: China's first tourism law comes into effect, tourists issued manners guides
Some locals came out in the parents' defense, saying, "Don't scare the kid. It's not a big deal."
The fiasco ends when the police arrive.
The parents were arrested on suspicion of theft and assault, but were not charged.
Under Hong Kong's Public Cleansing and Prevention of Nuisances Regulation, no person in care or custody of any child under 12 years of age shall permit, without reasonable cause, such child to answer the call of nature in public places.
The man was released unconditionally while the woman was released on bail and has to report back to the police in mid-May.
READ: Chinese tourism: The good, the bad and the backlash
The boycott pledge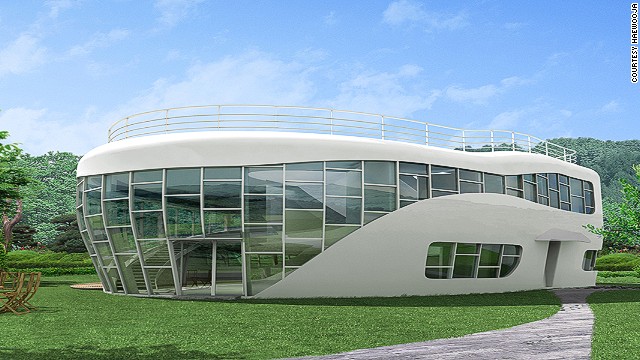 In honor of World Toilet Day on November 19, designated by the United Nations to raise awareness for 2.5 billion people who do not have access to sanitation and toilets, here's a look at some toilet-themed venues around the world. First up is the two-story toilet-shaped Mr. Toilet House in Suwon, South Korea. A museum devoted to toilets, it used to be the private home of former congressman and mayor of Suwon, who was known as "Mr. Toilet" for his interest in toilets and sanitation. He founded the World Toilet General Assembly and served as chairman. The museum showcases exhibits on the history of toilets and efforts to fund public bathrooms in underdeveloped countries. Read more: Mr. Toilet House
The public toilet in Ichihara, Japan, was built by architect Sou Fujimoto to claim the title of the "world's largest toilet." On 200 square meters of open garden, this toilet sits inside a glass box and is surrounded by a two-meter fence to shelter it from prying eyes. The city commissioned it with the hope of attracting tourists. Read more: Flush Japanese City builds world's biggest toilet
There are quite a few London restaurants that have made a point of using former toilet spaces as their venues. The Attendant, a subterranean London cafe, occupies a former Victorian toilet built in the 1890s. The interior retains the original floors, walls and urinals. Each urinal has been transformed into a seating cubicle. Read more: London's dash to 'toilet restaurants'
The swirly patterns on the toilets at MoCa in Shanghai are actually scrawled tirades of obscenities about life. Conceived by Chinese artist Tsang Kin-Wah (曾建华) especially for Art Lab, the art is entitled "Pretty S**t -- Piss Pretty." As Tsang explains, "The s**t is everywhere, even at your most private moment and space ..." Read more: Shanghai bathroom fashion statements
This Indian toilet museum examines the evolution of the lavatory from 3000 B.C. to present day. On display are antiquated toilets, including ornately painted medieval urinals and ancient stoneware chamber pots, juxtaposed with futuristic models. Read more: 7 wackiest museums in Asia
At Beijing's toilet-themed restaurant, all 50 seats are made from actual toilet bowls, topped with cartoon-themed warmers. This particular dish? Beef curry in a toilet-shaped bowl. "The food wasn't really that good," says iReporter Alainsojourn. At least he walked away with these photos. Read more: Inside Beijing's toilet restaurant
In Australia, the outhouse is called a "dunny," and the few that survive to day have evolved into tourist attractions. The Leaning Dunny (pictured) comes with its own art gallery and is located in a former gold-mining town which is often featured in commercials and movies for its rugged landscape. Read more: The long drop: Australia's outback dunnies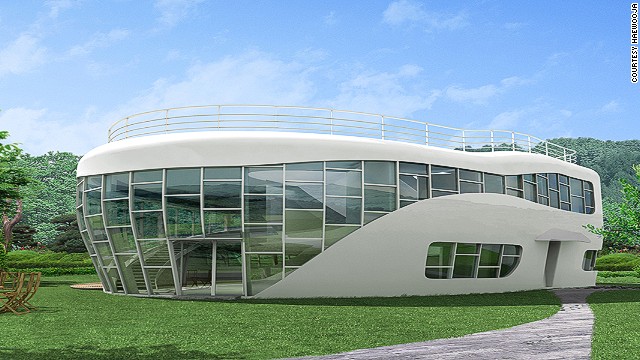 Where to celebrate World Toilet Day
When news of the clash hit the Internet, many Chinese netizens called out Hong Kongers for their perceived lack of empathy and for filming the urinating toddler.
Hong Kongers countered that it was uncivilized for Chinese parents to let their kids urinate on the street.
One Chinese netizen on a popular Chinese forum, Tianya, pledged to boycott Hong Kong from June 1.
"If us, the mainlanders, stopped traveling to Hong Kong for months, they will come begging us to go back," he said in his declaration.
"We are not entirely sealing off Hong Kong but just to show them we are god as we are the consumers."
Some netizens agreed with the action while some said it might be a conspiracy to stir conflicts between the two parties as Hong Kong 2017's universal suffrage's public consultation is on the way.
Hong Kong has been fighting for a universal suffrage for the chief executive election in 2017, which has in the past been chosen by a small group of elites and said to be influenced by the Chinese government.
On the other hand, similarly irritated Hong Kong netizens were thrilled at the prospect of a boycott.
"Who cares for your money, you who think shopping is an act of charity," said one commenter on Apple Daily, a local news website.
"Remember to keep your promise and never come to Hong Kong again."
Another said, "It's the first movement both Hong Kong and China support!"
READ: International hotels race to woo Chinese market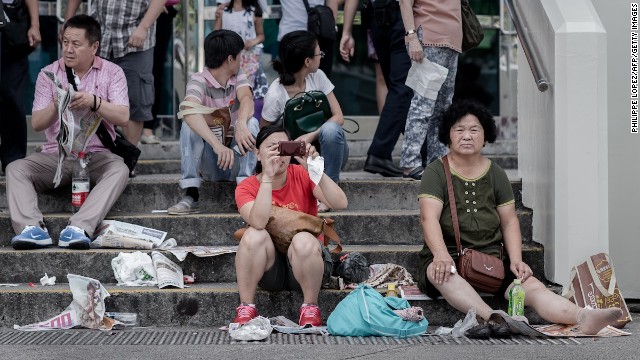 China's National Tourism Administration publicized a 64-page "Guidebook for Civilized Tourism" on its website ahead of the Golden Week public holiday that started on October 1, the same day the country's new tourism law came into effect. Golden Week is one of the most popular times of year for the Chinese to travel. Here, tourists visit a waterfront promenade in Hong Kong.
By 2015, 100 million Chinese will travel abroad, according to a report from the UN World Tourism Organization. In 2012, Chinese overtook Americans and Germans as the world's top international tourism spenders, with 83 million people spending a record $102 billion on international tourism.
Chinese netizens were outraged when photos surfaced of tourists posing with a dying dolphin in Hainan, in June 2013. Article 14 of China's new tourism law states: "Tourists shall observe public order and respect social morality in tourism activities, respect local customs, cultural traditions and religious beliefs, care for tourism resources, protect the ecological environment, and abide by the norms of civilized tourist behaviors."
Chinese tourism industry officials say the new tourism law has already led to a decrease in the number of tour bookings.
International travel industry sectors are attempting to adapt offerings to cater to Chinese tourists. Chinese-speaking shop assistants are a common sight at luxury department stores in Paris now.
China's "Guidebook for Civilized Tourism" covers everything from manners -- there are reminders to say "please," "thank you," and "excuse me" -- to instructions on how to check into foreign hotels.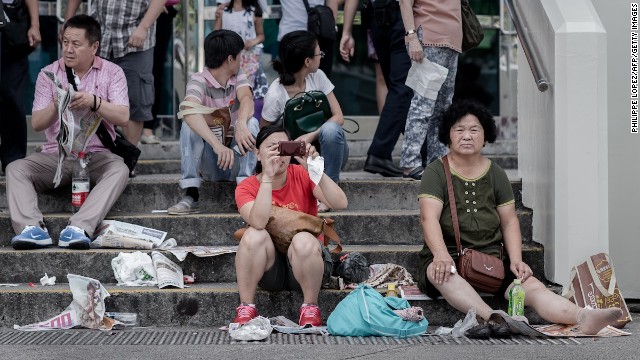 China tourism law comes into effect
Mass urination?
The fiasco has escalated to another, smellier level.
Another pledge on the same forum was posted under the heading "Declare war on Hong Kong's civilization!"
The poster asks Chinese tourists to let their children relieve themselves on the streets of Hong Kong during the upcoming Labour Day holiday, which spans a week from May 1.
Hong Kong netizens called for a photography competition on Facebook in response, telling locals to take photos as evidence if toddlers are seen relieving themselves in public places.
Sohu, a popular online news outlet and platform in China, even conducted a survey on the incident, asking: "A mainland toddler spotted urinating on the street of Hong Kong was reported to the police. What do you think?"
Out of more than 260,000 responses, about 40% said they consider it a prejudice against mainlanders by Hong Kongers.
Another 40% thought it's understandable that a child would urinate on the street if there's a line of people outside the washroom.
Global Times, a tabloid owned by the state news media People's Daily, quoted academics on the case.
"Some Hong Kong citizens, especially the young, have no cultural identification with the mainland and they have always seen mainlanders as uncivilized people," said Zhu Shihai, a professor from the Central Institute of Socialism, in the Global Times.
Zhu dismissed the incident, saying Hong Kongers were being "overdramatic, in this case."
Zhang Dinghuai, a professor at the Contemporary Chinese Politics Research Institute of Shenzhen University, told the Global Times that people with vicious intentions have deliberately upgraded a simple incident into a conflict.
MORE: Can Mr. Poo stop public defecation in India?