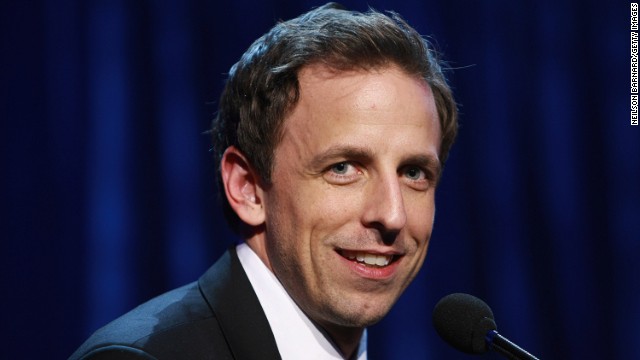 Seth
Meyers took over NBC's "Late Night" show
in 2014 when current host Jimmy Fallon left for "The Tonight Show." Click through the gallery for highlights of Meyers' career:
Meyers, bottom left, appears in a "Saturday Night Live" skit on November 3, 2001, his first season on the show.
"Saturday Night Live" cast members Meyers, from left, Fred Armisen and Will Forte attend the American Museum of Natural History's Annual Museum Gala, on November 16, 2006, in New York City.
"Saturday Night Live" Executive Producer Lorne Michaels, left, and Meyers speak on a press tour in Beverly Hills, California, on July 20, 2008. Michaels will remain the executive producer of "Late Night."
Meyers attends the 62nd Primetime Emmy Awards on August 21, 2010, in Los Angeles with longtime girlfriend Alexi Ashe.
Meyers appears with first lady Michelle Obama at the White House Correspondents' Association annual dinner in Washington on April 30, 2011.
Meyers hosts the 2011 ESPY Awards on July 13, 2011, in Los Angeles.
Meyers, left, appears as a guest with Jimmy Fallon on "Late Night With Jimmy Fallon," on October 29, 2012.
On December 12, 2012, Bobby Moynihan, left, and Meyers perform onstage at New York's Madison Square Garden at the '12-12-12' concert benefiting The Robin Hood Relief Fund to aid the victims of Superstorm Sandy.
Meyers attends the Hulu press junket on April 30, 2013, in New York City.
Fred Armisen, from left, Kirsten Wiig and Meyers perform during a skit on "Saturday Night Live" on May 11, 2013.
Seth Meyers' comedy career
Seth Meyers' comedy career
Seth Meyers' comedy career
Seth Meyers' comedy career
Seth Meyers' comedy career
Seth Meyers' comedy career
Seth Meyers' comedy career
Seth Meyers' comedy career
Seth Meyers' comedy career
Seth Meyers' comedy career
Seth Meyers' comedy career