Cameron Diaz's guide to success
updated 2:46 PM EDT, Fri April 25, 2014
STORY HIGHLIGHTS
At 41, Cameron Diaz has amassed more than 40 movie credits
The actress says she's been open to all opportunities
Diaz: "When you leave your doors open, things come in"
"CNN Spotlight: Cameron Diaz" premieres April 25 at 10 p.m.
(CNN) -- "It's a funny thing," Cameron Diaz recently told CNN of her career. "When you just leave your doors open, things come in."
The latest project to walk through that open door is "The Other Woman," a romantic comedy about a married man who has not one but two other mistresses. When Diaz's character Carly discovers that her boyfriend is actually a married man, she teams up with his wife and the other other woman to exact their revenge.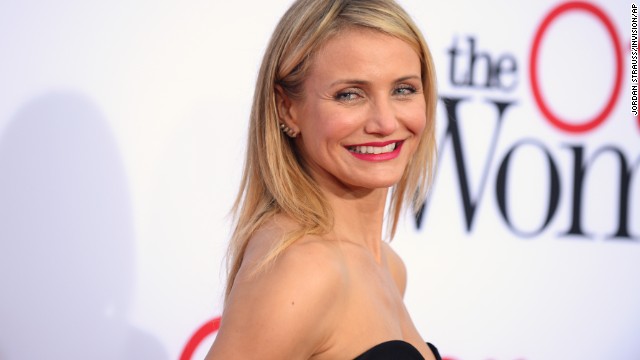 Cameron Diaz has built her career on comedies, especially those with a romantic spin. After a dramatic detour last fall with "The Counselor," Diaz is back to her old habits in the rom-com "The Other Woman." Here's how the 41-year-old became the romantic comedy queen.
Diaz's trademark smile first helped her land work as a model. She did commercial work as well as fashion editorials, like this 1990 Seventeen magazine cover.
Her movie career, however, all starts with 1994's "The Mask," a.k.a. Diaz's breakout role. The former model didn't have any acting background when she starred alongside Jim Carrey in the successful comedy.
With "The Mask" under her belt and some time spent on the indie circuit (there was 1995's "The Last Supper" and 1996's "Feeling Minnesota"), Diaz aligned herself with "Friends" star Jennifer Aniston in the 1996 Edward Burns movie "She's the One."
In 1996, Diaz was one of Hollywood's hottest stars, and her personal life was brought out into the spotlight. It probably didn't help that she was dating a fellow actor, Matt Dillon, at the time.
Diaz's career seemed to explode in the late '90s as she kicked off a string of successful films, starting with 1997's "My Best Friend's Wedding." That movie belonged to Julia Roberts as the woman secretly in love with her best friend, but Diaz held her own as the sweet, hard-to-hate fiancee.
Ask a stranger to name a Cameron Diaz movie, and it's either going to "The Mask" or this 1998 comedy, "There's Something About Mary." Alongside Ben Stiller, Diaz proved she could handle raunchier humor like a pro.
After the immense success of "There's Something About Mary," Diaz switched gears with 1999's "Being John Malkovich." The Spike Jonze feature debut still had Diaz's favorite elements of humor and romance, but the fantastical elements brought a dramatic angle --- and a much less glamorous look -- that hadn't been in her prior work.
As her career continued to see new highs, Diaz shook things up romantically, too. After ending her relationship with Matt Dillon, Diaz had moved on to Jared Leto by 1999.
With a theme song from Destiny's Child and two kick-ass co-stars -- Drew Barrymore and Lucy Liu -- Diaz's "Charlie's Angels" started the franchise off strong, earning $264 million worldwide.
For her next project, Cameron Diaz decided to rely only on her voice. The actress brought life to "Shrek's" princess-by-day, ogre-by-night Fiona. The animated feature was a massive success in 2001, earning $267 million from domestic box office alone.
Perhaps wanting to keep things fresh, Diaz traded in comedy for a crime drama in 2002 with Martin Scorsese's "Gangs of New York."
On top of the movie industry in 2003, she was named Forbes magazine's second most powerful actress in 2002, being able to command $20 million per movie. Diaz, fresh off her Leto romance, turned her attention to another hot property: Justin Timberlake.
In 2005, Diaz found a strong balance between comedy and drama as the flighty, sometimes insensitive younger sister Maggie in "In Her Shoes." The adaptation of Jennifer Weiner's novel also starred Toni Collette as Maggie's estranged older sister.
If we had to think up a male counterpart to Cameron Diaz, we might settle on Ashton Kutcher. Like Diaz, former model Kutcher has made a name as a comedic actor who doesn't shy away from more adult humor, and the two were a match in the 2008 rom-com "What Happens In Vegas." The movie may have been critically reviled, but it did alright for itself at the box office, earning $80 million domestically.
Diaz tried her hand again at straightforward drama as the mother in "My Sister's Keeper," a movie about parents who conceive another baby in hopes it'll provide a bone marrow match for their cancer-stricken daughter. Unfortunately, this movie was neither a hit at the box office or with critics.
Have you noticed a pattern yet? No matter how far Diaz gets from romantic comedies, she always finds her way back to something like them eventually. In 2010 she starred with Tom Cruise in "Knight and Day," an action flick with a love story at its heart. Critics were again unimpressed, but the summer movie survived domestically with $76 million and went on to make an additional $185 million overseas.
In 2010 everyone wanted to know whether Diaz and baseball star Alex Rodriguez were the item they appeared to be, but the actress wasn't talking. Diaz, seen here with Tom Cruise, Katie Holmes and Rodriguez at a Super Bowl party in Miami that year, once dodged questions about A-Rod by establishing her love for porn.
Diaz's character in "Bad Teacher" was nothing but salty language and a horrible attitude, but the actress enthusiastically embraced the project without a hint of shame. She reunited with her ex-boyfriend Justin Timberlake for the 2011 comedy, which she didn't mind a bit.
Cormac McCarthy, Brad Pitt, Ridley Scott and Penelope Cruz are all part of the cast in "The Counselor," but the 2013 movie's legacy has been boiled down to "Cameron Diaz has sex with a car," for better or worse.
These days Diaz can also call herself an author. In 2014 the actress released a tome on "ways to love your amazing body" called "The Body Book." The book says it offers "a comprehensive overview of the human body and mind, from the cellular level up." "One of my proudest moments!" Diaz shared ahead of its release. "Receiving the first bound copy of The Body Book!! @thebodybook LADIES!! I wrote this book for YOU and YOUR BODY."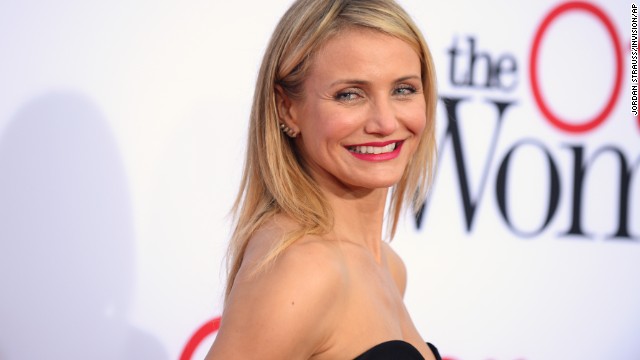 Cameron Diaz: Queen of the romantic comedy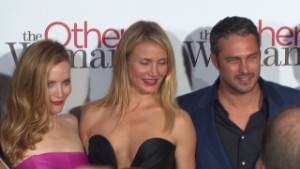 Cameron Diaz is far from done
It's exactly the type of bawdy romp that Diaz has built her career on. With more than 40 credits to her name, several of the more popular ones -- "The Mask," "My Best Friend's Wedding," "There's Something About Mary," "Bad Teacher" -- just so happening to fit the nebulous "romantic comedy" label.
"I couldn't force any of these things to happen," said Diaz, whose entry to the industry was as a teen model. "When I had the opportunity, I took them. And that's just sort of how I live my life, just keeping the doors open to whatever could possibly happen."
Her life philosophy has paid off handsomely for the 41-year-old actress, particularly with the "Shrek" franchise, in which she voices the princess ogre Fiona. But, perhaps more importantly, it's left her fulfilled.
"I couldn't think of a better life than this," Diaz said. "It was just ... it just happened."
CNN's Megan Thomas contributed to this report.