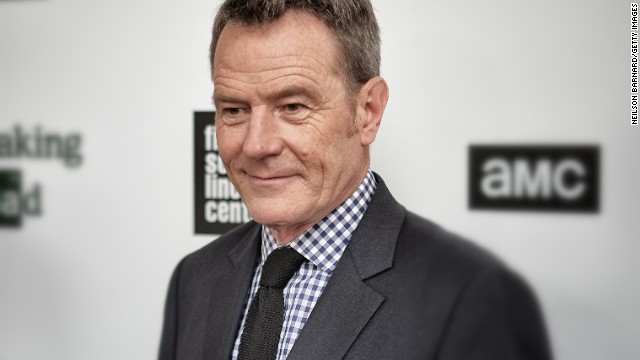 Bryan Cranston has had a slow but steady rise to stardom. Here are some of the stops along the way to "Breaking Bad's" Walter White.
Among Cranston's early roles was Doug Donovan on the ABC soap "Loving." He was on the show from 1983-1985.
Cranston made a good living in the '80s and '90s with commercials, including ads for such brands as Preparation H.
One of Cranston's most-seen commercials was a popular spot with Michael J. Fox for Lay's potato chips.
On "Seinfeld," Cranston plays dentist Tim Whatley, who converted to Judaism in one episode (for, Seinfeld believes, the jokes) and was labeled a "re-gifter" in another.
Cranston has been cast as two real-life astronauts -- Gus Grissom and Buzz Aldrin. Here, he plays Aldrin in the 1998 miniseries "From the Earth to the Moon."
In a 1998 episode of "The X-Files" called "Drive," Cranston plays a bigoted yet sympathetic driver who worried that his head would explode. Vince Gilligan, who wrote the episode, remembered Cranston when it came to casting his show "Breaking Bad."
Cranston plays a War Department colonel in "Saving Private Ryan" (1998).
Cranston's loosey-goosey portrayal of Hal, the father on "Malcolm in the Middle" (here with co-star Jane Kaczmarek), earned him three Emmy nominations.
As "Breaking Bad's" Walter White, a former chemistry teacher turned meth mogul, Cranston (with Aaron Paul, left) has won three Emmys.
With the success of "Breaking Bad," Cranston's movie career has entered a higher gear. He co-stars with Matthew McConaughey in 2011's "The Lincoln Lawyer."
Cranston is one of many stars -- including Laurence Fishburne -- in the 2011 film "Contagion."
Cranston voices Vitaly the Tiger in 2012's "Madagascar 3: Europe's Most Wanted."
In 2012's "Rock of Ages," Cranston plays a candidate for mayor. Catherine Zeta-Jones co-stars.
Cranston also plays a politician -- but one far more ruthless -- in the 2012 version of "Total Recall."
In 2012's "Drive," Cranston plays a mechanic in hock to some gangsters. Ryan Gosling, left, plays a clever driver.
"Argo" (2012) stars Cranston as a CIA officer, the boss of agent Tony Mendez (Ben Affleck). "Argo" won best picture at the Oscars.
Bryan Cranston's 'Bad' career
Bryan Cranston's 'Bad' career
Bryan Cranston's 'Bad' career
Bryan Cranston's 'Bad' career
Bryan Cranston's 'Bad' career
Bryan Cranston's 'Bad' career
Bryan Cranston's 'Bad' career
Bryan Cranston's 'Bad' career
Bryan Cranston's 'Bad' career
Bryan Cranston's 'Bad' career
Bryan Cranston's 'Bad' career
Bryan Cranston's 'Bad' career
Bryan Cranston's 'Bad' career
Bryan Cranston's 'Bad' career
Bryan Cranston's 'Bad' career
Bryan Cranston's 'Bad' career
Bryan Cranston's 'Bad' career