STORY HIGHLIGHTS
Don Jones landed in conservative Park Ridge, Illinois, in the early 1960s with a purpose
He wanted to open the eyes of its young people, and young Hillary Rodham responded
She mentions Martin Luther King Jr. as an inspiration, but Jones impacted her for decades
He died in 2009, but she remembers his counsel as she contemplates another White House run
Washington (CNN) -- In the spring of 1962, Martin Luther King Jr. was one of the most controversial men in America. One night in Chicago's Orchestra Hall after delivering a stirring speech on civil rights and the future of America, he shook hands with a standout 15-year-old with conservative parents, Hillary Rodham.
More than 50 years later, the moment still resonates profoundly with Clinton, who has had an illustrious political career and could again seek to make history as the first woman president.
"Probably my great privilege as a young woman was going to hear Dr. Martin Luther King speak," Clinton said earlier this year at an event at the University of Miami. "I sat on the edge of my seat as this preacher challenged us to participate in the cause of justice, not to slumber while the world changed around us. And that made such an impression on me."
Clinton has traced much of her life in politics and activism to King's words that night. But there was another minister, not famous like King, who also influenced her views on social justice and stoked an intensity for action.
Don Jones was the Methodist youth pastor who organized the trip of like-minded teens to see King, and mentored her for the rest of his life.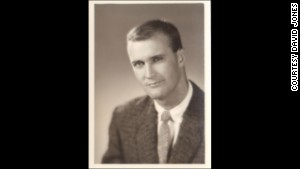 Jones became the youth minister at First Methodist Church in Park Ridge in 1961.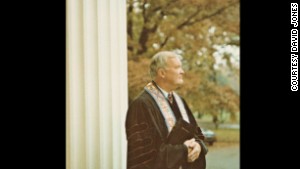 Jones taught at Drew University from 1966 to 2002.
"Don opened up a new world to me," Clinton said in 2009, the year he died, "and helped guide me on a spiritual, social and political journey of over 40 years."
Park Ridge, Illinois, was a conservative Chicago suburb in the 1960s, made up of hard-working, middle and upper class families. It wasn't diverse in politics or race.
"We lived in a suburb that was all white basically and everybody in Park Ridge was a Republican," said Ernest Ricketts, a childhood friend of Clinton's who attended elementary, middle and high school with her.
Clinton's parents, especially her father, seemed to fit the town. Hugh was a small business owner and a vocal supporter of Barry Goldwater in 1965, while Dorothy, Clinton's mother, was a closeted Democrat.
The former first lady attended First United Methodist Church with many of the same friends that she attended school with, and her life and experiences, from school to sports to church, revolved around Park Ridge.
That wasn't the case for Don Jones, a Depression-era child who spent most of his youth in South Dakota and later attended South Dakota State. Before graduating, Jones enlisted in the Navy and served in Korea during the war.
A young veteran by the late 50s, Jones finished his degree at Augustana College and later enrolled in divinity school at Drew University in Madison, New Jersey, in 1958.
Peter Jones, Don's youngest son, described his father as "naturally outgoing" and "inquisitive." His oldest son, David, said his father had friends across the country and was fiercely loyal.
Politically, Don Jones also was inspired by a larger-than-life public figure. His sons said President Franklin Roosevelt "had an effect on his outlook on politics and what government can and can't do for people."
Upon graduating from Drew in 1961, Jones landed in Park Ridge at First Methodist, a conservative church that didn't quite match his worldliness. For many, including Clinton, Jones was dramatically different than anyone they had ever met.
Confronting life outside Park Ridge
Jones started University of Life when he came to Park Ridge, a youth group for a few dozen high schoolers that met two times a week - Sundays and Thursdays. But meetings were not just bible readings and prayer. Jones, according to the young Methodists who attend the group with Clinton, was determined to broaden their outlook on life.
In an interview with Donnie Radcliffe for the 1992 book "A First Lady for Our Time," Jones said he hoped the Park Ridge kids would "become aware of life outside Park Ridge."
At one meeting, Jones arranged for an avowed atheist to debate a Christian on the existence of God. At another, Jones brought the group to a local synagogue and held a public discussion with a rabbi about Judaism and Israel. He held discussions about teenage pregnancy, drugs and crime and introduced his congregation to new authors and artists.
Jones also took his students to Chicago's rough South Side and introduced them to the lives that other kids their age live - one of drugs, gangs and death. During the height of the civil rights movement, this kind of trip for kids like Hillary Rodham were unheard of.
"He came a very important time in our lives," said Betsy Ebeling, a longtime Clinton friend who attended Jones' youth group. In short, she described Jones as "very influential."
Ricketts went further, telling CNN that Jones wasn't only influential, he was life altering.
"He was very influential in giving us a different perspective, a different world view," he said. "It wasn't revolutionary, but he challenged us to look at things in a different way and a broader perspective."
A different view on faith
From the moment Jones arrived in Park Ridge, he was on thin ice, according to a number of people close to him. He was not a "fundamentalist" or "literalist," said Peter Jones and that rubbed some in the community the wrong way.
"It was a conservative community and church," his son said, "And he was a free thinker."
"He wasn't a religious figure that tried to indoctrinate or tell people what to think or feel or believe," said David Jones. "He used a method that really drew people out and questioned them."
So just two years after he moved to Park Ridge, Jones left. And although it is not totally clear, Ricketts and others said his unorthodox style may have been the reason.
"The things that Don did didn't exactly endear him to the people who were the movers in shakers in Park Ridge," said Ricketts, who vividly remembers when Jones left the community. "They were rather more conservative and weren't entirely sure that they wanted the kids exposed to so many different ideas."
Jones returned to Drew in 1966, a place he where he remained for the next four decades.
To Clinton, the mark the Jones left was already deeply cemented. The two stayed friends, regularly exchanging letters until Jones died in April 2009 at 78.
According to Radcliffe's book, Clinton wrote him in 1964 and told him that she wasn't getting along with the new youth minister.
"I think he believes I'm a little radical," she wrote.
The letters continued when Clinton arrived at Wellesley College. In April 1966, she wrote Jones to talk about her new identities at college and in later that year she wrote him to talk about her changing view on politics.
"I wonder if it's possible to be a mental conservative and a heart liberal," she wrote.
Ricketts, who has kept up with Clinton since their years in Park Ridge, said Jones continued to mentor the budding politician long into her career.
"She has a very close relationship with him," he said, noting that Jones attended both of Bill Clinton's inaugurations and would visit Washington during the presidency. "He held her in very, very high regard," said David Jones.
'Lifelong friend and mentor'
When Jones died, the university remembered him as "a beloved professor" and icon in the small New Jersey town. Clinton honored him as "a lifelong friend and mentor."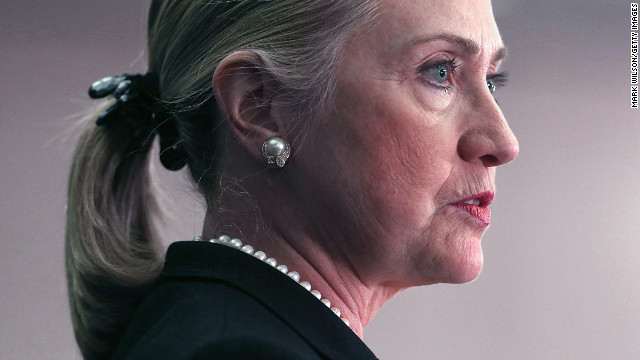 Former Secretary of State Hillary Clinton, pictured in October 2012, has become one of the most powerful people in Washington. Here's a look at her life and career through the years:
Before she married Bill Clinton, she was Hillary Rodham. Here, Rodham talks about student protests in 1969, which she supported in her commencement speech at Wellesley College in Wellesley, Massachusetts.
Rodham, center, a lawyer for the Rodino Committee, and John Doar, left, chief counsel for the committee, bring impeachment charges against President Richard Nixon in the Judiciary Committee hearing room at the U.S. Capitol in 1974.
Arkansas Gov. Bill Clinton helps first lady Rosalynn Carter on a campaign swing through Arkansas in June 1979. Also seen in the photo is Hillary Clinton, center background.
Bill Clinton embraces his wife shortly after a stage light fell near her on January 26, 1992. They talk to Don Hewitt, producer of the CBS show "60 Minutes."
With Hillary, Democratic presidential candidate Bill Clinton waves to the crowd at his victory party after winning the Illinois primary on March 17, 1992.
Al Gore, Tipper Gore, Bill Clinton and Hillary Clinton wave to supporters at the Chautauqua Institution in Chautauqua, New York, after they gave speeches on family values on August 23, 1992.
Clinton gestures at a campaign rally November 3, 1992, in Denver. After taking office, President Clinton chose his wife to head a special commission on health care reform, the most significant public policy initiative of his first year in office.
Bill and Hillary Clinton have a laugh together on Capitol Hill in 1993.
Clinton pours herself a cup of tea in 1993 while testifying to the Senate Education and Labor Committee about health care reform.
Clinton speaks at George Washington University on September 10, 1993, in Washington during her husband's first term.
Clinton waves to the media on January 26, 1996, as she arrives at federal court in Washington for an appearance before a grand jury. The first lady was subpoenaed to testify as a witness in the investigation of the Whitewater land deal in Arkansas.
Hillary Clinton looks on as President Clinton discusses the Monica Lewinsky scandal in the Roosevelt Room of the White House on January 26, 1998.
Hillary and Bill Clinton arrive at Foundry United Methodist Church on August 16, 1998, in Washington. He became the first sitting president to testify before a grand jury when he testified via satellite about the Lewinsky matter.
Clinton shakes hands during a St. Patrick's Day parade in the Sunnyside neighborhood of Queens, New York, on March 5, 2000.
Clinton waves to the crowd as she arrives on the stage at the Democratic National Convention on August 14, 2000, in Los Angeles.
Clinton campaigns for a Senate seat October 25, 2000, at Grand Central Station in New York.
Hillary Clinton is sworn in as a senator of New York in a re-enactment ceremony with, from left, President Clinton, nephew Tyler, daughter Chelsea, brother Hugh Rodham, mother Dorothy Rodham and Vice President Al Gore on January 3, 2001, in Washington.
Andrew Cuomo, Eliot Spitzer and Clinton celebrate with a crowd of Democratic supporters after their wins in various races November 7, 2006, in New York.
Clinton speaks during a post-primary rally on January 8, 2007, at Southern New Hampshire University in Manchester, New Hampshire.
The Clintons pay a visit to the 92nd annual Hopkinton State Fair in Contoocook, New Hampshire, on September 2, 2007.
Clinton speaks at a campaign rally September 2, 2007, in Portsmouth, New Hampshire. She was running for the Democratic presidential nomination.
Clinton addresses a question during a debate with other Democratic presidential candidate at Dartmouth College in Hanover, New Hampshire, on September 26, 2007. Also pictured are U.S. Rep. Dennis Kucinich of Ohio, left, and former U.S. Sen. Mike Gravel of Alaska.
Felipe Bravo, left, and Christian Caraballo are covered with Hillary Clinton stickers in downtown Manchester, New Hampshire, on January 8, 2008.
Clinton campaigns in Council Bluffs, Iowa, with her daughter, Chelsea, on January 1, 2008, two days ahead of the January 3 state caucus.
Clinton waves as she speaks to supporters at the National Building Museum on June 7, 2008, in Washington. After pulling out of the presidential race, Clinton thanked her supporters and urged them to back Barack Obama to be the next president of the United States.
Obama and Clinton talk on the plane on their way to a Unity Rally in Unity, New Hampshire, on June 27, 2008.
Obama watches Clinton address the Democratic National Convention on August 26, 2008. The two endured a long, heated contest for the 2008 nomination.
Sen. Charles Schumer, left, looks toward Secretary of State designate Clinton as Senate Foreign Relations Committee chairman Sen. John Kerry, center, looks on during nomination hearings January 13, 2009, on Capitol Hill.
Clinton testifies during her confirmation hearing for secretary of state on January 13, 2009, in Washington.
Clinton, as secretary of state, dances with a local choir while visiting the Victoria Mxenge Housing Project in Philippi, a township on the outskirts of Cape Town, South Africa, on August 8, 2009.
Clinton looks through binoculars toward North Korea during a visit to an observation post July 21, 2010, at the demilitarized zone separating the two Koreas.
Clinton walks up the steps to her aircraft as she leaves a meeting of the Association of Southeast Asian Nations on July 23, 2010, in Hanoi, Vietnam.
Hillary and Bill Clinton pose on the day of their daughter's wedding to Marc Mezvinsky on July 31, 2010, in Rhinebeck, New York.
U.S. President Barack Obama and Clinton observe a moment of silence before a NATO meeting November 19, 2010, in Lisbon, Portugal.
Clinton listens as Turkish Foreign Minister Ahmet Davutoglu makes a brief statement November 29, 2010, before a bilateral meeting at the State Department in Washington.
Clinton shakes hands with a child during an unannounced walk through Tahrir Square in Cairo on March 16, 2011.
Obama, Vice President Joe Biden, Clinton and members of Obama's national security team receive an update on the Osama bin Laden mission May 1, 2011, in the Situation Room of the White House.
Clinton checks her personal digital assistant prior to departing Malta on October 18, 2011.
Clinton dances while in Cartagena, Colombia, on April 15, 2012.
Clinton enjoys a beer at Cafe Havana in Cartagena, Colombia, on April 15, 2012.
Clinton appears with little makeup during an event in Dhaka, Bangladesh, on May 6, 2012. She tells CNN, "I feel so relieved to be at the stage I'm at in my life right now ... Because you know if I want to wear my glasses, I'm wearing my glasses. If I want to wear my hair back I'm pulling my hair back. You know at some point it's just not something that deserves a lot of time and attention."
Clinton speaks as Afghanistan President Hamid Karzai listens during a news conference at the presidential palace in Kabul, Afghanistan, on July 7, 2012.
Clinton arrives at Ben Gurion International Airport in Israel on July 15, 2012.
Clinton looks on as Obama makes a statement in response to the attack at the U.S. Consulate in Libya on September 12, 2012.
Clinton applauds Myanmar opposition leader Aung San Suu Kyi during a ceremony where Suu Kyi was presented with the Congressional Gold Medal on September 19, 2012.
Bill Clinton kisses his wife after introducing her at the Clinton Global Initiative annual meeting on September 24, 2012, in New York City.
Clinton shakes hands with Libyan President Mohamed Magariaf on September 24, 2012, in New York.
Clinton stands during a news conference following meetings at the prime minister's office in Pristina, Kosovo, on October 31, 2012. Clinton said that Kosovo's unilaterally declared independence, fiercely opposed by Serbia, was "not up for discussion."
Clinton chats with Suu Kyi before Obama speaks at the University of Yangon in Yangon, Myanmar, on November 19, 2012.
Obama looks at Clinton before the start of a bilateral meeting with Japanese Prime Minister Yoshihiko Noda, far right, during the East Asian Summit in Phnom Penh, Cambodia, on November 20, 2012.
Israeli Prime Minister Benjamin Netanyahu shakes hands with Clinton at the prime minister's office November 20, 2012, in Jerusalem.
Clinton receives a sports jersey and football helmet from Deputy Secretary Tom Nides, center, after returning to work on January 7, 2013, following a fall where she hit her head and doctors later detected a blood clot. The number 112 represented the number of countries that she had visited as secretary of state.
Clinton and her husband arrive for the inauguration for Obama's second term on January 21, 2013.
Clinton testifies before the Senate Foreign Relations Committee on Capitol Hill on January 23, 2013. Lawmakers questioned Clinton about the security failures during the Benghazi, Libya, attacks that led to the death of four Americans, including U.S. Ambassador Christopher Stevens.
From left, first lady Michelle Obama stands with former first ladies Laura Bush, Clinton, Barbara Bush and Rosalynn Carter at the opening ceremony of the George W. Bush Presidential Center in Dallas on April 25, 2013.
From left, Clinton, former first lady Laura Bush and former Presidents Bill Clinton and George W. Bush listen to speakers during the memorial service for Nelson Mandela in Soweto, South Africa, on December 10.
Clinton ducks after a woman threw a shoe at her while she was delivering remarks at the Institute of Scrap Recycling Industries conference in Las Vegas on April 10.
Clinton tours the National September 11 Memorial & Museum in New York with President Barack Obama, former New York Mayor Michael Bloomberg, first lady Michelle Obama and former President Clinton on May 15.
Clinton sits down with ABC News anchor Diane Sawyer on Thursday, June 5, for her first television interview in conjunction with the release of her new book, "Hard Choices."
Clinton makes 10-year-old Macy Friday's day as she campaigns for U.S. Sen. Mark Udall during a stop Monday, October 13, in Union Station in Denver.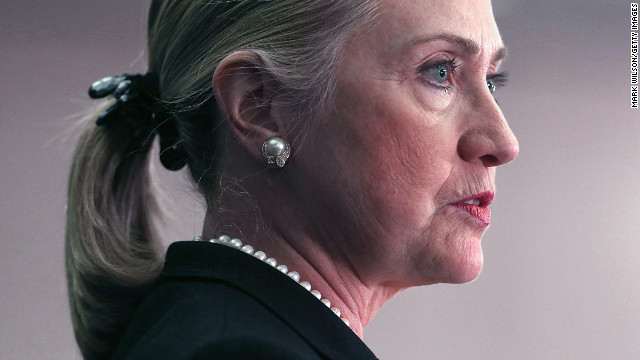 Photos: Clinton's political career
"Don taught me the meaning of the words 'faith in action' and the importance of social justice and human rights," she said in a letter. "I will miss him and will be grateful forever for the gift of his intelligence, counsel, kindness and support over many years."
Although the former first lady, senator and secretary of state has mentioned more prominent figures as inspirations -- like former first lady Eleanor Roosevelt and activists Malala Yousafzai -- the faith leadership that Jones provided appeared especially enduring.
At a 2007 faith forum put on by CNN when Clinton was running for president, she mentioned her "old friend" and youth minister in a question about prayer.
"I was raised to pray," Clinton said. "As a little girl, you know, saying my prayers at night, saying grace at meals, praying in church."
Jones' impact on Clinton came up again in at another CNN faith forum in 2008 when Clinton's description of her faith foundation tracked very close to what Jones taught her in the 1960s.
"I have tried to take my beliefs, my faith, and put it to work my entire life," she said. "And it has been gratifying to do the little I've done to try to help other people, which is really what motivates me."
To people close to Clinton, including old friends from Chicago, Jones' impact on the Democratic frontrunner remains clear as she contemplates another presidential run.
Faith continues to be an important part of Clinton's life, according to Burns Strider, Clinton's friend and faith adviser. Clinton carries a bible in her purse, Strider said, and will occasionally argue biblical texts while traveling.
"I think she lives based on how her faith and her experience within her faith, be it the youth trips into the city, the service trips, and different things, has informed her," he said.
And to Ricketts, Jones' impact was unmistakable.
"Hillary is the sum of all of these experiences and all of these philosophical expressions in her youth," he said. "She has absorbed all of the experiences that she has had and benefited from the really positive influence of Don."