STORY HIGHLIGHTS
NEW: Hribal is denied bond, continues to be held, police sergeant says
Alex Hribal is accused of stabbing 20 students, 1 adult at a Pittsburgh-area school
A criminal complaint states Alex Hribal refused to let go of knives after getting tackled
Authorities later found writing in his locker indicating his aim to kill fellow students
(CNN) -- A teenager tackled by a vice principal refused to drop the knives he'd used to stab 21 at his Pittsburgh-area high school, saying, "My work is not done, I have more people to kill," according to a criminal complaint released Friday.
While some underwent surgery, none of the 20 fellow students and one adult stabbed died. Two victims -- one in critical but stable condition, the other in fair condition -- were still at Forbes Regional Hospital in Monroeville, Pennsylvania, on Friday, hospital spokesman Jesse Miller said.
Their alleged attacker -- 16-year-old Alex Hribal -- was eventually disarmed, handcuffed and taken into custody.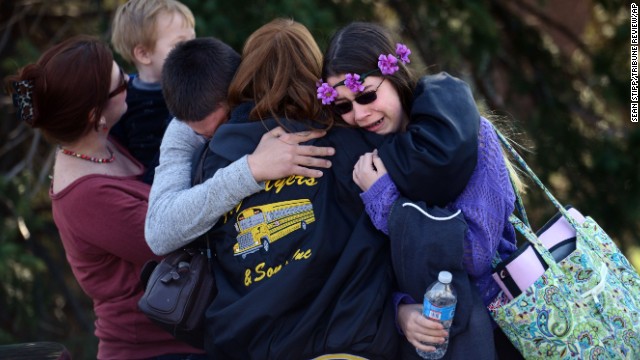 Parents and students embrace near Franklin Regional High School, where authorities say at least 20 people were injured in a stabbing spree Wednesday, April 9, in Murrysville, Pennsylvania.
Accused attacker Alex Hribal, 16, is escorted from a district magistrate after he was arraigned as an adult on April 9. He faces four counts of attempted homicide, 21 counts of aggravated assault and one count of possession of a weapon on school grounds, according to a criminal complaint made public.
A police officer blocks the entrance to the school on April 9.
Students leave the school's campus on April 9.
A police officer stands by the scene outside the high school on April 9.
A woman walks onto the campus of the Franklin Regional School District on April 9.
Students walk away from the campus on April 9.
Emergency responders gather in the parking lot of Franklin Regional High School on April 9.
Jenna Mickel, a sophomore at Franklin Regional High School, stands with her father, Richard, as she talks to reporters outside the school on April 9.
Emergency responders gather in the high school's parking lot.
A pair of women leave the school's campus on April 9.
A Salvation Army disaster services vehicle drives past a school bus and onto the campus on April 9.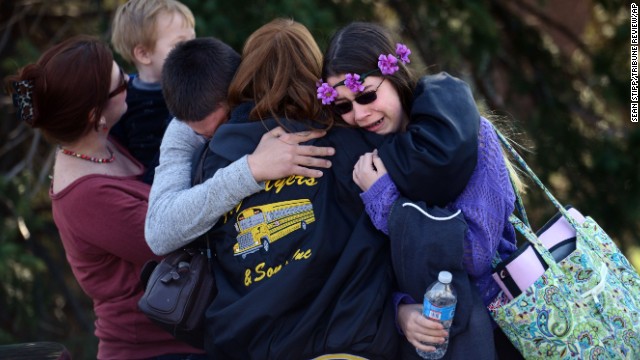 Stabbings at Pennsylvania high school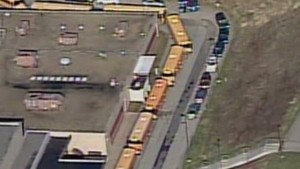 20 hurt in school stabbing rampage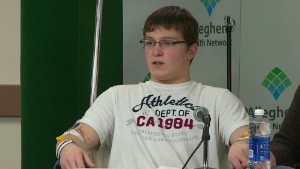 Student recounts moment he was stabbed
On Friday, Westmoreland County District Attorney John Peck told CNN that Hribal is charged with 21 counts of attempted homicide, in addition to 21 counts of aggravated assault and having a weapon on school property.
Hribal was denied bond after the new charges were filed, Murrysville police Sgt. Charles Tappe said. Hribal remains in Westmoreland County's juvenile detention center, even though he has been charged as an adult.
The teenager stands accused of rampaging through the halls of Franklin Regional Senior High School early on the morning of April 9, using a pair of 8-inch kitchen knives to slash those in his path.
His parents and classmates insisted afterward that they didn't see the horror coming, with lawyer Patrick Thomassey describing him as a well-liked and "typical young kid" who had "never been been in trouble."
Authorities looking through his locker found "a document" -- dated April 6, three days before the mass stabbing -- signaling Hribal's intentions to kill, according to the criminal complaint.
One part of it read: "I can't wait to see the priceless and helpless looks on the faces of the students of one of the 'best schools in Pennsylvania' realize their previous lives are going to be taken by the only one among them that isn't a plebeian."
Franklin Regional Senior High indeed has a strong academic reputation. According to the Pennsylvania Department of Education, its students' average SAT scores for 2013 was 1603.
The school is located in the middle-class enclave of Murrysville, a community of about 20,000 people located roughly 20 miles east of Pittsburgh.
In less than five minutes, the scene at the school transformed from a regular morning to sheer terror, as students bled, screamed and -- in a few notable cases -- rallied to help one another.
The rampage ended when Assistant Principal Sam King spotted the suspect holding the knives, as well as as a security guard, Sgt. John Resetar, bleeding nearby.
Assistant principal who tackled suspect hailed as 'great man'
According to the criminal complaint citing the school administrator, Hribal was "facing Resetar (when King) grabbed the accused from behind and took him to the floor."
CNN's Shimon Prokupecz and Haimy Assefa contributed to this report.