Syrian opposition: Army helicopter drops barrel bombs in Aleppo, killing 24
updated 5:59 AM EDT, Thu April 24, 2014
STORY HIGHLIGHTS
Barrel bombs are drums packed with explosives and shrapnel
They can level entire buildings with one hit
Days earlier, U.S. officials accused Syria of using chlorine gas in a deadly attack
(CNN) -- A Syrian army helicopter dropped barrel bombs on a vegetable market in Aleppo on Thursday, killing 24 people, opposition activists said.
Dozens more were injured in the attack on the opposition-held town of Atareb, according to the Local Coordination Committees of Syria.
Barrel bombs, which are drums packed with explosives and shrapnel, can level entire buildings with one hit.
Rescue efforts were under way as volunteers used bulldozers to clear wreckage and remove the rubble of the bombed buildings, according to the opposition. It posted purported videos of the attacks on social media.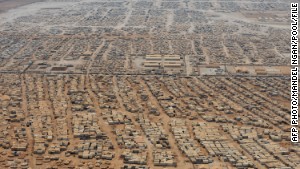 Friends formed through conflict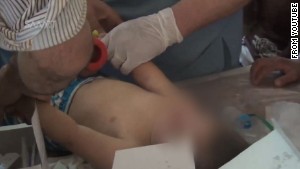 Rebels accuse regime of chemical attack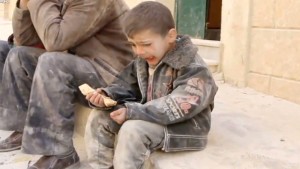 Children suffer Syrian barrel bomb attacks
Another airstrike targeted the nearby village of Tal Rifaat, the group said.
CNN cannot independently verify the authenticity of the reports or the videos.
The attack comes days after several U.S. officials said the Syrian government may have used chlorine gas in a deadly attack on its people. State Department spokeswoman Jen Psaki said the United States "had indications of the use of a toxic industrial chemical, probably chlorine, in Syria this month in the opposition-dominated village of Kfar Zeita."
If true, a chlorine attack would undermine a deal brokered by Russia last fall and approved by the U.N. Security Council that requires Syria to surrender its chemical weapons to the international community.
The Syrian opposition does not have helicopters to carry and deliver such weapons, and has been trading accusations about the April 11 chlorine incident with the government.
The United Nations says more than 100,000 people have been killed in Syria since the opposition launched anti-government protests in 2011.
READ: U.S.: signs point to Syria using chlorine gas in attacks
READ: 'It's all death, but at least here it is slightly more gentle'
READ: This is your captain: We'll shortly be arriving at Syria's most dangerous city