STORY HIGHLIGHTS
Yellow ribbons are tied to the gates of a school hit by the sinking
A local student group started using them to support families and spread hope
Celebrities have begun circulating the image; donation pages have been set up
Yellow ribbons have been widely used in the United States since the Iranian hostage crisis
(CNN) -- The bright yellow ribbons are tied tightly to the metal bars of the main gate at Danwon High School.
Nearby, they are attached to trees and posts. Altogether, there are thousands of them.
More than 300 students from the school were on a field trip on the Sewol, the ferry that sank last week off the coast of South Korea. Most of them are dead or missing.
The ribbons symbolize solidarity with the missing teenagers' families and hopes that some of the students -- who went to school in Ansan, a city near Seoul -- might still be found alive.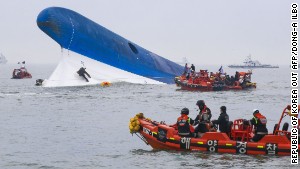 Did heavy cargo lead to ferry disaster?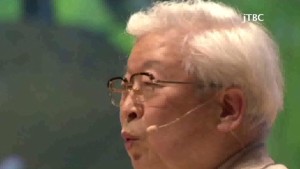 Man behind the South Korea ferry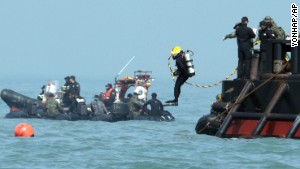 Divers: There are no air pockets left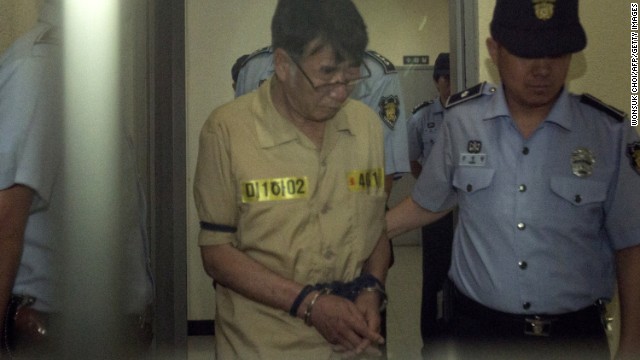 Sewol ferry captain Lee Joon-Seok was acquitted of murder, avoiding a death sentence, but was sentenced to 36 years in jail on November 11 for his role in the maritime disaster that killed more than 300.
Shoes believed to belong to the missing and the deceased are on display at the harbor.
Jindo harbor, where the search operation is based, has become a memorial for those who lost their lives. Yellow ribbons and photos are displayed as people come to pay their respects.
A joint government-civilian task force is still looking for the missing, but winter is fast approaching.
Ten are still missing from tragic ferry sinking last April, which killed more than 300. Six months later, families are still waiting for their loved ones to be found. The parents of 16-year-old Huh Da-yoon, pictured, are among them.
The families of the ten who remain missing have been waiting in Jindo Indoor Gymnasium since the first day. Families can watch search mission in real time on a large monitor in the gym.
South Korean President Park Geun-hye weeps while delivering a speech to the nation about the sunken ferry Sewol at the presidential Blue House in Seoul, South Korea, on Monday, May 19. More than 200 bodies have been found and nearly 100 people remain missing after the ferry sank April 16 off South Korea's southwest coast.
Police in Seoul detain a protester during a march Saturday, May 17, for victims of the Sewol.
A girl in Seoul holds a candle during a service paying tribute to the victims of the Sewol on Wednesday, April 30.
People pay tribute to victims at a memorial altar in Ansan, South Korea, on Tuesday, April 29.
A police officer holds an umbrella for a relative of a missing ferry passenger Monday, April 28, in Jindo, South Korea.
South Korean Buddhists carry lanterns in a parade in Seoul on Saturday, April 26, to honor the memory of the dead and the safe return of the missing.
Divers search for people in the waters near Jindo on April 26.
People in Ansan attend a memorial for the victims on April 26.
A diver jumps into the sea near the sunken ferry on Friday, April 25.
A relative of a passenger weeps while waiting for news of his missing loved one at a port in Jindo on April 25.
People attend a memorial for the victims at the Olympic Memorial Hall in Ansan on Thursday, April 24.
Yellow ribbons honoring the victims flap in the wind as a hearse carrying a victim's body leaves Danwon High School in Ansan on April 24. Most of the people on board the ferry were high school students on their way to the resort island of Jeju.
People attend a memorial for the victims at Olympic Memorial Hall in Ansan.
Search personnel dive into the sea on Wednesday, April 23.
Flares light up the search area on Tuesday, April 22.
The sun sets over the site of the sunken ferry on April 22.
A relative of a ferry passenger prays as she waits for news in Jindo on April 22.
The search for victims continues April 22 in the waters of the Yellow Sea.
Rescue workers in Jindo carry the body of a passenger on Monday, April 21.
Divers jump into the water on April 21 to search for passengers near the buoys that mark the site of the sunken ferry.
Search operations continue as flares illuminate the scene near Jindo on Sunday, April 20.
Relatives of missing passengers grieve April 20 in Jindo.
Relatives of passengers look out at the sea from Jindo on April 20.
Police officers in Jindo stand guard Saturday, April 19, to prevent relatives of the ferry's missing passengers from jumping in the water. Some relatives said they will swim to the shipwreck site and find their missing family members by themselves.
Family members of missing passengers hug as they await news of their missing relatives at Jindo Gymnasium on April 19.
South Korean Navy Ship Salvage Unit members prepare to salvage the sunken ferry and search for missing people on April 19.
Lee Joon Suk, the captain of the Sewol, is escorted to the court that issued his arrest warrant Friday, April 18, in Mokpo, South Korea.
A woman cries as she waits for news on missing passengers April 18 in Jindo.
A searchlight illuminates the capsized ferry on Thursday, April 17.
A woman cries during a candlelight vigil at Danwon High School in Ansan, South Korea, on April 17.
Family members of passengers aboard the sunken ferry gather at a gymnasium in Jindo on April 17.
The body of a victim is moved at a hospital in Mokpo on April 17.
Relatives of a passenger cry at a port in Jindo on April 17 as they wait for news on the rescue operation.
South Korean coast guard members and rescue teams search for passengers at the site of the sunken ferry on April 17.
A relative of a passenger cries as she waits for news on Wednesday, April 16.
Relatives check a list of survivors April 16 in Jindo.
Rescue crews attempt to save passengers from the ferry on April 16.
A relative waits for a missing loved one at the port in Jindo.
Parents at Danwon High School search for names of their children among the list of survivors. Ansan is a suburb of Seoul, the South Korean capital.
Helicopters hover over the ferry as rescue operations continue April 16.
Officials escort rescued passengers April 16 in Jindo.
A passenger is helped onto a rescue boat on April 16.
A passenger is rescued from the sinking ship on April 16.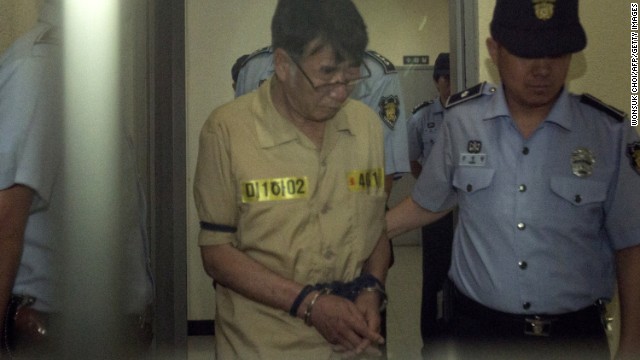 Photos: South Korean ferry sinks
The approach borrows from a practice that became popular in the United States during the Iranian hostage crisis that began in 1979. The tradition was used again in the United States during the wars in Iraq and Afghanistan.
In South Korea, the ribbons have also spread into the realm of social media. Many people have posted an image evoking them as their profile photos on services like Facebook and Naver.
The image is a bold yellow square with a black border. In the center sits a simple design of a bow in black with a line of Korean written underneath.
"One small step, big miracle," it reads.
Celebrities join in
The online movement was started Saturday by a local student club, according to The Korea Herald, an English-language newspaper in South Korea.
The group wanted "to support the families of the missing and offer a hopeful message to the Korean public that the missing passengers could still be found alive," the newspaper reported.
Other variations of the yellow ribbon image have also begun to circulate on popular social media sites. And Korean celebrities have helped spread the word.
The K-pop star G-Dragon posted an image of a yellow ribbon on his Twitter feed, and the actress Park Shin-hye changed her profile picture to a ribbon picture with the popular hashtag #prayforsouthkorea written underneath.
Ribbons spread
Clusters of real ribbons have also reportedly sprung up in other cities, such as Seoul and Chuncheon. Some of the ribbons have messages and tributes written on them.
FC Seoul, a top local soccer team, will don the ribbons for a Saturday game against the Jeonnam Dragons, according to local media.
The hopes the ribbons symbolize are fading fast. Rescuers saved 174 people on April 16, the day the ship sank, but no other survivors have been found since. Divers say they have found no air pockets that could have kept people alive inside the submerged vessel.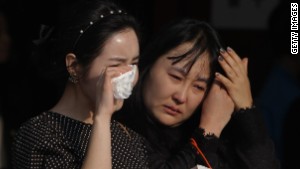 Families grieve as ferry death toll rises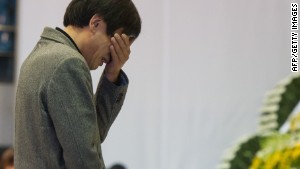 Memorial stirs raw emotions for families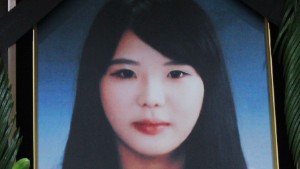 Ferry crew member honored as a hero
Raising donations
The ribbons are also being used as a rallying point to raise money for the families who are grieving or still anxiously waiting for news of their loved ones.
National soccer player Park Chu-young, Olympic figure skater Yuna Kim and LA Dodgers pitcher Hyun-jin Ryu each donated 100 million won (roughly $100,000), according to Wow TV, a local broadcaster.
Naver, a popular Web search portal, has a yellow ribbon page allowing users to leave messages and make donations to a fund organized by the National Disaster Relief Association.
The ribbon campaign "evolved organically in the social media sphere and is the term people seem to be using in reference to all different kinds of efforts being made on behalf of the victims and families of the disaster," said Chung Seo-yoon, a representative from the association, which was founded in 1961 by media groups.
The organization is aiming to raise 500 million won. So far, tens of thousands of people have donated, raising nearly 350 million won.
Evolving symbol
In the United States, yellow ribbons were widely used to demonstrate a desire for the return of American hostages held in Tehran between 1979 and 1981.
Before that, they had been associated with convicts returning from prison.
According to the American Folklife Center at the Library of Congress, the yellow ribbon practice originated in a modern folk legend, which was turned into a popular song, "Tie a Yellow Ribbon Round the Ole Oak Tree," which was in turn transformed "into a ritual enactment."
Since the Iranian hostage crisis, it has reportedly been picked up in other countries, for a variety of movements and causes.
In its 1991 article, the American Folklife Center noted the ribbon's ability to take on new meanings:
"Ultimately, the thing that makes the yellow ribbon a genuinely traditional symbol is ... its capacity to take on new meanings, to fit new needs and, in a word, to evolve."
READ: South Korean lawmaker: Sunken ferry was expanded last year
READ: South Korean authorities search ferry owner's offices as probe widens
READ: Abandon ship? In recent maritime disasters, captains don't hang around
CNN"s Frances Cha, Andrew Stevens and Judy Kwon contributed to this report.