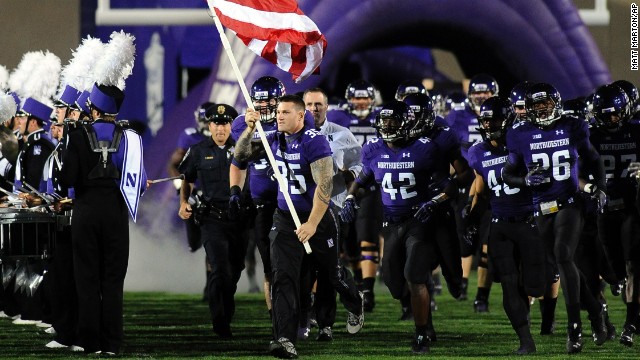 On Thursday, the National Labor Relations Board granted Northwestern University's request to review a decision that its football players are employees of the school and have the right to unionize. The athletes have said they're seeking better medical coverage, concussion testing, four-year scholarships and the possibility of being paid. Click through to see what others are saying.
NCAA President Mark Emmert: "To be perfectly frank, the notion of using a union employee model to address the challenges ... strikes most people as a grossly inappropriate solution to the problems," Emmert said. "It would blow up everything about the collegiate model of athletics."
Former NFL Commissioner Paul Tagliabue: On unionizing athletes, he said, "I think that's a model that has a place when the debate is about free agency and salary caps and professional careers, but here the debate to me is not about professionalism vs. amateurism. I'm going to create a new word, educationism. If there's an -ism here, it's educationism."
Henry Bienen, left, Northwestern president emeritus: "If we got into collective bargaining situations, I would not take for granted that the Northwesterns of the world would continue to play Division I sports." Bienen said he has also been aware of similar discussions at other private schools, specifically Duke and Stanford universities.
Ohio State head football coach Urban Meyer: "Students should get more than what they get," Meyer told the Ohio State student newspaper, The Lantern. "But it gets so complicated. ... (T)o say they should go out and get their own shoe contracts and things ... I start hearing that and I'm like, 'Whoa. What could that do for this great sport? And really, what would that do for college athletics as a whole?"
Ohio State football player Michael Bennett: "I don't necessarily agree with football players being unionized," the defensive lineman told The Lantern. "... The cost of living's going up and I don't think that our stipend is going up, so obviously a little bit more money is nice, but I'm not really in the business of trying to force people to do that."
UConn basketball star Shabazz Napier: "Sometimes, there's hungry nights where I'm not able to eat, but I still gotta play up to my capabilities," Napier told reporters just days before leading Connecticut to the NCAA men's championship. (After Napier's comments, Connecticut state Rep. Matthew Lesser told CNN he'll be drafting a bill next session that will allow athletes at state universities to vote to unionize.)
Senate Majority Leader Harry Reid: "The way these people are treated by the NCAA and the universities themselves is really unpardonable," the Nevada Democrat told the Washington Post, saying he will "do anything I can to help." The senator said the NCAA "for a long, long time has been an organization that only cares about making money."
U.S. Sen. Sherrod Brown, D-Ohio: After meeting with Northwestern's Colter and Huma on Capitol Hill last week, Brown said, "College athletes dedicate the same hours to their sport as full-time employees and deserve the same protections as any other worker."
Sen. Lamar Alexander, R-Tennessee: On his Facebook page, Alexander called the NLRB decision supporting the athletes' right to unionize "absurd." ... "Imagine a university's basketball players striking before a Sweet 16 game demanding shorter practices, bigger dorm rooms, better food and no classes before 11 a.m."
Tom McMillen, former basketball player and congressman: McMillen said last week: "Kids who are walking out of these schools cannot read. They are getting degrees that are worthless." McMillen, who now serves on the University System of Maryland Board of Regents, told CNN on Monday: "If these kids aren't getting an education, the whole thing's a sham."
U.S. Rep. Tony Cardenas, D-California: "Personally, I would love to see students on a campus be students first, athletes second, and to be able to have the kinds of protections of making sure that they have their academic career completed," Cardenas told CNN.
Unionize college athletes?
Unionize college athletes?
Unionize college athletes?
Unionize college athletes?
Unionize college athletes?
Unionize college athletes?
Unionize college athletes?
Unionize college athletes?
Unionize college athletes?
Unionize college athletes?
Unionize college athletes?
Unionize college athletes?