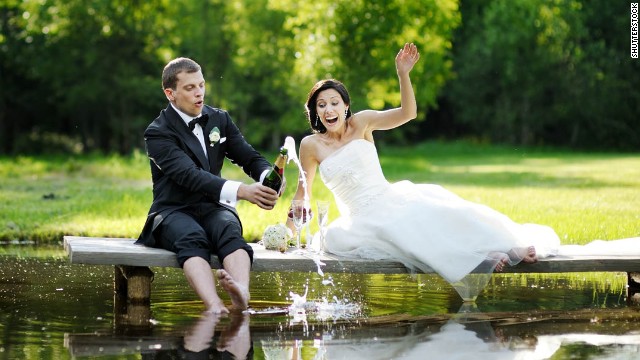 Weddings don't just celebrate the union of two crazy kids in love -- they also blend some sticky etiquette questions into the mix. For instance, will your guests be expecting dinner and drinks? Here's how to get the message across without stirring up too much fuss.
If it's just going to be a cocktail reception with drinks and passed appetizers, say "cocktail reception," "cocktails and hors d'oeuvres" or "cake and punch to follow" or use similar language on wedding invitation inserts so guests aren't just hanging around waiting for a seated dinner that will never come.
The cutting of the cake or presentation of desserts is the usual point at which guests know they can make a polite exit. If dinner isn't being served, try to wrap everything up by 8 p.m. so guests can make alternate plans.
Consider deputizing wedding party or family members to convey the message if there is a special theme or structure to the food. In a traditional New Orleans wedding, there is no sit down meal -- the heavy passed apps and small plates stations ARE the dinner and guests shouldn't miss them
A clambake on the beach sounds great, right? It helps to let the guests know if there's a limited theme menu just in case they have allergies or aversions. They may care to eat beforehand or make plans afterward.
Barbecue weddings are hugely popular, especially in the South. Again, just make sure to let guests know so they can perhaps avoid wearing their most stain-attracting silk. Consider offering a meat-free option as well for your vegetarian guests.
Cash bar or dry wedding? Get your trusty wedding party or family members to discreetly spread the word so people know to bring cash (or possibly a flask).
'I now pronounce you fed'
'I now pronounce you fed'
'I now pronounce you fed'
'I now pronounce you fed'
'I now pronounce you fed'
'I now pronounce you fed'
'I now pronounce you fed'
STORY HIGHLIGHTS
Wedding food traditions vary wildly, and guests run the risk of stuffing or starving
The couple can set expectations with a few simple words on an invitation insert
Family and the wedding party can discreetly spread the word if there's a cash bar
It never hurts to come prepared with an energy bar -- or a flask, if need be
(CNN) -- To hear the bride tell it, all the guests should have left stuffed. In traditional New Orleans fashion, servers passed groaning trays of shrimp remoulade, mini-muffulettas, boudin balls, crab cakes, crawfish and every oyster preparation under the sun. And the open bar flowed freely.
Locals chowed down and kicked up their heels. But the out-of-towners (mostly the groom's family) got progressively drunker, crankier and confused, forgoing the appetizers and roaming the reception venue for the sit-down dinner they were sure was coming.
It never did. At a New Orleans-style reception, the copious, usually hand-carried hors d'oeuvres and small-plate stations are the meal. Miss them, and the best you can hope for is a slice of cake -- and a nearby restaurant that serves late.
Weddings celebrate the union of two warm souls who have found each other in this often cold, lonely and wicked world. Getting to witness that should (in theory) be enough for anyone.
But guests have come to expect that after buying a present, getting all dolled up and getting to the wedding on time, they're going to get fed -- and those traditions vary wildly from region to region and culture to culture.
If two people from the same neck of the woods are tying the knot, the majority of guests will likely know what to expect, food and booze-wise. But if the happy bride and groom hail from different states, faiths or ethnic and economic backgrounds, there's a good chance that some guests may be caught off guard.
Sometimes it's a pleasant surprise: "Oh my gosh, I could have eaten 10 more plates of that mostaccioli!" Sometimes it's less so: "No alcohol?! Can I get my present back?"
To minimize rumbling stomachs, sloppy-drunk (or angrily sober) antics and hard feelings that will inevitably make it back through the rumor mill to the newlyweds, it helps to set some expectations for what will and won't be served at the reception.
For the couple
So much agitation and ill will can be avoided by just stating up front what kind of reception spread you're planning to have. Yes, it's potentially awkward, but so many points of wedding etiquette are.
Consider it a courtesy to let your guests know if and how much they're going to be fed, so they can make plans to eat before or after, and if there is going to be anything other than an open bar so they know to bring cash (or a flask.)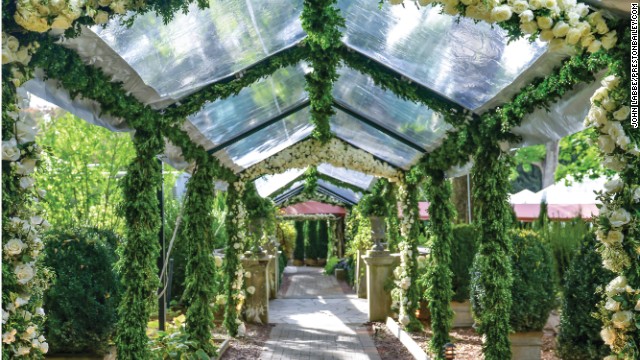 Designer Preston Bailey believes in setting the tone for an event right from the start. A bower of flowers creates a magical entrance to the celebration.
Facebook's Sean Parker and bride Alexandra Lenas married in 2013 in Big Sur, California, in a Bailey-designed "fantasy in the forest."
Parker and Lenas' wedding featured an elaborate Bailey-designed walkway to the ceremony.
Here's more detail from the Bailey-designed fantasy wedding forest.
Strands of flowers, wrapped and flowing, met with elaborate table arrangements to create a signature Preston Bailey environment for wedding guests.
A celebration in New Delhi, India, helped sway Bailey's feelings on carnations, which he previously disliked. Now, he uses them to create elaborate sculptures.
The elephant in the room was a giant, Bailey-designed floral sculpture at the center of the celebration.
From wildly colored blooms to stark white petals, flowers help set the tone for whimsy or elegance at a wedding, Bailey said.
At the Hotel Indonesia Kempinksi in Jakarta, Bailey's distinctive sculptural centerpieces narrow at the base so as not to block lively dinner conversation.
Preston Bailey, himself, was married on Valentine's Day in 2013 to his partner, Theo Bleckmann.
Preston Bailey's newest book "Designing with Flowers" hits bookshelves on April 8, 2014.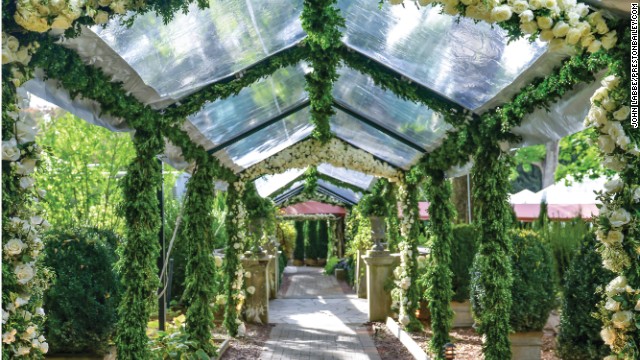 Preston Bailey: Decorating with Flowers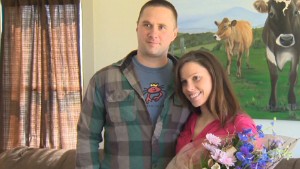 Military couple wins $70K wedding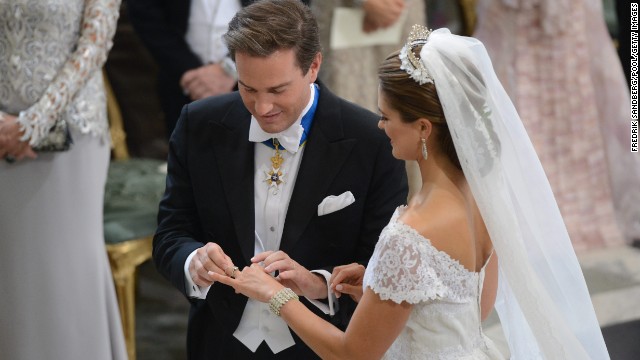 Royals! They're just like us except...no. They're not like us at all. Take a peek at some of the most storied royal weddings from the past 60 years. Princess Madeleine of Sweden and Christopher O'Neill exchange rings during their wedding ceremony in Stockholm on June 8, 2013.
Princess Charlene of Monaco and Prince Albert II of Monaco leave the religious ceremony at the Prince's Palace on July 2, 2011 in Monaco. The Roman-Catholic ceremony follows the civil wedding which was held in the Throne Room of the Prince's Palace of Monaco on July 1.
Britain's Prince William and his wife Kate, Duchess of Cambridge, accompanied by her maid of honor Pippa Middleton leave after the wedding service in Westminster Abbey in central London on April 29, 2011.
Prince Frederik and Mary Donaldson married in Copenhagen, Denmark on May 14, 2004.
Wedding of Prince Laurent of Belgium and Claire Coombs on April 12, 2003 in Brussels, Belgium.
Jordanian Crown Prince Abdullah and his wife Rania on their wedding day in Amman on June 10, 1993.
The newly wed Prince Andrew, the Duke of York and his wife Sarah Ferguson, the Duchess of York, wave to crowds July 23, 1986 from the balcony of Buckingham Palace in London while Queen Elizabeth II and Queen Mother look on.
Lady Diana and Prince Charles wed on July 29, 1981. Here the prince and princess (wearing a David Emanuel wedding dress, leave St. Paul's Cathedral.
HRH Princess Anne and captain Mark Phillips stand together during their wedding service at Westminster Abbey in November 14, 1973.
The newly-wed Princess Margaret, the younger sister of Britain's Queen Elizabeth II, leaves hand in hand with her husband the photographer Antony Armstrong-Jones London's Westminster Abbey on their wedding day May 6, 1960. Armstrong-Jones was later made Earl of Snowdon. When the marriage was officially ended two years later, Margaret became the first royal to divorce since Henry VIII in the 16th century.
Queen Elizabeth II, as Princess Elizabeth, and her husband the Duke of Edinburgh, styled Prince Philip in 1947, on their wedding day. She became queen on her father King George VI's death in 1952.
Prince Rainier III marries actress Grace Kelly in a cathedral in Monaco on April 19, 1956.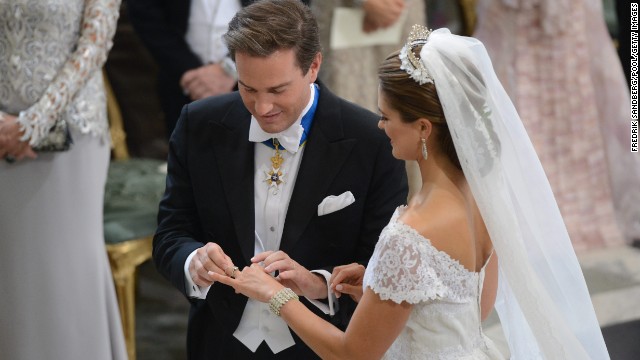 Taking the royal plunge
If it's an apps-only reception with no sit-down dinner, the clearest and most socially acceptable course of action is to say "cocktail reception," "cocktails and hors d'oeuvres" or "cake and punch to follow" on the invitation, one of the inserts or your wedding website.
Setting an end point for the festivities early in the evening indicates to guests that they'll need to make alternate dining arrangements. That's easily achieved by saying that the cocktail hour will be from 4 to 6 p.m. or 5 to 7 p.m.
In much of the United States, cutting a cake or serving dessert indicates the point at which guests may feel free to politely make an exit, so it's best to have that all wrapped by 8 p.m. That way, the night is young, and guests can still forage for food out in the world while they're sober enough to do so.
If you're serving regionally specific fare, letting guests know ahead of time what they're in for can whet their appetite, guide them to arrive full or help them plan their wardrobe. A bride or groom's dream New England clambake, North Carolina pig picking or traditional Italian spread may be a guest's seafood allergy, vegetarian or dry cleaning nightmare.
Just drop a hint in an invitation insert, on your wedding website or by word of mouth, and know that you've done your due dinner diligence.
As for alcohol -- this can be tricky, but it's easy to clue guests in to what the booze situation will be.
While you are under no obligation to serve alcohol or mention that you are not doing so, the reality is that many people will arrive with the expectation that they'll be toasting your nuptials with at least one glass of something higher-proof than lemonade, and that it will be on your dime.
Don't miss out on the conversation we're having at CNN Living.
Follow us on Twitter
and
Facebook
for the latest stories and tell us what's influencing your life.
Wedding expert Emily Post advises asking family and wedding party members to share your plans with other guests as they would any other piece of wedding information. She also notes that it's fine to mention casually that there won't be any alcohol served at the event, and for large parties where not all guests are on regular chatting terms with the core cast, a discrete "please know that alcohol will not be served" may appear on an invitation insert or the wedding website.
No reception issue may be more fraught than that of the cash bar. A 2010 CNN Eatocracy poll on the subject drew more than 37,000 responses and more than 700 comments, with the majority indicating that if a full, open bar wasn't provided, the beer and wine had better flow freely. Five percent of respondents said they'd refuse to attend altogether if there were no alcohol served, and 23% grudgingly agreed to the cash bar if and only if it were an economic necessity.
So unless you roll with a totally teetotaling crowd, someone's feathers will get ruffled. Accept that now and forever hold your peace -- but consider letting a few of your more loquacious friends quietly spread the word so guests don't show up thirsty and empty-walleted.
For the guests
You like at least one (and ideally both) of these folks, right? Otherwise you wouldn't be hitching up your fancy pants and hauling over to the VFW Hall, church basement or random beach where they've decided to pledge their eternal love to one another. It behooves you to be graceful and grateful to be invited, even if you're made to stand in an empty mall parking lot to nibble Tic Tacs and swig warm fruit punch.
That said, it doesn't hurt to do your homework.
If the nuptials are taking place in New Orleans, grab every last scrap of alligator sausage and beignet off the tray and savor it. If you're in Pittsburgh, know to save room in your stomach (and pockets) for the thousands of cookies that female relatives have made. If barbecue is on the menu, consider not wearing your most stain-attracting silk. And as a last resort, pack an energy bar or a flask.
The bride or groom will have enough on their plate, so ask a wedding party or family member what's going to be on yours.
Got a wedding food or beverage horror story? We'd love to hear all about it in the comments below.