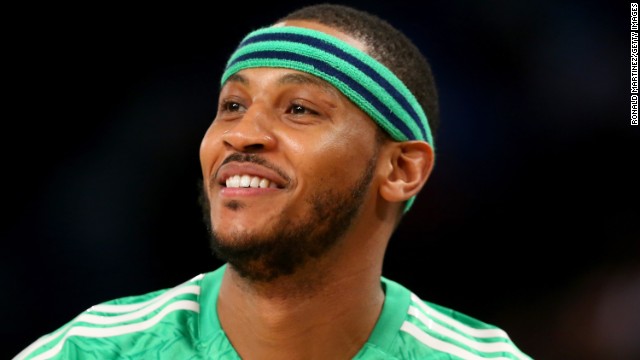 The New York Knicks'
Carmelo Anthony
is the child of an African-American mother and was named after his Puerto Rican father. "I'm still trying to get that message out there, to let them know that I'm one of them and part of that community, too," he told
ESPN Deportes
about his Latin roots.
"My mother is very tough," Halle Berry told The New York Times in 2002. "She taught me when I was little that I'm her daughter, I'm half white, but when you leave this house people will assume you're black and you'll be discriminated against. So accept being black, embrace it. She said if I fight it, I will have a battle with them and a battle inside myself."
Comedians Jordan Peele, left, and Keegan-Michael Key have a popular Comedy Central show, which often pokes fun at mistaken identities. "Jordan and I have an African-American way of looking at things but also a child-of-a-white-mother way of looking at things," Key told USA Today in 2012. "We have a very different and distinct filter that we see the world through that other people don't, because we're hybrids."
Women's Health magazine
that she considered the term "biracial" offensive: "It's a way for people to separate themselves from African-Americans ... a way of saying 'I'm better than that,' " she said in 2010. "I'm black because that's the way the world sees me. People aren't calling Barack Obama biracial. Most people think there's a black president."
Actress Paula Patton, born to a white teacher and black defense attorney, told
news conference
on a visit to South Korea.
Super Bowl XL MVP Hines Ward is African-American and Korean. "I'm proud to be a Korean, that's something when I was little as a kid, I was ashamed of," he said in a
told the Los Angeles Times in 1999
. "I have two brilliant parents. ..."
Actress Michael Michele was born in Indiana to a black mother and a white father. "I am assertive and independent, that's just the way I was raised," she
black and Mexican
, and he told
MTV
that he created the alter ego Juan Pablo as a nod to his Mexican roots.
Kid Cudi's parents are
she was emotional
on "Oprah: Where are they now?" "My mom is a beautiful black woman and my dad is an amazing white man, and I grew up seeing a family,"
Mowry-Housley said
.
TV personalities Tamera Mowry-Housley and Tia Mowry-Hardrict grew up in the spotlight. When Mowry-Housley was criticized for her marriage to a white man,
Time
.com if he ever questioned his racial identity, he responded: "I did what I did. It wasn't necessarily, 'I'm black so I have to act a certain way.' Or, 'I'm with a white family, I have to act a certain way.' My parents just kind of let me be me."
Colin Kaepernick is adopted. His birth father is black and his birth mother is white. Asked by
speech on race
, I cried and I felt like, there's the speech I've been wanting to write. I've been thinking about writing about race for a long time," she told
Essence magazine in 2008
. Her foundation,
Sweet Blackberry
, highlights stories of black history in DVD's for children.
Actress and author Karyn Parsons' mother is black and her father is white. "When I saw (President Obama's)
Novelist Walter Mosley's mother was white and Jewish from Poland; his father was a black American. "A lot of people would say to me, 'Well, you're multiracial.' And I am. But in this society, I'm black. That's not my color, but that's how I'm seen by others," he said to USA Today in 1999.
told BET.com
. "And I definitely identify with my African-American side more. That's how people perceive me and I'm fine with that."
Actress Sharon Leal is the daughter of a Filipino mother and African-American father. "I think when you look at me it's glaringly obvious that I'm black and for some reason Asian doesn't exactly scream out at you," she
told Billboard magazine
. "It was really important for me to stand out. I wanted the music to stand out that way."
"I'm Mexican and black -- my father is Mexican, my mom is black. I've been in the middle my entire life, having to make decisions as to who and what I am," singer Miguel
told the Daily Mail in 2007
. "But people would still ask me, if you had to choose one ethnicity, which would it be? I'd be, like, why do I have to come down on one side or the other? I get that people love to categorize, but I think we get a little too hung up on it sometimes."
Singer Amerie's father was an American soldier who met her mother when he was stationed in Korea. "I was never made to feel that I was 'different' by other kids," she
writes on his website
. "Yet I am just as proud to embrace the white side of me. In a perfect world, my wish is for people to see past color stereotypes and simply look at the character and personality of a person."
Actor Shemar Moore calls himself biracial. "I am well aware, especially in this country, that I am perceived and viewed as a black man because of the color of my skin. I am extremely proud to be black and of my heritage," he
music manager Robert Ellis Silberstein
. "According to the casting world, I'm a black actress," says Ross. "But I always say that I'm a woman of color - several colors, because I'm black and Jewish. And that's been a great blessing in my life."
Actress Tracee Ellis Ross is the daughter of singer Diana Ross and
told BET.com
in 2012. "But at the end of the day, when I walk the Earth, I walk the Earth as a black man. That's what I'm being perceived as, that's what I look like and that's what I feel like."
Actor Boris Kodjoe grew up in Germany and moved to America when he was 19 years old. "To not consider somebody black because they're biracial is a little bit short-minded. I'm biracial. I was born to a white mother from Germany and a black father from Ghana. And I represent both cultures," he
Singer Alicia Keys' mother is mainly of Italian heritage and her father is black. "My background made me a broad person, able to relate to different cultures," she told The Observer in 2003. "But any woman of color, even a mixed color, is seen as black in America. So that's how I regard myself."
"
Clueless," is of African-American, Barbadian and Mexican descent. She made headlines for
her endorsement of Republican presidential candidate Mitt Romney
.
Actress Stacey Dash, known for her role in the movie
Famous names on their identity
Famous names on their identity
Famous names on their identity
Famous names on their identity
Famous names on their identity
Famous names on their identity
Famous names on their identity
Famous names on their identity
Famous names on their identity
Famous names on their identity
Famous names on their identity
Famous names on their identity
Famous names on their identity
Famous names on their identity
Famous names on their identity
Famous names on their identity
Famous names on their identity
Famous names on their identity
Famous names on their identity