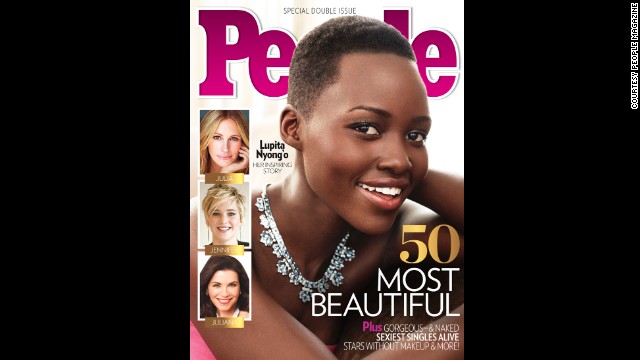 Lupita Nyong'o has seen her star rise, including a best supporting actress Oscar for her first major role. In April 2014 she
was named People magazine's most beautiful person of 2014.
Nyong'o wowed critics and audiences with her performance in "12 Years a Slave."
The beautiful Kenyan actress has won multiple accolades, including Best Supporting Actress at the 19th Annual Critics' Choice Movie Awards.
"12 Years A Slave," directed by Steve McQueen, was Nyong'o's first feature film.
The actress delivers an emotional performance with her portrayal of Patsey.
"12 Years A Slave" chronicles the true story of Solomon Northup, a free black man who was kidnapped and sold into slavery.
"There is something about acting that's mysterious and magical because there is only so much I can do to prepare and then I have to just let go and breathe and believe that it will come through," says Nyong'o.
In the film, Nyongo's character is a young slave who has a volatile relationship with her erratic slave master.
Nyong'o posing after her win at the annual Screen Actors Guild Awards as Best Female Actor in a Supporting Role award on January 18.
Nyong'o attends the 14th annual AFI Awards Luncheon in Beverly Hills, California, on January 10.
"In praising me I feel like her (Patsey's) spirit is being uplifted," says Nyong'o, "because what I met in those pages of Solomon Northrup's book was heartbreaking."
Breaks were crucial on the set. "Having those moments of lightness and separation from the work we were doing on set was very important," says Nyong'o.
"12 Years A Slave" has been hailed by many as one of the best movies of the year.
On set with Lupita Nyong'o
Rising film star Lupita Nyong'o
Rising film star Lupita Nyong'o
On set with Lupita Nyong'o
On set with Lupita Nyong'o
On set with Lupita Nyong'o
On set with Lupita Nyong'o
On set with Lupita Nyong'o
Rising film star Lupita Nyong'o
Rising film star Lupita Nyong'o
On set with Lupita Nyong'o
On set with Lupita Nyong'o
On set with Lupita Nyong'o