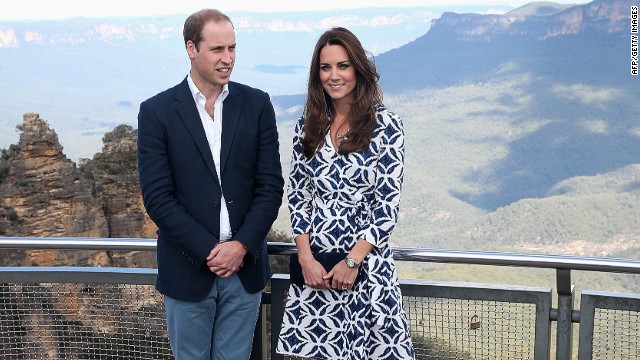 This $325 Diane Von Furstenberg wrap dress sold out just eight minutes after pictures of Kate wearing it last week in Australia popped up online.
London-based upscale fashion brand L.K. Bennett also benefited from the royal touch, when the Duchess appeared the following day at the Royal Australian Airforce Base, Amberley, in a pretty blue and white floral number.
Kate picked one of her old favorites, a $60 Wessex dress from Hobbs, for a walk around the base of Australia's iconic Ayers Rock. It would have sold out had it not already done so when she wore it while playing table tennis in the run up to the Olympics last year.
Prince George's outfits have been attracting just as much attention as Kate's recently. For his playdate at Royal New Zealand Plunket Society last week he went upmarket with Sailboat Smocked Dungarees from Rachel Riley and a bodysuit from the Chelsea Clothing Company.
The "Kate Effect" is now a well-documented phenomenon. This picture of new mother Kate wearing maternity brand Seraphine, while posing for her first official portrait with William, increased the label's turnover by 50% in 2013.
When William and Kate arrived to pose for photographs at St James Palace in November 2010, the designer of her dress Daniella Issa Helayel may have been unprepared for the global star it would make her almost overnight.
Not only did the Daniella Issa Helayel jersey dress Kate slipped into to announce her engagement sell out within hours, and remain on back-order for almost a year, so did its $26 replica from Britain's Tesco supermarket.
While the British press report that Kate's stylists plan her wardrobe up to two months ahead, shoppers had just 60 minutes before this teal peplum suit by L.K. Bennett -- which she wore to accompany the Queen and The Duke of Edinburgh on an official visit to Leicester in March 2012 -- sold out entirely.
"An absolute frenzy" is how a spokesperson for Orla Kiely described the label's website after Kate was photographed wearing it's bird-print jacquard dress at Rose Hill Primary school, Oxford in February 2012.
Proving once again she's more high street than high end, Kate wears a $85 Zara dress to walk hand-in-hand with William from Buckingham Palace the day after their wedding last year. This time copy-Kates had a whole 24 hours to snap it up.
The $1,700 dress Temperley London supplied Kate with for the SportsAid gala in November 2013 had sold out by the time she got home.
After Kate wore this $270 cream silk Nannette dress by Reiss for her official engagement photograph, the company says that it sold at the extraordinary rate of one-per-minute online.
11 of Kate's sell-out ensembles
11 of Kate's sell-out ensembles
11 of Kate's sell-out ensembles
11 of Kate's sell-out ensembles
11 of Kate's sell-out ensembles
11 of Kate's sell-out ensembles
11 of Kate's sell-out ensembles
11 of Kate's sell-out ensembles
11 of Kate's sell-out ensembles
11 of Kate's sell-out ensembles
11 of Kate's sell-out ensembles
11 of Kate's sell-out ensembles