Iceberg is twice the size of Atlanta
updated 1:50 PM EDT, Tue April 22, 2014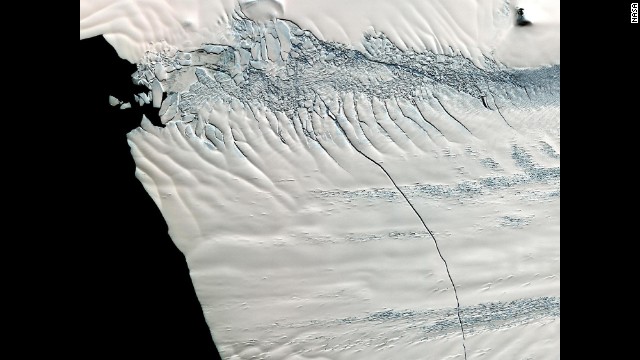 In mid-October 2011, NASA scientists working in Antarctica discovered a massive crack across the Pine Island Glacier, a major ice stream that drains the West Antarctic Ice Sheet.
The iceberg, named B31, separated from the Pine Island Glacier in November 2013.
By December 2013, the iceberg had begun to move into Pine Island Bay.
By February 2014, B31 was headed to the Amundsen Sea.
By March 2014, the B31 iceberg was near an area where it could get swept up in the currents of the Southern Ocean, scientists say.
City-sized iceberg drifts into ocean
City-sized iceberg drifts into ocean
City-sized iceberg drifts into ocean
City-sized iceberg drifts into ocean
City-sized iceberg drifts into ocean
STORY HIGHLIGHTS
Iceberg is 255 square miles in size
Massive berg calved from glacier last year
Scientists fear it could get lost in the Antarctic darkness
(CNN) -- A massive iceberg with an area almost twice the size of Atlanta is moving into the ocean off Antarctica and could threaten shipping during the Antarctic winter, scientists say.
The ice island, known as iceberg B31, covers 255 square miles and could be almost a third of a mile thick, scientists say in a report from NASA's Earth Observatory.
The iceberg calved from Antarctica's Pine Island Glacier last November, according to NASA. The crack that produced it was first spotted in 2011.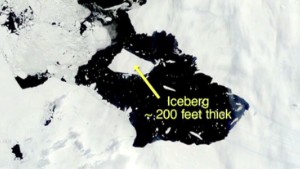 Watch giant iceberg form
Since November, B31 has drifted out of Pine Island Bay and into the Amundsen Sea off the western side of the continent.
"The iceberg is now well out of Pine Island Bay and will soon join the more general flow in the Southern Ocean, which could be east or west in this region," iceberg researcher Grant Bigg from the University of Sheffield in England said in the NASA statement.
Once that happens, the researchers worry it will be difficult track the iceberg during the long weeks of darkness that comprise the Antarctic winter.
And don't expect it to melt. An iceberg of that size could hang around for a year or more, Robert Marsh, a scientist at the University of Southampton in England, said last year.
The largest iceberg ever recorded was called B15. With an area of 4,250 square miles -- about the size of the state of Connecticut or the island of Jamaica -- it calved off Antarctica's Ross Ice Shelf in March 2000. B15 has since broken up, but parts of it still exist around the Antarctic today.
A 'modest hope' to slow global warming, but it won't be easy