Manchester United: Moyes' tenure by the numbers
updated 12:32 PM EDT, Tue April 22, 2014
STORY HIGHLIGHTS
David Moyes has been fired less than a year after taking the job of team manager
Manchester United is on track to its worst finish in Premier League history
Failing to qualify for Champions League will cost club more than 30 million pounds
Moyes lasted 10 months of a six-year contract
London (CNN) -- Manchester United, the world's most famous soccer team, fired manager David Moyes on Tuesday, less than a year after hiring him to replace football legend Sir Alex Ferguson.
Here's a look some key numbers for the club under Moyes:
Seventh place: Manchester United is on track for its lowest finish in Premier League history. With four games to play, the team cannot finish higher than fifth in the table. This will be the first time it has finished outside the top three since the Premier League began in 1992.
57 points: With 34 Premier League games under his belt, Moyes has won 17, drawn 6 and lost 11. Soccer commentators have been pointing out for months that Moyes is actually doing slightly better than Ferguson did in his first season as manager, starting in 1986, but Ferguson was taking over a 20th-place club on the way up. Moyes took over the team that won the Premier League last year.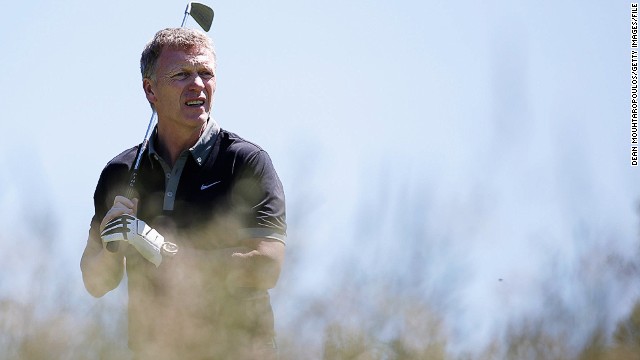 David Moyes is back in football management after agreeing a deal to coach Spanish club Real Sociedad. It is the Scot's first job since being sacked by Manchester United in April after being hand-picked to take over at the club by his predecessor Alex Ferguson.
Moyes was Ferguson's personal choice to succeed him at Old Trafford and he urged the fans to get behind their new manager. The then-Everton boss signed a six-year deal on May 9 and took over the reins on July 1.
Moyes opened his United account with a 2-0 win against Wigan in August to secure the English Charity Shield -- a match played between the league champions and the FA Cup holders -- while also becoming the first United manager since Walter Crickmer in April 1931 to start life with a victory.
Although Moyes followed up that success with a convincing 4-1 win at Swansea in the opening game of the English Premier League season, September brought defeats by rivals Liverpool and Manchester City, while West Bromwich Albion recorded its first victory at Old Trafford for 34 years.
Consistency proved to be a problem for United under Moyes. Back-to-back home defeats to former side Everton and Newcastle in December were then followed by six straight wins, only for the club to be knocked out of both domestic cup competitions in January.
Moyes oversaw the club-record signing of Juan Mata from Chelsea in January for £37.1 million ($61 million). The Scot often stated that similar big-money signings were set to follow this summer, with the board believed to be giving him time to rebuild his squad.
One of the bright sparks during Moyes' time at United was the form of Wayne Rooney, who the Scot worked with at Everton. Rooney hit 17 goals last season and signed a new five-and-a-half-year contract in February worth £300k ($500k) per week.
Perhaps the high point of Moyes' time at the club was the Champions League last-16 defeat of Olympiakos as United turned around a 2-0 first-leg deficit to progress as 3-2 winners in March. The European adventure came to an end at the quarterfinal stage as holders Bayern Munich ultimately proved too strong.
Despite guiding United to the Champions League quarterfinals, March proved to be a miserable month for Moyes in the league. The pain of suffering a 3-0 loss at home to famous rivals Liverpool was compounded by the 3-0 derby defeat to Manchester City at Old Trafford just nine days later.
Despite the club's troubles under Moyes, many fans continued to back Ferguson's chosen successor. Patience soon started to wear thin, however, and one group of supporters even arranged for an aircraft to fly over Old Trafford during the 4-1 win against Aston Villa at the end of March, carrying a banner reading: "Wrong One -- Moyes Out."
Despite reiterating that he would be given more time, Moyes' final game in charge proved to be the 2-0 loss against former club Everton in April -- the Scot's first return to Goodison Park since departing last summer. United announced Moyes' sacking just 10 months into his six-year contract.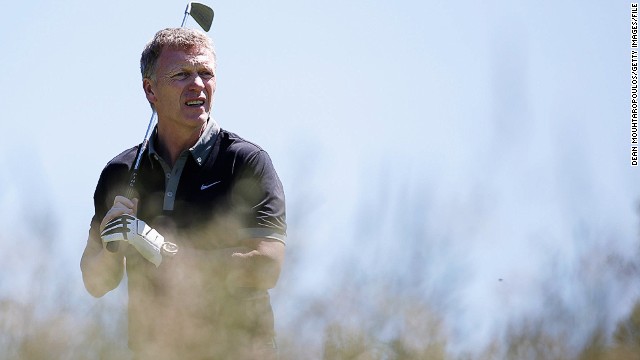 David Moyes: The story of his season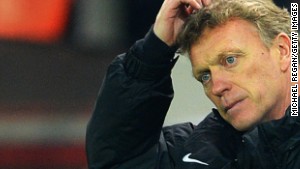 David Moyes: Paying the price of failure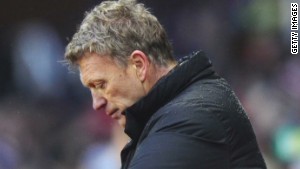 Moyes out at Manchester United
1.64: Average number of goals the team has scored per game this year, down from 2.27 last year.
31,300,500 pounds: Manchester United will not qualify for Europe's top soccer competition, the Champions League, next season. That'll cost the team more than 31 million pounds ($52.6 million), since it will lose the broadcast revenue it gets from being in the Champions League.
Two: The number of times Manchester United hasn't been in the Champions League, including next season.
Ten months: The length of Moyes' tenure as manager. Ferguson led the club for 27 years, but to be fair, in today's Premier League, 10 months is a much more common tenure than 27 years.
Six years: The length of Moyes' contract when he was hired last July. The Daily Telegraph reported he'll probably get a one-year payoff, not the full five years' salary, because he failed to meet performance targets. Under U.S. stock market rules, the club will eventually have to reveal Moyes' terms.
$19.18: Manchester United's highest share price on the New York Stock Exchange in May last year. That's the highest it's been in the past year, and it plunged in the wake of the announcement of Moyes as manager. It hit its lowest point, $14.26, in February as the team suffered one defeat after another, but recovered to $17.72 by the time Moyes was fired.
1996: The last time a defending Premier League champion finished as low as Manchester United now ranks. (Trivia buffs: It was Blackburn Rovers, who won the league in 1995 and finished seventh in 1996.)
READ: Manchester United calls time on David Moyes' reign as manager
READ: David Moyes' imperfect storm: From the Chosen One to the Sacked One
CNN's Ursin Caderas, Chris Eldergill, Mark Thompson, Irene Chapple and Sarah Chiplin contributed to this report.