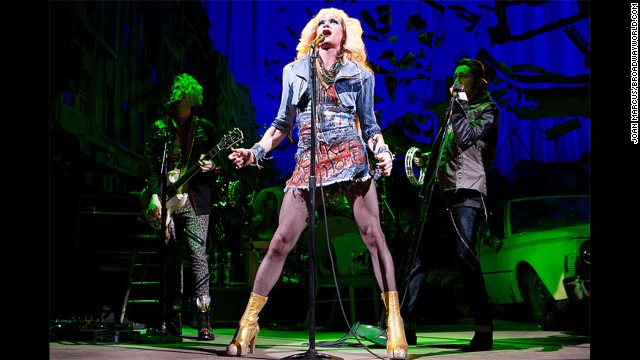 Neil Patrick Harris, who's been acting since he was a teen, can go from charming awards show host to smarmy ladies' man to portraying a killer without blinking an eye. Earlier this year, he played a transgender rocker in the title role of Broadway's "Hedwig and the Angry Inch." Now he'll apparently be hosting a variety show. Click through to see other examples of his talent:
Here's how you know Harris was basically destined for stardom: He landed his first role at 15 opposite Whoopi Goldberg in the drama "Clara's Heart" and performed so well as an only child who finds the family he craves in his housekeeper (Goldberg) that he earned his first Golden Globe nomination.
Harris' budding drama career shifted into high gear in 1989, when he debuted as the genius teen doctor Doogie Howser in the coming-of-age dramedy "Doogie Howser, M.D." Harris pulled off the character's adorable but dweeby personality so well, many viewers started to assume he and Doogie were one in the same.
But that wasn't the case. Harris was taking on other roles as he starred in "Doogie Howser," and that included voice work. In 1992, he lent his voice to the kids show "Captain Planet," bringing to life a basketball player who was HIV-positive. (HIV/AIDS education advocate Elizabeth Taylor also worked on this episode, portraying the mother of Harris' character.)
After "Doogie Howser" ended in 1993, Harris poked around in film for a bit to find his stride, appearing in TV movies and feature films. For example, he co-starred with Denise Richards and Casper Van Dien in 1997's "Starship Troopers." That same year he was finding greater success on the stage as Mark Cohen in "Rent."
By 1999, Harris seemed ready to return to the regularity of sitcom TV as he tried to lead a comedy called "Stark Raving Mad" alongside Tony Shalhoub. But the two actors as a new version of "The Odd Couple" didn't take off.
Part of the fun of re-watching an old movie like 2000's "The Next Best Thing" is finding Harris tucked away as a supporting cast member. While he wasn't receiving raves for these types of flicks, he was shining on stage in productions like "Proof," "Assassins" and "Cabaret."
Remember the 2002 comedy "Undercover Brother," with Eddie Griffin, Denise Richards and Dave Chappelle? Give it another look if you don't remember spotting Harris. He plays Lance, the intern and only white member of the comedy's establishment-fighting B.R.O.T.H.E.R.H.O.O.D., thanks to affirmative action.
Like a lot of actors in Hollywood these days, Harris can claim having a heroic alter-ego. In 2003, he returned to voice work as Peter Parker in the animated "Spider-Man" series.
After taking supporting roles in comedies to little effect, Harris decided to just start playing "himself." In 2004's now-classic "Harold and Kumar Go to White Castle," Harris plays an ecstasy-loving, hitchhiking version of himself.
Between "Harold and Kumar" and the unrepentant womanizer he played on CBS' "How I Met Your Mother," Harris' talent could be seen in his knack for playing horrible people. In the CBS comedy, which ended in March after nine seasons, Harris played Barney Stinson, possibly the most narcissistic, misogynistic character on TV that still managed to be watchable. The cast as a whole had great chemistry, but it can't be overstated how necessary Harris was to pulling the enterprise off. Unsurprisingly, this became a later-in-life breakout role.
Perhaps for a change of pace -- or to flaunt his range -- Harris switched things up in 2008 with a starring role in Joss Whedon's adored "Dr. Horrible's Sing-a-Long Blog." Created as a Web musical that later made its way to TV, "Dr. Horrible" starred Harris as its titular would-be evil guy who's trying to win the love of his life, Penny, (Felicia Day) from the attention of the story's hero (played by Nathan Fillion).
The monkey in 2009's "Cloudy with a Chance of Meatballs" is more of a sight gag than a speaking role, but in a way that makes it perfect for Harris, who embraces a little physical comedy. This animated animal doesn't speak much, but when he does that's Harris that you're hearing.
Until 2009's Tony Awards, Harris was best known for operating in two formats: comedy on the screen and drama on the stage. But then he made his debut as a host for that year's Tony Awards and charmed everyone with his wit. It went so well the Tonys brought him back in 2011 and 2012.
It's tempting to think that Harris' affinity for animated work is because he has children (he and his partner, David Burtka, have a pair of 3-year-old twins), but he has regularly taken on voice work throughout his career. From 2010 to 2013, while also starring on "How I Met Your Mother," Harris went back to animation and voiced Dr. Blowhole on Nickelodeon's "The Penguins of Madagascar."
With his love for cartoons, it's not a surprise that Harris was up for 2011's revival of "The Smurfs," playing the human who takes them in when they're transported to New York from their village. "The Smurfs" earned $563 million worldwide and spawned a 2013 sequel, meaning kids are now as familiar with Harris' face as they are his voice.
In 2013, on the heels of his grand success hosting the Tony Awards, Harris brought his hosting skills to the Primetime Emmys. He wasn't as winning as he'd been in prior years, but just landing the job shows how far Harris has come as a multitalent.
In Seth MacFarlane's 2014 release "A Million Ways to Die in the West," Harris did an old-timey riff on what we assume must be his favorite type of character: the lady-loving bachelor who's also kind of a jerk. In the fall, he was even sleazier in the movie version of "Gone Girl."
The many faces of Neil Patrick Harris
The many faces of Neil Patrick Harris
The many faces of Neil Patrick Harris
The many faces of Neil Patrick Harris
The many faces of Neil Patrick Harris
The many faces of Neil Patrick Harris
The many faces of Neil Patrick Harris
The many faces of Neil Patrick Harris
The many faces of Neil Patrick Harris
The many faces of Neil Patrick Harris
The many faces of Neil Patrick Harris
The many faces of Neil Patrick Harris
The many faces of Neil Patrick Harris
The many faces of Neil Patrick Harris
The many faces of Neil Patrick Harris
The many faces of Neil Patrick Harris
The many faces of Neil Patrick Harris
The many faces of Neil Patrick Harris