STORY HIGHLIGHTS
White House won't comment on petition asking for the pop star to be deported
The petition raises some serious questions about immigration law enforcement
10% of those deported between 1997 and 2007 were legally living in the U.S.
Washington (CNN) -- Justin Bieber is allowed to stay in the United States -- for now.
The White House won't comment on a petition signed by more than 270,000 asking for the pop star to be deported for his repeated starring role in famous-people-behaving-badly.
You might not care about the Canadian and his "beliebers," but the 20-year-old's misbehavior and run-ins with the law raise some serious questions about immigration law enforcement. Like, is Bieber getting some serious special treatment?
President Barack Obama has deported more people than any other president, causing him to be known as the "deporter-in-chief" in some sectors of the immigration community.
But isn't Bieber here legally? He sure is. But it's not only illegal immigrants who are receiving deportation orders.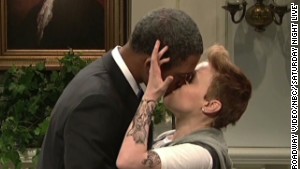 Obama and Bieber share kiss on 'SNL'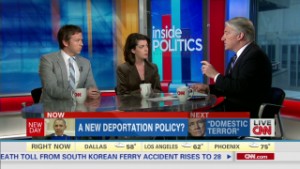 A new deportation policy?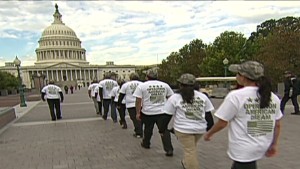 Is race holding up immigration reform?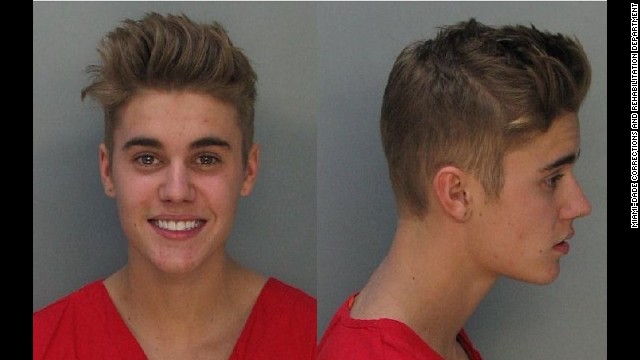 The White House won't comment on a petition signed by more than 270,000 people asking for Justin Bieber to be deported for his alleged crimes. In January, Bieber was charged with driving under the influence in Miami and he also has a pending assault charge and separate vandalism charges for egging his neighbor's house. It's just the latest development in a series of troubles for the pop star.
U.S. Customs and Border Protection officers searched an airplane -- thought to be the one pictured -- carrying Bieber and others on January 31, at Teterboro Airport in New Jersey. Officers said they detected an odor of what seemed like marijuana after the plane landed, law enforcement sources told CNN.
Bieber turned himself in at a Toronto police station on January 29, facing an assault charge stemming from an encounter with a limousine driver in December.
On January 23, Bieber was arrested on suspicion of DUI and drag racing, according to police in Miami Beach, Florida. Bieber is seen here with model Chantel Jeffries the night before his arrest.
On January 14, authorities swarmed Bieber's mansion in Calabasas, California, in connection with an investigation into a report of an egg-throwing incident at a neighbor's house. A friend of the singer's was arrested on a felony drug charge, and Bieber's phone was seized as part of the investigation.
Right before 2014 kicked off, Bieber threatened to retire after a spate of bad publicity, including being accused of everything from speeding to spitting. The news made Beliebers very sad.
While on tour in early November, Bieber yet again made headlines, this time with some sex-related scandal. The New York Post's Page Six alleged that Bieber had been spotted exiting a brothel while in Brazil. Then, a YouTube video sparked gossip that he'd done something less than innocent with the young woman featured in the clip. Bieber's camp has had no response on the chatter.
Was he saving his energy for his fans, or just courting more controversy? In October, the day after a concert in Beijing, Bieber was snapped letting his bodyguards carry him up the stairs at the Great Wall of China.
A leaked video in July seemed to show Bieber relieving himself in a janitor's mop bucket and then spraying a photo of Bill Clinton with what appeared to be a cleaner fluid while saying, "F*** Bill Clinton." Bieber later apologized to the former president, but personalities like Anthony Bourdain and Mario Batali had a field day.
In June, another chapter was added to Bieber's history book of driving drama. The singer was reportedly involved in a Los Angeles accident involving a pedestrian.
As Bieber accepted the Milestone Award at the Billboard Music Awards in May, "very loud boos" competed with "very loud cheers," the magazine reported.
Earlier in May, a fan rushed Bieber on stage and attempted to grab him during a concert in the United Arab Emirates. Also that month, a safe in a stadium in Johannesburg, South Africa, was raided after a Bieber performance.
In April 2013, Bieber visited the Anne Frank House in Amsterdam -- and was promptly criticized for saying that he hoped the teen, who died in a Nazi concentration camp in 1945, would have been a "Belieber." Visitors to the Anne Frank Facebook page had plenty to say. "Glad he went, but, the last sentence is VERY self serving. he missed the lessons of Anne totally," wrote one observer.
Bieber lost his pet monkey, Mally, when the capuchin was taken by custom officials in Germany at the end of March. Mally is shown here in the quarantine station at the Munich-Riem animal shelter in Munich.
Unfortunately for Bieber, his 19th birthday in March was kind of a downer. After being snubbed by the Grammys, Bieber headed for London to celebrate his big day. But it ended up being what he tweeted was his "worst birthday." Not only was he ragged on by actress Olivia Wilde for going shirtless in the city, he also had a bit of beef with a "weak a** club."
Bieber ticked off his fans in March after he showed up a reported two hours late to a concert at London's O2 Arena. He disputed that in a tweet, however, saying he was only 40 minutes behind schedule.
Bieber later wound up sick in a London hospital. Being a lusted-after star, it's not surprising that he tried to show how "well" he felt by posting a shirtless photo of himself online.
Bieber and photographers, we've learned by now, don't mix. As he exited the hospital at the end of his turbulent week, the singer got into a shouting match with a paparazzo in London, telling the photographer that he'd "f*** him up."
After he was ragged on by Wilde for going topless in London, Bieber strolled through a Polish airport terminal sans shirt on March 25.
At the end of January 2013, a Twitpic appearing to show the singer touching a female fan's chest went viral. Both the "Belieber" and Bieber's rep denied he was touching her breast.
In January 2013, Bieber was photographed holding what TMZ identified as marijuana. He poked fun of the incident when he hosted "Saturday Night Live" in February. "I also heard he got busted for smoking weed and he's really sorry about it and that people make mistakes and that he's never going to do it again," Bieber said while playing a character during a skit with Vanessa Bayer.
On New Year's Day in 2013, a photographer was killed crossing the street after taking pictures of Bieber's Ferrari. Bieber, who wasn't present at the scene, said in a statement: "While I was not present nor directly involved with this tragic accident, my thoughts and prayers are with the family of the victim."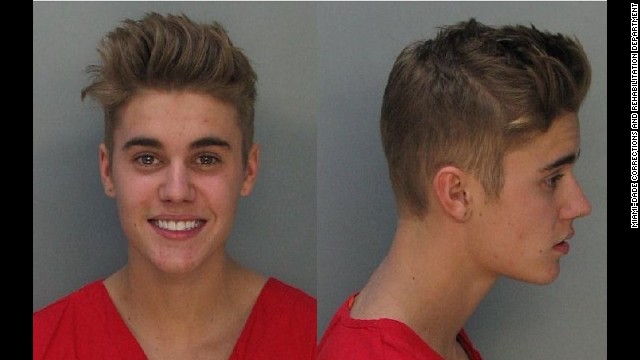 Justin Bieber's troubled timeline
The Immigration Policy Center estimated that 10% of the people deported between 1997 and 2007 were legally living in the United States.
While the Obama administration deported nearly 1.6 million people in the last four years, it's unclear how many were in the country legally.
The administration doesn't reveal those statistics. An immigration tracking division of Syracuse University, TRAC, is currently suing the Department of Homeland Security for failing to release a wide range of data on deportations and detentions.
But immigration advocates believe the number has gone up since Obama came into office, not only due to an increase in deportations, but also because of anecdotal evidence.
They are seeing an increase in home raids of legal residents and there are stories like that of Navy veteran Howard Dean Bailey, who was deported in 2010 over a years-old drug offense.
Yes, legal residents are getting kicked out because of a previous crime.
According to a 1996 immigration law, it doesn't matter how long ago people committed their crime and the types of crimes eligible for deportation are vast and expanding.
For instance, shoplifting and marijuana possession often qualify.
Justin Bieber has a lot of potential charges under his belt.
In January he was charged with driving under the influence in Miami. He also has a pending assault charge and separate vandalism charges for egging his neighbor's house.
As with all deportations, the president has the "inherent power to choose which cases to act on," said Richard A. Boswell, immigration law professor at the University of California's Hastings College of the Law. It's called "prosecutorial discretion."
Obama said he can't stop deportations of immigrants, but maybe he can
But fortunately for Bieber -- and possibly the President who would upset millions of teen fans -- is that his DUI is not a deportable offense. His vandalism charge probably isn't either. His assault charge might be, experts say.
Matthew Kolodziej, legislative fellow at the Immigration Policy Center, said Bieber could potentially be charged with a crime of moral turpitude, which he described as "an abstract concept whose definition has expanded over the years."
In sum, it's a judgment of a person's character and intent for purposes of immigration.
"A good immigration lawyer won't let that happen and I'm sure (Bieber) will be very well represented," Kolodziej said.
Bieber also has another advantage. He never got a green card. Bieber is in the country on a visa for people with "extraordinary" abilities.
His visa has to be renewed at some point, however, and moral turpitude could be taken into consideration.
But, like Kolodziej said, his well-paid legal team probably won't let that happen.
Bieber's attorneys are reportedly working out a plea deal for some of Bieber's crimes. If his legal team is any good, they would advise him that even a plea doesn't protect him from future immigration consequences.
But for many legal immigrants, they don't have the resources to hire top immigration and criminal attorneys to help navigate the system.
You get what you pay for.