STORY HIGHLIGHTS
Parents of students missing from the sunken ferry are grieving, desperate
The students' vice principal killed himself; some fear others may do the same
South Korea has a high suicide rate compared to other countries
Mental health workers say no family members sought counseling near ferry site
(CNN) -- The grief of any parent who loses a child is unimaginable. But that pain is amplified now in South Korea, due to the uncertainty over the fate of hundreds -- many of them children on a school field trip -- on a sunken ferry and how this east Asian nation's culture copes with such heartache.
For proof, one need look no further than hospital beds where some parents are hooked up to IVs because their sorrow is so great that they have refused to eat.
Some say they don't want to live.
Families' frustration: 'Nothing is changing'
"If I don't have my younger child, I want to jump in the sea," one woman said. "Thinking about my child in the sea, how can I, as a parent, eat or drink. I hate myself for this."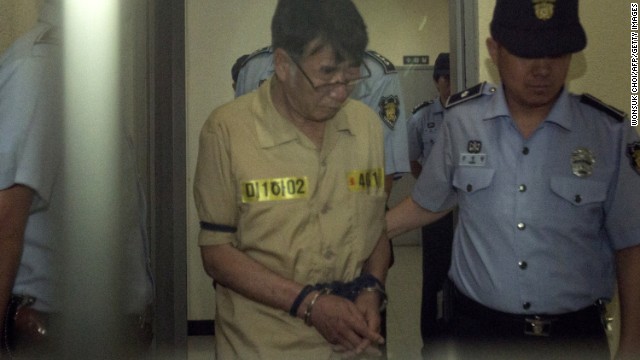 Sewol ferry captain Lee Joon-Seok was acquitted of murder, avoiding a death sentence, but was sentenced to 36 years in jail on November 11 for his role in the maritime disaster that killed more than 300.
Shoes believed to belong to the missing and the deceased are on display at the harbor.
Jindo harbor, where the search operation is based, has become a memorial for those who lost their lives. Yellow ribbons and photos are displayed as people come to pay their respects.
A joint government-civilian task force is still looking for the missing, but winter is fast approaching.
Ten are still missing from tragic ferry sinking last April, which killed more than 300. Six months later, families are still waiting for their loved ones to be found. The parents of 16-year-old Huh Da-yoon, pictured, are among them.
The families of the ten who remain missing have been waiting in Jindo Indoor Gymnasium since the first day. Families can watch search mission in real time on a large monitor in the gym.
South Korean President Park Geun-hye weeps while delivering a speech to the nation about the sunken ferry Sewol at the presidential Blue House in Seoul, South Korea, on Monday, May 19. More than 200 bodies have been found and nearly 100 people remain missing after the ferry sank April 16 off South Korea's southwest coast.
Police in Seoul detain a protester during a march Saturday, May 17, for victims of the Sewol.
A girl in Seoul holds a candle during a service paying tribute to the victims of the Sewol on Wednesday, April 30.
People pay tribute to victims at a memorial altar in Ansan, South Korea, on Tuesday, April 29.
A police officer holds an umbrella for a relative of a missing ferry passenger Monday, April 28, in Jindo, South Korea.
South Korean Buddhists carry lanterns in a parade in Seoul on Saturday, April 26, to honor the memory of the dead and the safe return of the missing.
Divers search for people in the waters near Jindo on April 26.
People in Ansan attend a memorial for the victims on April 26.
A diver jumps into the sea near the sunken ferry on Friday, April 25.
A relative of a passenger weeps while waiting for news of his missing loved one at a port in Jindo on April 25.
People attend a memorial for the victims at the Olympic Memorial Hall in Ansan on Thursday, April 24.
Yellow ribbons honoring the victims flap in the wind as a hearse carrying a victim's body leaves Danwon High School in Ansan on April 24. Most of the people on board the ferry were high school students on their way to the resort island of Jeju.
People attend a memorial for the victims at Olympic Memorial Hall in Ansan.
Search personnel dive into the sea on Wednesday, April 23.
Flares light up the search area on Tuesday, April 22.
The sun sets over the site of the sunken ferry on April 22.
A relative of a ferry passenger prays as she waits for news in Jindo on April 22.
The search for victims continues April 22 in the waters of the Yellow Sea.
Rescue workers in Jindo carry the body of a passenger on Monday, April 21.
Divers jump into the water on April 21 to search for passengers near the buoys that mark the site of the sunken ferry.
Search operations continue as flares illuminate the scene near Jindo on Sunday, April 20.
Relatives of missing passengers grieve April 20 in Jindo.
Relatives of passengers look out at the sea from Jindo on April 20.
Police officers in Jindo stand guard Saturday, April 19, to prevent relatives of the ferry's missing passengers from jumping in the water. Some relatives said they will swim to the shipwreck site and find their missing family members by themselves.
Family members of missing passengers hug as they await news of their missing relatives at Jindo Gymnasium on April 19.
South Korean Navy Ship Salvage Unit members prepare to salvage the sunken ferry and search for missing people on April 19.
Lee Joon Suk, the captain of the Sewol, is escorted to the court that issued his arrest warrant Friday, April 18, in Mokpo, South Korea.
A woman cries as she waits for news on missing passengers April 18 in Jindo.
A searchlight illuminates the capsized ferry on Thursday, April 17.
A woman cries during a candlelight vigil at Danwon High School in Ansan, South Korea, on April 17.
Family members of passengers aboard the sunken ferry gather at a gymnasium in Jindo on April 17.
The body of a victim is moved at a hospital in Mokpo on April 17.
Relatives of a passenger cry at a port in Jindo on April 17 as they wait for news on the rescue operation.
South Korean coast guard members and rescue teams search for passengers at the site of the sunken ferry on April 17.
A relative of a passenger cries as she waits for news on Wednesday, April 16.
Relatives check a list of survivors April 16 in Jindo.
Rescue crews attempt to save passengers from the ferry on April 16.
A relative waits for a missing loved one at the port in Jindo.
Parents at Danwon High School search for names of their children among the list of survivors. Ansan is a suburb of Seoul, the South Korean capital.
Helicopters hover over the ferry as rescue operations continue April 16.
Officials escort rescued passengers April 16 in Jindo.
A passenger is helped onto a rescue boat on April 16.
A passenger is rescued from the sinking ship on April 16.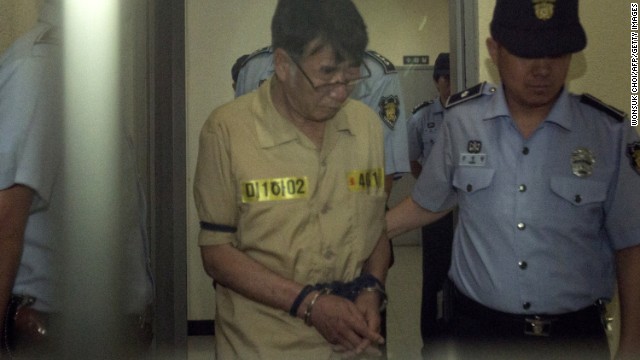 Photos: South Korean ferry sinks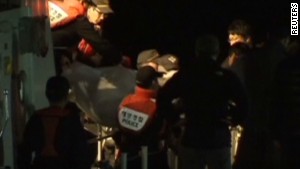 Bodies recovered from South Korea ferry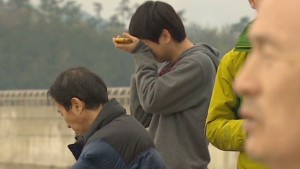 S. Korea ferry captain defends actions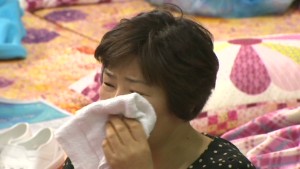 Agony for waiting South Korean families
In South Korea, suicide is a real threat.
It has the highest suicide rate among the 34 countries in the Organisation for Economic Co-operation and Development. Some point to South Korea's ultra-competitive society or an unwillingness to accept failure as factors that contribute to this reality.
It is a culture where shame carries a heavy burden, and where there is simply a societal acceptance of suicide.
Officials have made mental health workers available to the families, but despite the enormity of the tragedy, they find themselves not busy.
"No one came to us for counseling. The families don't care about their safety or well-being," said Han Kee Rae, a psychology volunteer.
Counselors hope more people will come for help, especially in light of the high number of suicides in the country.
There are fears that some may follow the example of Kang Min Kyu, the vice principal of Seoul's Ansan Danwon High School.
The 52-year-old Kyu was among the first to be rescued from the sinking ship.
Then, two days later, he was found hanging from a tree.
Police said he used a belt to apparently hang himself from a tree near a gymnasium in Jindo, where the distraught relatives of missing passengers have been camping out.
In a note, Kang wrote that the field trip had been his idea and that the deaths of the students were his fault.
His suicide is hardly the first, nor the most high-profile, in recent memory in South Korea.
Former President Roh Moo Hyun jumped to his death in 2009 in the wake of a financial scandal. And Hyundai Group Chairman Chung Mong Hun leaped from a building in the midst of a corruption investigation in 2003, ending his life.
Wherever it leads, the despair was palpable at the site where grieving family members of the capsized ferry's passengers have been gathering.
For some, the sadness is mixed with anger. And desperation abounds.
As one woman, during a briefing by maritime officials, shouted: "How are we going to live now?"
Families protest over rescue operation