STORY HIGHLIGHTS
Families of the missing wait for clues of their loved ones
Frustration builds as progress is slow
"There is no hell like this," said one parent
Some relatives want authorities to use cranes to lift the sunken ferry
Jindo, South Korea (CNN) -- When a ship comes into sight, they come -- seemingly out of nowhere, inching closer to the dock. Bleary-eyed, the faces of the families of the missing have become swollen from crying.
They watch the South Korean Coast Guard pull in from the Yellow Sea to a dock flanked by emergency workers and police officers.
This is where the bodies from sunken ferry Sewol land.
They're watching to see if their loved ones have been retrieved from the sea. So far, dozens of people are dead.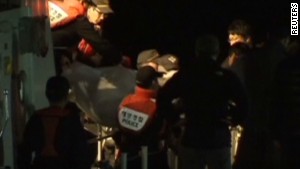 Bodies recovered from South Korea ferry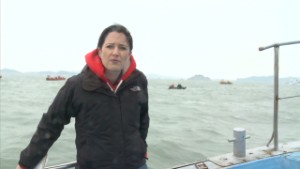 Oil slick spotted near sunken ferry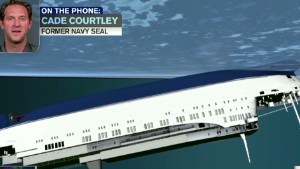 'I guarantee it somebody is still alive'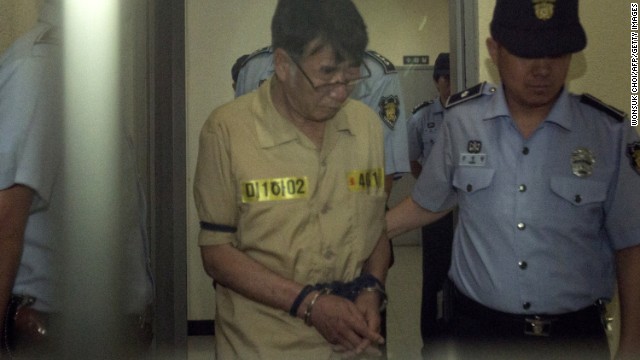 Sewol ferry captain Lee Joon-Seok was acquitted of murder, avoiding a death sentence, but was sentenced to 36 years in jail on November 11 for his role in the maritime disaster that killed more than 300.
Shoes believed to belong to the missing and the deceased are on display at the harbor.
Jindo harbor, where the search operation is based, has become a memorial for those who lost their lives. Yellow ribbons and photos are displayed as people come to pay their respects.
A joint government-civilian task force is still looking for the missing, but winter is fast approaching.
Ten are still missing from tragic ferry sinking last April, which killed more than 300. Six months later, families are still waiting for their loved ones to be found. The parents of 16-year-old Huh Da-yoon, pictured, are among them.
The families of the ten who remain missing have been waiting in Jindo Indoor Gymnasium since the first day. Families can watch search mission in real time on a large monitor in the gym.
South Korean President Park Geun-hye weeps while delivering a speech to the nation about the sunken ferry Sewol at the presidential Blue House in Seoul, South Korea, on Monday, May 19. More than 200 bodies have been found and nearly 100 people remain missing after the ferry sank April 16 off South Korea's southwest coast.
Police in Seoul detain a protester during a march Saturday, May 17, for victims of the Sewol.
A girl in Seoul holds a candle during a service paying tribute to the victims of the Sewol on Wednesday, April 30.
People pay tribute to victims at a memorial altar in Ansan, South Korea, on Tuesday, April 29.
A police officer holds an umbrella for a relative of a missing ferry passenger Monday, April 28, in Jindo, South Korea.
South Korean Buddhists carry lanterns in a parade in Seoul on Saturday, April 26, to honor the memory of the dead and the safe return of the missing.
Divers search for people in the waters near Jindo on April 26.
People in Ansan attend a memorial for the victims on April 26.
A diver jumps into the sea near the sunken ferry on Friday, April 25.
A relative of a passenger weeps while waiting for news of his missing loved one at a port in Jindo on April 25.
People attend a memorial for the victims at the Olympic Memorial Hall in Ansan on Thursday, April 24.
Yellow ribbons honoring the victims flap in the wind as a hearse carrying a victim's body leaves Danwon High School in Ansan on April 24. Most of the people on board the ferry were high school students on their way to the resort island of Jeju.
People attend a memorial for the victims at Olympic Memorial Hall in Ansan.
Search personnel dive into the sea on Wednesday, April 23.
Flares light up the search area on Tuesday, April 22.
The sun sets over the site of the sunken ferry on April 22.
A relative of a ferry passenger prays as she waits for news in Jindo on April 22.
The search for victims continues April 22 in the waters of the Yellow Sea.
Rescue workers in Jindo carry the body of a passenger on Monday, April 21.
Divers jump into the water on April 21 to search for passengers near the buoys that mark the site of the sunken ferry.
Search operations continue as flares illuminate the scene near Jindo on Sunday, April 20.
Relatives of missing passengers grieve April 20 in Jindo.
Relatives of passengers look out at the sea from Jindo on April 20.
Police officers in Jindo stand guard Saturday, April 19, to prevent relatives of the ferry's missing passengers from jumping in the water. Some relatives said they will swim to the shipwreck site and find their missing family members by themselves.
Family members of missing passengers hug as they await news of their missing relatives at Jindo Gymnasium on April 19.
South Korean Navy Ship Salvage Unit members prepare to salvage the sunken ferry and search for missing people on April 19.
Lee Joon Suk, the captain of the Sewol, is escorted to the court that issued his arrest warrant Friday, April 18, in Mokpo, South Korea.
A woman cries as she waits for news on missing passengers April 18 in Jindo.
A searchlight illuminates the capsized ferry on Thursday, April 17.
A woman cries during a candlelight vigil at Danwon High School in Ansan, South Korea, on April 17.
Family members of passengers aboard the sunken ferry gather at a gymnasium in Jindo on April 17.
The body of a victim is moved at a hospital in Mokpo on April 17.
Relatives of a passenger cry at a port in Jindo on April 17 as they wait for news on the rescue operation.
South Korean coast guard members and rescue teams search for passengers at the site of the sunken ferry on April 17.
A relative of a passenger cries as she waits for news on Wednesday, April 16.
Relatives check a list of survivors April 16 in Jindo.
Rescue crews attempt to save passengers from the ferry on April 16.
A relative waits for a missing loved one at the port in Jindo.
Parents at Danwon High School search for names of their children among the list of survivors. Ansan is a suburb of Seoul, the South Korean capital.
Helicopters hover over the ferry as rescue operations continue April 16.
Officials escort rescued passengers April 16 in Jindo.
A passenger is helped onto a rescue boat on April 16.
A passenger is rescued from the sinking ship on April 16.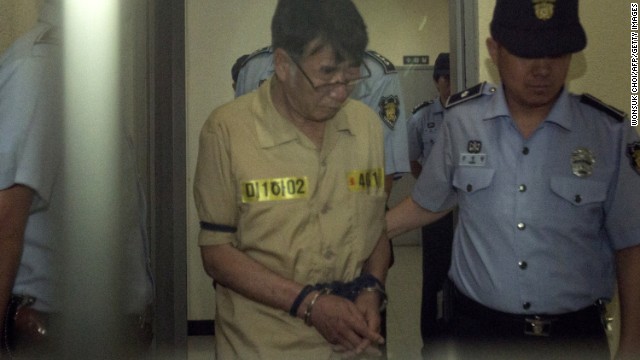 Photos: South Korean ferry sinks
Several family members of the more than 250 missing have been watching for clues about their loved ones. Some have resorted to sleeping in their cars, stepping out only when they see the ships arrive. As a fourth day of search brought several more bodies to shore, the parents of the missing found little solace.
"There is no hell like this," said one parent, who did not give his name.
Located just 12 miles from the accident site, Paeng Mok Harbor has become a refugee camp for the brokenhearted.
It is essentially one street with a few docks and a scattered number of faded buildings -- one sign that reads "Beach City." There is no sun-kissed beach here, just slabs of concrete juxtaposed to the water.
Tents have popped up on the sole street -- rows of them have become clinics, pharmacies, cafeterias and drop-in counseling centers for families.
At one of the largest tents at the harbor, family members meet everyday with officials. For days now, they've hurled pointed questions at South Korean officials, accusing them of not acting swiftly enough to find their children.
A similar scene unfolded about 19 miles away from the harbor, where Coast Guard officials also provided a briefing at a large gymnasium, which serves as a temporary shelter for families.
"You have no answers!" a man stood up from the audience. "You all are not taking any responsibility."
The families of the missing had little patience for the officials who told them that numerous divers, ships and aircraft were involved in the search effort. A few yelled that they had heard all this before and that they were tired of the same explanations about poor conditions hampering the search.
"Nothing is changing," another parent yelled. "What effort are you making? At this pace, it is going to take one, two or three years."
"We are trying our best. We are sorry," one of the divers said.
Families ask: 'How are we going to live now?'
One father stood up in the crowd. He suggested that it was time to make a decision: To continue to use divers or to use the seaborne cranes that have arrived at the site.
If they start using cranes, it means the movement could displace the water and possible air pockets -- if any exist. Officials say they must confer with the parents before deciding to use the cranes.
Kim Joong Chil, whose son is missing, says he believes it's time to lift the submerged ferry.
"He's inside the sea, if he died," Kim said of his eldest son. "Either way, the students are in the water and we have to find them."
His son, Kim Yoon Soo, 18, is missing -- one of the high school students heading on a field trip. Kim and his wife gave DNA samples, an effort undertaken by the Maritime Police in anticipation of recovering and identifying the bodies.
Since Wednesday, Kim has stayed at the gym where families sleep on the open floor, on top of blankets in the stuffy gym. They are given towels, toothbrushes and hot meals. Some families sit in circles on the floor eating out of bento boxes handed to them by volunteers. A live feed shows the rescue efforts on the Yellow Sea on a big screen in front of the gym, but not many appear to be watching.
Kim barely glances at the screen. Dangling from his neck is a name tag with two numbers: his son's grade level (2) and his classroom (3). Here at the Jindo gymnasium, family members wear their children's name instead of their own.
Read: Woman, 71, survives because stranger wouldn't give up on her
Read: Anguish over South Korean ferry sinking amplified by misinformation
Read: How likely is it there are still survivors?