STORY HIGHLIGHTS
NEW: In a video, Boko Haram claims responsibility for a bombing at a bus station
NEW: But the leader of the group says nothing about its kidnapping of 129 schoolgirls
Government: 45 school girls are free, the fate of the rest is unknown
The abduction is being blamed on the Islamist militant group Boko Haram
Abuja, Nigeria (CNN) -- Boko Haram's elusive leader claimed responsibility for a bombing in Nigeria's capital of Abuja that left dozens dead, but said nothing about the group's reported mass abduction of schoolgirls that occurred the same day as the explosion.
A man claiming to be Abubakar Shekau made the comments in a video posted online on Saturday, saying the group attacked a bus station in retaliation for the what he described as the government's collusion with the United States in the killing of Muslims.
"This is a prelude," said the man, who wore camouflage and held an AK-47 assault rifle, in the video.
In a warning to Nigerian President Goodluck Jonathan, the man said: "Let me be blunt: I am in your city, near you. Find me."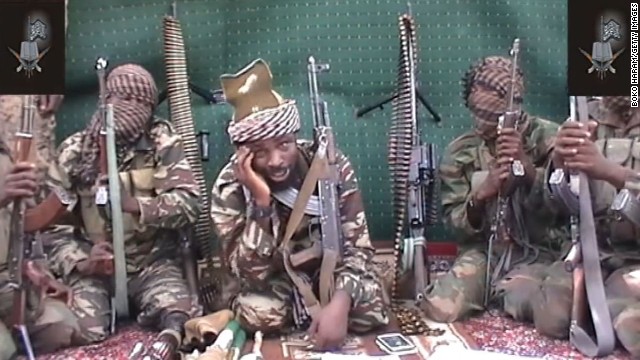 A video of Abubakar Shekau, who claims to be the leader of the Nigerian Islamist extremist group Boko Haram, is shown in September 2013. Boko Haram is an Islamist militant group waging a campaign of violence in northern Nigeria. The group's ambitions range from the stricter enforcement of Sharia law to the total destruction of the Nigerian state and its government. Click through to see recent bloody incidents in this strife-torn West African nation:
Bodies lie in the streets in Maiduguri, Nigeria, after religious clashes on July 31, 2009. Boko Haram exploded onto the national scene in 2009 when 700 people were killed in widespread clashes across the north between the group and the Nigerian military.
An official displays burned equipment inside a prison in Bauchi, Nigeria, on September 9, 2010, after the prison was attacked by suspected members of Boko Haram two days earlier. About 720 inmates escaped during the prison break, and police suspect the prison was attacked because it was holding 80 members of the sect.
Nigerian President Goodluck Jonathan, second from left, stands on the back of a vehicle after being sworn-in as President during a ceremony in the capital of Abuja on May 29, 2011. In December 2011, Jonathan declared a state of emergency in parts of the country afflicted by violence from Boko Haram.
Rescue workers help a wounded person from a U.N. building in Abuja, Nigeria, on August 26, 2011. The building was rocked by a bomb that killed at least 23 people, leaving others trapped and causing heavy damage. Boko Haram had claimed responsibility for the attack in which a Honda packed with explosives rammed into the U.N. building, shattering windows and setting the place afire.
A photo taken on November 6, 2011, shows state police headquarters burned by a series of attacks that targeted police stations, mosques and churches in Damaturu, Nigeria, on November 4, 2011. Attackers left scores injured -- probably more than 100 -- in a three-hour rampage, and 63 people died.
Men look at the wreckage of a car after a bomb blast at St. Theresa Catholic Church outside Abuja on December 25, 2011. A string of bombs struck churches in five Nigerian cities, leaving dozens dead and wounded on the Christmas holiday, authorities and witnesses said. Boko Haram's targets included police outposts and churches as well as places associated with "Western influence."
A paramedic helps a young man as he leaves a hospital in the northern Nigerian city of Kano on January 21, 2012. A spate of bombings and shootings left more than 200 people dead in Nigeria's second-largest city. Three days later, a joint military task force in Nigeria arrested 158 suspected members of Boko Haram.
A photo taken on June 18, 2012, shows a car vandalized after three church bombings and retaliatory attacks in northern Nigeria killed at least 50 people and injured more than 130 others, the Nigerian Red Cross Society said.
A French family kidnapped February 19, 2013, in northern Cameroon is released after two months in captivity in Nigeria. The family of four children, their parents and an uncle were kidnapped in Waza National Park in northern Cameroon, situated near the border with Nigeria. One of the captive men read a statement demanding that Nigeria and Cameroon free jailed members of Boko Haram.
A soldier stands in front of a damaged wall and the body of a prison officer killed during an attack on a prison in the northeastern Nigerian town of Bama on May 7, 2013. Two soldiers were killed during coordinated attacks on multiple targets. Nigeria's military said more than 100 Boko Haram militants carried out the attack.
A deserted student hostel is shown on August 6, 2013, after gunmen stormed a school in Yobe state, killing 20 students and a teacher, state media reported.
A photograph made available by the Nigerian army on August 13, 2013, shows improvised explosive devices, bomb-making materials and detonators seized from a Boko Haram hideout. Gunmen attacked a mosque in Nigeria with automatic weapons on August 11, 2013, killing at least 44 people.
Nigerian students from Jos Polytechnic walk on campus in Jos, Nigeria, on September 30, 2013. Under the cover of darkness, gunmen approached a college dormitory in a rural Nigerian town and opened fire on students who were sleeping. At least 40 students died, according to the News Agency of Nigeria.
Soldiers stand outside the 79 Composite Group Air Force base that was attacked earlier in Maiduguri on December 2. Hundreds of Boko Haram militants attacked an Air Force base and a military checkpoint, according to government officials.
Catholic priest Georges Vandenbeusch speaks to reporters outside Paris after his release on January 1. Vandenbeusch was snatched from his parish church in Cameroon on November 13. Boko Haram claimed responsibility for kidnapping the priest.
A man receives treatment at Konduga specialist hospital after a gruesome attack on January 26. It was suspected that Boko Haram militants opened fire on a village market and torched homes in the village of Kawuri, killing at least 45 people.
Police officers stand guard in front of the burned remains of homes and businesses in the village of Konduga on February 12. Suspected Boko Haram militants torched houses in the village, killing at least 23 people, according to the governor of Borno state on February 11.
Yobe state Gov. Ibrahim Gaidam, left, looks at the bodies of students inside an ambulance outside a mosque in Damaturu. At least 29 students died in an attack on a federal college in Buni Yadi, near the capital of Yobe state, Nigeria's military said on February 26. Authorities suspect Boko Haram carried out the assault in which several buildings were also torched.
Rescue workers try to put out a fire after a bomb exploded at the busiest roundabout near the crowded Monday Market in Maiduguri on July 1.
Police in riot gear block a route in Abuja on October 14, during a demonstration calling on the Nigerian government to rescue schoolgirls kidnapped by Boko Haram. In April, more than 200 girls were abducted from their boarding school in northeastern Nigeria, officials and witnesses said.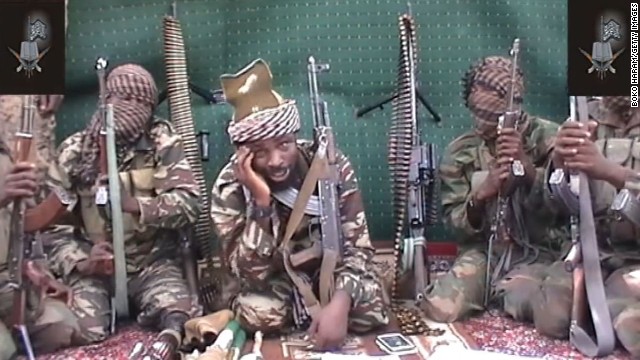 Boko Haram: Nigeria's crisis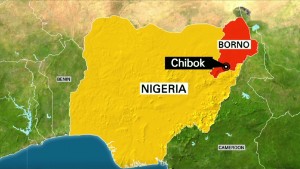 Nigerian officials: 200 girls abducted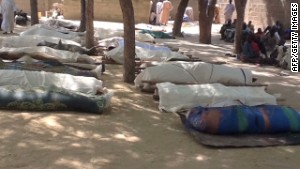 Boko Haram 'increasingly monstrous'
Mass abduction
The video surfaced the same day that an education official said a Nigerian schoolgirl, who was among the 129 kidnapped Monday by suspected Boko Haram militants, had returned home.
Even so, 84 of the girl's classmates remain unaccounted for.
A total of 45 girls are now free, according to a statement from Borno State Education Commissioner Musa Inuwa Kulo.
This still unsettled situation began Monday night, when militants engaged in a battle with guards at the Government Girls Secondary School in the northeastern Nigerian town of Chibok began herding the girls onto buses and trucks and drove off, authorities said.
But some of the schoolgirls managed subsequently to escape, including 14 on Friday and others on previous days, according to Kulo.
This is a far cry from the Defense Ministry's previous report that all but eight of the girls had found freedom, a claim that Nigeria's military retracted Thursday.
This retraction spurred fervent criticism of the government, with Lawan Zanna -- the father of one of the students -- blasting it as having resorted to "blatant propaganda" by making a "blatant lie."
While the mass abduction is extraordinary, violence in the region has been on the rise.
That violence was on display Monday when a bomb exploded at the bus station in Abuja during rush hour, killing at least 75 people and wounding more than 100.
But nowhere has it been more prevalent that in northeastern Nigeria's Borno, Yobe and Adamawa provinces, which have been under a state of emergency since mid-May due to persistent bloodshed there the government blames on Boko Haram.
The Islamist militant group -- who name means "Western education is sin" in the local Hausa language -- has bombed schools, churches and mosques; kidnapped women and children; and assassinated politicians and religious leaders alike.
Boko Haram says its aim is to impose a stricter enforcement of Sharia law across Africa's most populous nation, which is split between a majority Muslim north and a mostly Christian south.
The advocacy group Human Rights Watch claims more than 3,000 people have been killed in Boko Haram-related violence in the past five years.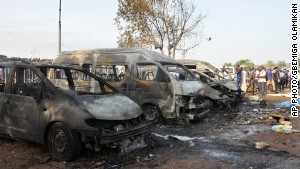 Explosion kills dozens in Nigeria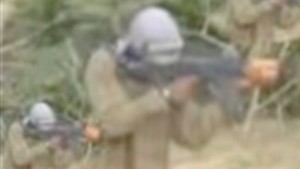 Up to 200 girls kidnapped by terrorists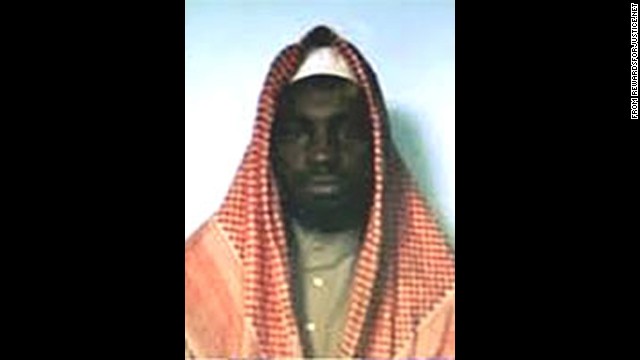 Abubakar Shekau is the leader of Boko Haram in Nigeria. A reward up to $7 million has been offered by the U.S. government.
Mullah Mohammed Omar is the spiritual leader of the Taliban. A reward of up to $10 million has been offered by the U.S. government.
Abu Bakr al-Baghdadi is the leader of Islamic State in Iraq. A reward up to $10 million has been offered by the U.S. government.
Ahmed Abdi Godane, also known as Mukhtar Abu Zubayr, is the leader of Al-Shabaab. A reward up to $7 million has been offered by the U.S. government.
Nasir al Wuhayshi is leader of al Qaeda in the Arabian Peninsula.
Hakimullah Mehsud is the leader of Tehrik-e-Taliban in Pakistan. A reward of up to $5 million has been offered by the U.S. government.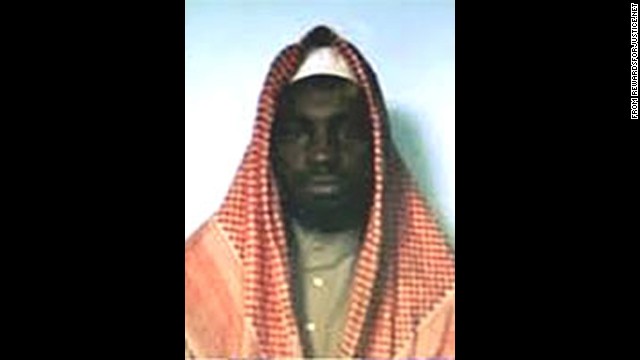 Leaders of deadliest terrorist groups
Who is Shekau?
Under Shekau, who took control of the group in 2009, violence carried out by the group has flourished, according to authorities.
Questions have swirled about Shekau, including whether he's dead or alive. In recent years, the Nigerian military has touted his death, only to retract its claim after he appeared alive and vibrant in propaganda videos.
He uses the alias Darul Tawheed, and analysts describe him as a ruthless loner and master of disguise.
The United States has put a $7 million bounty on Shekau's head. It also designated Boko Haram as a foreign terrorist network last year.
The group is diffuse, and Skekau does not speak directly with members, opting to communicate through a few select confidants. This may be why Shekau made no mention of the kidnapping of the schoolgirls.
CNN's Faith Karimi and journalist Aminu Abubakar in Kano contributed to this report.