STORY HIGHLIGHTS
Difficult conditions are hampering search efforts
Vessel was refitted upon arrival in Korea in February last year
Rescue workers have been attempting to pump air into the ship
Three giant "sea cranes" dispatched to the site
(CNN) -- The South Korean ferry that sank dramatically on Wednesday with hundreds of passengers on board had been modified after coming to the country from Japan over a year ago, according to reports on CNN affiliate YTN.
The Sewol -- operated by Chonghaejin Marine Corporation -- regularly plied the Incheon to Jeju route, a journey that usually takes 13-and-a-half hours, according to information from the company's website.
Jeju is a popular destination in South Korea -- known as the "Hawaii of South Korea."
The Sewol is listed at 146 meters long and with a gross tonnage of almost 7,000 tons. It boasts five cargo and accommodation decks.
It is listed as having a capacity of 921 passengers, but was only carrying a reported 429 when it unexpectedly started taking on water early on Wednesday. Within hours, all that was above the water surface was the bow of the boat.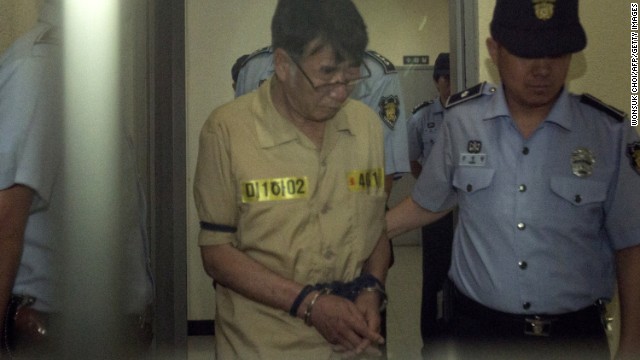 Sewol ferry captain Lee Joon-Seok was acquitted of murder, avoiding a death sentence, but was sentenced to 36 years in jail on November 11 for his role in the maritime disaster that killed more than 300.
Shoes believed to belong to the missing and the deceased are on display at the harbor.
Jindo harbor, where the search operation is based, has become a memorial for those who lost their lives. Yellow ribbons and photos are displayed as people come to pay their respects.
A joint government-civilian task force is still looking for the missing, but winter is fast approaching.
Ten are still missing from tragic ferry sinking last April, which killed more than 300. Six months later, families are still waiting for their loved ones to be found. The parents of 16-year-old Huh Da-yoon, pictured, are among them.
The families of the ten who remain missing have been waiting in Jindo Indoor Gymnasium since the first day. Families can watch search mission in real time on a large monitor in the gym.
South Korean President Park Geun-hye weeps while delivering a speech to the nation about the sunken ferry Sewol at the presidential Blue House in Seoul, South Korea, on Monday, May 19. More than 200 bodies have been found and nearly 100 people remain missing after the ferry sank April 16 off South Korea's southwest coast.
Police in Seoul detain a protester during a march Saturday, May 17, for victims of the Sewol.
A girl in Seoul holds a candle during a service paying tribute to the victims of the Sewol on Wednesday, April 30.
People pay tribute to victims at a memorial altar in Ansan, South Korea, on Tuesday, April 29.
A police officer holds an umbrella for a relative of a missing ferry passenger Monday, April 28, in Jindo, South Korea.
South Korean Buddhists carry lanterns in a parade in Seoul on Saturday, April 26, to honor the memory of the dead and the safe return of the missing.
Divers search for people in the waters near Jindo on April 26.
People in Ansan attend a memorial for the victims on April 26.
A diver jumps into the sea near the sunken ferry on Friday, April 25.
A relative of a passenger weeps while waiting for news of his missing loved one at a port in Jindo on April 25.
People attend a memorial for the victims at the Olympic Memorial Hall in Ansan on Thursday, April 24.
Yellow ribbons honoring the victims flap in the wind as a hearse carrying a victim's body leaves Danwon High School in Ansan on April 24. Most of the people on board the ferry were high school students on their way to the resort island of Jeju.
People attend a memorial for the victims at Olympic Memorial Hall in Ansan.
Search personnel dive into the sea on Wednesday, April 23.
Flares light up the search area on Tuesday, April 22.
The sun sets over the site of the sunken ferry on April 22.
A relative of a ferry passenger prays as she waits for news in Jindo on April 22.
The search for victims continues April 22 in the waters of the Yellow Sea.
Rescue workers in Jindo carry the body of a passenger on Monday, April 21.
Divers jump into the water on April 21 to search for passengers near the buoys that mark the site of the sunken ferry.
Search operations continue as flares illuminate the scene near Jindo on Sunday, April 20.
Relatives of missing passengers grieve April 20 in Jindo.
Relatives of passengers look out at the sea from Jindo on April 20.
Police officers in Jindo stand guard Saturday, April 19, to prevent relatives of the ferry's missing passengers from jumping in the water. Some relatives said they will swim to the shipwreck site and find their missing family members by themselves.
Family members of missing passengers hug as they await news of their missing relatives at Jindo Gymnasium on April 19.
South Korean Navy Ship Salvage Unit members prepare to salvage the sunken ferry and search for missing people on April 19.
Lee Joon Suk, the captain of the Sewol, is escorted to the court that issued his arrest warrant Friday, April 18, in Mokpo, South Korea.
A woman cries as she waits for news on missing passengers April 18 in Jindo.
A searchlight illuminates the capsized ferry on Thursday, April 17.
A woman cries during a candlelight vigil at Danwon High School in Ansan, South Korea, on April 17.
Family members of passengers aboard the sunken ferry gather at a gymnasium in Jindo on April 17.
The body of a victim is moved at a hospital in Mokpo on April 17.
Relatives of a passenger cry at a port in Jindo on April 17 as they wait for news on the rescue operation.
South Korean coast guard members and rescue teams search for passengers at the site of the sunken ferry on April 17.
A relative of a passenger cries as she waits for news on Wednesday, April 16.
Relatives check a list of survivors April 16 in Jindo.
Rescue crews attempt to save passengers from the ferry on April 16.
A relative waits for a missing loved one at the port in Jindo.
Parents at Danwon High School search for names of their children among the list of survivors. Ansan is a suburb of Seoul, the South Korean capital.
Helicopters hover over the ferry as rescue operations continue April 16.
Officials escort rescued passengers April 16 in Jindo.
A passenger is helped onto a rescue boat on April 16.
A passenger is rescued from the sinking ship on April 16.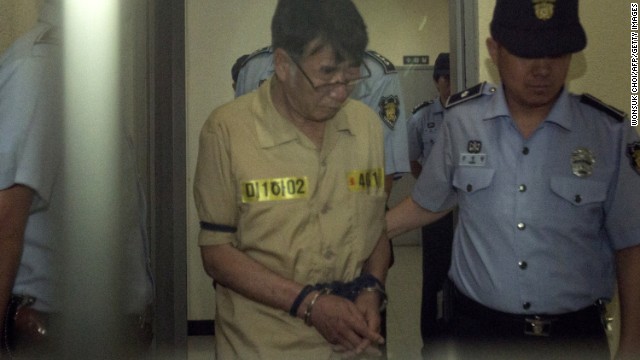 Photos: South Korean ferry sinks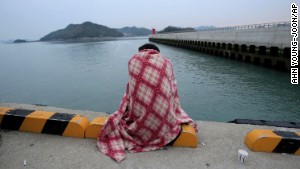 South Korean ferry captain: 'I am sorry'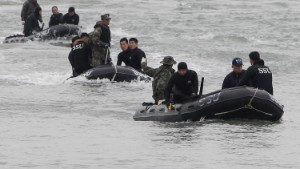 Did human error sink the South Korean ferry?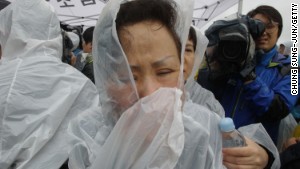 South Korean ferry rescue growing desperate
The ferry was built in a Japanese shipyard 20 years ago and previously operated in that country's waters. It was refitted upon arrival in South Korea in February 2013, YTN reported. The ship's sleeping cabins were reconstructed after its arrival in South Korea, the network said.
Korea Diving Industry Institute president Jung Yong-hyun, a former general in the Korean Navy and former commander of the Ship Salvage Unit (SSU) told YTN that the refit may have affected the weight of the boat and could be a reason for the accident.
According to Jung, the reconstruction added around 239 tons of weight to the boat from its original form.
Investigators probing the incident will likely look at various aspects of the boat, including this reconstruction.
"As the center of the weight of the boat becomes higher, it becomes more difficult for the boat to balance," the expert told YTN.
There have been serious ferry accidents in South Korea before. The most recent maritime accident occurred in 1993. This was attributed to overcrowding.
The Sewol, however, was nowhere near capacity on the night of the 15th, when it left Incheon several hours late -- delayed because of heavy fog.
Tough conditions
With difficult circumstances hampering rescue dives -- including tidal currents, choppy, frigid conditions, wind, rain and seabound fog -- more radical engineering solutions are being explored.
At around noon on Thursday local time, workers began trying to pump air into the boat, hoping air pockets might be expanded within the structure, helping to lift the ferry.
These efforts have proved unsuccessful so far. Authorities say that they will try again when the tide turns.
READ: Can they survive in air pockets?
Analyst Jung Yong-hyun told YTN this method has been used previously, on the Costa Concordia and Cheonhanham warship wrecks, as example.
Three 3,600-ton "sea cranes" are due to arrive Friday to assist with efforts.
"The cranes are being moved as fast as possible, the focus is getting them there early," said Choi Myeong-beom, a Ministries of Oceans and Fisheries representative.
"What will be done with them will be determined by the Coast Guard on site.
"If the boat has not been stuck into the seabed then we will raise (it to) the surface with cranes and move them to a place where it will be easier to work on them."
READ: South Korean shipwreck survivors: Passengers told 'don't move' as ship sank
READ: Theories on how a South Korean passenger ferry suddenly sank
READ: Jeju Island: South Korea's volcanic holiday destination