STORY HIGHLIGHTS
Kim convinced her daughter to make the trip
"All of this happened because of me," she says
Parents are holding vigil in a harbor
Many are angry that officials aren't doing enough
Jindo, South Korea (CNN) -- Through the unrelenting rain, with the biting winds whipping against her tear-stained face, Christine Kim stands on the cold, gray harbor.
"Inside that water," she says, pointing to the choppy waves on the Yellow Sea, "there are children whom I teach and my own child."
Kim is an English teacher at a private tutoring center. Some of her students were aboard the Sewol headed to the resort island of Jeju when the passenger ferry listed and sank.
Twenty people were confirmed dead, and 276 were still missing early Friday, according to the South Korean Ministry of Security and Public Administration. One of them is Kim's youngest daughter.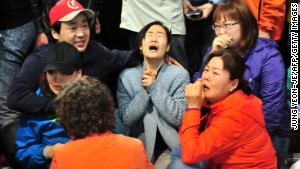 Outrage grows after ferry sinks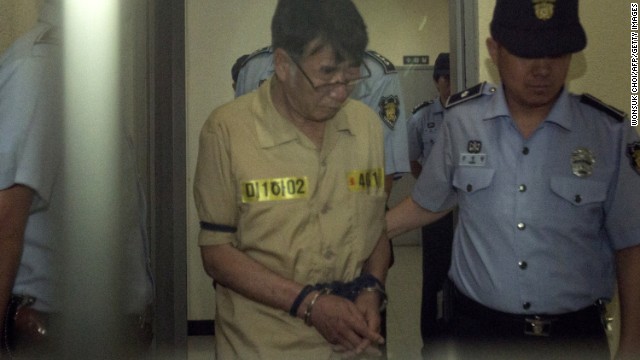 Sewol ferry captain Lee Joon-Seok was acquitted of murder, avoiding a death sentence, but was sentenced to 36 years in jail on November 11 for his role in the maritime disaster that killed more than 300.
Shoes believed to belong to the missing and the deceased are on display at the harbor.
Jindo harbor, where the search operation is based, has become a memorial for those who lost their lives. Yellow ribbons and photos are displayed as people come to pay their respects.
A joint government-civilian task force is still looking for the missing, but winter is fast approaching.
Ten are still missing from tragic ferry sinking last April, which killed more than 300. Six months later, families are still waiting for their loved ones to be found. The parents of 16-year-old Huh Da-yoon, pictured, are among them.
The families of the ten who remain missing have been waiting in Jindo Indoor Gymnasium since the first day. Families can watch search mission in real time on a large monitor in the gym.
South Korean President Park Geun-hye weeps while delivering a speech to the nation about the sunken ferry Sewol at the presidential Blue House in Seoul, South Korea, on Monday, May 19. More than 200 bodies have been found and nearly 100 people remain missing after the ferry sank April 16 off South Korea's southwest coast.
Police in Seoul detain a protester during a march Saturday, May 17, for victims of the Sewol.
A girl in Seoul holds a candle during a service paying tribute to the victims of the Sewol on Wednesday, April 30.
People pay tribute to victims at a memorial altar in Ansan, South Korea, on Tuesday, April 29.
A police officer holds an umbrella for a relative of a missing ferry passenger Monday, April 28, in Jindo, South Korea.
South Korean Buddhists carry lanterns in a parade in Seoul on Saturday, April 26, to honor the memory of the dead and the safe return of the missing.
Divers search for people in the waters near Jindo on April 26.
People in Ansan attend a memorial for the victims on April 26.
A diver jumps into the sea near the sunken ferry on Friday, April 25.
A relative of a passenger weeps while waiting for news of his missing loved one at a port in Jindo on April 25.
People attend a memorial for the victims at the Olympic Memorial Hall in Ansan on Thursday, April 24.
Yellow ribbons honoring the victims flap in the wind as a hearse carrying a victim's body leaves Danwon High School in Ansan on April 24. Most of the people on board the ferry were high school students on their way to the resort island of Jeju.
People attend a memorial for the victims at Olympic Memorial Hall in Ansan.
Search personnel dive into the sea on Wednesday, April 23.
Flares light up the search area on Tuesday, April 22.
The sun sets over the site of the sunken ferry on April 22.
A relative of a ferry passenger prays as she waits for news in Jindo on April 22.
The search for victims continues April 22 in the waters of the Yellow Sea.
Rescue workers in Jindo carry the body of a passenger on Monday, April 21.
Divers jump into the water on April 21 to search for passengers near the buoys that mark the site of the sunken ferry.
Search operations continue as flares illuminate the scene near Jindo on Sunday, April 20.
Relatives of missing passengers grieve April 20 in Jindo.
Relatives of passengers look out at the sea from Jindo on April 20.
Police officers in Jindo stand guard Saturday, April 19, to prevent relatives of the ferry's missing passengers from jumping in the water. Some relatives said they will swim to the shipwreck site and find their missing family members by themselves.
Family members of missing passengers hug as they await news of their missing relatives at Jindo Gymnasium on April 19.
South Korean Navy Ship Salvage Unit members prepare to salvage the sunken ferry and search for missing people on April 19.
Lee Joon Suk, the captain of the Sewol, is escorted to the court that issued his arrest warrant Friday, April 18, in Mokpo, South Korea.
A woman cries as she waits for news on missing passengers April 18 in Jindo.
A searchlight illuminates the capsized ferry on Thursday, April 17.
A woman cries during a candlelight vigil at Danwon High School in Ansan, South Korea, on April 17.
Family members of passengers aboard the sunken ferry gather at a gymnasium in Jindo on April 17.
The body of a victim is moved at a hospital in Mokpo on April 17.
Relatives of a passenger cry at a port in Jindo on April 17 as they wait for news on the rescue operation.
South Korean coast guard members and rescue teams search for passengers at the site of the sunken ferry on April 17.
A relative of a passenger cries as she waits for news on Wednesday, April 16.
Relatives check a list of survivors April 16 in Jindo.
Rescue crews attempt to save passengers from the ferry on April 16.
A relative waits for a missing loved one at the port in Jindo.
Parents at Danwon High School search for names of their children among the list of survivors. Ansan is a suburb of Seoul, the South Korean capital.
Helicopters hover over the ferry as rescue operations continue April 16.
Officials escort rescued passengers April 16 in Jindo.
A passenger is helped onto a rescue boat on April 16.
A passenger is rescued from the sinking ship on April 16.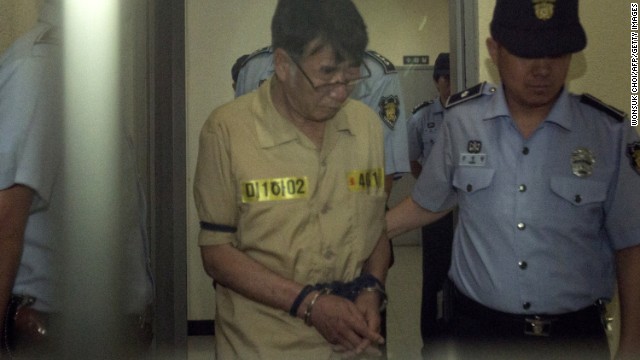 Photos: South Korean ferry sinks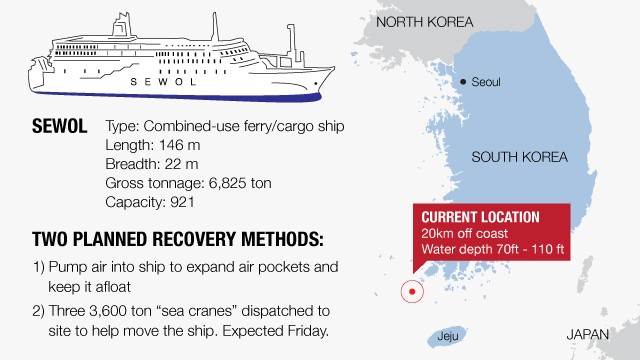 South Korean ferry rescue operation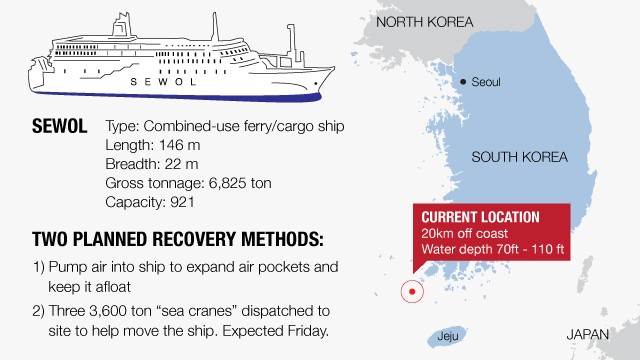 South Korean ferry rescue operation
"My daughter's in the water," Kim said, her voice breaking.
Regret
When the school trip came up at the Anson Daewon High School, her daughter, Billy, was initially reluctant. The family had taken a visit to Jeju less than two months earlier. She didn't want to go on a four-day trip.
"I don't want to go there because I went there one time," her daughter told her.
Kim convinced her otherwise.
"I think this travel would be a great experience for your school days," she recalls telling her.
So, Tuesday night, Billy boarded the ferry.
The next morning, shortly before 9 a.m., students heard a loud bang and the ship began to list.
Some jumped into the frigid water and were rescued. Others have not been heard from.
"All of this," Kim laments, "happened because of me."
Sadness
Throughout the night Wednesday and into Thursday, family members have camped out at the Paeng Mok Harbor, about 20 kilometers (12 miles) from where the ship capsized.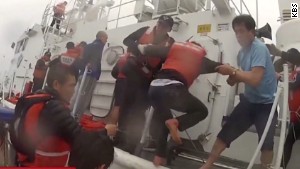 There's a chance for 'good' air pockets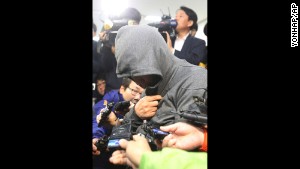 South Korea captain could face charges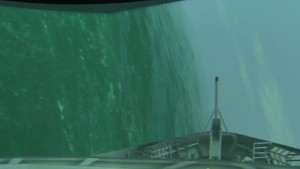 Scenario shows what sinking feels like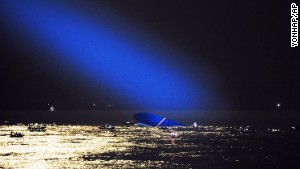 Weather hampering ferry rescue operation
They sit on plastic chairs, huddled together for warmth with blankets on their shoulders. They're handed coffee cups and instant noodles as they stand vigil. Mothers and grandmothers cry and console each other.
One elderly man sits on a chair -- his cell phone in his hands, his hands clasped together as if in prayer.
All of them waiting for answers, hoping for a sign.
"It's been almost 30 hours," Kim says. "I can't sleep because my daughter's in the water, in the cold, cold water -- I can never sleep."
Anger
After the accident, local media lit up with reports of text messages they said were from passengers. In one, a passenger describes women screaming in the darkness. In another, a father learns his child is trapped. In a third, a son, fearing death, tells his mother he loves her.
They haven't been authenticated. But they are reason enough for some parents to believe more survivors will be found.
The parents here are angry that officials aren't taking the messages seriously.
"We're getting texts from our children from the boat, but they don't believe us," Kim said.
Kim isn't alone in pointing the finger at the South Korean government. It has failed to expend all necessary efforts to rescue the students, she says.
Rescue officials say they are at the mercy of the elements. It's drizzling, making for poor visibility. The water currents are powerful, making for dangerous operations.
Three divers who took it upon themselves to go look for the missing were momentarily swept away by the tide Thursday. A fishing boat eventually picked them up.
The massive rescue efforts has included 169 boats, 29 planes and 512 divers. Crews will next bring in cranes to stabilize the ship.
"The families must be so heartbroken, I know it's hard," South Korean president Park Geun-hye said after touring the accident site Thursday.
"Please," she told rescuers, "I urge you, do your best."
Chang Min, whose second-grade son is among the missing, says he's willing to trust the government "one last time. But Kim is critical.
"The government is doing nothing for us, as our children are drowning," she says.
Hope
The despondent mother breaks into a smile when she talks about how Billy came to pick such a typically American boy's name for herself.
She loved goats when she was little. So she decided to call herself one.
Billy promised her mom she would bring back some delicious snacks from Jeju.
She waits for her daughter.
READ: Potential air pockets on stricken ferry offer hope for survivors
READ: South Korea's Sewol ferry disaster: The challenge ahead
READ: South Korean shipwreck survivors: Passengers told 'don't move' as ship sank
Freelancer Kim Jung Eun contributed to this article.