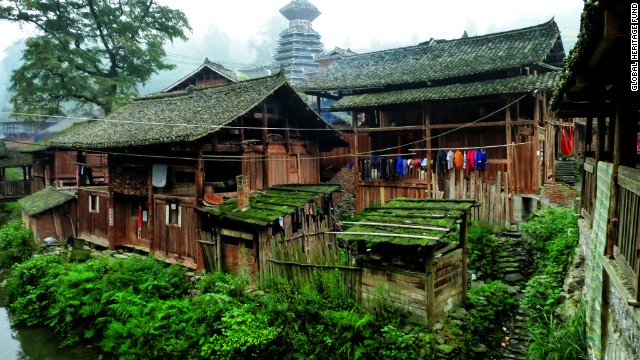 The Global Heritage Fund's first annual list of endangered sites in the developing world features an eclectic collection of sites around the world. The amazing diversity of China's ethnic minority population is highlighted in the first site: The
Minority Villages of Guizhou, China
. The population of Guizhou is about one-third ethnic minorities, including the Dong and Miao peoples, and many still stick to the old ways of building their wooden stilt homes.
Minority Villages of Guizhou, China.
Although thousand-year-old architecture, landscapes and traditions still exist in the villages, modernization is slowly driving out the ancient ways.
The Dong people live in Dali Village, one of the
Ciudad Perdida
(the Lost City) in Colombia's Sierra Nevada de Santa Marta, a UNESCO-designated biosphere reserve. The Tayrona Indians built some 200 structures throughout the Lost City between about the third and 17th centuries. The structures were discovered in the 1970s.
These old stone stairs are part of the
Colombia's Ciudad Perdido appears to be the largest of the Tayrona sites in the Sierra Nevada, and the center of the people's political power. The 200 structures of Ciudad Perdido include stone paths, plazas, canals, storehouses and the central terraces (shown here).
El Mirador
, where La Danta, one of the largest pyramids in the world, is located. La Danta is shown here in an aerial view.
Maya Biosphere Reserve in northern Guatemala, recognized by UNESCO as a biosphere reserve, is home to the largest and earliest pre-classic Maya archaeological sites in Mesoamerica. That includes
The Popol Vuh stucco sculpture at El Mirador in Guatemala, shown here, is one of the earliest depictions of the Maya creation story, called the Popol Vuh.
Carpathian Villages of Transylvania
in the Transylvanian Alps. The town of Hosman is shown here.
Authentic medieval architecture dating back to the 13th century can be found in Romania's
Uncontrolled modern development is the greatest threat to the nearly 200 communities that live in the villages of the Transylvanian Alps in Romania.
Gobekli Tepe in Turkey
is thought to have been a ceremonial center where communities gathered for rituals. That's because the site, which is only 5% excavated, has no residential structures.
Built at least 10,000 years ago,
The T-shaped pillars at Gîbekli Tepe, Turkey, each weigh several tons. They were placed in circles, and a pair of pillars towered over all of them in the center.
Minority Villages of Guizhou, China
Minority Villages of Guizhou, China
Ciudad Perdido, Colombia
Ciudad Perdido, Colombia
El Mirador, Guatemala
El Mirador, Guatemala
Carpathian Villages, Romania
Carpathian Villages, Romania
Göbekli Tepe, Turkey
Göbekli Tepe, Turkey