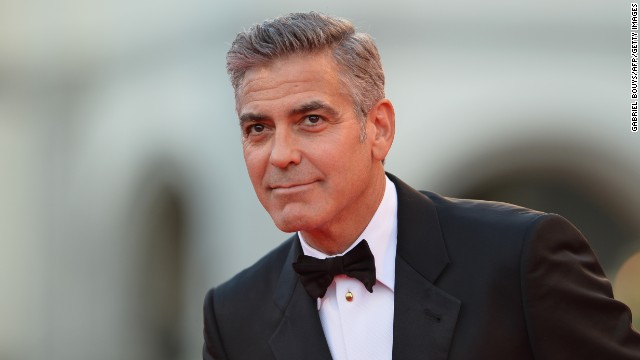 Don't mess with George Clooney's family -- or his fiancée.
The actor made a personal response to the U.K.'s Daily Mail
on July 9 after spotting an article in the paper about his soon-to-be-bride, Amal Alamuddin, and her mother. With the paper said that Clooney's future mother-in-law was trying to stop the wedding, Clooney quickly fought back, calling the article "dangerous" and "completely fabricated." The actor won this round -- The Daily Mail swiftly deleted the piece.
and walked out on the Q&A
.
Speaking to "Access Hollywood
" after her angry exit, Rivers said she felt like she was being interrogated. "It's not the Nuremberg Trials. She was going at me so negatively ... it's a funny book," Rivers said. "It's like, you don't say to the Olsen twins, 'What's your favorite place to vomit?' ... I really did get mad."
Joan Rivers' interview with CNN's Fredricka Whitfield on July 5 went awry when Rivers took offense to Whitfield's line of questioning about her new book
not before it was screengrabbed for posterity
. Franco, of course, isn't the first celebrity to go public with his dislike of a media figure.
James Franco lashed out at The New York Times and its theater critic, Ben Brantley, over a lukewarm review of the "Of Mice and Men" Broadway revival in which Franco stars. "Brantley is such a little b****," the actor said in an Instagram takedown that he later removed -- but
the New York Times
to
MSNBC
and TMZ, Baldwin is never at a loss for words.
Alec Baldwin is another actor who readily battles with the press. From
called Larry King "inappropriate" on CNN in 2009 during his show and took her mic off.
Prejean was on to discuss the controversy over her statements that marriage is between a man and a woman, a sex tape and being stripped of her crown. Miss USA
pageant owner Donald Trump later said he was puzzled by her behavior.
Former Miss California USA Carrie Prejean
In January 2014,
Samuel L. Jackson is not Laurence Fishburne, and he's been very clear about that. In February 2014,
when Richards asked about scandals
including his drinking problem and an anti-Semitic rant. "That's almost four years ago, dude. I've moved on. I guess you haven't," Gibson said. The actor could be heard calling Richards an a**hole at the conclusion.
In 2010, Mel Gibson was being interviewed about his film "Edge of Darkness" by WGN Chicago reporter Dean Richards
Who can forget the 2005 "Today Show" interview when Tom Cruise, taking exception to Matt Lauer's questions, accused the host of being "glib"? "Matt, you're glib. ... You don't even know what Ritalin is," Cruise said during a discussion about prescription drugs. It was a little tense.
Stars bite back at the media
Stars bite back at the media
Stars bite back at the media
Stars bite back at the media
Stars bite back at the media
Stars bite back at the media
Stars bite back at the media
Stars bite back at the media
Stars bite back at the media
Stars bite back at the media
Stars bite back at the media