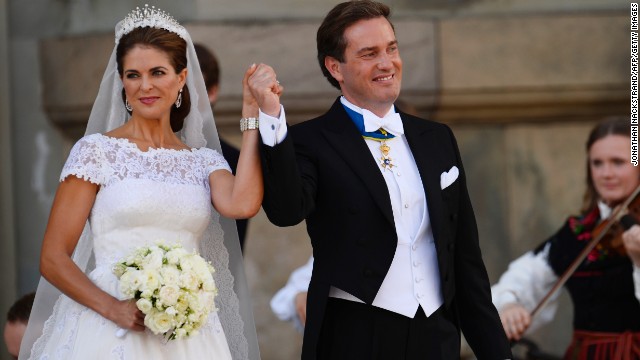 A trip down the aisle shouldn't mean stumbling into debt. Experts say it's important to determine your spending priorities as a couple -- and then skimp on the rest as needed.
Favors are frequently left behind on the tables. As one expert says, guests just don't care -- they're just there to party. If you really want your guests to go home with a token, consider making it edible.
Wedding cake makes a great photo op, but many guests just take a bite or two, if any. Consider a small "show cake" and a less-expensive dessert bar.
Wedding planners say full glasses of Champagne are routinely left un-sipped. Skip the Champagne toast and just have it as option at the bar, or offer sparkling cider.
A bride may have dreamed of a frothy, fancy designer dress since childhood, but many come to regret the expense and the discomfort of wearing it all night. Plenty of brides say they're just as happy having an off-the-rack or sample dress altered so it fits perfectly.
Fancy shoes also might not be worth the splurge. They're often hidden under the dress, and brides slip them off the first second they can.
A vintage veil that's been passed down for generations is one thing. But many brides find that the cumbersome veil they've spent a fortune on is the first thing to go the second the ceremony is over.
One bride says she worked out a deal with her florist to "rent" the flowers, which were collected at the end of the night and brought in to decorate local hotels and restaurants.
Printed programs and menus are lovely, but often skippable. If you're determined to have a menu for everyone, print each guest's name at the top so it becomes a place card.
It might seem incredibly necessary to drape every last surface with flowing fabric, it's often less expensive just to focus on better lighting. Plus -- guests are too busy drinking, dancing and merrymaking to look up and see what's above them.
Wedding $: Where to skip or splurge
Wedding $: Where to skip or splurge
Wedding $: Where to skip or splurge
Wedding $: Where to skip or splurge
Wedding $: Where to skip or splurge
Wedding $: Where to skip or splurge
Wedding $: Where to skip or splurge
Wedding $: Where to skip or splurge
Wedding $: Where to skip or splurge
Wedding $: Where to skip or splurge
STORY HIGHLIGHTS
Asking questions ahead of time saves panic and heartbreak on your wedding day
Don't get hit with sticker shock: Ask what's included in the per-person price
That carpet you love today might be gone (or smell terrible) when your day arrives
Want your leftovers to go to charity? Ask ahead
(CNN) -- Whether your menu is gourmet or gumbo, your wedding caterer needs to get it right. Here's how you can help.
1. How will you handle last-minute requests?
It happens to the most careful couples: A whole family who didn't RSVP on time shows up anyway. Or the opposite: A handful of guests are MIA. Is your caterer prepared to adjust the food and the table setup accordingly?
2. Will you be there?
You want the point person you've dealt with to be present from start to finish.
Real Simple: 8 Cute Waterproof Boots
3. What's your waitstaff-to-table ratio?
The most elegant service is one or more servers per table. The fewer you have, the more erratic or slow the food service will be. Find out how many staff members are included in the per person cost and how much extra staff might cost.
4. What's included in your per-person price?
Is it just the food and beverages, with things like linens, waitstaff and coatroom attendants separate?
Real Simple: 6 Blinged-Out Spring Fashions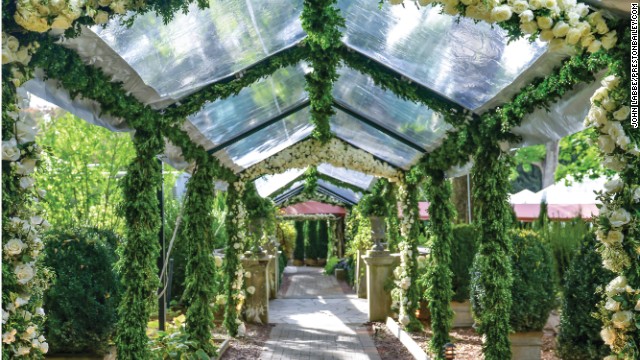 Designer Preston Bailey believes in setting the tone for an event right from the start. A bower of flowers creates a magical entrance to the celebration.
Facebook's Sean Parker and bride Alexandra Lenas married in 2013 in Big Sur, California, in a Bailey-designed "fantasy in the forest."
Parker and Lenas' wedding featured an elaborate Bailey-designed walkway to the ceremony.
Here's more detail from the Bailey-designed fantasy wedding forest.
Strands of flowers, wrapped and flowing, met with elaborate table arrangements to create a signature Preston Bailey environment for wedding guests.
A celebration in New Delhi, India, helped sway Bailey's feelings on carnations, which he previously disliked. Now, he uses them to create elaborate sculptures.
The elephant in the room was a giant, Bailey-designed floral sculpture at the center of the celebration.
From wildly colored blooms to stark white petals, flowers help set the tone for whimsy or elegance at a wedding, Bailey said.
At the Hotel Indonesia Kempinksi in Jakarta, Bailey's distinctive sculptural centerpieces narrow at the base so as not to block lively dinner conversation.
Preston Bailey, himself, was married on Valentine's Day in 2013 to his partner, Theo Bleckmann.
Preston Bailey's newest book "Designing with Flowers" hits bookshelves on April 8, 2014.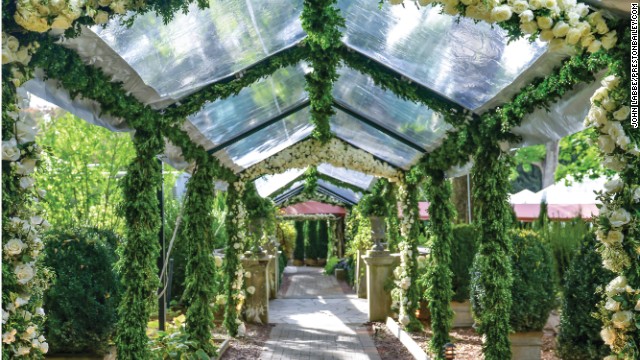 Preston Bailey: Decorating with Flowers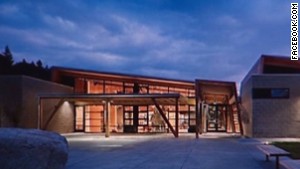 Say 'I Do' where they process poop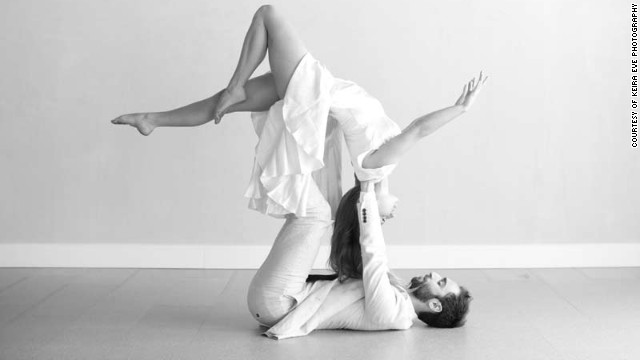 Kelsey and Isaac: June 23, 2012, in the backyard of Kelsey's yoga teacher in Orem, Utah
Tessa and Ashoke: August 3, 2013, in Sonoma, California, at Cornerstone Gardens
James and Aubrey: November 19, 2011 at their friend's ranch in Round Top, Texas
Shenae and Josh: May 2013 in a small garden
Chi and Jesse: October 6, 2012, in New York City
Zahra and Vincent: April 2013 in Washington, D.C.
Kara and Thomas: August 11, 2012, at Kara's family's home in Rockport, Maine
Maggi and Alex: June 29, 2013, at a converted barn next to a pond in Saugerties, New York
Amy and Carter: September 10, 2011, at their Traverse City, Michigan, home, which is a 100-year-old farmhouse
McKenzie and Jamie: June 2012 on a farm they rented (See more at Elle.com)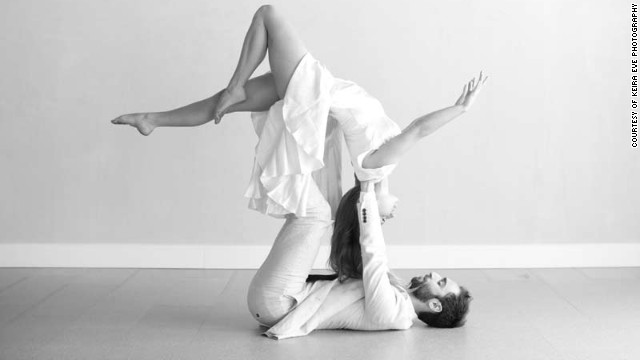 They did 'I do' their way
5. What's the difference between a gratuity and a service charge?
Many catering facilities tack on a service charge of 20%, and couples think that this covers the staff tips, but it doesn't. It is often used to cover things like fuel costs, overhead and wear and tear. You'll probably have to bring a stash of cash to tip the staff. Most brides tip 15 to 20% of the total bill and give that amount, in cash, to the maître d' or the wedding planner, who will then distribute it.
6. What happens to leftover food?
Health department rules vary, but most on-site caterers cannot allow food to be taken off the premises. If this is allowed, arrange for the food to be donated to a local soup kitchen or charity.
Real Simple: 12 Delicious Desserts for Your Wedding Day
7. How often do you renovate your facility?
You may fall in love with the decor of the room you book a year in advance. Are they at all likely to change the carpet? Replace the chandeliers you admired? Ask the venue to put it in writing that the decor won't change.
8. How often do you clean your facility?
The venue should be cleaned every three to six months (otherwise the carpets will start to smell).
Real Simple: Real Wedding Cupcakes
Don't miss out on the conversation we're having at CNN Living.
Follow us on Twitter
and
Facebook
for the latest stories and tell us what's influencing your life.
9. Can we tour the kitchen?
A facility might look gorgeous enough to win you over, but any cracks in the organization or the cleanliness of a place will show in the kitchen.
10. Have you worked at our location before?
If you're having the reception off-site, you'll want to know how familiar your caterer is with the venue―and what he needs to know if he's never been there. (How big is the kitchen? When can deliveries be dropped off?) Once you've settled on a caterer, put him or her in touch with the site's manager so they can work out the details without using you as a middleman.
Real Simple: Real Wedding Signature Cocktails
11. How does your staff dress?
Find out if they will dress in a specific way if you ask them to -- say, in Hawaiian shirts for a luau wedding.
12. Can we see the banquet event order?
This is a list of all the information the caterer has gone over with you about your party. It's given to the person who orders the food; the chef who'll cook the food; the person responsible for setting up the room at the venue; and the director of the waitstaff. Review the details carefully so you know that, say, your request to have a separate table for two is on the list.
Real Simple: 6 Gorgeous Wedding Cakes
Get a FREE TRIAL issue of Real Simple - CLICK HERE!
Copyright © 2011 Time Inc. All rights reserved.