STORY HIGHLIGHTS
Banksy artwork appears on UK city street but is soon taken down
A youth center says it took the piece down to "prevent vandalism"
The street art shows a couple embracing while checking their mobile phones
A mural showing secret agents, believed to be a Banksy, also discovered this weekend
London (CNN) -- Now you see it, now you don't.
New street art by famously anonymous graffiti artist Banksy has been removed from a wall just hours after it was tracked down to a street in the British city of Bristol.
The artwork, called "Mobile Lovers," shows a couple checking their cell phones while in mid-embrace.
Members of the Broad Plain Boys youth center used a crowbar to remove it just hours after it was discovered, local media pictures showed.
In its place, the youth center posted a note saying it was held at the club "to prevent vandalism or damage being done."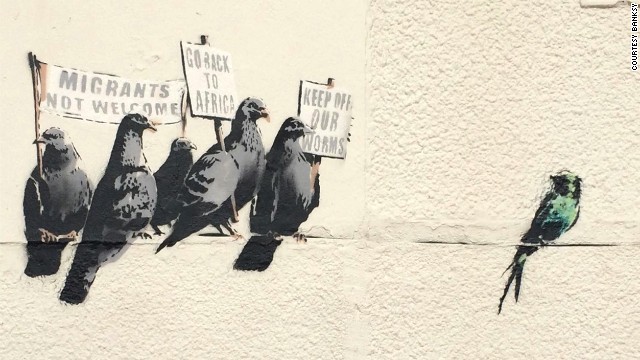 A Banksy mural depicting pigeons holding anti-immigration signs was destroyed by the local council in Clacton-on-Sea, England on October 1 after the council received complaints that the artwork was offensive.
Banksy appears on black wooden board at a youth center in Bristol, England, on Wednesday, April 16. Called "Mobile Lovers," it features a couple embracing while checking their cell phones. Members of the youth center took down the piece from a wall on a Bristol street and replaced it with a note saying the work was being held at the club "to prevent vandalism or damage being done." The discovery came shortly after another image believed to be by Banksy surfaced in Cheltenham, England.
A boy walks past graffiti street art on Monday, April 14, believed to be by Banksy. The image depicts men in trench coats and dark glasses holding old-fashioned listening equipment -- apparently a commentary on government surveillance. The artwork appeared on the side of a house in Cheltenham near the Government Communications Headquarters, the U.K. equivalent of the National Security Agency.
A set of balloons that read "BANKSY!" tied to the side of a warehouse could be seen off the Long Island Expressway in Queens on Thursday, October 31. Banksy artwork appeared all over New York in October.
Banksy also offered up a T-shirt design on his site on October 31 for fans to download and print on their own.
A leopard placed on the wall of Yankee Stadium was revealed on October 30.
"The Banality of the Banality of Evil," a work by the British street artist Banksy, actually started out as a thrift store painting in New York City. Once altered by Banksy, who inserted an image of a Nazi officer sitting on a bench, it was re-donated to the store Tuesday, October 29, according to the artist's site.
Banksy artwork is seen on a wall in the New York City neighborhood of Greenpoint on Sunday, October 27. Every day this month, Banksy has been unveiling new works of art around the city.
Banksy's art exhibit "Grim Reaper Bumper Car" sits on New York's Lower East Side on Friday, October 25. The famously anonymous artist, whose paintings regularly go for six figures at auction houses around the world, has said he is on a "residency on the streets of New York."
A Banksy piece covers the main entrance to Larry Flynt's Hustler Club in New York's Hell's Kitchen on October 24.
Banksy's replica of the Great Sphinx of Giza was made in Queens out of smashed cinder blocks.
Banksy's "Ghetto 4 Life" appeared in the Bronx on October 21. New York City Mayor Michael Bloomberg has suggested that Banksy is breaking the law with his guerrilla art exhibits, but the New York Police Department has denied it is actively searching for him.
Banksy art is seen on the Upper West Side on October 20.
A crowd gathers to view Banksy artwork in New York City's Chelsea neighborhood on October 18.
Banksy work was vandalized in broad daylight October 17 in the Williamsburg neighborhood of Brooklyn.
One of Banksy's latest pieces is this fiberglass sculpture of Ronald McDonald having his shoes shined in front of a McDonald's.
Graffiti depicting the Twin Towers popped up in the Tribeca neighborhood on October 15.
Banksy's "Sirens of the Lambs" art installation tours the streets of Manhattan on October 14. It's a fake slaughterhouse delivery truck full of stuffed animals.
Banksy's "Concrete Confessional" is seen on the Lower East Side of Manhattan on October 14.
A Banksy mural is seen October 14 on a wall in Queens. The quote is from the movie "Gladiator." It says, "What we do in life echoes in eternity."
A woman poses October 7 with Banksy's painting of a heart-shaped balloon covered in bandages. The piece, in the Red Hook neighborhood of Brooklyn, was defaced with red spray paint shortly after it was completed.
A Banksy mural of a dog urinating on a fire hydrant draws attention October 4.
This installation, seen October 9 on the Lower East Side, depicts stampeding horses in night-vision goggles. Thought to be a commentary on the Iraq War, it also includes an audio soundtrack.
Gallery assistants adjust Banksy's "Love Is in the Air" ahead of an auction in London on June 24. The piece was sold for $248,776.
"The Crayola Shooter" is found in Los Angeles in 2011. It shows a child wielding a machine gun and using crayons for bullets.
People walk past a Banksy painting of a dog urinating on a wall in Beverly Hills, California, in 2011.
Banksy murals popped up around New Orleans a day before the third anniversary of Hurricane Katrina in 2008.
A silhouette of a child holding a refrigerator-shaped kite is seen on a wall in New Orleans in 2008.
Graffiti on the side of a building in New Orleans shows an elderly person in a rocking chair under the banner, "No Loitering," in 2008.
A scene titled "Chicken Nuggets," from Banksy's "The Village Pet Store and Charcoal Grill," is seen in New York in 2008.
A man walks past a Banksy piece in London in 2006.
A stenciled image of two policemen kissing is seen in London in 2005.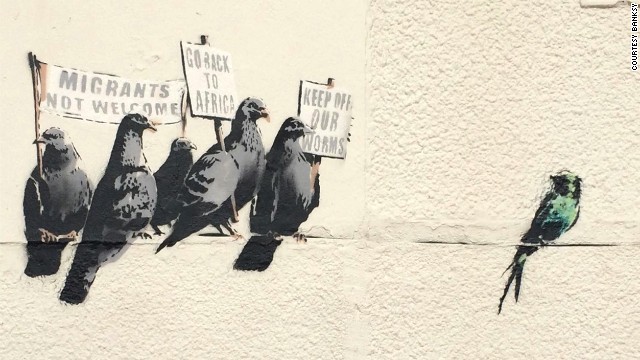 Photos: Banksy, the elusive street artist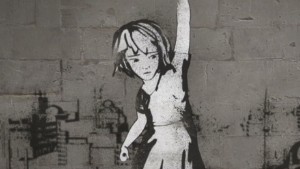 Banksy releases image for Syria conflict
A spokeswoman for the club told CNN the youth center had no plans for the stencil work for now. She said fans are welcome to view it, but they would be asked for a voluntary donation to club to help with the youth center's upkeep.
As the celebrated artist sent his fans out on a treasure hunt, one devotee said she found the piece using Flickr and Google Street View.
"I was so excited, I popped down there and took a couple of photos ... but didn't tweet them because it's only held on with screws and I was worried the first person to go there would be a thief," Banksy fan Sally was quoted as saying by Britain's BBC.
Bristol is where Banksy's art first appeared more than 20 years ago.
Is it a Banksy? UK street art image appears to show spies at work
Secret agents
On Monday, Bristol Mayor George Ferguson welcomed the appearance of the image.
"It's good to see another witty Banksy raid on his home city -- respectfully painted in a blocked up doorway," he said. "I hope it will be respected and protected as we would want for any other legitimate work of street art."
The discovery of the new artwork came after another piece, believed to be a Banksy, was found in the provincial English spa town of Cheltenham, in Gloucestershire.
Clad in brown trench coats, dark glasses and trilby hats, what appear to be three secret agents huddle around a payphone box with listening equipment.
The image -- apparently a comment on the issue of government surveillance -- appeared early Sunday, local media said, on a house wall.
The location may be a reference to the town's role as host to Britain's Government Communications Headquarters, known as GCHQ -- the UK equivalent of the U.S. National Security Agency.
Banksy's last high-profile project was a month-long street art "residency" in New York City.
Each day of October, Banksy unveiled new works of art around New York. The works were then announced on his website and posted to Instagram. Many of the surprise exhibits followed his signature street-art style: stencils spray-painted on streets, walls of buildings and under bridges.
READ: Banksy bids farewell to New York with balloons
READ: Bigger than Banksy: Polish street art goes large
INTERACTIVE: Banksy takes over NYC
Editors' Note: This article has been edited to remove plagiarized content after CNN discovered multiple instances of plagiarism by Marie-Louise Gumuchian, a former CNN news editor.
CNN's Laura Smith-Spark contributed to this report.