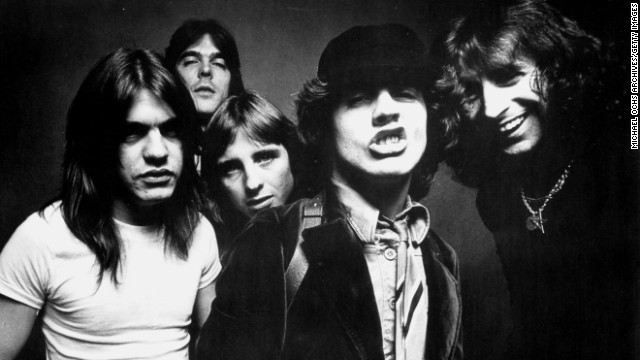 AC/DC has been one of the hardest-rocking -- and longest-lasting -- bands on the scene. The group formed in 1973 in Sydney, Australia. It was announced on April 16 founding member Malcolm Young will be "taking a break from the band due to ill health." For those about to look back at the rockers through the years, we salute you.
The band poses for a photo with their manager Michael Browning, right, in 1976.
Angus Young sits on Bon Scott's shoulders while performing at the Town Hall in St. Albans, England, in 1976. Young is known for performing in a schoolboy uniform.
AC/DC performs at the Kursaal Ballroom in England in 1977.
Left to right: Phillip Rudd, Angus Young, Mark Evans, Malcolm Young and Bon Scott pose for a photo in 1977. Scott, who was the lead singer of the band in the '70s, died in 1980.
Angus Young performs in Chicago in 1979.
Devoted fans wait in the cold and snow to buy tickets for AC/DC's Denver show in 1982.
The band poses for a photo at a bar in Rhode Island in 1985.
AC/DC performs at the Nassau Coliseum in Uniondale, New York, in 1986.
Brian Johnson and Angus Young perform in Leiden, Netherlands, in 1991. Johnson took over as lead singer and sang on AC/DC's biggest hits, including "Back in Black" and "You Shook Me All Night Long."
The "Hells Bells" bell is seen on stage at an AC/DC concert in 2000.
Steven Tyler of Aerosmith, center, poses with AC/DC at the Rock and Roll Hall of Fame induction ceremony in 2003.
The band shoots the video for their song "Rock 'n' Roll Train" in London in 2008. The group's 2008 album "Black Ice" was the second-biggest album of the year, with 6 million sold.
Angus Young performs with the band onstage in Melbourne in 2010.
Aussie rock legends AC/DC
Aussie rock legends AC/DC
Aussie rock legends AC/DC
Aussie rock legends AC/DC
Aussie rock legends AC/DC
Aussie rock legends AC/DC
Aussie rock legends AC/DC
Aussie rock legends AC/DC
Aussie rock legends AC/DC
Aussie rock legends AC/DC
Aussie rock legends AC/DC
Aussie rock legends AC/DC
Aussie rock legends AC/DC
Aussie rock legends AC/DC