Boston bomb suspect can see autopsy photos
updated 8:32 AM EDT, Thu April 17, 2014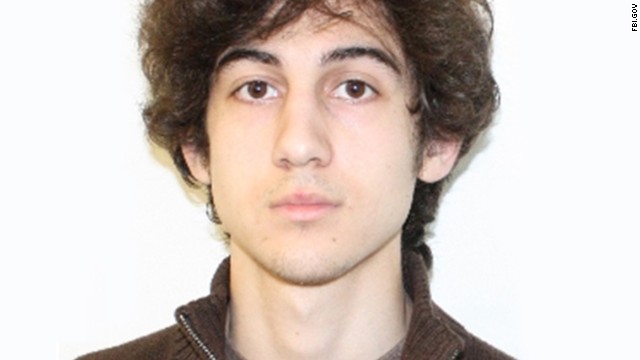 Dzhokhar Tsarnaev was arrested on April 19, 2013, after a massive manhunt following an overnight shootout with police in suburban Watertown that left his 26-year-old brother Tamerlan Tsarnaev -- the other man wanted in the bombings -- dead. Authorities say Tsarnaev and his brother were responsible for the Boston Marathon bombing on April 15, 2013.
On April 18, 2013, the FBI released photos and videos of two suspects and pleaded for public help in identifying them.
Tsarnaev was found on April 19, 2013, in a boat that was dry-docked in the backyard of a Watertown, Massachusetts, home. He was covered in blood from bullet wounds suffered during a manhunt that brought Boston to a standstill.
August 2013 cover of Rolling Stone
featuring Tsarnaev sparked a backlash against the magazine.
The
Tsarnaev stands in court, flanked by his lawyers, in this sketch from July 2013, the last time he has been seen in public.
An image posted to the social sharing website Reddit purports to show Tsarnaev being detained by law enforcement officers.
Tsarnaev was caught on a convenience store surveillance camera video that was released by the Boston Police Department.
A still from footage released by the FBI of the suspects.
Additional photos and video of the two men were released by the FBI.
A picture of Tsarnaev seen on his apparent profile on VKontakte, a Russian social network similar to Facebook.
Boston bombing suspect Dzhokhar Tsarnaev
Boston bombing suspect Dzhokhar Tsarnaev
Boston bombing suspect Dzhokhar Tsarnaev
Boston bombing suspect Dzhokhar Tsarnaev
Boston bombing suspect Dzhokhar Tsarnaev
Boston bombing suspect Dzhokhar Tsarnaev
Boston bombing suspect Dzhokhar Tsarnaev
Boston bombing suspect Dzhokhar Tsarnaev
Boston bombing suspect Dzhokhar Tsarnaev
Boston bombing suspect Dzhokhar Tsarnaev
Boston bombing suspect Dzhokhar Tsarnaev
STORY HIGHLIGHTS
Prosecutors ask to keep Dzhokhar Tsarnaev from viewing autopsy photos
Letting the bomb suspect see them would cause "needless harm and suffering," they argue
Defense lawyers call those restrictions unwarranted, and a judge agrees
Boston (CNN) -- Accused Boston Marathon bomber Dzhokhar Tsarnaev should be allowed to view autopsy photos of the attack's victims and meet with his sister without being watched by the FBI, a federal judge said Wednesday.
Prosecutors had asked U.S. District Judge George O'Toole to keep Tsarnaev "from personally reviewing autopsy photographs of victims" other than those the government plans to use at his trial, set for November. Letting him see the rest "would violate the victims' rights to dignity and privacy and subject them to needless harm and suffering," they wrote.
The photos are already covered by a protective order in the case. Also, the government's request didn't apply to Tsarnaev's lawyers, who have had access to the pictures. But defense attorneys refused to accept any restrictions, calling the request unprecedented and unwarranted, and O'Toole agreed.
Tsarnaev, now 20, is accused of planting the bombs at the finish line of the 2013 race along with his brother Tamerlan, who was killed during the manhunt that paralyzed Boston. The city marked the anniversary of the attacks on Tuesday, pausing to remember the three people who died and more than 200 who were wounded, many of whom lost limbs.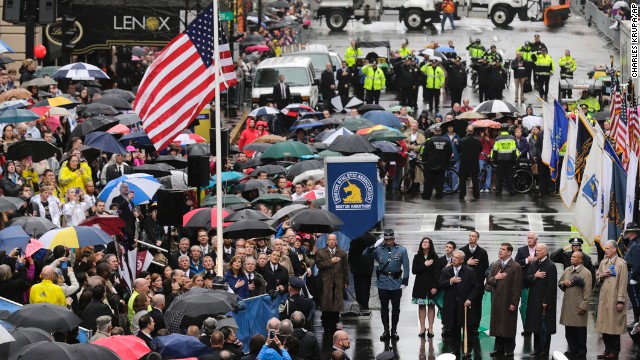 People pause Tuesday, April 15, as the American flag is raised at the finish line of the Boston Marathon, where two homemade bombs went off one year ago. It was the deadliest terrorist attack in the United States since 9/11.
A wreath was laid at one of the bomb sites, under a steady rain on Boston's Boylston Street.
Sharon Neary, of Rochester, New York, cries while watching Tuesday's ceremony in Boston.
The family of Martin Richard, an 8-year-old boy killed in the attack, meet with Cardinal Sean Patrick O'Malley during the wreath-laying ceremony. Martin was one of three people killed in the bombings. At least 264 people were injured.
From left, former Boston Mayor Tom Menino, Boston Mayor Martin Walsh, Vice President Joe Biden and Massachusetts Gov. Deval Patrick lower their heads for a moment of silence during the tribute. "America will never, ever, ever stand down," Biden said during the ceremony. "We are Boston. We are America. We respond, we endure, we overcome and we own the finish line."
Olivia Savarino, facing the camera, hugs Christelle Pierre-Louis during the ceremonies on Boylston Street. Savarino was working at the Forum restaurant when a bomb went off in front of the building on April 15, 2013.
Flowers lie on the finish line of the Boston Marathon. The annual race will take place next Monday, April 21.
Members of the Boston Police Department, the Boston Fire Department and the Massachusetts State Police march prior to Tuesday's wreath-laying ceremony.
A Boston police officer waves traffic across the finish line.
Running shoes are laid out in a display at the Boston Public Library. It's called "Dear Boston: Messages from the Marathon Memorial."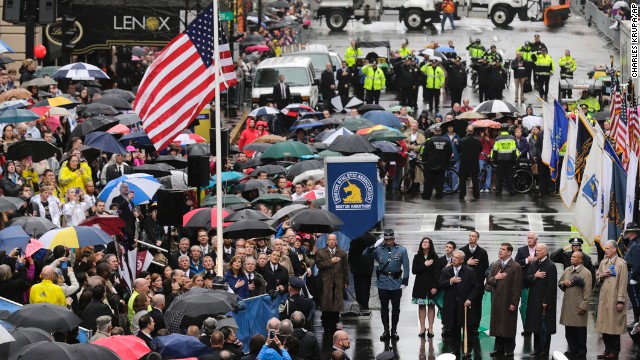 Photos: Boston Marathon bombing anniversary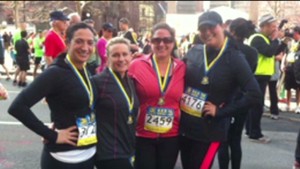 Boston bombing survivor runs for friend
The trial is set for early November, with the government seeking the death penalty. Defense lawyers are expected to argue Tsarnaev was under the "domination and control" of his brother. Tsarnaev was not in court for Wednesday's proceedings.
O'Toole also said meetings between Tsarnaev and his sister shouldn't be subject to monitoring by investigators, though he held off on issuing a final order on the matter. Tsarnaev lawyer David Bruck argued that letting federal agents monitor their conversation would intrude on the defense.
"The decision to take the most casual remarks, an ironic comment, and provide it to the prosecution ... becomes ammunition on the death penalty," Bruck said. If the charges against Tsarnaev are true, he said, "This is about a family," and lawyers should be allowed to observe the relationship between the siblings without interference.
Assistant U.S. Attorney Nadine Pellegrini argued that defense lawyers were trying to combine a legal visit with a social one. O'Toole said he didn't think there was a security issue involved and he was inclined to grant the defense request, but didn't issue a formal ruling.
CNN's Ronni Berke reported from Boston; Matt Smith reported and wrote from Atlanta.