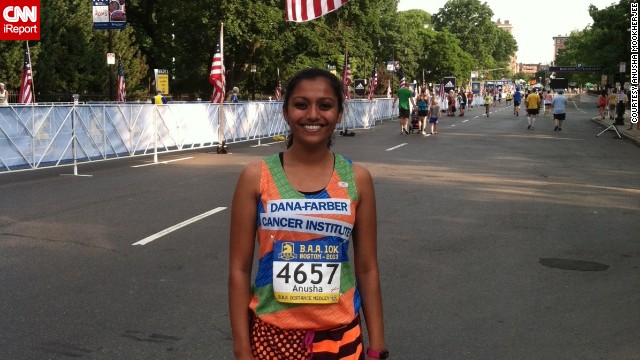 CNN
asked our iReporters
to pledge to run a marathon, or shorter race, before the 1-year anniversary of the Boston Marathon Bombing. "The bombings reminded so many of us why we enjoy running, and that these violent acts can't shake and define a city like Boston," said
Anusha Mookherjee
, who grew up in Newton, Massachusetts, a suburb of Boston. She was inspired to run the Boston Athletic Association 10K -- her first road race -- and a half-marathon. She continues to run three times a week.
Ashley Seymour
. She was standing near the Boston Marathon finish line when the first bomb went off. She had been a runner all her life, but hadn't done a race since tearing her ACL in 2011. Running became part of her emotional healing process. Since the bombings, she has run a 10K and a half-marathon.
"I wanted to run for those that can't run anymore," said Boston resident
"I couldn't go home, and I couldn't go to work, so other than watching cable news 24/7, I had running," said
Mark Giannetti
, left, who lived and worked within a block of each bomb. He and his friend, Jess, right, ran a 5K and 10K race together last year. He's training for a half-marathon.
"So much blood, sweat and tears go into preparing for and racing a marathon and to have the fruit of your labor snatched away in such an evil manner haunted me," said
Jennifer Kirkpatrick
, right, from Bonham, Texas. At the time of the bombings, she had recently run her first half-marathon. She ran another half-marathon in support of the victims and plans to run the Dallas marathon this year.
Terry Moorhead
of Phoenix did not plan to run another marathon -- this was his sixth -- but after the bombings, "I I felt compelled to do at least one more. I think about how lucky I am to be able to run, and I will never take it for granted." He proudly wore a Boston Strong shirt for the Arizona Rock 'n' Roll Marathon in January 2014.
Gina Berrettoni
, who knew several people who were running last year's Boston Marathon. Thankfully, none of her friends were injured. She has run several races since the attack, including a 10K, a half-marathon and a relay.
"Running has been a stress relief for me, but this year meant a little more," said Boston resident
"The running community is one of the most supportive, nonjudgmental and uplifting I have ever had the pleasure to be a part of," said
Heather Nees
, left, of Chesterfield, Virginia. Since pledging to "Run for Boston," she has completed two 5K's and an 8K, with another 5K coming up.
Lori Brainard
of Washington. She started running in 2004, but had been on a hiatus. Brainard, who grew up in Somerville, Massachusetts, signed up for her first race after the Boston Marathon bombing.
"The tight muscles -- the little aches and pains -- remind me that I'm alive," said
Robyn Parker
, right, of New Hampshire. She was inspired to break her every-other-year marathon schedule. She ran the Rock 'n' Roll San Antonio Marathon in November alongside her daughter, Meredith.
"I wanted to do something after the bombings, but didn't know what I could do," said runner
"I am still not a strong runner, but I knew I had to finish this race to honor all the people affected by the Boston tragedy," said
Ezra Mueller
, right, who ran the 25 kilometer "Big Berlin" race in Germany in May with a "Run for Boston" on her back. "With the support of the other runners loudly cheering me on. I dragged myself across the finish."
Agata Jasniewski
from Massapequa Park, New York. She was already planning to run the Chicago Marathon in 2013, but after the bombing it became "more than a race," she said.
"Like so many runners, after that day, I felt helpless, betrayed and full of emotion," said
Still running for Boston
Still running for Boston
Still running for Boston
Still running for Boston
Still running for Boston
Still running for Boston
Still running for Boston
Still running for Boston
Still running for Boston
Still running for Boston
Still running for Boston
STORY HIGHLIGHTS
Writers: Like Boston bombings, Kansas shootings meant to divide people along lines of faith
Rabbi and minister from Boston remember how their community came together after bombings
Writers: Hate crimes don't divide; they bring all faiths together bonded by humanity
Editor's note: Ronne Friedman is senior rabbi at Temple Israel of Boston, the largest Reform temple in New England. Dan Smith is senior minister at First Church, Cambridge, Massachusetts, and vice president of the Greater Boston Interfaith Organization. The opinions expressed in this commentary are solely those of the authors.
(CNN) -- On Sunday, just two days before the Boston Marathon bombing anniversary, we witnessed yet another act of unspeakable violence aimed at dividing our communities along the lines of faith.
The motivation for the shootings outside Kansas City is still under investigation, but we know that a white supremacist and former Ku Klux Klan leader is accused of shooting people outside a Jewish community center and Village Shalom, a retirement home.
Three people died in what is just the most recent deeply misguided act of violence aimed at severing the values each and every American cherishes most deeply. As we remember the lives taken a year ago in Boston, we also mourn and pray for the victims and their families in Kansas.
One of us is a pastor and the other a rabbi of congregations in and near Boston. We both had identical reactions when we first learned of the Boston Marathon bombings last year. Was this another 9/11? Whom did we know who might be directly affected -- runners, first responders, spectators on the finish line? We worried about our colleagues at Old South Church, directly on the finish line, and Trinity Church in Copley Square, one block away. Similar to what we imagine interfaith leaders in Kansas started to do Sunday, we immediately began to call people and try to determine how to minister to our congregations and the city at large.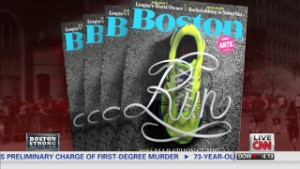 Boston Magazine remembers bombing victims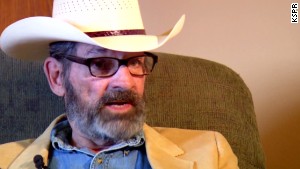 Accused Kansas shooter's racist politics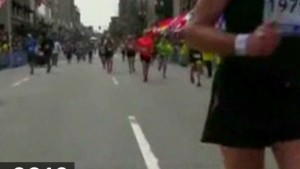 Terror in Boston: One year later
We had both been involved in building relationships across religious lines for years; under the auspices of the Greater Boston Interfaith Organization and our individual efforts, we had joined together Christians, Muslims and Jews to build bridges of respect, tolerance and affection.
In the year that has followed the bombing, Temple Israel of Boston was honored to host Imam Suhaib Webb of the Islamic Society of Boston Cultural Center for a special service celebrating the Rev. Martin Luther King Jr.'s birthday. Webb was joined at the temple by more than 100 members of his own congregation and by exceptional clergy and congregants from Boston's Christian Community in a joint celebration of the vision of life.
Webb will also be the featured speaker at Old South Church's evening of remembrance on Tuesday night, which will honor the victims and brave first responders. The church will be filled with members of every faith from greater Boston.
If the goal of the tragedy in Boston or the most recent act of despicable violence in Kansas is to sow fear and to divide us against one another, then our own lived experience is a testament to their failure. Last year's senseless attack has been repudiated by our congregations in the strongest and most profound way possible, and in the process we are stronger than ever.
Looking back, we cannot help but recognize that by a combination of heroism, compassion, faith and will, the tragedy of the marathon bombing has brought us closer together and strengthened the ties between our communities.
On the anniversary of last year's terrible attack and the violence in Kansas on Sunday, all of our congregations stand united in praying for the victims, their families and those who were grievously injured. We cannot bring back those people who were so senselessly taken, and we know that the void left by their loss can never truly be filled. We cannot restore lost limbs or heal the physical wounds.
However, we can choose a better future for ourselves and for our nation -- one grounded in our common humanity, and in our expressions of faith and hope for the future, whether we are Muslims, Christians, Jews, adherents of other faiths or secular citizens who share a commitment to repair and renew the health and well-being of our cities, nation and the world.
Follow us on Twitter @CNNOpinion.
Join us on Facebook/CNNOpinion.