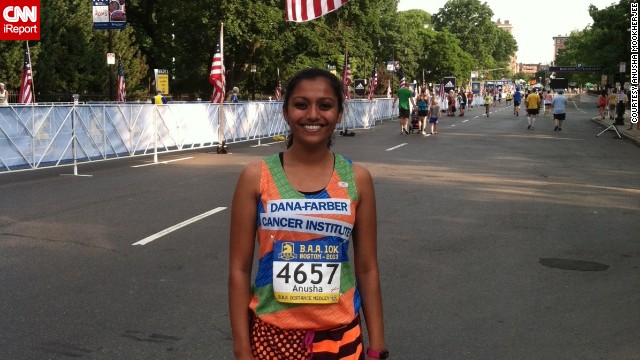 CNN
asked our iReporters
to pledge to run a marathon, or shorter race, before the 1-year anniversary of the Boston Marathon Bombing. "The bombings reminded so many of us why we enjoy running, and that these violent acts can't shake and define a city like Boston," said
Anusha Mookherjee
, who grew up in Newton, Massachusetts, a suburb of Boston. She was inspired to run the Boston Athletic Association 10K -- her first road race -- and a half-marathon. She continues to run three times a week.
Ashley Seymour
. She was standing near the Boston Marathon finish line when the first bomb went off. She had been a runner all her life, but hadn't done a race since tearing her ACL in 2011. Running became part of her emotional healing process. Since the bombings, she has run a 10K and a half-marathon.
"I wanted to run for those that can't run anymore," said Boston resident
"I couldn't go home, and I couldn't go to work, so other than watching cable news 24/7, I had running," said
Mark Giannetti
, left, who lived and worked within a block of each bomb. He and his friend, Jess, right, ran a 5K and 10K race together last year. He's training for a half-marathon.
"So much blood, sweat and tears go into preparing for and racing a marathon and to have the fruit of your labor snatched away in such an evil manner haunted me," said
Jennifer Kirkpatrick
, right, from Bonham, Texas. At the time of the bombings, she had recently run her first half-marathon. She ran another half-marathon in support of the victims and plans to run the Dallas marathon this year.
Terry Moorhead
of Phoenix did not plan to run another marathon -- this was his sixth -- but after the bombings, "I I felt compelled to do at least one more. I think about how lucky I am to be able to run, and I will never take it for granted." He proudly wore a Boston Strong shirt for the Arizona Rock 'n' Roll Marathon in January 2014.
Gina Berrettoni
, who knew several people who were running last year's Boston Marathon. Thankfully, none of her friends were injured. She has run several races since the attack, including a 10K, a half-marathon and a relay.
"Running has been a stress relief for me, but this year meant a little more," said Boston resident
"The running community is one of the most supportive, nonjudgmental and uplifting I have ever had the pleasure to be a part of," said
Heather Nees
, left, of Chesterfield, Virginia. Since pledging to "Run for Boston," she has completed two 5K's and an 8K, with another 5K coming up.
Lori Brainard
of Washington. She started running in 2004, but had been on a hiatus. Brainard, who grew up in Somerville, Massachusetts, signed up for her first race after the Boston Marathon bombing.
"The tight muscles -- the little aches and pains -- remind me that I'm alive," said
Robyn Parker
, right, of New Hampshire. She was inspired to break her every-other-year marathon schedule. She ran the Rock 'n' Roll San Antonio Marathon in November alongside her daughter, Meredith.
"I wanted to do something after the bombings, but didn't know what I could do," said runner
"I am still not a strong runner, but I knew I had to finish this race to honor all the people affected by the Boston tragedy," said
Ezra Mueller
, right, who ran the 25 kilometer "Big Berlin" race in Germany in May with a "Run for Boston" on her back. "With the support of the other runners loudly cheering me on. I dragged myself across the finish."
Agata Jasniewski
from Massapequa Park, New York. She was already planning to run the Chicago Marathon in 2013, but after the bombing it became "more than a race," she said.
"Like so many runners, after that day, I felt helpless, betrayed and full of emotion," said
Still running for Boston
Still running for Boston
Still running for Boston
Still running for Boston
Still running for Boston
Still running for Boston
Still running for Boston
Still running for Boston
Still running for Boston
Still running for Boston
Still running for Boston
STORY HIGHLIGHTS
John Farah was stopped two blocks from the finish line at the marathon in 2013
His wife and daughter were waiting across the street from the first blast
They were all physically unhurt, and Farah plans to run again this year
"Acts of cowardice will not stop me from exercising my rights as an athlete," he says
Editor's note: John Farah is the co-author of "Let's Pick it up a Bit," a memoir and a guide to help people lead an active life. This year will be his 19th Boston Marathon.
(CNN) -- "Twenty-nine minutes for his first five kilometers -- he's right on schedule," Nelson Williams excitedly announced to my staff at Enspire Dental in Ann Arbor, Michigan.
Nelson and I had a plan for the 2013 Boston Marathon. I was to run every 5K in 30 minutes. The goal was to finish the marathon in four hours and 15 minutes.
Not being in top form at the forever-young age of 70, I thought the pace was doable. Not easy, but doable.
No one at the clinic knew the plan. Nelson and I kept it a secret because the staff had contributed to a pool -- each person predicted my finish time, and the one who came closest won all the money.
"59:30 at 10K. Perfect," Nelson relayed.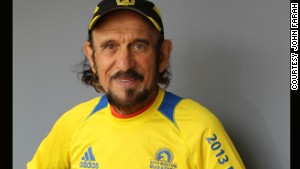 This year will be John Farah's 19th Boston Marathon.
The real-time updates got everyone into the action -- though the money on the line probably helped. Nelson acted like a proud coach whose student was finally following his advice.
"Three hours and 32 minutes at 35K," he shouted. "He's going to do it. It's mostly downhill from here."
Nelson was grinning from ear to ear, running from one end of the clinic to the other, keeping everyone updated. Every staff member believed they could win this thing; even some of the patients were in on it. They were captivated, charged up, cheering me on.
"Four hours and four minutes at 40K," Nelson shouted. "He has 2K to go; it is just over a mile."
And then... nothing.
Nelson said nothing. Everyone had their eyes on him, waiting for the final update.
Still nothing.
Nelson knew something was not right.
"Something happened," he said. "He should have finished by now."
Everybody was quiet. Seconds ticked-off.
My assistant, Debbie, got on her iPhone and checked CNN.
"They are saying that a bomb went off near the finish," she said, her voice cracking.
They all stared at each other. No one said a word. She must be wrong, they thought. This just doesn't happen at marathons.
Then the phones started ringing. Nonstop. Patients, friends, relatives, more patients -- all calling the clinic inquiring: Was I OK?
No one could give them an answer. Time passed. By now, it was clear that two bombs had exploded and many people were injured, some severely.
Unbeknownst to anyone, I was the first person the cops stopped less than two blocks from the finish line.
My wife Jackie and her daughter Erin were waiting for me directly across the street from the first explosion. They were luckier than many.
It took more than 80 minutes before Jackie and I connected.
We flew back to Detroit that evening shaken but physically unhurt.
Opinion: Why we're still running a year after Boston
I could not sleep. I kept hearing the sirens blaring all night. Images of ambulances carrying the injured raced uninterruptedly in front of me.
It was surreal.
On Tuesday, April 16, I went to work. I always did after Boston.
It was difficult, very difficult. But I had patients and staff who were waiting for me. The phones continued to ring, but now staff had answers. I treated patients, but emotionally I really wasn't there.
When they asked me about Boston, I choked up. It was hard to talk about it. It had affected me like nothing else before.
I still don't understand how malicious and evil some people can be. My consolation is that the majority of people are decent and caring individuals. I'm an optimistic person, and I have faith in the goodness of humanity.
I have to; I have no other choice.
So many people reached out to us after Boston. The outpouring of concern and support from patients, friends and acquaintances was overwhelming. They all care; they all love; they all feel. They all remind me how good people can be.
That is what makes me want to go back to Boston. Yes, like thousands of others, I'm running Boston again this year. Every marathon is a marathon, but Boston is Boston.
I'm running it to make a simple statement: Acts of cowardice will not stop me from exercising my rights as an athlete and a human. I am running it for those who were injured and can't run it. I am running it for the love of running. I am running it to show my support for all Bostonians.
Lastly, I am running it because in 2013, I never really finished.
This year, I will.
Opinion: How did Boston Marathon attack change you?