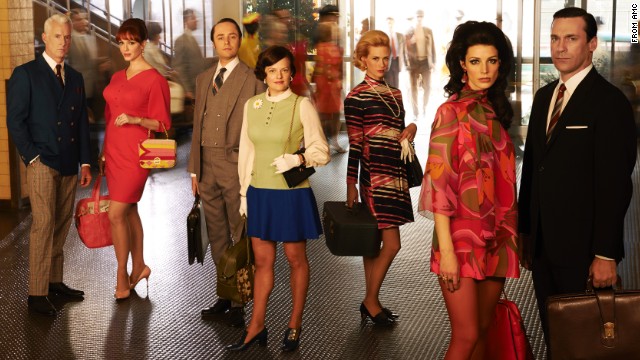 In honor of the last season of "Mad Men," we look back at the television show's wardrobe, which reflects the 1960s and inspired modern looks.
Wearing dark, formal suits was a nearly century-old tradition by the time "Mad Men" ad men donned identical looks -- with highballs -- at the Sterling Cooper agency in 1960. Their suits' slim silhouettes came from the returning WWII soldiers' athletic figures, said University of Notre Dame history professor and author Linda Przybyszewski. Suits narrowed in the shoulders, torso and legs to fit the new physique.
The Peter Pan collar Peggy wears in the first season of "Mad Men" was popular in the early 1960s, and signaled the emergence of youth-oriented fashion, Przybyszewski said. At the time, Joan's bow collar was considered feminine and restrained. In the '70s, bow collars would plunge to new, revealing lengths.
Housewives like Betty Draper were expected to wear cheerful colors in 1960 because they dealt with children and the home, Przybyszewsi said. They also represented life in the suburbs; women working in offices in the city wore darker, muted colors and more formal attire.
This outfit, which Joan wore in the second season, is a great example of early 1960s minimalism, Przybyszewski said. The sweater and pencil skirt are fitted and accessorized simply, which felt modern in the 1960s.
The maternity ensemble Betty wears in the third season represents a social norm about privacy that eroded as the 1960s came to a close. The concealing nature of her outfit maintained the idea that a woman's body and personal life were only to be clear to intimate relations, Przybyszewski said.
Roger Sterling's three-piece suit in the fourth season represents the division of public and private at the office, Przybyszewski said. Even in 1964, a businessman would keep his jacket on to meet clients, and take it off only in the privacy of his office.
The episode "The Beautiful Women" from the fourth season took place in 1965 and showed the different trajectories of three professional women's lives. Peggy's hat and gloves indicate formality in the workplace that starts to erode quickly within the next few years, Przybyszewski said.
Bare arms, short hemlines and plaid jackets, oh my! In 1966, busy patterns and bright colors became part of the decade's signature fashion, Przybyszewski said. At the time, short dresses led some men to rate women's exposed legs, with some of those "reviews" published in newspapers, she said.
"It looks like a convention of men selling used cars," Przybyszewski said of the bold blazers worn in the fifth season of "Mad Men." Ad men would never wear these outfits to the office in 1966, but it signifies a move away from their previously slender silhouettes. "Many a large person has been scared off from wearing plaids," she said. "Plaids always look bigger."
By the sixth season, it was 1968 and Megan Draper embodies the spirit of fashion experimentation, Przybyszewski said. Megan and Arlene are "supergroomed, superkempt," she said, as they take on new personas with wigs, caftans, colors and silhouettes. "It's an interesting '60s phenomenon that utterly disappears," she said.
Black women carried a heavy style burden when their workplaces were run by white people, like Sterling Cooper Draper Price, Przybyszewski said. Many felt pressure to dress better than anyone else in the workplace, she said, and they still faced judgment -- especially of their hair -- from white and African-American colleagues alike.
After Don Draper's personal crisis in the sixth season left Peggy to try to assume his role, she looks every bit the executive, Przybyszewsi said -- and every bit the fashion leader. Her knitwear ensemble was meant to show she has more important things to do than iron shirts.
The advertising industry has always been opportunistic when it comes to new ideas, and so is fashion, Przybyszewski said. Maybe the "Mad Men" execs weren't ready to don dashikis and beads -- yet -- but they surely tried to capture some of the groovy, creative spirit they suggested in the late 1960s.
Over eight years in the "Mad Men" world, hemlines for women raised nearly as many inches, Przybyszewski said. By 1968, miniskirts were so engrained in the public that women came up with solutions for flashing people when sitting down. One banker from Miami, interviewed by TIME magazine, said his office's solution was to make women wear matching underpants, she said.
The seventh and final season of "Mad Men" will debut on April 13, and it's not clear in what years it will unfold. But with wild cravats, bolero ties, daisy broaches and fringed jackets, these advertisers are suiting up like the creatives of the late '60s, Przybyszewski said. "If you're in a creative field, you have to dress creatively," she said of this promotional photo. "These guys are living it."
In this promotional photo for the seventh season, Joan opts out of the "it dress" of the 1960s -- a mini-skirted A-line that "made everyone look stumpy," Przybyszewski said. In order to carry off the look of the day, many women lost weight to emulate models like Twiggy, she said.
The Francis family shows off some fancy traveling duds in this promotional photo for the seventh season. Notice that the boys are wearing sneakers, but they're also wearing a vest and tie, she said. Sally's style is fashion forward but still formal, and appropriate for airplane travel at the time.
Don and Megan Draper show up to the airport in fashionably bright colors in this promotional photo for the seventh season. While researching 1960s fashion, Przybyszewski was surprised to find that women's dresses in the late 1960s could be even shorter than Megan's. The money spent on tights and pantyhose worn with these dresses was "mind boggling," she said.
Evolution of 'Mad Men' fashion
1960: Evolution of 'Mad Men' fashion
1960: Evolution of 'Mad Men' fashion
1960: Evolution of 'Mad Men' fashion
1962: Evolution of 'Mad Men' fashion
1963: Evolution of 'Mad Men' fashion
1964: Evolution of 'Mad Men' fashion
1965: Evolution of 'Mad Men' fashion
1966: Evolution of 'Mad Men' fashion
1966: Evolution of 'Mad Men' fashion
1968: Evolution of 'Mad Men' fashion
1968: Evolution of 'Mad Men' fashion
1968: Evolution of 'Mad Men' fashion
1968: Evolution of 'Mad Men' fashion
1968: Evolution of 'Mad Men' fashion
Evolution of 'Mad Men' fashion
Evolution of 'Mad Men' fashion
Evolution of 'Mad Men' fashion
Evolution of 'Mad Men' fashion
STORY HIGHLIGHTS
"Mad Men's" seventh and final season begins Sunday
Show has become shorthand for referring to the early '60s
It helped dictate fashion, even made names popular
Now it's just a TV show -- but still highly thought-of
(CNN) -- A funny thing happened to "Mad Men" on its way to its seventh season.
It became just another TV show.
The series about a 1960s ad agency that intersects with the American experience spent its sixth season wading through the shocks of 1968 -- the Tet Offensive, the assassinations of Martin Luther King Jr. and Robert F. Kennedy, the presidential race that culminated in the election of Richard Nixon.
What the late '60s really looked like
But reviewers found the season flat and disconnected compared to previous seasons, with New York magazine's Matt Zoller Seitz declaring it "sluggish and lumpy and unfocused" and Slate's Hanna Rosin describing it as "a strange season in that it seemed to throw up intriguing plot possibilities and then grow quickly bored with them."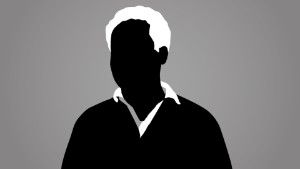 The first black 'Mad Man'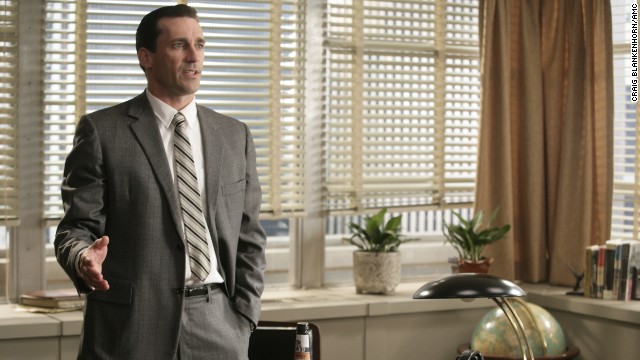 Jon Hamm stars as Don Draper, an ad agency creative director, in the first season of "Mad Men," set in the year 1960.
Elisabeth Moss plays Peggy Olson, who starts the show as a secretary.
January Jones plays Draper's wife -- later ex-wife -- Betty.
Peggy returns a dress to Joan Holloway, played by Christina Hendricks. In season 1, Joan is the agency's office manager.
John Slattery plays Roger Sterling, here in season 2, set in the year 1962. Sterling's father co-founded the agency Sterling Cooper.
The cast in the Sterling Cooper office. From left, sales exec Pete Campbell (Vincent Kartheiser), Joan, Roger, Peggy and Don.
Betty Draper becomes increasingly estranged from husband Don.
Peggy takes public transportation in season 3.
Roger and Don in season 3 of "Mad Men," set in 1963.
Joan attracts plenty of male attention in a flattering dress in season 3.
Betty lounges in season 4 of "Mad Men," set in 1964-65.
From left, Joan; Roger; Betty; Lane Pryce (Jared Harris), who joins the firm from the UK; Pete, Don and Peggy strike a pose during season 4. Peggy has become a noted copywriter by this point in the series.
Don and Megan Draper, played by Jessica Pare, in season 5 of "Mad Men," set in 1966-67. Megan starts as a secretary and becomes Don's wife.
From left, Joan, Roger, Lane, Pete, Don, Bertram Cooper (Robert Morse) and Peggy at the office.
Bertram, Pete, Joan, Don and Roger during season 6 of "Mad Men."
Roger and Don take a trip in season 7 of "Mad Men."
Betty Draper Francis, Henry Francis (Christopher Stanley) and Sally Draper (Kiernan Shipka) are quite the colorful family in season 7.
Stan Rizzo (Jay R. Ferguson, seated), Michael Ginsberg (Ben Feldman), Peggy, Harry Crane (Rich Sommer) and Ken Cosgrove (Aaron Staton) on a plane in season 7. Ken is missing the eyepatch he's had to wear since an unfortunate shooting accident in season 6.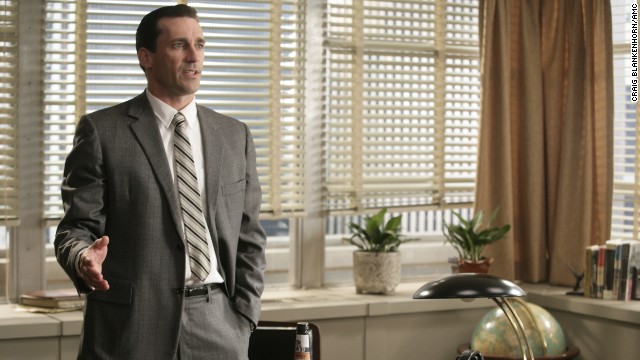 'Mad Men' through the seasons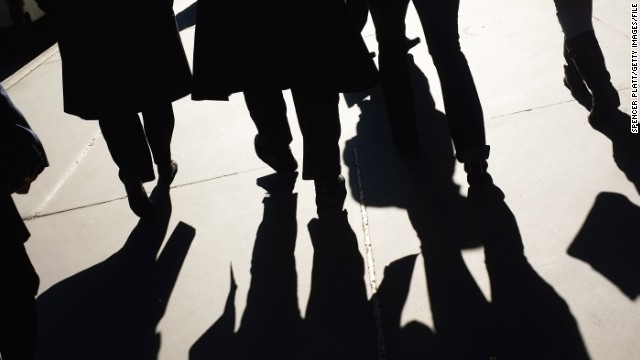 Mingle with other pedestrians -- possibly modern-day Mad Men -- along New York's busy Madison Avenue.
Drop in at the Grand Central Oyster Bar for a cocktail and something on the half-shell. Just try to keep it together better than Don and Roger did before a big client meeting.
The Roosevelt Hotel's Madison Club Lounge is hosting viewing parties all season for "Mad Men" fans.
Sip a classic cocktail at Sardi's, a theater district standard that has served as a setting in the show.
When Don and company started their own agency, they briefly set up shop in the Pierre hotel.
Check in to a stylish city-view or Central Park-view room.
The Hotel Elysée in Midtown Manhattan was the site of a lunchtime tryst between copywriter Peggy and a fellow named Duck from a rival agency. The property is offering a special "Mad Men" package.
Don't be intimidated by New York fashion. Join in with a stop at Bloomingdale's.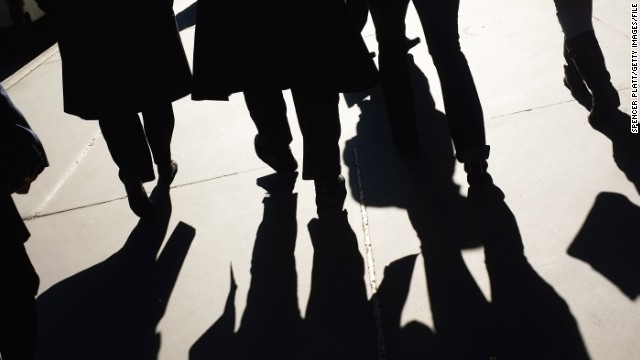 'Mad Men' in New York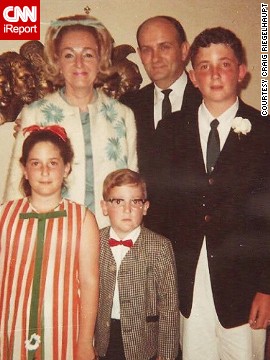 Miami resident Craig Riegelhaupt recalls taking this "nerdy family" photo when they moved to the city in 1967. "The bows in my mother's and sister's hair, and my red bow tie and horn-rimmed glasses epitomize the look of the 1960s."
Kathi Cordsen's sister and three of her cousins are seen here posing in Cypress, California, in 1969, showing off the styles of the era.
Cordsen -- whose mother, aunt and grandmother are seen here on vacation in 1967 -- remembers how her mother wore hot pants but she was not allowed to wear them. It wasn't until 1970 that "we were finally allowed to wear slacks to school. Up until that time the only time we (students) could wear slacks was if it was raining."
Janie Lambert, left, said she could only dress as her "strict parents wanted me to" growing up in Tennessee in the 1960s. "I would hike my skirts up and safety pin them when I got to school. Once my dad picked me up and boy, was I busted."
The Hughesville, Maryland, resident posed with her high school sweetheart and future husband at Christmas in 1969. "I loved the British Mod look and models like Pattie Boyd and actress Jane Asher."
Lidija Gorinas loved getting these fashionable robes for her 21st birthday, along with her twin, Milda, in 1967. "Mod worked for me (I was no flower child). Those were the days, my friend."
Lisa Papworth-Buckland, bottom left, went to visit her grandfather's grave in Los Angeles in 1969 and recalls her mother's fashion sensibilities. Later, after her parents' divorce, she "moved into a dome house in Box Canyon and we lived the pure hippie life."
Lydia Gorinas, far right, her twin sister and her friends enjoy a Christmas Eve together in Chicago in 1967. "I loved the '60s very much," Gorinas says. "It was when 'mod' was a noun ... not an adjective as it is now."
Marjorie Zien, second from left, was 10 years old in 1967 when this photo was taken at her Aunt Fran's annual New Year's Eve party. She wore her "really cool mirrored vest" her uncle brought back from Pakistan and a handmade A-line skirt. Her sister, far right, sported a Nehru collar dress accessorized with a medallion necklace.
Josh Johnson's grandparents pose with their kids in Georgia in 1967. "I think the fashion of the 1960s had a different kind of character that is missing in today's style," Johnson says. "I think it was classier and much more respectable."
In 1967, Patricia Anne Alfano was a cheerleader for the Philadelphia Eagles. She says the style in the '60s was much more conservative than it is today.
Nikki C. Morris wore a yellow dress and white gloves for her prom in 1967, but she says '60s fashion was too colorful for her taste. "I remember thinking that most of the dresses and the girls wearing them looked like Easter eggs," Morris says. "I wasn't a fan."
Natalie Montanaro, right, and her sister took a photo before their first Holy Communion in 1967. She says many women in the 1960s copied Jackie Kennedy's look. "Really, my favorite look was the short, cropped jackets with A-line knee-length skirts and a pillbox hat with gloves for church," she says.
Milda Contoyannis and her friend show off their dance moves at a house party in 1967. She wore her favorite minidress, and her friend wore a jacket and an ascot tie. "Nothing compares to the '60s," Contoyannis says. "You had to be there when it was happening."
Julio Camerini shared a photo from 1969 of his ninth birthday in Sao Paulo, Brazil. He says back then Brazil was influenced by the U.S. when it came to music and fashion. "Rock and Roll dominated the programming on radios, and so did mini skirts," he said.
Miriam Cintron, right, used an iron and an ironing board to straighten her hair in 1968. "I preferred a more hippie look, but as I said, a clean hippie, not a shoeless one," she says.
Keith Long took this picture of his wife in 1969 on the running board of a steam engine in England. "Sixties fashion was a changing decade -- very dated in the early part and trendy and totally different at the end," Long says.
Rob Bernstein shared a photo of his mother in the late 1960s dressed for an evening event in Acton, Massachusetts. He says fashion back then was a lot more formal than today, but they also wore "crazy colors" too.
Michelle Jones stands with her sister and parents outside her grandparents' home in Newton, Massachusetts, in this 1968 photograph. "I loved the outfits my mom wore. Always the latest fashion. Big eyelashes and big makeup," she said.
Dianne Artley, in the spring of 1967, at McGuire Air Force Base in New Jersey. "In spite of living in a fearful time because of the Vietnam war, there was a sense of hope as everything was changing at warp speed," she said. Click the double arrow to see more photos.
At 5 years old, Julie West wore a matching coat and hat in 1967. "I fancied myself a movie star or model wearing them," she says. "My mom really liked to dress nicely. Once she settled into her life in Chicago, she loved to shop and always made sure we wore the latest fashions."
Niena Sevilla's father attended a New Year's Eve party in the Philippines in 1968. Her dad, 18 years old at the time, danced with one of the partygoers he met at the event. "Women of the '60's were so natural," Sevilla says.
Janie Lambert, pictured in 1968, says Patti Boyd was one of her favorite models, and she loved 1960s fashion -- particularly the "mod" look. "I much prefer the '60s fashion over that of today and am happy to see the style returning once again," she says. "Loud, groovy but tasteful."
Raymond Johnson, right, poses with his friend on their high school graduation day in 1968. "There are no dress codes today, so young people are free to choose what they like and feel is most comfortable," he says. "That in itself is a giant leap from the '60s."
Dominica Lim's mom, far left, wears a tie and bell-bottom pants as she poses for a picture with her friends in South Korea in 1969. "I think the fashion of the 1960s was very classy with a touch of fun," Lim says.
Teri Coley Adams' parents enjoy an evening in Oahu, Hawaii, in 1969. Her dad is wearing a thin striped tie and a sports jacket. Her mom has on a red linen dress with a matching satin red peacock scarf. "As I recall, the dress was pretty short, well above Mom's knees, but she had the legs for it," Adams says.
Cynthia Carr Falardeau says this family photo from 1969 represents "a time of innocence."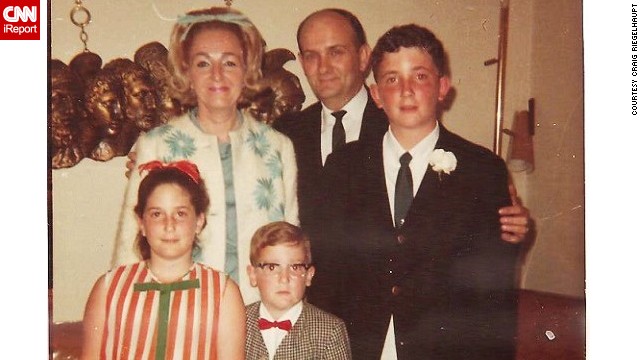 The late '60s through your eyes
Which is not to say that the show jumped the shark as viewers prepare for Season 7, the show's last, which begins Sunday on AMC.
It was still a very good TV show, still rewarded with Emmy nominations and cultural cachet. Viewers and reviewers still parsed its every symbol, from the elevators in protagonist Don Draper's apartment building to the T-shirt worn by his wife, Megan (Jessica Pare).
Viewers will want to know if some of the questions raised by Season 6 are answered. Will Don's marriage hold up? After an affair was discovered by his daughter Sally, can he repair the relationship with her?
Don (Jon Hamm) also ended the season on the outs with Sterling Cooper -- the agency at the heart of the show -- where he was creative director. Indeed, a lot of figures at Sterling Cooper are coping with uncertainty: Peggy Olson (Elisabeth Moss), who spent Season 6 away from -- and then rejoining -- the agency; Pete Campbell (Vincent Kartheiser), whose marriage hit the skids; and Roger Sterling (John Slattery), who keeps staring mortality in the face (and cracking jokes in its shadows). And then, of course, there's the mysterious Bob Benson (James Wolk), the eager salesman who turned out to be a pro at snowing his colleagues. How will he fare with that big General Motors account?
For all that, "Mad Men" just wasn't the phenomenon it was during its first four years, when the very title "Mad Men" became synonymous with the idea of "Kennedy-era America."
When "Mad Men" premiered in 2007, "there wasn't anything comparable in look," said style consultant and beauty expert Rachel Weingarten, whose book "Hello Gorgeous!" focuses in part on the "Mad Men" era. "Modern television and especially cable didn't have anything like it -- that stylized look, that way of speaking. Everyone felt sophisticated talking about it."
It didn't hurt that the show addressed issues, such as sexism and image-making, through the prism of an era that seemed even more distant than it was, adds Jerald Podair, a history professor at Wisconsin's Lawrence University.
The show quickly became a shorthand for a different kind of America -- one remembered for its hard-drinking men, subordinate women and cigarettes everywhere -- than the one we live in now. It was a different America than the one that existed in the late '60s, for that matter.
"For us, 1962 is much more of a foreign country than 1968, because 1968 is basically who we are now, and 1962 is who we were," Podair said.
Part of the language
Those early seasons of "Mad Men" managed to work themselves into the water-cooler conversation with surprising ease.
Any journalist looking to compare our muddled times with the tie-clipped, flouncy-skirted early '60s invoked "Mad Men." Handsome, inscrutable types were "Don Drapers," after Jon Hamm's lead character, an ad agency creative director; upscale, quietly desperate housewives were "Betty Drapers," after his eventual ex-wife, played by January Jones. Single career women? Meet Peggy Olson (Elisabeth Moss).
Banana Republic and Brooks Brothers introduced "Mad Men"-inspired fashion lines, the name "Betty" became popular again, and -- since imitation is the sincerest form of television, to borrow Fred Allen's old line -- the show's sleek era was suddenly all over the tube, featured on such programs as "Pan Am," "The Playboy Club" and "Magic City."
That period of "Mad Men" became part of the language.
"It's time to do away with workplace policies that belong in a 'Mad Men' episode," said President Obama in his 2014 State of the Union address, and nobody had to ask what he meant.
"It's rare that the name of the show becomes a shorthand for an era," said Podair, noting that "Mad Men" now represents the early '60s in the way that "Father Knows Best" or "Leave It to Beaver" represent the 1950s.
Where to find "Mad Men's" classic cocktails
Indeed, for a show that's never enjoyed the mammoth ratings of AMC stablemate "The Walking Dead," it's had an impact well beyond its audience. "Mad Men" averaged less than a million viewers per episode in its first season. It wasn't until the fourth season that it topped 2 million, and last season's ratings, for the show's sixth season, averaged about 2.5 million.
Compare that to "Walking Dead," which averaged 13.3 million for its most recent season -- and grabbed 15.7 million for its Season 4 finale. Even the broadcast networks would be thrilled with that.
"Mad Men" grabbed this attention despite criticism that it had oversimplified a complex era -- and that, in turn, today's news media was doing the same.
"From where I sit, claiming this exasperating show is even remotely representative of the times we lived through would be like trying to show 'Dynasty' on the History Channel!" exclaimed ad man and art director George Lois in a CNN opinion piece. " 'Mad Men' is nothing more than the fulfillment of every possible stereotype of the early 1960s bundled up nicely to convince consumers that the sort of morally repugnant behavior exhibited by its characters is glamorous and 'vintage.' "
But that doesn't surprise Weingarten. After all, she points out, TV tends to be aspirational.
"It isn't real life," she said. "It's very stylized."
Paving the way
"Mad Men" creator Matt Weiner has tried to make a similar point.
"I know this sounds like a joke," he told the Wrap last year, "but none of it is real."
At the least, all the talk helped "Mad Men" make the world safe for the rule of basic cable.
"For a long time it was just HBO," Kevin Rahm, who plays Draper's rival Ted Chaough, told CNN. "When this show came on the air on AMC, no one had heard of AMC other than (it being) American Movie Classics. I think the show led the way for Netflix having their own series, Amazon having their own series. I think it's paved that road."
Even if "Mad Men" has lost its place in the zeitgeist -- the Banana Republic partnership is gone and "Game of Thrones" is the talked-about show of the moment (for now, anyway) -- it still has a loyal audience.
AMC is counting on it. After the final season of "Breaking Bad" worked out so well by being split in two, the network announced the same practice would be put in place for "Mad Men." So Sunday's premiere introduces Season 7, Part 1.
As in the past, Weiner and AMC are asking for a cone of silence to be placed around advance discussion of the premiere. Not even the year can be revealed, though -- based on the publicity photographs showcasing miniskirts and sideburns -- it's probably 1969 or 1970, both of which would present opportunities for the show's characters to intersect thematically with such historical events as the moon landing, the Manson murders, Woodstock, the Kent State shootings and the Miracle Mets. (Well, it is mainly set in New York.)
Screenwriter Robert Towne of "Chinatown" fame was added to the writing staff, and Milton Glaser, the great graphic artist, was drafted to create this year's poster.
If representing the more recognizable late '60s -- with its mixed-up, shook-up, psychedelic world -- means the show is less exotic to us, so be it.
"It's a sign of the show's triumph and also its failure," said Podair. "When we remember the show, we're going to remember the 1962 portion and we're probably not going to remember the '67 and '68 portion because we've been there and we've done that."
Weiner just wants it to be good.
"I always feel pressure about entertaining the audience and keeping the show up to the level that we think it's at and not repeating ourselves," he told CNN.
But "Mad Men" being "Mad Men" -- and still having half a season to shoot -- he can't help thinking of the past, as well. It's one thing to wonder about the ebb and flow of the 1960s, another to re-create its world. As the show heads into the sunset, he has visions of the beginning.
"I have been thinking a little bit about sitting in a room, typing the title page and how this all happened," he said.