STORY HIGHLIGHTS
Colbert will not be in character on "The Late Show"
He credits his mother with helping him survive the loss of his dad and two brothers
His wife is not a fan of the Colbert character
(CNN) -- The real Stephen Colbert is probably someone "Stephen Colbert," the character, would find easy to mock.
The real Colbert is reportedly just a regular guy who lives in a New Jersey suburb with his wife and three kids, has taught Sunday school and says earnest things like "I really admire newsmen" when explaining that he doesn't confuse his Colbert character with an actual journalist.
Fans have readily embraced the blustering buffoonery of the conservative character Colbert, who arrives on the "Colbert Report" set to calls of "Stephen! Stephen!" It remains to be seen if they will have equal affection for the man Colbert who will replace David Letterman as host of "The Late Show" in 2015.
Even Colbert the character is aware of how tough that just might be.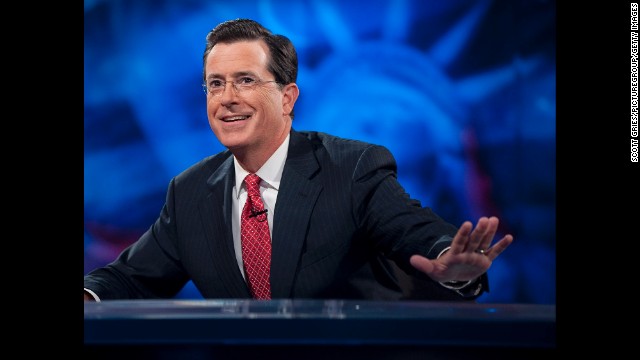 Stephen Colbert will take over "The Late Show" upon the retirement of David Letterman in 2015. Colbert's rise includes a number of notable moments.
Colbert, left, was originally one of "The Daily Show's" correspondents. He began with the show during its Craig Kilborn era and stayed when Jon Stewart, center, came to host in 1999. Others on the show included, from left, Ed Helms, Rob Corddry and Samantha Bee.
While appearing on "The Daily Show," Colbert was also part of the cast of "Strangers with Candy," a comedy series with Amy Sedaris and Paul Dinello. He met the pair while he was a member of the Second City comedy troupe in the early '90s.
As a "correspondent" and later an anchor, Colbert developed a character that has been, at turns, pompous, pious and egocentric -- basing the persona on many others in television.
As correspondent, Colbert was key to "The Daily Show's" election coverage. Here he takes part in Election Night 2004.
Colbert's work on "The Daily Show" contributed to a number of awards -- including several Emmys. He poses here with, left to right, Rob Corddry, host Jon Stewart, Ed Helms and Samantha Bee.
Colbert earned praise -- and notoriety -- for his hosting of the 2006 White House Correspondents Dinner. In character, his barbs about President George W. Bush and the political news media drew blood.
On "The Colbert Report" -- and that's pronounced "Col-bear Rap-pour" -- Colbert highlights the foibles of politicians with such segments as "Better Know a District," a proposed 435-part series in which he offers a take on every House District. The representatives he interviewed sometimes haven't been aware of the joke.
Very quickly, Colbert's influence rose so high that he got his own Ben & Jerry's ice cream flavor: AmeriCone Dream. Here he poses with Ben Cohen, left, and Jerry Greenfield at the flavor's launch party.
The White House hasn't been immune to Colbert's charms. He showed up for a mock press conference in 2007.
"The Daily Show" may have won a bunch of Emmy awards, but in 2013 "The Colbert Report" broke its streak of 10 straight awards for outstanding variety series. It's also won two Emmys for writing, as well as two Peabodys.
Colbert hosted a roast for then congressman -- and later Chicago mayor -- Rahm Emanuel in 2008. Colbert, a South Carolina native, has ties with Chicago, having gone to college at Northwestern, in nearby Evanston, and worked in the city's comedy scene.
Colbert's awards haul isn't limited to Emmys and Peabodys. In 2010 he won a Grammy for his Christmas album, and four years later won another for best spoken-word album.
In September 2010, Colbert testified at a hearing on immigration. He took time to chat with Phil Glaize, chairman of the U.S. Apple Association, left, and Arturo Rodriguez, president of the United Farm Workers. Again, some representatives didn't get Colbert.
In October 2010 Colbert teamed up with Stewart for a Washington rally, "Rally to Restore Sanity and/or Fear." Stewart handled the sanity; Colbert took care of the fear. The rally was a response, sort of, to rallies led by Glenn Beck and Al Sharpton.
Colbert's character definitely loves himself. He went so far as to lick himself during the unveiling of his wax figure at the Madame Tussauds wax museum in Washington in 2012.
Colbert may be responsible for Bill Clinton being on Twitter. When the former president appeared on his show in 2013, Colbert set up an account, @PrezBillyJeff. Clinton later set up his real account, @billclinton.
Colbert, a devout Catholic, has taught Sunday school and talked about social justice. He spoke at the Robert F. Kennedy Center for Justice and Human Rights 2013 Ripple of Hope Awards dinner.
Colbert faces a changed talk-show landscape. Jimmy Fallon, left, has gotten off to a fast start as new "Tonight Show" host on NBC, and ABC's Jimmy Kimmel also has a strong fan base. Observers are curious whether Colbert will bring his character with him to "The Late Show." We'll find out when David Letterman steps down.
Colbert takes a selfie with Letterman on the "Late Show with David Letterman" on Tuesday, April 22. CBS began to introduce the next host of the "Late Show" by having its current host interview him.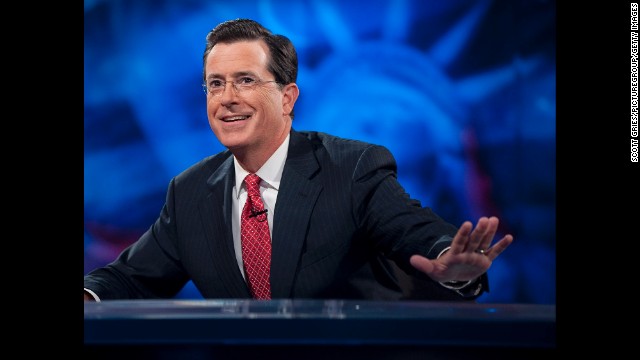 Funnyman Stephen Colbert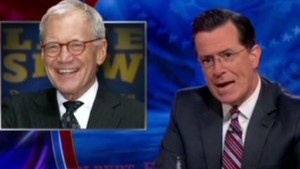 See Colbert's tribute to Letterman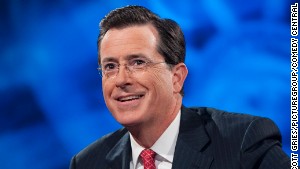 Why audiences love Stephen Colbert
"I gotta tell you, I do not envy whoever they try to put in that chair," he said with a wink on his Thursday night show as the audience cheered. "Those are some huge shoes to fill."
If anyone is used to challenges, it's Stephen Colbert. Raised in Charleston, South Carolina, the youngest of 11 children, he was just 10 years old when his father and two of his brothers were killed in a plane crash in 1974. Eastern Airlines Flight 212 crashed in a cornfield near Charlotte, North Carolina, and 72 people were killed.
Colbert told Oprah Winfrey it took him years to grieve their deaths.
"I didn't really really feel the loss until I was in college," he said " Then, oh, I was in bad shape. "
He told the New York Times Magazine in 2012 that he credits his mother with helping him survive the tragedy.
"She taught me to be grateful for my life regardless of what that entailed, and that's directly related to the image of Christ on the cross and the example of sacrifice that he gave us," said Colbert, a devout Catholic. "What she taught me is that the deliverance God offers you from pain is not no pain -- it's that the pain is actually a gift. What's the option? God doesn't really give you another choice."
Colbert says it was his mother who encouraged him to enter Northwestern's theater program, which led him into improv and a gig with Chicago's famous Second City troupe. It was there he struck up friendships with Steve Carell and Amy Sedaris.
Colbert eventually landed in New York City where he briefly worked with ABC's "Good Morning America" as they needed someone who "looked straight, but could act funny," he told CNN's "Larry King Live" in 2007.
"They really just wanted me to quip," he said. "I did one piece for them."
"GMA" shot down several other story ideas he pitched, Colbert said, but his credentials from them came in handy when "The Daily Show" came calling in 1997 looking for correspondents. Colbert had written a little for "Saturday Night Live" and his combination of comedy chops and the brief experience working with "GMA" made him "genetically engineered" to work with the show, he said he was told.
Thus, the character of "Stephen Colbert" was introduced to the world.
One person who could do without his alter ego is his wife, Evelyn "Evie" McGee-Colbert, whom he married in 1993. She told Oprah Winfrey that other Colbert is not welcomed in their home.
"I don't really like the other guy," she said. "He doesn't come in this house."
Her husband is smart, funny and incredibly romantic, McGee-Colbert said. He is also intensely private, though he works hard to connect with his audiences and fans, he told Rolling Stone Magazine.
"I was 22 or 23 when I made a decision not to be actively Hamlet-like and miserable in my daily life, and the decision helped a lot," he said. "Living vitally is not easier than living morbidly -- it's just better. People are all we've got."
Colbert will have to rely on such fans to make his new venture a success. Merissa Marr of the Wall Street Journal wonders at his crossover appeal once Colbert the character has been vanquished.
"Whether Mr. Colbert can maintain his following as a different persona, no longer cloaked in parody, isn't guaranteed," she writes, noting that "CBS is arguably the most middle of the road of the broadcast networks."
Colbert's old boss has no worries. On "The Daily Show," Jon Stewart said, "The exciting news is that I no longer need a cable subscription for the privilege of watching Stephen Colbert."
"I think Stephen Colbert is up for the challenge," Stewart said. "So while we wish Dave the absolute best for a well-earned retirement, there's no greater joy for seeing a genuinely good man, who works as hard as he can every day and deserves all the success in the world, actually get that success. For Stephen we're just thrilled."