STORY HIGHLIGHTS
Oscar Pistorius trial prosecutor Gerrie Nel known for no-holds-barred approach to witnesses
Nel shocked courtroom by showing graphic photo of deceased Reeva Steenkamp
Some observers say Nel stepped over the line; others say Nel is just doing his job
Phelps: State has little evidence to disprove Pistorius' case that he is innocent of murder charge
Watch "CNN Spotlight: The Oscar Pistorius Trial" tonight at 10 ET.
(CNN) -- He's known as the "bull dog" in South Africa's legal circles, and just days in to Gerrie Nel's merciless cross-examination of Oscar Pistorius, it's easy to see why.
The veteran state prosecutor's relentless grilling of Pistorius -- on trial for the murder of his girlfriend Reeva Steenkamp on Valentine's Day last year -- has riveted people around the world to their TV sets, and has sparked a debate about whether Nel's no-holds-barred tactics have crossed the line.
Nel had to wait weeks to take on Pistorius, but has wasted no time since he got the chance late on Tuesday. At various times Nel has called the 27-year-old a liar, implied that Pistorius was pretending to be too emotional to testify, reduced him to tears, and laughed at him for failing to recall the answer to one of Nel's questions as the prosecutor ruthlessly tore into various aspects of his testimony.
On Wednesday Nel took the defense by surprise when he played a video, taken just months before Steenkamp's death, of Pistorius shooting a watermelon at a firing range with friends and describing the impact as a "zombie-stopper."
"You know that the same happened to Reeva's head? It exploded," Nel told Pistorius, before showing the court -- and the multitudes around the world watching on live TV -- a grisly photograph of Steenkamp's wounded head, her hair soaked in blood and tissue from the impact of the bullet that tore through her skull.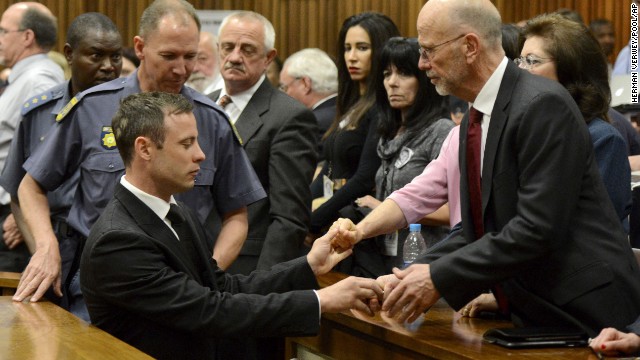 Oscar Pistorius reaches out to his uncle Arnold Pistorius and other family members as he is led out of court in Pretoria, South Africa, after being sentenced to five years in prison on Tuesday, October 21. Pistorius, the first double-amputee runner to compete in the Olympics, was sentenced for culpable homicide in the February 2013 death of his girlfriend, Reeva Steenkamp.
Pistorius leaves the high court in Pretoria on Monday, October 13. A judge cleared Pistorius of premeditated murder last month, but he was found guilty of culpable homicide -- the South African term for unintentionally, but unlawfully, killing a person.
Pistorius speaks with his uncle Arnold Pistorius during his trial at the Pretoria High Court on Friday, September 12.
Pistorius cries on the stand in Pretoria on Thursday, September 11, as the judge reads notes while delivering her verdict.
Pistorius arrives at court on September 11.
Pistorius speaks to someone in court as his murder trial resumes in Pretoria on Thursday, August 7.
Pistorius sits in court in Pretoria on Tuesday, July 8.
Pistorius arrives at court in Pretoria on Monday, July 7.
Pistorius yawns during day 37 of his murder trial on June 3.
Pistorius hugs a supporter Wednesday, July 2.
Pistorius listens to evidence being presented in court on Monday, June 30.
Pistorius leaves the court in Pretoria on Tuesday, May 20.
Pistorius reads notes during his trial on Monday, May 12.
Ballistics expert Tom "Wollie" Wolmarans testifies for the defense on May 12.
A red laser dot points at bullet holes in the bathroom door for a forensic demonstration during the trial on May 12. Pistorius admits firing four bullets through the closed door, killing Steenkamp, but says he thought he was protecting himself from a burglar.
Pistorius returns to court as his murder trial resumes Monday, May 5, after a break of more than two weeks.
Pistorius gets a hug from a woman as he leaves court in Pretoria on Wednesday, April 16.
Pistorius rubs his eye Tuesday, April 15, after testifying during his murder trial.
Pistorius arrives at the court in Pretoria on Monday, April 14.
Pistorius' sister, Aimee, cries in court as she listens to her brother's testimony on Tuesday, April 8.
June Steenkamp, Reeva Steenkamp's mother, reacts as she listens to Pistorius' testimony on April 8.
Pistorius is hugged by his aunt Lois Pistorius in court on Monday, April 7.
Pistorius sits inside the courtroom as members of his defense team talk in the foreground Friday, March 28.
Pistorius leaves court on March 28. The trial was delayed until April 7 because one of the legal experts who will assist the judge in reaching a verdict was sick.
Steenkamp's mother, right, and family friend Jenny Strydom react in court Tuesday, March 25, during cross-questioning.
Cell phone analyst Francois Moller testifies during the trial on March 25. Questioned by the prosecution, Moller listed in order the calls made and received by Pistorius after he shot Steenkamp.
Pistorius cries as he sits in the dock during his trial on Monday, March 24.
Pistorius talks to defense attorney Barry Roux on March 24.
Pistorius holds his head while members of his family talk behind him on Tuesday, March 18.
Steenkamp's mother, wearing the white collared shirt, looks on while a police officer takes notes in court March 18.
Pistorius is hugged by his aunt Lois on March 18.
Pistorius takes notes Monday, March 17, as his murder trial enters its third week.
Pistorius covers his head as he listens to forensic evidence Thursday, March 13.
Forensic investigator Johannes Vermeulen, left, is questioned during the trial March 13.
Pistorius listens to questions during his trial on Wednesday, March 12.
A police officer takes part in a court reconstruction March 12. A police forensic expert said Pistorius was on the stumps of his amputated legs when he knocked down a locked toilet door with a cricket bat to reach his shot girlfriend. That counters the track star's assertion he was wearing his prosthetic legs at the time. Defense attorney Barry Roux countered by suggesting that even with his prosthetic legs on, Pistorius would not be swinging a bat at the same height as an able-bodied person.
Pistorius listens to cross-questioning on Monday, March 10.
Friends of Steenkamp's family watch Pistorius during his trial on March 7.
Pistorius covers his ears on Thursday, March 6, as a witness speaks about the morning Steenkamp was killed.
Pistorius' sister, Aimee, right, speaks with members of Steenkamp's family on March 6.
Pistorius sits in court on the third day of his trial Wednesday, March 5.
Pistorius appears on the second day of his trial Tuesday, March 4.
Members of the media work during a break in proceedings March 4.
Pistorius talks with Roux inside the court on March 4.
Pistorius speaks with his legal representatives on March 4.
Pistorius is escorted out of the court Monday, March 3, after the first day of his murder trial.
People try to get a glimpse of Pistorius as he leaves the court building on March 3.
Pistorius is seen shortly after arriving for his trial on March 3.
Pistorius walks into the courtroom on March 3.
Pistorius takes a drink of water March 3 during his trial.
The case has captivated South Africa. Here, Lauren Wentzel watches the proceedings from her home outside Cape Town on March 3.
June Steenkamp arrives at the court building for the start of the trial.
Pistorius' relatives wait inside the courtroom on March 3.
People at the court building wait for Pistorius' arrival on March 3.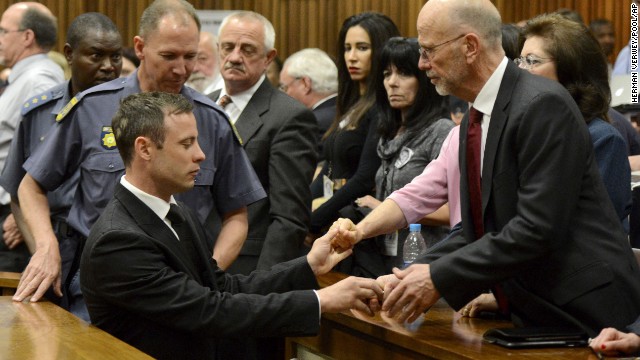 Photos: Oscar Pistorius trial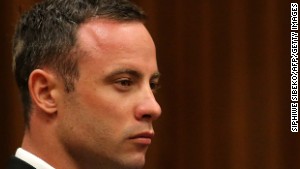 Pistorius has hostile cross-examination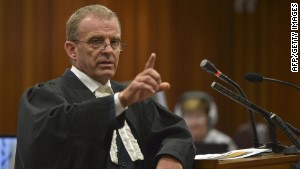 Gerrie 'The Bull Dog' Nel on the attack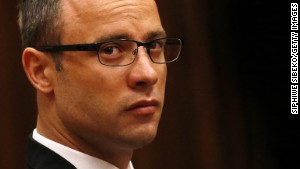 Inside the mind of Oscar Pistorius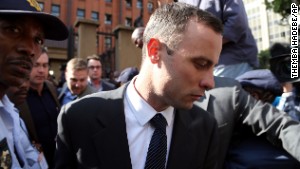 Pistorius: 'She wasn't breathing'
"Have a look there," Nel barked, to gasps from the courtroom. "I know you don't want to because you don't want to take responsibility, but it's time that you look at it."
Pistorius, sobbing heavily, said, "I've taken responsibility but I will not look at a picture where I'm tormented by what I saw and felt that night. As I picked Reeva up my fingers touched her head -- I remember, I don't have to look at a picture, I was there."
Pistorius' family sat appalled at the front of the courtroom. The sprinter's attorney, Barry Roux, called Nel's tactics an "ambush" and objected. And the court adjourned for a recess, leaving a hysterical Pistorius to weep in the dock and shocked journalists and legal observers to debate what they'd just seen.
"It's not unusual for an accused to be shown pictures of the deceased. Although not always in this dramatic manner," tweeted Barry Bateman, an Eyewitness News reporter in the courtroom.
Other reporters said that June Steenkamp, Reeva's mother, had been warned about the photo and understood why the prosecution believed it needed to be shown.
Did Nel overstep the bounds of decency in his interrogation of Pistorius? CNN legal expert Kelly Phelps says that while Nel's strategy -- to unnerve the accused and destabilize his version of events -- was valid, showing the world a bloody photo of Steenkamp was "unnecessary and gratuitous."
"Nel has a responsibility to protect the dignity of the deceased and the victim's family," Phelps said. "He could have showed Pistorius that photo without having to broadcast it for the whole world to see."
While Phelps said most people she spoke to shared that view, others said that Nel's ultimate responsibility to the victim and the family is to achieve justice. If that's how the prosecutor thinks he'll get a conviction, then he's right to pursue any avenues to get there, the thinking goes.
Nel has infuriated quite a few opposing lawyers over the course of his career, Phelps says, but he has long had a reputation for being incorruptible and impossible to intimidate. When he went after South African police commissioner Jackie Selebi in a corruption case in 2008, he was arrested in front of his family. He spent a few days in jail before being released -- and ultimately put Selebi behind bars. In his spare time, he's active in South Africa's amateur wrestling federation as a coach and official.
Nel may be known for being a courtroom bull dog, but is his bark worse than his bite? Despite his long assault on Pistorius' testimony, the fact remains that the state has very little evidence to disprove the track star's version of events that night.
"I think he knows that the state's case is mostly circumstantial, and it was always going to rely heavily on cross-examining Pistorius," Phelps said. "And while Nel's been successful in getting his narrative on the record, he hasn't yet been able to get Pistorius to support that narrative."
In other countries, Nel's almost theatrical approach might be able to sway some members of a jury, but South Africa doesn't have jury trials -- and Judge Thokozile Masipa has already reprimanded Nel several times when he stepped over the line in her view.
Ultimately Phelps says she doesn't expect the judge's decision to be affected by the prosecutor's flair for the dramatic.
"She's experienced enough to know the various tactics employed by the lawyers on each side," Phelps says. "She will have sat before them in court on many occasions, and she's well positioned to cut through the white noise."
"Still, it's never wise to get a judge's back up."
READ MORE: Pistorius: I never picked on Reeva Steenkamp
CNN Wires contributed to this report.