STORY HIGHLIGHTS
Colbert premiere date to be given after Letterman makes a departure plan, CBS says
Letterman has said he'll retire from "The Late Show" sometime in 2015
Colbert signed a five-year contract with CBS, network says
(CNN) -- Stephen Colbert will succeed David Letterman as host of "The Late Show," CBS announced Thursday, one week after Letterman told his audience that he would retire sometime in 2015.
CBS said Colbert had signed a five-year contract to helm the iconic late-night broadcast.
Colbert, 49, has been the host of Comedy Central's "The Colbert Report" since 2005.
Will Colbert remain in his Comedy Central character? No. Colbert said in a statement, "I won't be doing the new show in character, so we'll all get to find out how much of him was me. I'm looking forward to it."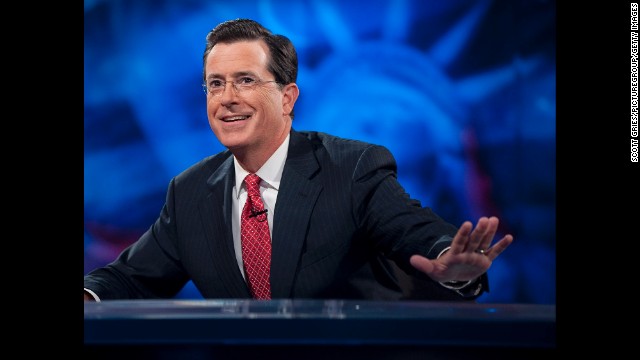 Stephen Colbert will take over "The Late Show" upon the retirement of David Letterman in 2015. Colbert's rise includes a number of notable moments.
Colbert, left, was originally one of "The Daily Show's" correspondents. He began with the show during its Craig Kilborn era and stayed when Jon Stewart, center, came to host in 1999. Others on the show included, from left, Ed Helms, Rob Corddry and Samantha Bee.
While appearing on "The Daily Show," Colbert was also part of the cast of "Strangers with Candy," a comedy series with Amy Sedaris and Paul Dinello. He met the pair while he was a member of the Second City comedy troupe in the early '90s.
As a "correspondent" and later an anchor, Colbert developed a character that has been, at turns, pompous, pious and egocentric -- basing the persona on many others in television.
As correspondent, Colbert was key to "The Daily Show's" election coverage. Here he takes part in Election Night 2004.
Colbert's work on "The Daily Show" contributed to a number of awards -- including several Emmys. He poses here with, left to right, Rob Corddry, host Jon Stewart, Ed Helms and Samantha Bee.
Colbert earned praise -- and notoriety -- for his hosting of the 2006 White House Correspondents Dinner. In character, his barbs about President George W. Bush and the political news media drew blood.
On "The Colbert Report" -- and that's pronounced "Col-bear Rap-pour" -- Colbert highlights the foibles of politicians with such segments as "Better Know a District," a proposed 435-part series in which he offers a take on every House District. The representatives he interviewed sometimes haven't been aware of the joke.
Very quickly, Colbert's influence rose so high that he got his own Ben & Jerry's ice cream flavor: AmeriCone Dream. Here he poses with Ben Cohen, left, and Jerry Greenfield at the flavor's launch party.
The White House hasn't been immune to Colbert's charms. He showed up for a mock press conference in 2007.
"The Daily Show" may have won a bunch of Emmy awards, but in 2013 "The Colbert Report" broke its streak of 10 straight awards for outstanding variety series. It's also won two Emmys for writing, as well as two Peabodys.
Colbert hosted a roast for then congressman -- and later Chicago mayor -- Rahm Emanuel in 2008. Colbert, a South Carolina native, has ties with Chicago, having gone to college at Northwestern, in nearby Evanston, and worked in the city's comedy scene.
Colbert's awards haul isn't limited to Emmys and Peabodys. In 2010 he won a Grammy for his Christmas album, and four years later won another for best spoken-word album.
In September 2010, Colbert testified at a hearing on immigration. He took time to chat with Phil Glaize, chairman of the U.S. Apple Association, left, and Arturo Rodriguez, president of the United Farm Workers. Again, some representatives didn't get Colbert.
In October 2010 Colbert teamed up with Stewart for a Washington rally, "Rally to Restore Sanity and/or Fear." Stewart handled the sanity; Colbert took care of the fear. The rally was a response, sort of, to rallies led by Glenn Beck and Al Sharpton.
Colbert's character definitely loves himself. He went so far as to lick himself during the unveiling of his wax figure at the Madame Tussauds wax museum in Washington in 2012.
Colbert may be responsible for Bill Clinton being on Twitter. When the former president appeared on his show in 2013, Colbert set up an account, @PrezBillyJeff. Clinton later set up his real account, @billclinton.
Colbert, a devout Catholic, has taught Sunday school and talked about social justice. He spoke at the Robert F. Kennedy Center for Justice and Human Rights 2013 Ripple of Hope Awards dinner.
Colbert faces a changed talk-show landscape. Jimmy Fallon, left, has gotten off to a fast start as new "Tonight Show" host on NBC, and ABC's Jimmy Kimmel also has a strong fan base. Observers are curious whether Colbert will bring his character with him to "The Late Show." We'll find out when David Letterman steps down.
Colbert takes a selfie with Letterman on the "Late Show with David Letterman" on Tuesday, April 22. CBS began to introduce the next host of the "Late Show" by having its current host interview him.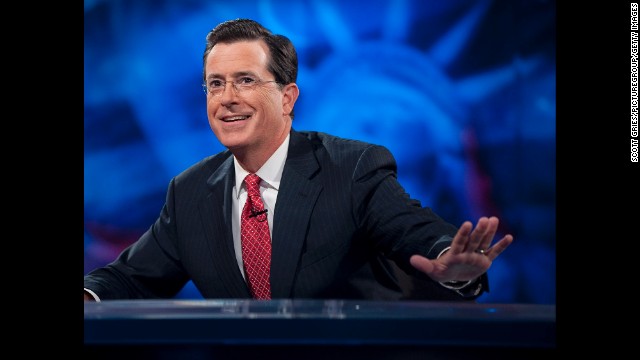 Funnyman Stephen Colbert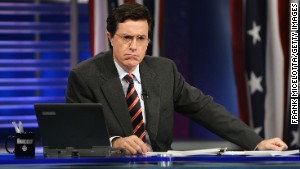 Stephen Colbert to succeed Letterman
CBS said "specific creative elements" would be determined and announced at a later date.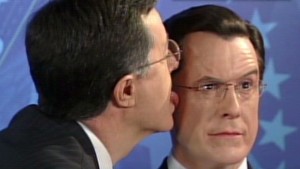 CBS: Colbert to replace Letterman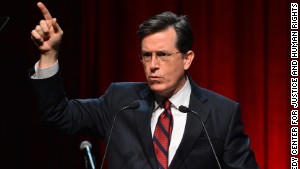 2007: Stephen Colbert out of character
Colbert has been mentioned as a possible successor to Letterman for years, and his name quickly became a consensus pick after Letterman's retirement announcement April 3. But the swiftness of the announcement was surprising.
CBS said, "Colbert's premiere date as host of 'The Late Show' will be announced after Mr. Letterman determines a timetable for his final broadcasts in 2015."
In a statement, Letterman signaled his support for CBS' choice by saying that Colbert had "always been a real friend to me."
"I'm very excited for him, and I'm flattered that CBS chose him," Letterman said. "I also happen to know they wanted another guy with glasses."
Les Moonves, president and CEO of CBS Corp., called Colbert "one of the most inventive and respected forces on television." He added, "David Letterman's legacy and accomplishments are an incredible source of pride for all of us here, and today's announcement speaks to our commitment of upholding what he established for CBS in late night."
Comedy Central also praised Colbert on Thursday, saying, "We look forward to the next eight months of the ground-breaking 'Colbert Report' and wish Stephen the very best."
Colbert's move means he will compete with the 11:30 p.m. time slot of his current show, and he'll no longer have his friend Jon Stewart as a lead-in. Stewart, the host of "The Daily Show," told New York magazine's Vulture blog on Wednesday that CBS would be wise to hire Colbert.
"He's wonderful in 'Colbert Report,' but he's got gears he hasn't even shown people yet. He would be remarkable," Stewart said.
Colbert naturally had the last laugh in Thursday's news release.
"Simply being a guest on David Letterman's show has been a highlight of my career," he said. "I never dreamed that I would follow in his footsteps, though everyone in late night follows Dave's lead. I'm thrilled and grateful that CBS chose me. Now, if you'll excuse me, I have to go grind a gap in my front teeth."
It's David Letterman's comedy world